Vapers Digest May 30th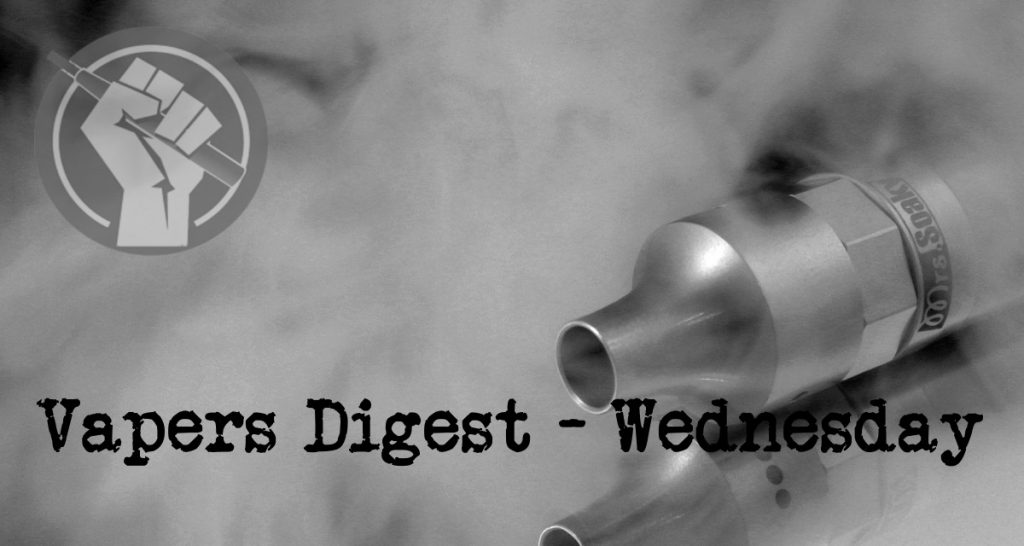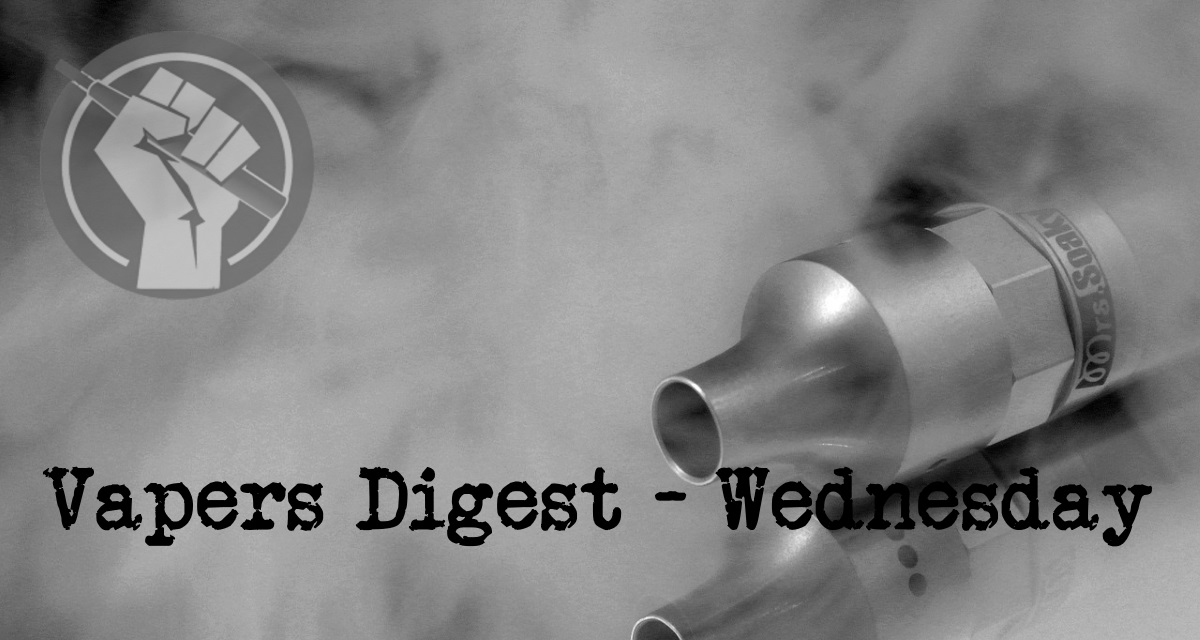 Wednesday's News at a glance:
The WHO abuses its authority ~ 'Public Health' Crooks ~ E-Cigarette Giant Rips The 'WHO's Silence On Vaping' ~ E-Cigarettes Reduce Adult Smoking ~ Vaping ~ Harm Reduction? "Phuket", Says Thai Army ~ Smoking without guilt – a feature on vaping in The Australian ~ AMA incoming president says no change on e-cigarette opposition ~ Vape Shop Employees are Unsung Heroes ~ Anti-smoking campaigner and health advisor throws weight behind vaping ~ France had a million fewer smokers in 2017 ~ More anti-vaping papers appear ~ E-cigarettes: Tobacco harm reduction for Africa ~ Orchestrated Attack | Coordinated Campaign Mangles U.S. Vaping Industry ~ Association of Vapers India opposes ban ~ Who's the Worst Anti-Vaping Politician?
New Nicotine Alliance
At the beginning of May, the World Health Organisation issued a draft report on its approach to non-communicable diseases (NCDs), meaning illness arising out of making unhealthy choices rather than the traditional understanding of disease.

The report recognised the "lack of progress" towards tackling NCDs, spoke of fears that the WHO's targets might not be met in this area, and invited responses to a consultation on the matter. The NNA submitted a response which addressed concerns raised by the WHO in their preamble.
Dick Puddlecote
If you thought this place was dormant, you'd be wrong. Yes it's been quiet but – as mentioned previously – there are potentially life-changing things going on at Puddlecote Inc and I'm also not long back from a week on a boat in Norfolk with an angry Scottish ex-squaddie frustrated at not having wifi to talk to his Argentinian girlfriend. Still, I'm a survivor so got back safe and sound.
Steve Birr, The Daily Vaper
A giant of the vaping market is blasting global health regulators for ignoring the benefits of harm reduction technologies for smokers.

Representatives for Fontem Ventures, makers of the popular e-cigarette brand, blu, are calling on the World Health Organization (WHO) to acknowledge the role alternative technologies can play in reducing smoking rates. Officials at the WHO should seize the opportunity offered by the upcoming World No Tobacco Day to expose smokers to the benefits vaping has to offer, instead of undermining the industry with misinformation, the company argues.
---

---
Charles Hughes, Economics 21
As they have become more widely available, e-cigarette use has increased significantly, although it is notable that the rate of current use declined from 2015 to 2016 for both adults and high schoolers. The proliferation of e-cigarettes has fueled concerns about potential health risks and adolescent use. While these concerns should be investigated and studied thoroughly, focusing exclusively on the potential negative aspects could preclude considering the potential harm reduction benefits for the about 38 million current smokers in the country.
Canada Health, Government Of Canada
The Tobacco and Vaping Products Act (TVPA) became law on May 23, 2018. Adults can now legally get vaping products with nicotine as a less harmful option than smoking. On this page:

About vaping
If you are a smoker: vaping vs smoking
Risks of vaping
Vaping in Canada: what we know
Vaping product safety and regulation
Mawsley, Planet Of The Vapes
Clear warnings were issued last year as vapers were told they faced prison for having a mod. Thailand said it was stepping up its war on vaping (and common sense), and has carried this through to 2018. Following the arrest of a 67yr-old great grandmother, Thai police have now arrested another criminal mastermind.
---
---
Dr. Colin Mendelsohn, colinmendelsohn.com
The crowded medical products aisle of the Woolworths supermarket in Sydney's working-class suburb of Eastlakes offers a selection of nicotine products to passing consumers. Crammed on the shelf above the heartburn products is a range of quit smoking aids: nicotine gum, nicotine lozenges, nicotine patches and nicotine mouth spray.

A few metres away, at the front of the supermarket, shoppers can choose from a vast array of nicotine cigarettes — Winfield, Marlboro, Benson & Hedges — and rolling tobacco.

All these products are, of course, legal and widely available.
Sian Powell, The Australian
The incoming president of the Australian Medical Association has dashed hopes that he might move to relax the association's opposition to e-cigarettes.

Melbourne GP Tony Bartone told The Australian there would be no change in the AMA's stance on the issue — "absolutely none" — even though it is legal to use the electronic devices in the US, the EU, Canada and New Zealand. Even the Cancer Council of Australia, which is ­opposed to the introduction of e-cigarettes, has conceded that using e-cigarettes is substantially less dangerous than smoking.
Brandon L. Hopkins, Vapor Vanity
I'm a supporter of local, small business in many facets. I frequent farmers markets, and research nearby shops of products I often could easily order with my Amazon Prime account. Of particular note, I prefer to buy my vape mods, accessories, and juice nearby to me. I may buy the occasional online product, like a particular juice I'd like to try that I can't track down at an in-town shop, or a bulk pack of coils for the right price when I'm a little light in the wallet. But, overall, if given the choice, I'd rather drive a few miles down the road to one of my local vape shops to support their efforts at offering reasonably-priced mods, liquids, and other vape accessories. Every experience I've had at the local vendors has netted me some investment in a new product.
---

---
, New Zealand Herald
A leading GP and anti-smoking campaigner in Whanganui is now actively promoting vaping as an option for people trying to quit smoking. Dr John McMenamin is the clinical director of Whanganui's Stop Smoking Service (Ngā Taura Tūhono) and a GP at Wicksteed House Medical Centre. Previously there wasn't enough information about vaping and the devices were not legal, he said.
Agence-France Presse
France had a million fewer daily smokers in 2017 over 2016, the health ministry said Monday, thanking the dissuasive power of higher tobacco taxes.

In a special report on tobacco use in a country once synonymous with smoke-filled Parisian street cafes, the ministry did not mention whether electronic cigarettes have had any impact on the apparent trend.

It cited figures from a random representative survey of 18- to 75-year-olds living in France last year.

Fergus Mason, Vaping Post
Two new studies from the USA make negative claims about vaping, with one attacking the effectiveness of e-cigarettes as a smoking cessation aid and the other trying to resurrect a long-discredited claim of cancer risks. Unfortunately both studies, while crippled by serious design flaws, are likely to be widely quoted by opponents of reduced-risk smoking alternatives. Meanwhile YouTube, apparently jumping on board the FDA's latest anti-vaping campaign, has begun removing videos related to vapour products, with a special emphasis on content that mentions the popular JUUL pod system.
Joseph Magero, Envro News Nigeria
Worldwide, cigarette smoking results in 7.2 million deaths every year, with about half a million of those deaths occurring in Africa .To curb this menace and bring an end to unnecessary deaths, there is urgent need to quickly adopt and promote reduced-risk alternatives aimed at accelerating the transition out of harmful tar-based cigarettes. We should (including tobacco companies) embrace technology and innovations to achieve Sustainable Development Goal 3 on good health and well-being by offering practical smoke-free alternatives to smokers.
Brent Stafford

, Regulator Watch
VIDEO:

Beaten, bloody and bruised best describes the U.S. vaping industry in 2018. From the public health assault on flavors to the FDA crackdown on retailers and manufactures—the news just keeps getting worse.
---

---
Deccan Chronicle
Association of Vapers India (AVI), an organisation representing smokers and vapers in India, has issued a public appeal to the ministry of health and family welfare, requesting not to go for an outright ban on Electronic Nicotine Delivery Systems (ENDS) and vaping in the country.

Instead, AVI has called upon the government to bring a legislation to regulate the domain of alternatives to smoking, including vaping and ENDS or e-cigarettes.
Jim McDonald, Vaping 360
In the latest example of national politicians flogging a supposed "school vaping problem," two Democratic U.S. Senators have sent letters to school superintendents across Illinois asking for anecdotes about vaping in their schools.

"Today, @SenDuckworth and I sent letters to high school and middle school Superintendents across Illinois requesting information on student use of e-cigarettes and vaping products, such as the JUUL vaping device," Illinois Sen. Dick Durbin said in a tweet.
---
Visit Nicotine Science & Policy for more News from around the World

---