Vaping Digest 29th May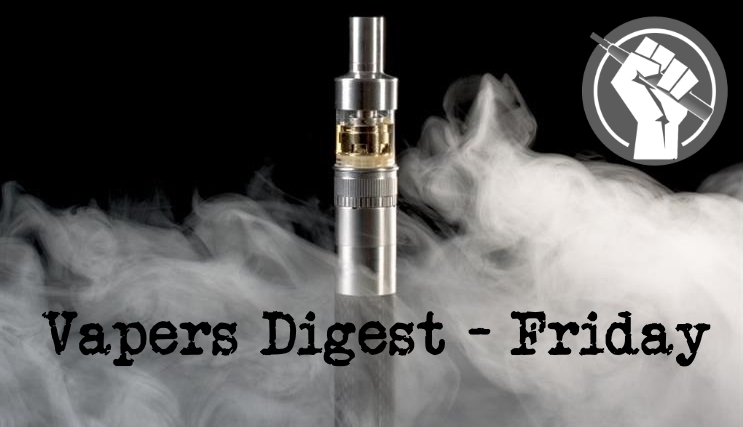 Friday's News at a glance:
The WHO Doubles Down On Its Incompetence – GFN Open To All – Global Forum On Nicotine Goes Online Due To COVID-19 – All Hands on Deck: Tomorrow is World Vape Day! – It's OK To Vape – NNA Webinar – ETHRA Launches Manifesto – World Vape Day – The W.H.O ignores science: The world pays the price! – World Vape Day. Let's celebrate, educate and help others – International experts in tobacco policy – A Call for UK Vapers to Participate in Local Study – European Vape Tax Means Price Hike – Vape stores among those to re-open – Totally Wicked Announces Asda Deal – 'Vaping Less Likely Long-Time Habit' – The role of nicotine in COVID-19 infection – Misinformation impedes smokers' switch to e-cigarettes
On Its Incompetence – Dick Puddlecote
You'd think, wouldn't you, that after the damning political and media criticism the World Health Organisation has rightly been subjected to over fucking up the health of every nation on Earth – with their pitiful and incompetent response to the Coronavirus – that they would have learned a lesson on getting their priorities right.

Well, it seems not. This week, they were celebrating the "defeat" of e-cigarettes in Finland, as if this is in any way a good thing.
Global Forum On Nicotine Goes Online Due To COVID-19
It's a regular feature in the tobacco harm reduction calendar and because of the pandemic, the Global Forum on Nicotine is open to all and is now a free online two day event.

Experts from the world of THR are booked to speak – indeed there's 30 of them – and the topics cover everything from advances in nicotine science, the effect of nicotine on COVID-19, the ethics behind THR and much more.

The impressive line-up of speakers reads like a who's who of the nicotine and tobacco advocacy world including Dr Konstantinos Farsalinos MD and Professor Riccardo Polosa – two guys I've written about extensively. They really are champions of all things nicotine, especially vaping.
Tomorrow is World Vape Day! – Jim McDonald
Saturday, May 30 is World Vape Day. It's a day of recognition for the technology that has helped millions of people stay off combustible tobacco, and a celebration of the people who fight for smokers to have access to these livesaving products. It's also intended to raise awareness about the relative safety of vaping, and convince smokers to try tobacco harm reduction (THR) with a vape.

World Vape Day happens a day before the World Health Organization's World No Tobacco Day, the international tobacco control event on May 31 that used to be focused on educating the public about the harms of smoking, but has become a festival of opposition to the low-risk nicotine products like vapes that challenge the dominance of cigarettes.
---

---
Four from Dave Cross, Planet of the Vapes
A team from Liverpool John Moores, the University of Chester, and Public Health Wales conducted research to see what Welsh primary schoolchildren knew of and thought about vaping. They found that the children understood vaping was healthier than smoking, used for smoking cessation, and felt it was OK for adults to do it.

While the findings might give cause for optimism, the theme running through the study remained a cause for concern. The team began by talking about "ever tried e-cigarettes" in the 11–18 years population: "There has been a global increase in the popularity of e-cigarettes amongst young people. In Great Britain, 15.4% of adolescents aged 11–18 years tried e-cigarettes in 2019, an increase from 12.7% in 2015."
The New Nicotine Alliance (NNA), Britain's foremost charity working to improve the understanding of nicotine and tobacco harm reduction, is inviting people to an online webinar discussion with Clive Bates, Director of Counterfactual Consulting and former Director of Action on Smoking and Health.

The NNA says: "We are delighted to invite you to join us for an online webinar discussion with Clive Bates, Director of Counterfactual Consulting and former Director of Action on Smoking and Health, from 6pm – 7pm (BST) on Thursday 4th June. He will be speaking on the subject 'TPD Review: Opportunity or catastrophe?'.
---
---
European Tobacco Harm Reduction Advocates (ETHRA), comprised of 21 consumer associations in 16 European countries, today launches a manifesto declaring the rights of safer nicotine users in Europe. ETHRA makes a direct plea to the European Union (EU), the World Health Organization (WHO), and governments across Europe.

ETHRA has been formed to increase understanding about the benefits of "new" risk-reduced nicotine products and a better recognition of long-term recreational use of nicotine as a powerful incentive for smoking cessation. ETHRA aims to represent the interests of nicotine consumers across Europe and to spread the word into states which are still sceptical about the benefits of harm reduction.
World Vape Day Saturday (30 May 2020) will be celebrated around the globe as individuals, advocates and consumer organisations all join in to share good news and how vaping has helped reduce tobacco-related harm. From a Twitter campaign to online events, there is something that everyone can join in and show their support.

Next weekend will see World Vape Day run up against the lies in the World No Tobacco Day event. One will be a joyous celebration of evidence and facts, and the other will contain the usual Bloomberg-funded misinformation.

Association of Vapers India (AVI) says:

The world pays the price! – Joseph Magero
The World No Tobacco Day 2020 is here,with the year not having been such a stellar success for the World Health Organization's FCTC efforts on its own terms, especially in developing countries.They have yet again missed their target of reducing cancer,heart and lung disease,as 8 million more people will die from smoking related diseases this year. The WHO stated through the FCTC that it's mandate is to progressively reduce tobacco consumption, but is failing because it is not designed to be independent.
Let's celebrate, educate and help others – Colin Mendelsohn
TODAY, 30 May 2020, is World Vape Day. World Vape Day aims to raise awareness of vaping and encourage smokers who are unable to quit on their own or with currently available smoking cessation tools to switch to safer nicotine products such as vaping.

World Vape Day has been organised by consumer advocacy groups from all around the world, including CAPHRA, the Coalition of Asia-Pacific Tobacco Harm Reduction Advocates which covers Australasia.
Say WHO is blocking innovation and wasting opportunities to save millions of lives
For World No Tobacco Day 2020, an international group of independent experts with no conflicting links to the tobacco or vaping industry has sharply criticized the World Health Organization for its backward-looking approach to innovation and new technology, such as vaping products. Experts say they are exasperated by the WHO's dogmatic hostility towards new technology and fear the U.N. health agency will squander the opportunity to avoid millions of premature deaths that will be caused by smoking.

Professor David Abrams of the School of Global Public Health, New York University, said:
---

---
Vape shops will be allowed to re-open for business on 15 June
The legislation, which did not class vape shops as "essential retail outlets," forced vape shops across the country to close their doors, prompting many to open new online stores.

The closure of vape stores also prompted large number of convenience store owners to expand their vape ranges, with some also launching web shops and home delivery services.

Independent retailer Sid Sidhu, of St John's Budgens in Kenilworth, which features an in-store vape shop, said his vape sales had jumped since lockdown began and he also launched his range online with a home delivery service.
To Participate in Local Study – Diane Caruana
A study by the Center of Excellence for the Acceleration of Harm Reduction (CoEHAR) aims to look into and build an accurate picture, of how the current COVID-19 lockdown has affected the behavior of smokers, vapers and users of other tobacco/nicotine products'. Anyone interested in contributing to this research is encouraged to apply.

Founded by the renowned and award winning Dr. Riccardo Polosa, CoEHAR has designed a short survey, and is seeking to receive input from smokers, vapers, and users of other products such as heat-not-burn devices, in the UK.
WHO, India, UK, and Ray Yeates – VIDA News
Neil Humber
A European vape tax will probably be rubber stamped today bringing all things vape into line with lit tobacco and therefore costing much more.

Despite all 'novel tobacco' products – vape kits, e-liquids, heat not burn devices – being within the TPD, they are not taxed as such.

This, says the EU, will bring them into line with lit tobacco and will apparently help 'tackle the challenges' they bring – whatever they are.
Fast-growing vaping brand Totally Wicked has secured another listing in the supermarket sector, this time with Asda. A selection of its e-liquids and byte pod e-cig have been rolled out across more than 420 Asda stores nationwide.

It follows a similar tie-up with Sainsbury's three months ago, which included 340 stores. The brand is also available in WHSmith stores and across the Euro Garages forecourt estate. The collaborations with selective retailers aim to complement Totally Wicked's own 158-strong retail estate, and e-commerce platform.

Tobacco Reporter
While the use of e-cigarettes is increasing, vaping is less likely to lead to a long-term habit than smoking, according to a group of 10 interrelated papers prepared for the ongoing Population Assessment of Tobacco and Health (PATH) study.

"The most surprising finding was that while we know cigarette smoking is persistent, and we see use of electronic cigarettes, or e-cigarettes, increasing, especially among young people, what we are not seeing is that e-cigarette use is anywhere near as persistent as cigarette smoking," says Andrew Hyland, chair of health behavior at Roswell Park and scientific lead on the PATH study.
Jamie Hartmann-Boyce and Nicola Lindson
There is mixed evidence on the role of smoking in COVID-19 infection and associated outcomes. Whereas the expectation is that smoking would predispose to worse outcomes from COVID-19, as is the case in other acute respiratory infections, some (but not all) studies of COVID-19 have detected fewer people who smoke than would be expected in hospitalised patients with COVID-19. It is unclear whether this is due to biases, confounding, misreporting, or a potential protective effect of smoking on COVID-19 outcomes. Irrespective of COVID-19, smoking is uniquely deadly. However, nicotine, the addictive component of cigarettes, can be safe when used in other forms, and there is some biological plausibility regarding a possible role of nicotine in COVID-19 infection. Below we briefly review evidence to date on the role of nicotine in COVID-19. This is important to people who smoke, but it could also be of general relevance, as some have hypothesised nicotine may be a potential treatment for COVID-19.
Will increase transmission of COVID-19
Cardiologist Dr. Konstantinos Farsalinos says clinical observations show very few smokers are hospitilised for the virus. Cigarette smoking is known to be the cause of certain respiratory conditions like cancers and other diseases.

As COVID-19 started spreading it was assumed that smokers were at a higher risk of contracting the virus, and that if they did, they would exhibit harsher symptoms than non-smokers.

However, new research has emerged to show that this may not be the case.
Hurts adult smokers – Darryl Tempest
The Calgary Herald has published an op-ed, "Let's prevent another public health disaster in Alberta by protecting youth from vaping products," submitted by a group of health advocates and medical professionals. The op-ed urges the Government of Alberta to ban flavoured vapour products, ban retail advertising outside of specialty vape shops, require stores to be licensed, and tax vaping products. The Canadian Vaping Association is aligned on many of these points and agrees there is a need to protect youth, however banning flavours and taxing vapour products will have unintended consequences.
Switch to e-cigarettes – Manila Standard Business
A regional tobacco harm reduction organization warned that misleading and false information on e-cigarettes is stopping smokers from switching to the better nicotine alternatives.

"The perception of harm from vaping is not consistent with the scientific evidence. Local public health experts should take the lead in providing Filipino smokers who cannot or do not want to quit smoking by themselves or with currently-approved methods with accurate scientific information on e-cigarettes and other better nicotine alternatives," said Clarisse Virgino, Philippine representative to the Coalition of Asia Pacific Tobacco Harm Reduction Advocates.
---
A look back at how things have moved on or otherwise….
The pro-inflammatory/oxidative and anti-inflammatory/anti-oxidant properties of cinnamaldehyde
Dr Farsalinos, E-cigarette Research
A new study published in the well-known Journal of the American College of Cardiology (JACC) identified that e-cigarette flavorings, particularly cinnamon, can be toxic to the heart by having oxidative and pro-inflammatory properties. Researchers used human-induced pluripotent stem cell–derived endothelial cells (iPSC-ECs) which were exposed to six commercially-available e-cigarette liquids (which were not vaped, they were used in liquid form).
Australian Tobacco Harm Reduction Association
Recent news stories in the Australian media (here and here and here) have breathlessly reported claims that vaping may cause heart disease based on a small cell study in the US. However, these claims are misleading and unsubstantiated and are likely to do more public health harm than good.
Dr. Konstantinos Farsalinos, The Pioneer
It is ironic for e-cigarettes and harm reduction products to be banned while legal sales of tobacco cigarettes continue. The alternative can impact public health positively

India has a major problem with tobacco. It is the second largest consumer of tobacco with over one in 10 of the world's smokers and incurs a staggering economic burden of approximately $26 billion per annum. As per a report by the Ministry of Health & Family Welfare, the total economic costs attributable to tobacco usage related diseases in India, in the year 2011 for people aged between 35-69, was  Rs 1,04,500 crore (around $22.4 billion). The  tobacco epidemic has indeed reached alarming levels. As per latest estimates, there are nearly  106 million people in India who smoke tobacco and 32 million who smoke as well as chew it.
---
Visit Nicotine Science & Policy for more News from around the World

---