Vaping Digest 27th May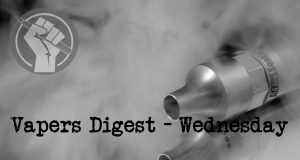 Wednesday's News at a glance:
Europe-wide consumer organisation launches manifesto on behalf of millions of former smokers ~ Consumer Group: Harm Reduction Is a Human Right ~ European Vaping Manifesto Launched – The Fight To Save Vaping Is On! ~ EU Group Protests Survey Process ~ Snus and Covid-19: Sweden launches new research project ~ Tobacco harm reduction in England –England's Tobacco Control Plan ~ Clive Speaks Out ~ WHO Thought This Was A Good Idea ~ Wiping the Slate Clean: Reassessing Alternatives to Cigarettes in a COVID-19 World ~ CAPHRA Call To Action ~ Results from a 2018 cross-sectional survey ~ New Vaping Regulations Inadequate – Industry Expert ~ EU countries to propose excise tax for e-cigarettes and heated tobacco products ~ Dinner Lady launches new e-cigarette into 350 Asda stores
European Tobacco Harm Reduction Advocates (ETHRA)
Europe-wide consumer organisation launches manifesto on behalf of millions of former smokers

European Tobacco Harm Reduction Advocates (ETHRA) – comprised of 21 consumer associations in 16 European countries – today launches a manifesto declaring the rights of safer nicotine users in Europe
The manifesto is on behalf of 27 million grass roots consumers across Europe who have quit smoking using safer products such as e-cigarettes and snus
The ETHRA Manifesto calls on policymakers to recognise the benefits of tobacco harm reduction in advance of World No Tobacco Day
European Tobacco Harm Reduction Advocates (ETHRA)
The European Tobacco Harm Reduction Advocates (ETHRA) is calling on policymakers to recognize the benefits of tobacco harm reduction in advance of World No Tobacco Day on May 31.

According to ETHRA, reduced-risk products such as e-cigarettes and snus are providing a gateway out of smoking for millions of Europeans, yet across the continent, consumer access to these products is being denied or is under threat.
Neil Humber, Ecig Click
Vape advocates are ready to take on the might of the WHO and its World No Tobacco Day, with the launch of a European vaping manifesto.

The manifesto declares the 'rights' of all safer nicotine product users and says tobacco harm reduction – THR – is a human right.

---
---
Snusforumet
Following pleas from a prominent tobacco harm reduction advocate, researchers in Sweden are now examining the relationship between nicotine in snus and Covid-19 using a unique Swedish data set.

"Sweden has a unique opportunity because we are alone in having such widespread use of snus," Cecilia Magnusson, Adjunct Professor of Public Health Epidemiology at Karolinska Institutet tells the Dagens Nyheter (DN) newspaper.
Clive Bates
England has adopted a broad-based comprehensive approach to to-bacco control, adopting the main tools of established tobacco control: tobacco taxation; smokefree environments; advertising bans; standardised packaging; warnings and risk communications; support for smokers wishing to quit and some product regulation. However, what is different and interesting in England is the very positive approach taken to vaping and its role as a harm reduction approach in tobacco control. Harm reduction is recognised as integral to tobacco control in the WHO Framework Convention on Tobacco Control:
---
Two from Dave Cross, Planet Of The Vapes
Experts, including Clive Bates, have told the European Union that it isn't doing enough to combat disease in its 'Beating Cancer Plan' because it is failing to recognise the importance of vaping. Bates also spoke to Regulator Watch about teen vaping and the potential benefit of nicotine in the treatment of COVID-19 symptoms.
World Health Organization's (WHO) World No Tobacco Day has introduced some of the worst adverts made about vaping. The lavishly funded campaign has provoked condemnation and anger at the questionable use of children and the inevitable barrage of half-truths and lies.
---
Upendra Nath Sharma, Rishabh Gupta, HealthWorld

COVID-19 creates both an obligation and an opportunity for the Indian Government to revisit its stance on cigarettes and tobacco products, and reassess the role less harmful smokeless alternatives can play. No better time than 'World No Tobacco Day' to take a re look.
---

---
Coalition of Asia Pacific Tobacco Harm Reduction (THR) Advocates, CAPHRA
IMPORTANT CALL TO ACTION: A call to action to support the #Philippines. Please make a submission as outlined below. Please share in your networks. *All vaping products and HTPs will be treated as health products*. Standards that would result in a de facto ban on e-cigarettes and heated tobacco products that would make these products unacceptable to many adult smokers.
in Tokyo, Osaka and Sendai to assess tobacco and nicotine product usage after the introduction of heated tobacco products (HTPs) in Japan
Harm Reduction Journal
For novel tobacco products that potentially reduce the risk of tobacco harm, post-market surveillance is important to observe population usage and behaviours associated with everyday use. This pilot study was performed to examine the use of tobacco products in three Japanese urban regions.
Proposed Government regulations to control the sales of vaping products may not go far enough to protect Kiwis wanting to quit smoking according to an industry leader.

While thousands of New Zealanders have used their time in lockdown to quit smoking and are seeking out alternatives, there is concern many products on the international market are simply not safe.
Sarantis Michalopoulos, EURACTIV.com
EU member states will ask the European Commission this week to place novel tobacco products, electronic cigarettes and heated tobacco products under the EU Tobacco Excise Directive, meaning they would be taxed just like traditional tobacco products, according to draft Council conclusions seen by EURACTIV.com.
, Retail Times
Available both online and across 350 ASDA supermarket stores, the new disposable e-cigarette is the UK's first to be pre filled with premium quality Dinner lady e-liquid.

The revolutionary no fuss e-cigarette will feature 2 new flavours, Pink Berry and Fresh Menthol and will offer consumers a premium alternative to traditional menthol tobacco products.