Vapers Digest 26th August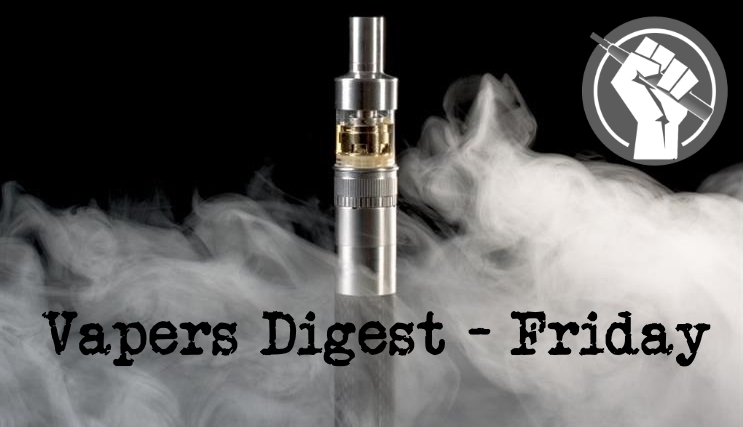 Friday's News at a glance:
New ASH briefing sets the record straight on youth vaping – Nicotine patches being used by researchers to stimulate memory – Public health agencies – not judges – Federal Court Rules Against FDA – ASH Youth Briefing – Teen Access Needs To Be Addressed – INNCO: Evidence Wins Out – CAPHRA: Massive Wake-Up Call – EU must withstand anti-vaping pressure – Scientific evidence supports vaping –  Nicotine vaping was not the cause of EVALI – New Survey Data Cast Further Doubt – Hypocritical on 'harm reduction' – Supreme expands vaping brand – Nicotine Science and Policy Daily Digest
New Nicotine Alliance
Action on Smoking and Health (ASH) has this week released a briefing for local authorities on youth vaping. This is a timely document which follows a steady stream of alarmist media headlines on the subject in recent weeks. ASH's briefing, also endorsed by several other public health organisations, offers an objective look at current regulation and the latest evidence on youth vaping data from the most up-to-date surveys.

Most importantly, it debunks some of the many myths seen recently in the media which have been negatively skewing the public's view of vaping products and how they can continue to contribute positively to public health. The UK is a global leader in recognising the benefits of reduced risk products such as e-cigarettes to help smokers to quit, and we are pleased that ASH has reacted to recent negativity in the news with a calm and balanced set of evidence-based guidelines for local authorities to follow.
To stimulate memory in older adults – Aaron Cantrell
Vanderbilt University, USC and the National Institutes of Health are conducting the study which involves giving nicotine patches to older adults to stimulate their memory.

They believe the nicotine interacts with parts of the brain connected to memory loss and attention. They're hopeful the patches will "improve" brain functions.

"We believe that memory should actually be maintained pretty normally through most of the aging process and that if your memory is dipping, that's something that we should be concerned about," Vanderbilt Center for Cognitive Medicine Dr. Paul Newhouse explained.
---

---
Need to be promoting tobacco harm reduction – Lindsey Stroud
In 2017, Scott Gottlieb, then-commissioner of the U.S. Food and Drug Administration (FDA), conceptualized a "Comprehensive Approach to Nicotine and Tobacco." This was an approach in which the nation's leading health agency would "envision a world" that "recognize[s] the potential for innovation to lead to less harmful products … a world where less harmful alternative forms, efficiently delivering satisfying levels of nicotine, are available for those adults who need or want them."

In the five years since, the FDA has lost sight of that world by shuttering and arbitrarily blocking innovation in tobacco harm reduction. On August 23, the United States Court of Appeals for the Eleventh Circuit found the agency's recent regulatory actions of vapor products to be "arbitrary and capricious."
---
Let's take a close look at @StatNews and reporter @NicholasFlorko, whose work on vaping policy has routinely pushed a prohibition agenda that is remarkably aligned with Bloomberg front groups.
THREAD 🪡

— American Vapor Manufacturers (@VaporAmerican) August 24, 2022
While discussing the misconception that #nicotine is the major cause of disease, Dr. Jed Rose said, "It's the combustion products of smoking and we need to get that message out to the world." pic.twitter.com/6R1CJ8O6aL

— Smoke-Free World (@SmokeFreeFdn) August 24, 2022
---
In Six MDO Appeals – Jim McDonald
A federal appeals court handed the independent vaping industry its first major win yesterday, ruling that the FDA acted improperly when it issued marketing denial orders (MDOs) to six small manufacturers. The decision nullifies the MDOs and forces the FDA to begin new reviews of the companies' premarket tobacco applications (PMTAs).

A three-judge panel of the Eleventh Circuit Court of Appeals ruled 2-1 that the MDOs were arbitrary and capricious because the agency didn't consider the marketing plans submitted by the small businesses in their applications. The six companies are:

Four from Dave Cross, Planet of the Vapes:
Action on Smoking and Health has issued a briefing about teen vaping. Its aim is to help local authorities respond to growing concerns about youth vaping in their communities. Primarily for public health officials and trading standards officers, it also "sets out important information for councillors, schools, parents and retailers."

Following the release of a recent ASH report, Deborah Arnott, ASH's Chief Executive said:

"The disposable vapes that have surged in popularity over the last year are brightly coloured pocket-sized products with sweet flavours and sweet names, and are widely available for under a fiver, no wonder they're attractive to children."
High street shops need to stand up and be counted when tackling u18s' access to vaping, according to age verification experts. 1account says the vast majority of children and young people illegally buying disposable vapes are doing so in physical bricks and mortar stores rather than online.

Vape purchase "market test" suggests online age verification effective at preventing sales of disposables to minors compared to physical stores. Government should focus efforts to combat youth access to vapes on high street

The statements arose from research carried out by a leading provider of age verification solutions which is calling on the government to focus on the high street when it comes to combatting underage vape sales.
The International Network of Nicotine Consumer Organisations (INNCO) has congratulated The Philippines's government for siding with public health evidence and taking a huge leap towards preserving the health of millions. Despite interference from anti-harm reduction activists, the Philippines has embraced harm reduction to help smokers quit, reducing health risks for people who use toxic forms of tobacco. This approach could save the lives of 16 million Filipinos.

INNCO says allegations of illegal outside interference by Bloomberg Philanthropies, with the Philippines Food and Drug Administration, surfaced during public hearings of the Vape Bill. House Deputy Speaker, Ilocos Sur Rep. Deogracias Victor Savellano and Nueva Ecija Rep.
"Enacting some of the most progressive vaping legislation in Asia Pacific now makes the Philippines an international leader in effective Tobacco Harm Reduction (THR). It's a massive wake-up call for other countries to also enable smokers to switch to safer nicotine products," says Nancy Loucas, Executive Coordinator of the Coalition of Asia Pacific Tobacco Harm Reduction Advocates (CAPHRA).

Regulation of the importation, manufacture, sale, packaging, distribution, use and communication of vaping products such as e-cigarettes and heated tobacco products (HTPs) became law on 25 July. The move has long been advocated by health experts and THR proponents who believe it will save countless lives among 16 million Filipino smokers.
---

---
Michael Landl
Yesterday, the EU Commission announced the registration of a European Citizens' Initiative (ECI) entitled 'Call to achieve a tobacco-free environment and the first European tobacco-free generation by 2030'.

The organisers, a Spanish public health NGO called NoFumadores, propose to ban the sale of tobacco and nicotine products to all citizens born after 2010.
Colin Mendelsohn
To help smokers quit – Colin Mendelsohn
EMERITUS PROFESSOR SIMON CHAPMAN does not support nicotine vaping and outlined ten issues he calls Vaping Myths to argue his case (Medical Republic 11 August 2022).

This detailed analysis looks at the evidence behind his claims and finds that many of them are flawed and misleading and he ignores crucial evidence which contradicts his case.

On the FDA's Opposition to Flavored E-Cigarettes – Jacob Sullum
A federal appeals court this week sided with several companies whose applications to sell nicotine vaping products in a variety of flavors were rejected by the Food and Drug Administration (FDA). As Reason's Elizabeth Nolan Brown noted yesterday, the U.S. Court of Appeals for the 11th Circuit ruled that the FDA's decisions were "arbitrary and capricious" because the agency ignored marketing and age-verification plans aimed at preventing underage vaping. But as Judge Robin Rosenbaum noted in her dissent, the manufacturers' victory probably will be short-lived, because the FDA seems dead set against allowing the sale of vaping products in flavors other than tobacco.
Hypocritical on 'harm reduction' – Steven Greenhut
Some California Democrats have recently discovered the concept of "harm reduction" when it comes to a variety of drug-related matters. As the National Harm Reduction Coalition explains, this idea "accepts, for better or worse, that licit and illicit drug use is part of our world and chooses to work to minimize its harmful effects."

Harm reduction is largely a reaction to the nation's failed War on Drugs, which treated drug use – including addictive and destructive hard drugs as well as non-addictive drugs that people use for recreational and medical purposes – as criminal matters. Unfortunately, many of the same people who tout this anti-Prohibitionist idea only apply it selectively, but more on that later.
With acquisition of Cuts Ice Ltd and Flavour Core
Cuts Ice is an independent vaping manufacturer with major own brands and OEM manufacturing contracts.

Flavour Core develops flavours and is a regulatory compliance business in e-liquids.

Cuts Ice's vape brand 'T Juice,' with the single flavour 'Red Astaire,' achieved significant brand recognition in continental European markets, which will add geographic diversity to Supreme's customer base.
---
A look back at how things have moved on or otherwise….
From Nicotine Pouches – Martin Cullip, Filter Magazine
Earlier this month, the Centers for Disease Control and Prevention (CDC) tweeted about the dangers of nicotine pouches, a fairly new reduced-risk nicotine product.

The pouches are small bags of food-grade powder infused with nicotine. They're placed under the lip, where the nicotine is absorbed into the user's gum. Even though they have only been on the US market for about two or three years, public health groups seem to be developing a growing distaste for them.
Alex Norcia, Filter Magazine
On August 9, the Food and Drug Administration (FDA) ordered that approximately 4.5 million vaping products from a single company, JD Nova LLC, could not be sold in the United States. As a result, JD Nova cannot introduce these vaping products—many of which were not actually on the market—nor can it continue to sell the ones that were already available to customers.
---
Visit Nicotine Science & Policy for more News from around the World

---