Vapers Digest 31st August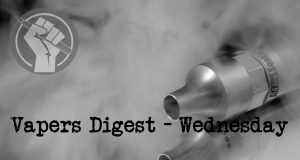 Wednesday's News at a glance:
Schroedinger's nicotine: good in patches, bad in vapes ~ Where are the missing verbatim #COP9 reports? ~ Generational tobacco ban positive, but is it legal? ~ 1.1 MILLION REASONS TO REGULATE AUSTRALIA'S ILLEGAL VAPE INDUSTRY ~ Calls for change to Australia's failed vaping regulations ~ Bring Your Own Joke ~ Malaysia Must Mirror Kiwi Ban ~ Tyred With Disposables ~ Alaska: Governor Will Decide Soon on Vape Tax and Other Restrictions ~ Federal Court Rules for FDA in Latest MDO Appeal ~ Macau Parliament Finalizes Vape Product Prohibition ~ Agenda: Vaping must be harnessed as a key anti-smoking tool ~ UK Program Will Pay People to Quit Smoking During Pregnancy ~ Record UK vaping figures create a stir ~ Use of e-cigarettes among adults in Great Britain ~ Latest Roy Morgan Data Shows Vaping is here to stay ~ EAS Offers an Inside Perspective to CTP Review
Michael Landl, World Vapers Alliance
While it is estimated that more than 80 million people worldwide are vaping — a 95% less harmful alternative to smoking — the attacks against nicotine consumption in general, and vaping in particular, are intensifying. One of the most common arguments against vaping relies on opposition to nicotine itself. For many anti-vaping activists, this is a categorical problem, despite all evidence showing that nicotine is not the cause of smoking-induced illnesses.
Cop Watch
It has been some time since we reported news on #FCTCCOP, but has it been quiet for the FCTC Secretariat?

Silence can mean things are being quietly cooked and indeed, we are back here to report on developments following last year's secretive COP9. Eventually – almost five months after the meeting – the FCTC Secretariat published the final report of the COP9. The sixty-eight page report reaffirmed the decision taken pre COP that "substantive discussions of and decisions" on some of the agenda items (including articles 9 and 10 and "novel" products) are deferred to COP10, due to be held in Panama in 2023.
Aotearoa Vapers Community Advocacy (AVCA), Voxy.co.nz
---
Too bad this is happening on the last day of @thegtnf, but vapers, advocates, and business owners put out of business by Zeller may be interested in attending. https://t.co/3i7DbzEx94

— Gregory Conley (@GregTHR) August 31, 2022
---
Innco
Hi Dear Friends,

It's always a pleasure to greet you. Please remember that next Saturday, September 3rd. We have our Virtual Social Gathering "Bring your own Joke". If you like to add the event to your calendar so you don't miss it, you can do it with these links: Google event: https://bit.ly/3QZnWl9 Facebook event: https://fb.me/e/1XNHYsk9T
---
Two from Dave Cross, Planet of the Vapes
Malaysia's parliamentary special select committee tasked with scrutinizing legislation to get tough on tobacco must look to New Zealand if it really wants to crush Malaysia's smoking epidemic, says leading local advocacy group MOVE (Malaysian Organisation of Vape Entities).
Images and anecdotes are spreading around social media claiming that there is a growing problem with car tyres being punctured by discarded disposable vapes. Planet of the Vapes has received a typical comment and photographs from a smoking cessation experts' group and reproduces it here under fair use.
---

---
Three from Jim McDonald, Vaping 360
Earlier this year, both houses of Alaska's state legislature passed a bill that would impose a statewide tax on vaping products, and prevent U.S. Mail delivery within the state. Now Governor Mike Dunleavy is considering whether to sign bill SB 45 into law or veto it.
For the third time in four decisions, a federal appeals court has denied a vaping manufacturer's petition for review of an FDA marketing denial order (MDO). So far, seven companies have lost their circuit court MDO challenges and six have prevailed—but all six winners were in one consolidated decision.
Aug. 30 update
Yesterday the Macau Parliament passed the final version of the bill banning the manufacture, distribution, sale, import, export, and transport in and out of Macau of vaping products. The bill passed unanimously.
---

---
And A Continued Smoking Decline in 2017 – Brad Rodu
Despite the rhetoric, there is no "Juul epidemic" among high school students.

The purported epidemic has been widely cited in the media.  Just last week, an article in theNew England Journal of Medicine (here) asserted that "use of these products is rampant among young people."  The authors based their claim on "Media stories about Juul … [that] highlight anecdotal reports from students, parents, teachers, and school superintendents."
American Heart Association Tobacco Regulation and Addiction Center
New research estimates that 4.5 percent of adults in the U.S. currently use e-cigarettes. That equates to more than 10.8 million e-cigarette users, most of them —  51.2 percent — under the age of 35 and about 60 percent are men. Those data come from an analysis of national self-reported health behaviors.

Additionally, e-cigarette use was higher among people who were lesbian, gay, bisexual or transgender, as well as in the unemployed and those with cardiovascular disease, asthma and cancer. It was even higher in those with chronic obstructive pulmonary disease and depression.
---
Visit Nicotine Science & Policy for more News from around the World

---