Vapers Digest 24th August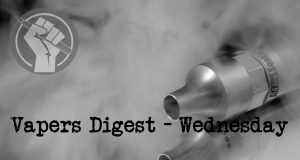 Wednesday's News at a glance:
Karl Abramson, Americans For Tax Reform
This afternoon, the United States Court of Appeals for the 11th Circuit released opinions in four key cases brought against the U.S. Food and Drug Agency (FDA) by vape product manufacturers who had been issued marketing denial orders (MDOs). In all four cases, the Court found that FDA "failed to consider the relevant marketing and sales-access-restrictions plans" that the manufacturers had submitted when issuing the MDOs.
---
The 11th Circuit has ruled 2-1 in favor of the petitioners challenging their PMTA denials, including our client Bidi Vapor, ruling that the MDOs were arbitrary and capricious because FDA failed to consider the relevant marketing and sales-access-restrictions plans. (1/2)

— Azim Chowdhury (@ECIGattorney) August 23, 2022
---
Two from Dave Cross, Planet of the Vapes
North Tyneside MP Mary Glindon has backed vaping after speaking of how it helped her late husband stop smoking. Mrs Glindon said the method had helped her spouse and Camperdown Ward councillor Ray – a heavy smoker – quit before his untimely and unrelated death from prostate cancer last year.
Hybrid vape shops in New Zealand need addressing, says the Aotearoa Vapers Community Advocacy (AVCA). "There are far too many convenience stores now also operating as licenced 'Specialist Vape Retailers'. It makes a mockery of New Zealand's vaping laws and so we're pleased the Government is going to tidy up this unintended consequence," says Nancy Loucas, co-founder AVCA.
---

---
Innco
"Public Webinar for #HarmReduction lovers: Bring your own beer (or wine). Bring tomatoes to throw at me. And bring a joke. Everybody knows at least one. Gods know we need a laugh. SATURDAY, SEPTEMBER 3, 2022 AT 3 PM EDT"" ~ Charles Gardner, PhD.
---

---
..and nicotine gum – Christopher Snowdon
This represents a new narrative opening up. The story now is that Nicotine Replacement Therapies (NRT – gums, patches, etc.) are not very effective and this somehow the fault of the tobacco industry, rather than the pharmaceutical industry.

Stanton Glantz – for it is he – jumped the shark a long time ago so I am reluctant to say that this is a turning point for him. Nevertheless, this is quite a pivot. Not only does he say that NRT doesn't work, he says that it keeps people smoking.
Study shows vaping helps smokers quit – Jim McDonald
For the third time in recent months, a study shows clearly that vaping is helping smokers quit or stay off cigarettes. When will American public health officials and special interest groups like the American Cancer Society and the American Lung Association start to pay attention?

The new research shows that among established adult smokers in the last five years, daily vapers were more like to have quit smoking than those who never used vapes. Over the five year period studied, 52 percent of the daily vapers quit, versus just 28 percent of the non-vaping smokers.
---
Visit Nicotine Science & Policy for more News from around the World

---