Vapers Digest 22nd August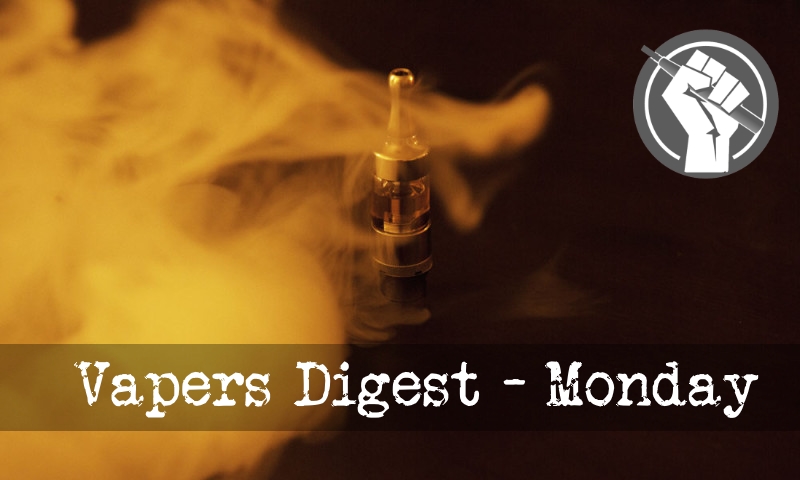 Monday's News at a glance:
Illegal Sales Raids – ASH brief for local authorities on youth vaping – FDA and (Lack of) Access to Tobacco Harm Reduction – The FDA's Anti-Tobacco Crusade is Foolish and Un-American – Filipino Green Light For Vaping – A Massive Wake-up Call – International harm reduction experts – Is Youth Smoking Over? with Dr. Marewa Glover – Nicotine Science and Policy Daily Digest
Dave Cross
Various Trading Standards departments have been busy across the United Kingdom during 2022. The enforcement action on illegal sales of vape products continued recently in Gloucestershire. Teams of officers supported by the police have raided a series of stores across the country.

Action in London typified the type of activity taking place across the country when Trading Standards swooped to clean up Oxford Street – and officers walked away with 43 large sacks containing over £100,000's worth of disposable ecigs.
On youth vaping
1. This short briefing is to help local authorities respond to growing concerns about youth vaping in their communities. Written by ASH, it has been endorsed by the organisations whose logos are included.

2. It is primarily for public health officials and trading standards officers, but also sets out important information for councillors, schools, parents and retailers. Links to further information are also provided
---

---
Taxpayers Protection Alliance
While the U.S. Food and Drug Administration (FDA) has been in the news recently for its role in regulating vapor products, it was not until 2009 that the agency was given authority to regulate tobacco products when Congress passed the 2009 Family Smoking Prevention and Tobacco Control Act (TCA).

In the years since the passage of TCA and the introduction of reduced tobacco harm products, youth and adult use of combustible cigarettes has significantly declined. In 2021, one percent of middle schoolers and only 1.9 percent of high school students reported current cigarette use. In 2020, only 12.5 percent of U.S. adults smoked cigarettes.
---
Attention, Oregon vapers!

The Multonomah County Board of Health is considering a ban on flavored vapes. They are asking for comments from local people, using the form below.

Please comment! https://t.co/PYM2Ar4KG3

— Vaping360 (@Vaping360) August 21, 2022
This is a shockingly bad story. It's hard to believe it ended up in a legit publication. @ProfGlantz – whose Twitter IDs him as retired – makes incredibly ignorant comments that the author just accepts as facts. Truly shameful. https://t.co/VGHuFmwJtU

— Seth Mnookin (@sethmnookin) August 20, 2022
---
Is Foolish and Un-American
"Hey, man, this is America!" We're all familiar with the phrase. It used to signify a free person's cordial invitation to shove off — Americans know their rights and are unafraid to exercise them. Today, however, the phrase has lost its rhetorical heft. "This is America!" could in fact be a recognition of the puritanical war that many of our country's elites are waging against smoking and vaping. These activists have little respect for citizens' rights and abilities to make their own choices. They want to expand the federal government's reach in a wholly un-American fashion.

A Massive Wake-up Call – CAPHRA
"Enacting some of the most progressive vaping legislation in Asia Pacific now makes the Philippines an international leader in effective Tobacco Harm Reduction (THR). It's a massive wake-up call for other countries to also enable smokers to switch to safer nicotine products," says Nancy Loucas, Executive Coordinator of the Coalition of Asia Pacific Tobacco Harm Reduction Advocates (CAPHRA).

Regulation of the importation, manufacture, sale, packaging, distribution, use and communication of vaping products such as e-cigarettes and heated tobacco products (HTPs) became law on 25 July. The move has long been advocated by health experts and THR proponents who believe it will save countless lives among 16 million Filipino smokers.
---

---
Urge government to rethink proposed vape ban
A group of international tobacco harm reduction advocates has asked Bangladesh authorities to reconsider its proposed prohibition of electronic nicotine delivery systems (ENDS) and other smokefree nicotine alternatives in a letter addressed to the Ministry of Health.

The letter states that smoke-free nicotine products have the potential to drive out smoking, and urges the Bangladesh government to prohibit less harmful alternatives to cigarettes. reads a press release.

"The Bangladesh government should support smokers by encouraging a mass switch from high-risk cigarettes to low-risk ENDS and accelerating the end of the epidemic of smoking-related disease," it reads.

With Dr. Marewa Glover
---
A look back at how things have moved on or otherwise…
For Unprecedented Endorsement of Vaping – Alex Norcia
In a new paper, the most influential tobacco control experts in the country have come together to endorse the harm reduction benefits of vaping for adult smokers, calling for the rehabilitation of its public image and emphasizing its ability to save lives as a safer alternative to combustible cigarettes. The publication represents the most organized and explicit call-out by such scholars to date.

The article, published August 19 in The American Journal of Public Health, was led by Kenneth Warner, a professor emeritus of health management and policy at the University of Michigan and a distinguished tobacco control expert. It addresses everything from the confusion of nicotine's effect on the developing brain to how we should balance the concerns about the risks and potential benefits of vaping.
Christopher Snowdon, Velvet Glove Iron Fist
The American Journal of Public Health has published an article by fifteen past presidents of the Society for Research on Nicotine and Tobacco. Not all of it is sensible – they support raising the age at which e-cigarettes can be bought to 21 and they support the idiotic policy of reducing nicotine in cigarettes – but it is a beacon of enlightenment compared to most of the commentary coming out of the USA these days.
---
Visit Nicotine Science & Policy for more News from around the World

---