Vapers Digest 20th August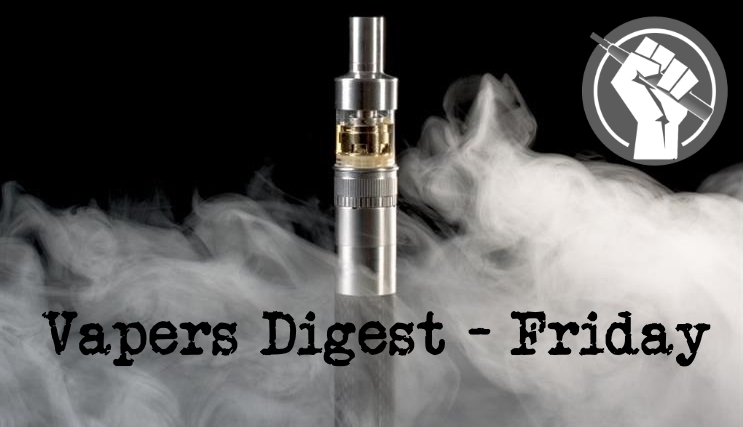 Friday's News at a glance:
Tobacco Control Experts Unite for Unprecedented Endorsement of Vaping – Signs of sanity in US tobacco control? – Tobacco Control Experts Promote Vaping – Call for a Reset of the Vaping Debate – Stanton Glantz's Tainted Science – State AGs Pressure FDA – Glantz Paper Pulled Apart – Worst Published Paper Of The Year? – MHRA Closes Vape "Loophole" – Parliament – Drug Legalization Is Trendy—Unless the Drug Is Nicotine – Canadian Vaping Association: – Why do opponents want to suppress or dismiss science? – The WHO's war on vaping – Vape to curb smoking –WHO report on the global tobacco epidemic 2021: –  Mexico's thaw on heated tobacco – Terrible timing for vape businesses and consumers – Senate Bill 2239 regulates vape market – Preventing Youth Vaping Could Hinder Adults' – March against the ban of flavours in Montreal – Nicotine Science and Policy Daily Digest
For Unprecedented Endorsement of Vaping – Alex Norcia
In a new paper, the most influential tobacco control experts in the country have come together to endorse the harm reduction benefits of vaping for adult smokers, calling for the rehabilitation of its public image and emphasizing its ability to save lives as a safer alternative to combustible cigarettes. The publication represents the most organized and explicit call-out by such scholars to date.

The article, published August 19 in The American Journal of Public Health, was led by Kenneth Warner, a professor emeritus of health management and policy at the University of Michigan and a distinguished tobacco control expert. It addresses everything from the confusion of nicotine's effect on the developing brain to how we should balance the concerns about the risks and potential benefits of vaping.
Christopher Snowdon, Velvet Glove Iron Fist
The American Journal of Public Health has published an article by fifteen past presidents of the Society for Research on Nicotine and Tobacco. Not all of it is sensible – they support raising the age at which e-cigarettes can be bought to 21 and they support the idiotic policy of reducing nicotine in cigarettes – but it is a beacon of enlightenment compared to most of the commentary coming out of the USA these days.
---

---
CASAA
Today The Consumer Advocates for Smoke-free Alternatives Association (CASAA) is grateful to a unified group of renowned tobacco control experts who are speaking out in favor of promoting vaping as a low-risk alternative to smoking and correcting misinformation about the use of nicotine. In an unprecedented report published today in the American Journal of Public Health, 15 esteemed scientists, doctors, and public health professionals — all of whom are former presidents of the Society for Research on Nicotine and Tobacco (SRNT) — are drawing attention to the need for balance in the debate and resulting policies around vaping and other safer nicotine products to include the needs of more than just children.
Jim McDonald, Vaping 360
With less than a month before the FDA is expected to make decisions on authorizing vaping products, a new paper from a group of respected longtime tobacco control leaders could fundamentally change the conversation around vaping. It's intended to do just that.

The paper argues that public understanding of vaping has been poisoned by powerful interests that have exaggerated the risks of e-cigarettes to youth and largely ignored the potential benefits of vaping for adults who smoke. The authors say that adult smokers as a group have become invisible to the tobacco control groups and media that control the one-sided conversation.
---
In the @guardian's Other Lives pages, an obituary for our friend Kevin Molloy, written by @JonDerricott1 of our #THRScholarships programme.
"As a work colleague Kevin was all that could be wished for. [He was] a caring, concerned, wise and funny man."https://t.co/Y0znQSBwYt

— The Global State of Tobacco Harm Reduction (@GlobalStateTHR) August 20, 2021
Just a reminder that the New Nicotine Alliance @NNAlliance is a transparent charity with no ties to any industry or political organisation, staffed by volunteers. If you want to donate to a UK body campaigning for vapers' rights … donate to the NNA https://t.co/zhG8vlLo5s

— Dave Cross (@_Dave_Cross_) August 18, 2021
---
The Rest of the Story – Brad Rodu
Journalist Marc Gunther recently authored articles for Undark (here) and Medium (here) about "The tainted science of Stanton Glantz."

It is evident that Gunther interviewed or corresponded with numerous Glantz research critics. Gunther's sources include the author of this blog, who provided extensive documentation of Glantz's questionable work. However, since Gunther fails to tell the whole story, I will provide the rest of it here.

Fake Heart Attacks: The most important items in Gunther's articles are his descriptions of Glantz's flawed heart attack study that appeared in the Journal of the American Heart Association – a work that was retracted eight months after its publication in June 2019. Gunther described that study and its repercussions in his Undark article as follows:
To Reject Flavored Vape PMTAs – Jim McDonald
Attorneys general from 31 U.S. states and territories are calling on the FDA to ignore its scientific mandate from Congress and ban flavored vaping products and nicotine pouches, limit nicotine strength in these products, and restrict advertising and marketing. The demands came in a letter sent Wednesday to FDA Acting Commissioner Janet Woodcock.

Four of the signatories are from jurisdictions that have already banned flavored vaping products—the District of Columbia, Massachusetts, New York and Rhode Island.

The letter is the latest example of federal and state officials and anti-vaping special interest groups attempting to pressure the agency to disregard the scientific review of tobacco products required by the Tobacco Control Act.

Five from Dave Cross, Planet of the Vapes:
BMJ's Tobacco Control journal published "a work of fiction" by Stanton Glantz (1). His "fantasy stuff" celebrated the "successful countering of tobacco industry efforts to overturn Thailand's ENDS ban". It has been pulled to pieces by Gerry Stimson, Charles Gardner, and Asa Saligupta. (2)

In a tweet, Gerry Stimson wrote: "Another work of fiction from Stanton Glantz published in [Tobacco Control] by editor Ruth Malone. How does this fantasy stuff pass as science and get published?"
Acta Medica Lituanica has published the worst paper of the week, and possibly the decade, that is nothing more than a work of emotive fiction which ignores all of the facts and evidence about vaping and tobacco harm reduction.

The paper's authors: Andrew Bush, Thomas Ferkol, Algirdas Valiulis, Artur Mazur, Ivane Chkhaidze, Tamaz Maglakelidze, Sergey Sargsyan, Gevorg Boyajyan, Olga Cirstea, Svitlana Doan, Oleksandr Katilov, Valeriy Pokhylko, Leonid Dubey, Edita Poluziorovienė, Nina Prokopčiuk, Vaida Taminskienė, and Arūnas Valiulis. None of these names have appeared in previous POTV articles but we feel we might hear from some of them again soon.
The Medicines and Healthcare Products Regulatory Agency (MHRA) acts as the competent authority for overseeing the UK's e-cigarettes and refill containers notification scheme as well as implementing the Tobacco and related Products Regulations (TRPR). The MHRA has updated its guidance (1) on the sale of vaping products following discussions with the UK Vaping Industry Association (UKVIA) and Trading Standards.

The UKVIA says it decided to intervene after being approached by a significant number of vape products manufacturers, distributors and retailers confused about what could and could not be legally sold in shops – particularly following the recent surge in new disposable vapes entering the UK market.
Over 100 influential people attended the UK Vaping Industry Association's annual Summer Forum, taking place in person for the first time since Covid landed in the UK. The pandemic caused last year's event to be cancelled, making this UKVIA's first live event in almost two years. Politicians and academics mixed with experts from the scientific and medicine communities as they listened to presentations made during three panel debates.
David Jones MP asked about the public's access to evidence-based information and the need for an evaluation to be carried out on the toxicity of nicotine in e-liquid. Mary Foy MP spoke about the All-Party Parliamentary Group on Smoking and Health's recent call for the sale of tobacco products to be raised to those over the age of 21. Her call was seconded by a spokesperson from Action on Smoking and Health

Clwyd West's David Jones asked the Secretary of State for Health and Social Care what plans there are to improve public access to information about e-cigarettes and other reduced-harm alternatives to tobacco products. Jones also queried if The Committee on Toxicity could be asked to commence a toxicological evaluation of the effect of nicotine delivery levels in e-cigarettes.
---

---
Unless the Drug Is Nicotine – Alex Norcia
There's no cultural barometer quite like South by Southwest (SXSW), the annual weeklong festival in Austin, Texas, that hosts live music, comedy, film screenings and educational panels. Typically held in March, the event is a place where brands, artists and corporations go to mingle with a hip, well-off, young(ish) crowd. Executives at Google, IBM and Walmart discuss building a 21st-century workforce. Films premiere. Childish Gambino performs.

Public voting has opened up for what panels the festival will host in 2022, and one topic seems increasingly popular: drugs.
200 Canadian smokers have died since the election was called
On Sunday, Prime Minister Justin Trudeau called the federal election. Election campaigning will coincide with Health Canada's consultation period for the proposed vape product flavour restrictions. A website has launched that will track the number of Canadian deaths caused by smoking throughout the election campaign.

A coordinated misinformation campaign has led many Canadians and officials to mistakenly believe that vaping is as or more harmful than smoking. According to Health Canada:
Is happening in Montreal
Rights4Vapers and the Coalition des droits des vapoteurs du Québec are gearing up for the Vape Tour 2021. The 26-date tour is a protest against the Government of Canada's ban on vape flavours, set to stop in Montreal on Aug. 28 and 29.

The proposed ban would go into effect at the beginning of 2022. The organizations share a mutual concern that the ban will result in Canadians returning to traditional tobacco products.
Want to suppress or dismiss science? – Marc Gunther
E-cigarettes have fractured the tobacco-control community. Some researchers argue that vaping nicotine saves lives by helping smokers quit. Others say that e-cigarettes are dangerous, especially for young people. The debate is by no means settled.
So you'd think that all involved would welcome more science. Sadly, that's not so.
Consider, for example, what happened after a debate about conflicts of interest in tobacco science, part of a seminar series organized by academics.
Is a lesson in terrible risk management – Christopher Snowdon
Pfizer has been having problems with its stop-smoking drug varenicline, known as Chantix in the USA and as Champix in the UK. It has had to recall batches of the drug because it contains quantities of a carcinogen that exceed the Food and Drink Administration's safe level. The FDA isn't enforcing the recall, however. Instead, it has temporarily increased the acceptable level of N-nitroso-varenicline from 37 nanograms per day to 185 nanograms per day.

There is an obvious irony in using a potentially carcinogenic product to quit smoking. There is an added irony in the carcinogen in this instance being a nitrosamine. Nitrosamines are some of the main cancer-causing agents in cigarettes.
Addressing new and emerging products
On Tuesday 27 July, the World Health Organisation published its 8th annual report on the global tobacco epidemic. This deeply flawed and unscientific report, funded by a grant from Bloomberg Philanthropies, is an all-out attack on safer nicotine products and contains all the usual anti-tobacco harm reduction (THR) talking points that have become synonymous with Bloomberg funded organisations. In keeping with previous WHO reports and statements, the report completely dismisses the mounting evidence in support of tobacco harm reduction and instead relies heavily on 'think of the children' rhetoric.

The Sun Daily
THERE is a growing belief that the traditional "Quit or Die" public health approach to getting smokers to kick the habit is ineffective, and should be abandoned in favour of less harmful cigarette alternatives like vaping.

This view is echoed by Dr Lorenzo Mata Jr, the president of the Phillippines-based advocacy group Quit for Good. In a speech at the Asia Harm Reduction Forum 2021, Mata said the reality is that there are smokers who just do not want to quit.

He said the best approach is to enable them to switch to safer alternatives like vaping to substantially reduce the risk of death and diseases caused by smoking.
Influenced by attitudes of the US FDA?
A recent step forward on heated tobacco taken by the US Food and Drug Administration (FDA) could be behind the shift of the Mexican government toward allowing the sale of these smoke-free devices, it has been suggested.

Roberto Sussman, professor at the Institute of Nuclear Sciences at the National University of Mexico (UNAM), believes that the US has a "strong influence in Mexico" and that the latest moves in the US toward the approval of Iqos 3 could have been an important factor behind issuing a new decree in July.
New Zealand's costly vape regulations will drive many small to medium-sized businesses to the wall. Rising prices will also leave many vapers with little choice but to return to deadly cigarettes, says the country's leading Tobacco Harm Reduction consumer group.

The Aotearoa Vapers Community Advocacy (AVCA) says the impact of the August timing is compounded by the fact that New Zealand has gone into total Covid-19 lockdown.

The local industry is now under enormous cost pressure. At the same time, consumers now reliant on specialist vape stores to access the most popular flavours are stuck at home with the physical stores forced closed. General retailers selling cigarettes remain open.
ADVOCATES of vaping as an effective means for adults to quit combustible cigarettes, as well as those pushing for the non-sale of the same to minors, has found a credible sponsor in Sen. Ralph Recto.

The President Pro Tempore of the Senate endorsed for plenary approval on May 26, Senate Bill 2239 or the Vaporized Nicotine Products Regulation Act, which empowers the government to regulate the importation, manufacture, sale, packaging, distribution, use and consumption of vapor and heated tobacco products. It is a timely measure that is welcome by members of the public and industry alike.
Could Hinder Adults' Efforts To Stop Smoking – Kenneth Warner
Considerable evidence suggests that e-cigarettes are an effective smoking-cessation tool for adults in the United States, where hundreds of thousands of people die of smoking-related illness each year.

Kenneth Warner, dean emeritus and the Avedis Donabedian Distinguished University Professor Emeritus at the University of Michigan's School of Public Health, says, however, that the potential of vaping to increase smoking cessation has been largely overshadowed by media coverage and policies that focus on the potential risk vaping represents for teens.
---
A look back at how things have moved on or otherwise….
Legalise vaping to help Tasmania cut smoking rates while helping the health system and economy, a retail group says.

The Australian Retail Vaping Industry Association (ARVIA) said research had shown vaping was up to 95 per cent less harmful than smoking.
Staff, Manila Standard
The introduction of heat-not-burn tobacco products as better alternatives to combustible tobacco will translate into public health gains, according to a public health expert.

Helen Redmond, adjunct professor at New York University-Silver School of Social Work, was referring to HNB or heated tobacco products which are smoke-free devices that heat, instead of burn specially-designed tobacco units to release flavorful nicotine-containing tobacco vapor. As the tobacco is not burned, the levels of harmful chemicals produced by HNB products are significantly lower compared to combustible cigarette smoke.
---
Visit Nicotine Science & Policy for more News from around the World

---