Vaping Digest August 19th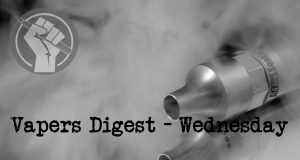 Wednesday's News at a glance:
Pro-vaping group says law change could save health system ~ Switch to heated tobacco seen to translate into public health gains ~ Access to vapour products will improve public health and save the health care system billions ~ Vaping Versus Tobacco: The Truth You Need To Know ~ Vaping, Smoking and confronting myths with Dimitris Agrafiotis ~ FDA Uses Drug War-Style Ads to Shame Teenage Vapers ~ Why Are National Estimates So Different? A Comparison of Youth E-Cigarette Use and Cigarette Smoking in the MTF and PATH Surveys ~ Top Ten "Tobacco" Influencers ~ Teen Text Study ~ Another COVID Study ~ Leveraging the COVID Pandemic to Advance Vapophobia ~ As vaping bans increase, people turn back to more harmful traditional cigarettes ~ Why Bans Are Not Best In Africa \\ An LMIC Panel Discussion ~ Rovers extend key commercial partnership ~ Altria, JUUL Call FTC's Antitrust Complaint 'Ill-Conceived' ~ Juul e-cigarette getting FDA review to stay on the U.S. market
Legalise vaping to help Tasmania cut smoking rates while helping the health system and economy, a retail group says.

The Australian Retail Vaping Industry Association (ARVIA) said research had shown vaping was up to 95 per cent less harmful than smoking.
Staff, Manila Standard
The introduction of heat-not-burn tobacco products as better alternatives to combustible tobacco will translate into public health gains, according to a public health expert.

Helen Redmond, adjunct professor at New York University-Silver School of Social Work, was referring to HNB or heated tobacco products which are smoke-free devices that heat, instead of burn specially-designed tobacco units to release flavorful nicotine-containing tobacco vapor. As the tobacco is not burned, the levels of harmful chemicals produced by HNB products are significantly lower compared to combustible cigarette smoke.
The Canadian Vaping Association, Yahoo Finance
The Canadian Vaping Association (CVA) has always advocated for the positive impact that vapour products have on public health and has recognized the potential cost savings these products can provide to our publicly funded health care system. A recent study in Epidemiology, "Potential Country-level Health and Cost Impacts of Legalizing Domestic Sale of Vaporized Nicotine Products," demonstrates that access to vapour products extends life expectancy and greatly reduces the cost of public health care.
---
, Forbes
This segment of What's Ahead tackles the mortally misbegotten campaign against electronic cigarettes. The attacks are factually false. Contrary to the antivaping narrative, e-cigarettes are the best, least harmful way for smokers to give up tobacco. By discouraging smokers from switching to e-cigarettes, antivapers are consigning hundreds of thousands—if not millions—of people to painful, premature death. While a growing number of teenagers vape, they are not moving on to cigarettes. In fact, cigarette smoking among teens has plummeted.
(Podcast version)
---

---
Dimitris Agrafiotis, Tennessee Smoke-Free Association, Tennessean
Dimitris Agrafiotis smoked for 23 years, unable to kick the habit despite many attempts and treatment alternatives.

That changed when he discovered vaping, or smoking e-cigarettes that vaporize nicotine instead of combusting it like regular cigarettes do.

As executive director of the Tennessee Smoke Free Association, he represents "mom-and-pop" vape shops and has worked on regulations as well as fighting myths and threats to their businesses.
---
Jim McDonald, Vaping 360
With another school year comes another FDA Real Cost campaign. Yes, your favorite federal agency is back with another round of cringe-worthy anti-vaping propaganda for teenagers to ignore and vapers to rage over.

The latest crop of ads employs the age-old Drug War strategy of stigmatization. Specifically, the ads are designed to shame teens for vaping "addiction" and promote the idea that everyone who vapes is in danger of becoming hooked and degrading and embarrassing themselves to get the nicotine they crave.
A Comparison of Youth E-Cigarette Use and Cigarette Smoking in the MTF and PATH Surveys
Urban Health Today
OBJECTIVE: We compared estimates of adolescents' nicotine product use and perceptions of harm from two national surveys: Monitoring the Future (MTF) and Population Assessment of Tobacco and Health (PATH). We explored one explanation for the different estimates for nicotine product use and adolescents' perceptions of harm.
---
---
Jeffrey A. Singer, Cato Institute
There is no link between nicotine in e‐​cigarettes and E‐​cigarette of Vaping Product‐​Use Associated Lung Injury (EVALI). EVALI cases have been traced to vitamin E acetate, used as a solvent for THC in black market vaping products. Flavored vaping products are preferred by adults who switch from combustible tobacco smoking to vaping. Yet none of these facts prevented a federal ban on flavored vaping products from going into effect last February.
Guy Bentley, Orange County Register
In news that seems to fit with the 2020 memes: Cigarette sales have increased during the coronavirus pandemic.

People are spending less money than they would have on things like leisure activities and vacations. "They are also switching back to traditional cigarettes from vaping devices in the wake of federal restrictions on e-cigarette flavors," The Wall Street Journal reports.

---
VIDA News
---
Blackburn Rovers
Rovers are delighted to announce an extension to our partnership with vaping giants Totally Wicked.With a national network of owned retail stores, a thriving online business and representation within many retail chains across the country, Totally Wicked have sponsored Rovers' training range for the last two seasons – and this deal has now been extended for a further year.
Timothy Z. LaComb, The National Law Review
Altria Group, Inc. and JUUL Labs, Inc. fired back at the FTC's April complaint alleging Altria's acquisition of 35% of JUUL and the corresponding agreements violated the Sherman Antitrust Act and the Clayton Act. The Commission argued the deal unlawfully reduced competition and consolidated the e-cigarette market, and would allow the companies to split the resulting monopoly profits.
Bloomberg News
,
The Food and Drug Administration will start reviewing Juul Labs Inc.'s applications for its e-cigarette device and nicotine cartridges, the company announced Tuesday.

Juul filed its highly anticipated FDA applications late last month seeking the regulator's permission to keep selling its device, as well as Virginia tobacco and menthol-flavored pods with 3 and 5 per cent concentrations in the U.S.
---
A look back at how things have moved on or otherwise…
Legalise nicotine vaping – Terry Barnes

Last week, federal Health minister Greg Hunt was at the National Press Club selling his vision of the Coalition's health policy for the next three years.

Good on him. There was much good stuff in what he said. Amongst his statements of priorities, however, was this:

"Today, I want to announce that the Government will set a new target of reducing smoking rates below 10 per cent by 2025. This may be one of the most important things I ever have the privilege of being involved with. We've already committed $20 million to the education campaign but there is more to be done and we'll develop that with the health preventable and mental health."
Criticise Federal Government's push to cut smoking rate
Anti-smoking crusaders have labelled a new government push to help Australians butt out as a "recycled" and "frustrating" strategy, saying when the exact same policy was initially introduced more than a decade ago, it failed to reduce smoking rates.

Federal Health Minister Greg Hunt used part of this week's National Press Club address to announce the Morrison Government would spend $20 million cutting Australia's smoking rate to under 10 per cent by 2025.
---
Visit Nicotine Science & Policy for more News from around the World

---