Vaping Digest August 19th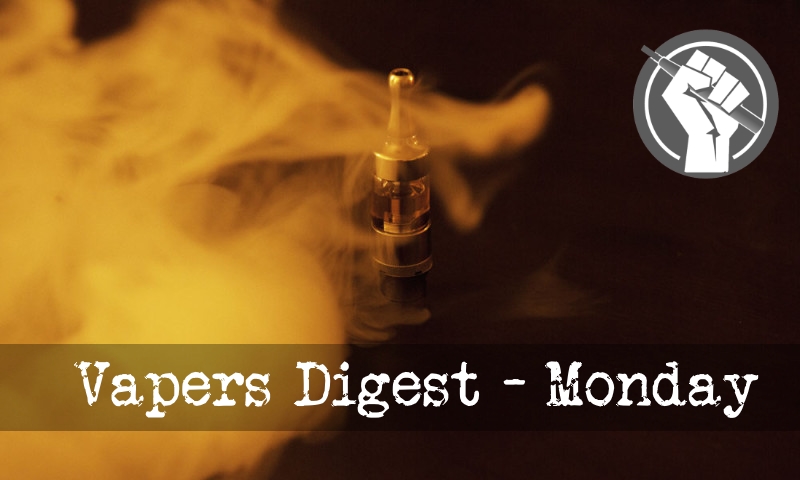 Monday's News at a glance:
Another study backs vaping as safe, but US courts run wild and Mormons make up more rules – Reduce smoking rates to 10 per cent by 2025? – Progressive View On Vaping – Vaping In The News – August 17th – Blaming Breathing Problems on 'Vaping' Is Like Blaming Food Poisoning on Eating – Illicit Cannabis Vape Carts Hospitalized 7 – News coverage hinders Smoke-free – Should Illinois do more to regulate vaping –  Govt mulling options to enforce ban on e-cigs – Anti-smoking crusaders criticise Federal Government – Nicotine Science and Policy Daily Digest
But US courts run wild and Mormons make up more rules – Fergus Mason
A new review of the literature has, yet again, reached the conclusion that vaping is far safer than smoking and should be promoted as a harm reduction tool. However that hasn't stopped a group of US parents taking a major e-cig manufacturer to court. Now the Mormons are jumping on the anti-vaping bandwagon, too; in the best traditions of their religion, they're inventing new commandments – this time to ban e-cigarettes.
Legalise nicotine vaping – Terry Barnes
Last week, federal Health minister Greg Hunt was at the National Press Club selling his vision of the Coalition's health policy for the next three years.

Good on him. There was much good stuff in what he said. Amongst his statements of priorities, however, was this:

"Today, I want to announce that the Government will set a new target of reducing smoking rates below 10 per cent by 2025. This may be one of the most important things I ever have the privilege of being involved with. We've already committed $20 million to the education campaign but there is more to be done and we'll develop that with the health preventable and mental health."
---

---
Dave Cross, Planet of the Vapes
The USA-based Progressive Policy Institute (PPI) has issued a report on electronic cigarettes that bucks the American trend – by being positively honest. The think tank has appraised vaping for its health and economic implications; it praises the technology for having reduced smoking rates.

The PPI is a non-profit organisation that works as a public policy think tank. It is seen as 'left-wing' in the United States, although this makes it pretty centre ground in UK terms. Founded it in 1989, the Washington Post calls it "a centrist Democratic institution."
---
---
Kevin Crowley, Vaping Links
The Science of Nicotine and Weight Loss ~ Juul Nearly Kills Teen From Lung Collapse: A Story Full Of Smoke ~ Vaping risk compared to smoking ~ A Teacher supplying contraband ~ US vapers get both barrels from the FDA as Berkeley bans flavours ~ Vaping Industry Sues FDA Over 10-Month PMTA Deadline ~ Vapor Technology Association Files Lawsuit Against FDA ~ FDA Sued by Vape Industry Over New PMTA Deadline ~ Health Concerns Unlikely ~ Smoke Free Radio
---

---
Is Like Blaming Food Poisoning on Eating – Jacob Sullum
Health says the recent hospitalization of about two dozen people in the Midwest who had breathing problems after vaping shows "why e-cigarettes are so dangerous." Since we don't know what these patients were vaping or whether it was actually the cause of their symptoms, that conclusion is quite a leap.

So far 15 cases have been reported in Wisconsin, at least six in Illinois, and at least four in Minnesota. In addition to shortness of breath, the patients' symptoms have included coughing, fever, vomiting, diarrhea, headache, dizziness, and chest pain. "It's unclear exactly what the patients—many of whom are young adults—had been inhaling or what type of devices they were using,"
California – David Downs
Unregulated cannabis vaporizer cartridges tainted with a potentially deadly lung toxin have hospitalized seven people with pneumonia-like symptoms in Hanford, California, officials there reported Wednesday.

The cluster of tainted vape cart poisonings caused the Kings County public health department to issue a rare warning this week urging consumers to avoid buying cannabis e-cigarettes from unlicensed sellers. Street cannabis products are not subject to the rigorous testing that licensed products undergo in California.
Scoop Media
"It's disappointing that news out of the United States of hospitalisations linked to illegal street drugs is somehow seen as relevant to the New Zealand vaping scene," says Ben Pryor, Director of Alt New Zealand – the largest Kiwi-owned vaping company.

His comments come as it now becomes clearer that the products which reportedly caused at least 24 Americans to be hospitalised in the past month for respiratory issues and lung damage are in fact highly likely to contain THC or illegal drugs.

Gregory Conley
Despite ever-increasing taxes and countless public education campaigns, approximately 1.5 million Illinois adults — more than 15 percent of the state's adult population — still smoke cigarettes. At the current pace, half of these adult smokers will have their lives cut short because of a smoking-related disease.

These grim statistics should not be forgotten in the debate over vaping products, otherwise known as e-cigarettes. These battery-operated, smoke-free products have grown increasingly popular with adults looking to quit smoking over the last decade, with dozens of small- and medium-sized manufacturers and more than 100 exclusive vapor retail stores setting up shop in Illinois.
NEW DELHI: The government is mulling various options including bringing an ordinance to enforce a ban on manufacture, sale and import of ENDS devices including e-cigarettes if it fails to get a reprieve from the Delhi High Court, which had earlier stayed its order to ban such products, sources said.

Banning such alternative smoking devices like e-cigarettes, heat-not-burn devices, vape and e-nicotine flavoured hooka among others, is one of the priorities of the Health ministry as part of the first 100 days agenda of the second term of the Modi government.
Criticise Federal Government's push to cut smoking rate
Anti-smoking crusaders have labelled a new government push to help Australians butt out as a "recycled" and "frustrating" strategy, saying when the exact same policy was initially introduced more than a decade ago, it failed to reduce smoking rates.

Federal Health Minister Greg Hunt used part of this week's National Press Club address to announce the Morrison Government would spend $20 million cutting Australia's smoking rate to under 10 per cent by 2025.
---
A look back at how things have moved on or otherwise….
Is a step change in the UK's approach to harm reduction
New Nicotine Alliance
Ever since vapers in the UK began experimenting with this new technology over 10 years ago, we have been constantly surprised at how e-cigarettes have been attacked by the established public health profession. Why, when so many had found a way of quitting smoking as the government had been urging us to, were we being persecuted again?

Back in 2010, the MHRA – under the stewardship of Jeremy Mean – did its level best to have all devices banned within 21 days. It was only an extraordinary campaign by vapers, who submitted responses to the consultation in droves, which staved off the threat. The actions of these vapers prevented a ban which would have prevented the dramatic declines in smoking prevalence we see today.
Also from the NNA:
Lifts Up A Stone To See What Crawls Out – Dick Puddlecote
I'm sure you've already seen it, but today the government's influential Science and Technology Committee released a report which will have capslock cretins, lardarse Irish academics, follicly-challenged no-mark physiotherapists and crusty Sydney pensioners spluttering their purified water all over their disinfected keyboards.

In the report – carried by, erm, just about every media outlet and heavily featured on the BBC – the committee makes a number of recommendations about reduced risk nicotine products which I summarise below:
Christopher Snowdon, Velvet Glove Iron Fist
The Science and Technology Select Committee have published their report about e-cigarettes and it is rather good. Like most sensible people, they acknowledge that the EU's Tobacco Products Directive has set the vaping market back and suggest that the government should abandon the pointless and petty vaping regulations in Article 20 after Brexit. They also suggest repealing the crazy ban on snus, encourage employers to permit vaping in the workplace and reject the idea of taxing vape juice.
---
Visit Nicotine Science & Policy for more News from around the World

---