Vaping Digest August 16th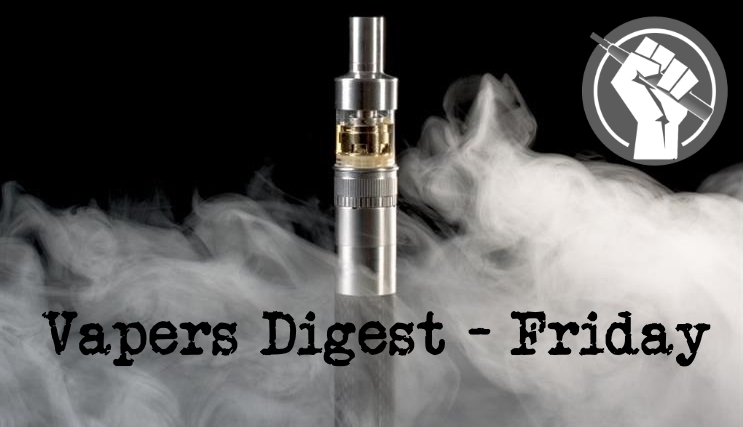 Friday's News at a glance:
US vapers get both barrels from the FDA as Berkeley bans flavours – expert reaction to study looking at e-cigarette use and marijuana use in young people – FDA Sued by Vape Industry Over New PMTA Deadline – VTA and Vapor Stockroom filed a lawsuit – FDA Bans 44 Products – It's A Sin – Mr Glass – Vaping Advocacy and Education Project Inc. (VAEP) – Current Scenario and Challenges in India – Cancer Society's 'Precautionary Approach' to vaping will cost lives – Juul's International Ambitions May Be the Real Value for Altria – Nicotine Science and Policy Daily Digest
Fergus Mason, Vaping Post
The Food and Drug Administration continues to step up its attacks on harm reduction, issuing inflated warnings about e-liquid while also pushing a dubious link between vaping and seizures. Meanwhile another California city has joined San Francisco in effectively banning e-liquid, and a UK newspaper is trying to whip up "teen vape epidemic" hysteria on the east side of the Atlantic.

The Food and Drug Administration has opened another front in its war on vaping, after the agency announced new classifications for ingredients. Nineteen chemicals often found in e-liquid have been added to the list of "Harmful and potentially harmful constituents (HPHC).
To study looking at e-cigarette use and marijuana use in young people
Linda Bauld, Prof John Britton, Dr Sarah Jackson, Peter Hajek
"This review of existing studies finds that young people who try e-cigarettes may be more likely to try marijuana, and in some cases experimentation with e-cigarettes comes first. This doesn't prove that vaping is causing marijuana use but instead highlights something we have known for many years – that young people who are more prone to risky behaviours may try several different substances before they are legally permitted to do so. Although the paper didn't assess alcohol or other drug use, other research has found that young people who vape are also more likely to have tried alcohol, and that young people who use marijuana are also more likely to try other illegal drugs.
---

---
Dave Cross, Planet of the Vapes
The Philippines government is placing a levy on vaping as part of its "Sin Tax Reform Law". The level of the tax is on par with that placed on cigarettes and above that placed on alcohol. It claims the measures are to achieve the non-smoking target, but it is a clear cash grab to fund other policies.
When the legislation was passed, Health Secretary Francisco Duque III said: "The Department of Health would like to emphasize, that Sin Taxes are first and foremost, a health measure that will discourage Filipinos to smoke and excessively consume alcohol. As global evidence suggests, taxation is the single, most cost-effective measure to safeguard the public from the harms of tobacco and alcohol use and their accompanying societal costs."
Dave Cross, Planet of the Vapes
Nothing trends better on social media platforms than stupidity, and an example of this is a post made by stoner content creator "Nudah". The YouTuber spends his time making videos about Fortnight and 'drama' – so spreading fears about JUULs is typical form, even if some suspect he is being paid to do it.
22-yr old Clayton Huddleston, under the gamertag Nudah, claims on Instagram to be a "youtuber with over 5,000,000 subscribers" although he currently has just a tenth of those as subscribers to his YouTube channel. Actual viewings continue to decline, having more than halved in two years, and he has around 14000 subscribers to his Twitter account.
Dave Cross, Planet of the Vapes
The U.S. Food and Drug Administration (FDA) has issued warning letters to four companies regarding 44 flavoured e-liquid and hookah tobacco products. The organisation states they do not have authorisation to sell them in the USA and demanded they are withdrawn immediately.
The companies receiving the warning:
---
---
Over New PMTA Deadline – Jim McDonald
The Vapor Technology Association has filed suit in federal court against the FDA and the Department of Health and Human Services. Trade organization VTA and one of its member businesses, Vapor Stockroom, are asking the court to prevent the agency from enforcing its new May 11, 2020 deadline for submission of premarket tobacco applications (PMTAs) by vaping manufacturers.

The legal complaint was filed in the United States District Court for the Eastern District of Kentucky, in Lexington. VTA is asking the court for "preliminary and permanent injunctive relief," forcing the FDA to
In federal court against the U.S. Food & Drug Administration (FDA)
Today, the Vapor Technology Association (VTA) and Vapor Stockroom (VSR) filed a lawsuit in federal court against the U.S. Food & Drug Administration (FDA), amongst others, over its unreasonable and arbitrary Pre-Market Tobacco Application ("PMTA") process and the recently grossly accelerated PMTA filing deadline. Plaintiffs are taking action to require FDA to publish and complete the long-promised "foundational rules" describing the specific requirements for PMTAs. In addition, Plaintiffs are asking the court to enjoin FDA from enforcing the May 2020 PMTA deadline or taking enforcement action against companies that do not have a PMTA on file until a reasonable period of time after the actual foundational rules are finalized.
---

---
Is a not-for-profit corporation run by registered nurses. We had a most successful GoFundMe and raised $10,000 in 39 hours to put a full page ad in the Edmonton Journal PLUS online targeted ads!
We are very grateful to all those that shared, supported and donated to the campaign. We will announce the date of the ad on our social media platforms.
Konstantinos E. Farsalinos
While India continues its fight against rampant tobacco use, especially cigarette smoking, policymakers are still grappling to understand the concept of e-cigarettes. E-cigarettes or Electronic Nicotine Delivery Systems (ENDS) are innovative clean nicotine delivery systems that involve no combustion and therefore produce reduced emissions and toxic byproducts by at least an order of magnitude.

World-over, ENDS are now touted as a proven tool for reducing harm caused by cigarette smoking. Undoubtedly, they also have immense potential for improving public health outcomes of a tobacco-dependent population like India's
To vaping will cost lives – AVCA
If the government is serious about harm reduction it should  do the exact opposite of what the Cancer Society recommends, says harm reduction advocacy body AVCA (Aotearoa Vapers Community Advocacy).

Released today the Cancer Society has put out a dishonest document that risks perpetuating the smoking epidemic in New Zealand.

The Cancer Society's positions outlined in their report are about<strong> prohibition and restriction instead of informing, educating and encouraging smokers to switch.

May Be the Real Value for Altria
For all the controversy surrounding electronic cigarettes and vaping, it's still a major growth industry, and Juul Labs continues to lead the way.

Tobacco giant Altria (NYSE:MO), which took a 35% stake in Juul with a $12.8 billion investment last year, says the e-vapor category grew 40% over the first six months of 2019, and Juul was responsible for virtually all of it.
Smoking and drinking among young people no longer decreasing
The use of tobacco products among Finnish adolescents has long been declining. Over the past two years, however, the decreasing trend seems to have stopped. Snus use is on the rise, even among girls. The decline in alcohol consumption among Finnish young people has also stopped.

These are among the findings of the 2019 Adolescent Health and Lifestyle Survey. Conducted every two years, the survey follows the health behaviours of 12 to 18-year-old Finns.
---
A look back at how things have moved on or otherwise….
Jim McDonald, Vaping 360
American vapers who no longer smoke cigarettes prefer fruit and dessert e-liquids over other choices, according to the findings of a major survey conducted by researchers this spring. The survey assessed the flavor preferences of regular vapers.

The results of the U.S. Flavors Survey have been compiled and submitted to the FDA as a comment on the advanced notice of proposed rulemaking on vape (and other "tobacco product") flavors. Lead author Dr. Konstantinos Farsalinos says the authors will also publish an analysis of the data in an academic journal.
New Nicotine Alliance
Today has seen a flurry of media activity following publication of research by the University of Birmingham on the effects of e-cigarette vapour on immune cells in the lung.

The BBC selected a quote early in their account – presumably from the University's press release – explaining how "researchers "caution against the widely held opinion that e-cigarettes are safe"". This is somewhat of a straw man argument. It is wrong to say that there is a widely held opinion that e-cigarettes are safe, in fact it is frustrating – as Cancer Research UK has noted – that such a large and increasing proportion of the public believe that e-cigarettes are as harmful, or more so, than smoking. Today's breathless headlines can only have reinforced these misperceptions in the minds of many thousands.
Misinformation regarding e-cigarettes is alarmingly ubiquitous. For example, days ago, the Saporta Report published an article discussing juveniles' supposed rampant e-cigarette usage. Georgia State University recently released a dubious study claiming that vaping doesn't help people quit smoking. Meanwhile, other institutions have allegedly exposed vaping's dire health risks.

These are misleading and, at times, false claims. Unfortunately, they are widespread and have already been the impetus for proposed statutory changes intended to limit access to e-cigarettes in Georgiaand around the country.
---
Visit Nicotine Science & Policy for more News from around the World

---