Vapers Digest August 15th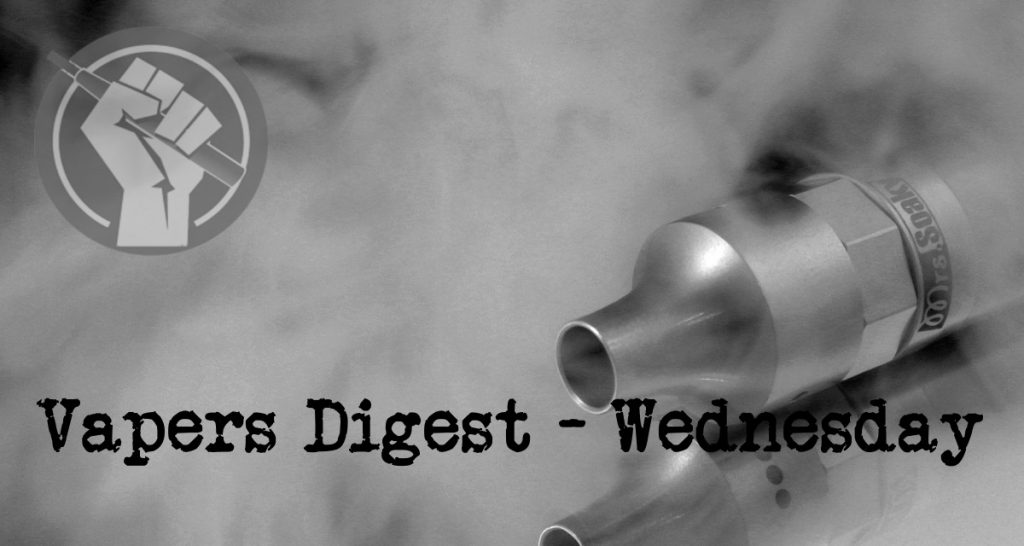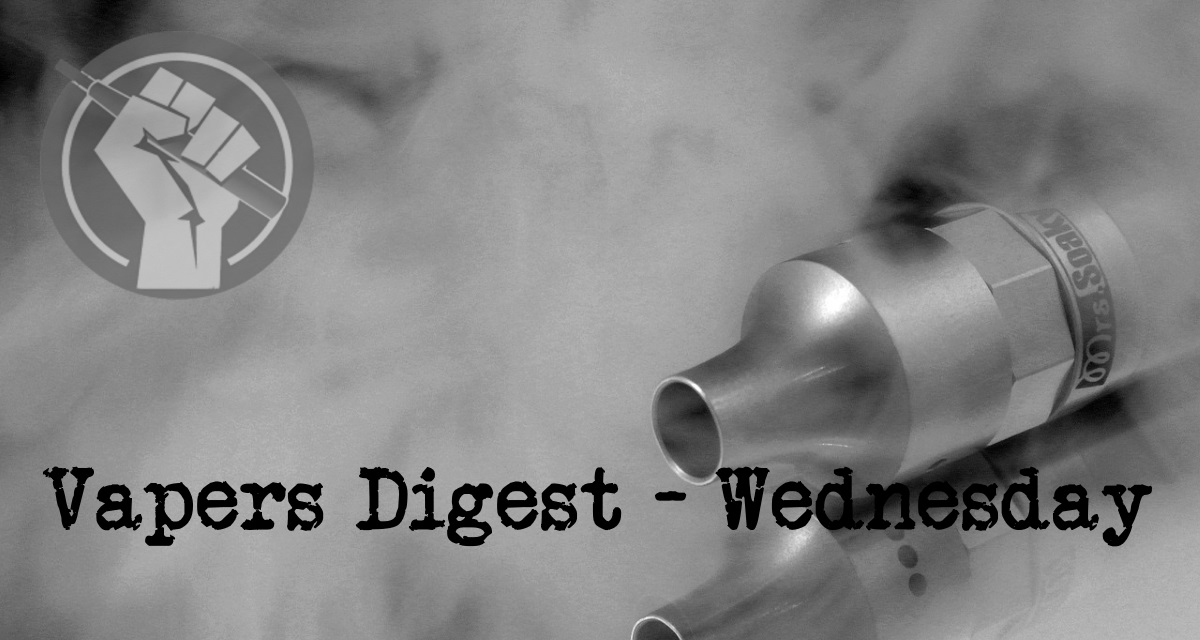 Wednesday's News at a glance:
Farsalinos Survey Shows Vapers Prefer Fruit and Dessert Flavors ~ NNA reacts to today's vaping non-story ~ E-cigarette Misinformation Imperils Public Health ~ UK Favors E-Cigarettes, Scores Major Smoking Reduction; Anti-Vaping Ireland Sees Smoking Rates Unchanged ~ Martin Dockrell of PHE on the latest vaping scare story ~ Harry's blog 66: Not really a JUUL in the crown ~ Meet America's vaping 'superhero.' ~ Iowa attorney general backs new polices ~ The #COP8 Stitch-Up Is Afoot ~ Vapers Needed By Researchers ~ South Africa Moves to Crush Vaping Industry ~Philippines Legislature Backs Vaping ~ E-cigarettes: A forward-thinking response to old challenges ~ Huff and e-puff: On e-cigarette Ban
Jim McDonald, Vaping 360
American vapers who no longer smoke cigarettes prefer fruit and dessert e-liquids over other choices, according to the findings of a major survey conducted by researchers this spring. The survey assessed the flavor preferences of regular vapers.

The results of the U.S. Flavors Survey have been compiled and submitted to the FDA as a comment on the advanced notice of proposed rulemaking on vape (and other "tobacco product") flavors. Lead author Dr. Konstantinos Farsalinos says the authors will also publish an analysis of the data in an academic journal.
New Nicotine Alliance
Today has seen a flurry of media activity following publication of research by the University of Birmingham on the effects of e-cigarette vapour on immune cells in the lung.

The BBC selected a quote early in their account – presumably from the University's press release – explaining how "researchers "caution against the widely held opinion that e-cigarettes are safe"". This is somewhat of a straw man argument. It is wrong to say that there is a widely held opinion that e-cigarettes are safe, in fact it is frustrating – as Cancer Research UK has noted – that such a large and increasing proportion of the public believe that e-cigarettes are as harmful, or more so, than smoking. Today's breathless headlines can only have reinforced these misperceptions in the minds of many thousands.
Misinformation regarding e-cigarettes is alarmingly ubiquitous. For example, days ago, the Saporta Report published an article discussing juveniles' supposed rampant e-cigarette usage. Georgia State University recently released a dubious study claiming that vaping doesn't help people quit smoking. Meanwhile, other institutions have allegedly exposed vaping's dire health risks.

These are misleading and, at times, false claims. Unfortunately, they are widespread and have already been the impetus for proposed statutory changes intended to limit access to e-cigarettes in Georgia and around the country.
---

---
Brad Rodu, Tobacco Truth
There is, as I have noted (here), a stark contrast between British government and medical authorities' support for e-cigarettes and vaping, and the demonization of same by most of the American public health community.  A similar clash of positions exists between the United Kingdom and Republic of Ireland.

The British blogger Dick Puddlecote observes (here) that the UK and Ireland are "nearest cultural neighbours, so closely aligned [that] we that we don't even enforce passport requirements between the two countries.
---
The argument that 'there is no evidence…' that vaping works is really a distraction from looking at it in the round, including user experience. What critics really mean is: 'no evidence is available from methods I cannot define to achieve standards I cannot specify'. @MPEriksen https://t.co/GOUgP1YCqN

— Clive Bates (@Clive_Bates) August 12, 2018
---
Martin Dockrell of PHE on the latest vaping scare story:
Harry Shapiro, Nicotine Science and Policy
JUUL e-cigarettes have taken the American e-cigarette market by storm, capturing over 70% of the US market in extremely short time. Because of the huge publicity generated and much media hand-wringing in editorials, features and op-eds (often quoting diehard anti-tobacco harm reduction activists about the alleged risk to young people), this has no doubt fuelled interest in these devices by the same cohort. Much the same happened in the UK regarding LSD in the 1960s and glue sniffing in the USA during the 1970s; moral panic followed by accelerated interest.
Kevin Riordan, The Inquirer
When vaping enabled him to finally stop smoking 10 years ago, Greg Conley saw the light.

"I immediately became kind of evangelical about it," said the personable 31-year-old Medford lawyer, who's the founder and president of the American Vaping Association.

"I'm not an anti-smoker," he said. "Smokers don't respond to that. What I'm saying is, if you wish to quit, vaping is a great method. Not, 'You should stop smoking.'"
Marian Johns, Legal News Line
Iowa Attorney General Tom Miller has submitted a policy paper to the federal government and public health experts recommending new polices on e-cigarettes and a public information campaign that he says will drive the adult smoking rate below 10 percent over the next three years.

"The adult smoking rate for 2017 was 13.9 percent, down from 16.8 percent three years ago," Miller wrote in his policy paper "The rapidly falling rate, combined with the growing popularity of JUUL e-cigarettes and other alternatives, puts the U.S. on the precipice of a major public health breakthrough.
---

---
Dick Puddlecote
Here we go. Strap yourselves in for the latest biennial anti-truth tobacco conference otherwise known as the FCTC's 'Conference of the Parties' (COP).

You can read about the previous two such as Moscow 2014 where the FCTC's Margaret Chan had tea with Putin instead of tackling Ebola, while thugs manhandled journalists out of the event at the COP6 tag here. You can also read articles on the 2016 shebang in New Delhi where – coincidentally – journalists were also manhandled out of the event, while Indian farmers were hounded away from the venue for the sin of holding a peaceful protest which may have upset the sensibilities of COP delegates intent on the serious of business of banning e-cigs, during a lethal smog cloud hanging over the city at the COP7 tag here.
Mawsley, Planet Of The Vapes
The vaping community welcomes research that helps it to make informed choices. Now comes an opportunity for British vapers to assist researchers at University College London (UCL). Hannah Proudfoot is seeking volunteers to help with a study being led by Dr. Lion Shahab.

The project title is: Comparative toxicological and psychopharmacological assessment of potential reduced-exposure products and conventional cigarettes: a cross-sectional, crossover study. It is being conducted by the Tobacco and Alcohol Research Group, located in the Department of Behavioural Science and Health at UCL.

Mawsley, Planet Of The Vapes
South Africa's Control of Tobacco Products and Electronic Delivery Systems Bill ('Tobacco Bill') has just closed for comments. Critics say that while it will place new rules on tobacco products, contentiously, it places excessive restrictions on vaping and harm reduction products.
Jim McDonald, Vaping 360
In a surprising move, the Philippines House of Representatives is urging that vaping be included in the country's tobacco control strategy. The legislative body issued a resolution asking the health department to promote tobacco harm reduction.

The resolution, authored by Reps. Anthony Bravo and Jose Tejada, references the experience in the U.K., where public health authorities have promoted vaping as a safer alternative for cigarette smokers. According to the Manila Standard, the lawmakers specifically cite the landmark reports from Public Health England and the Royal College of Physicians.
---

---
Nojeem Adetuberu, Business Day
In the past, the usual approach for most smokers willing to quit used to be the use of alternatives such as nicotine gum, nicotine patches, inhalers, tablets, among others, mainly as medical aids. Perhaps, due to the limited efficacy of such alternatives, interest and conversation around tobacco health reduction have, over time, intensified among global health authorities and other stakeholders.

In this regard, the tobacco industry has been able to harness technology in a bid to responsibly address the concerns of stakeholders about the impact of smoking on human health. The industry has taken advantage of improvements in technology to champion the adoption of electronic cigarettes as an alternative to tobacco smoking. Electronic cigarette, commonly called vaping or e-cigarette, is a handheld device that simulates the feeling of tobacco smoking. It works by heating a liquid to generate an aerosol, commonly called a 'vapor' that the user inhales.
Editorial, The Hindu
In a recent hearing on a public interest litigation in the Delhi High Court, the Delhi government said it was planning to ban e-cigarettes. If it follows through, the NCT will join States such as Karnataka and Maharashtra in the ban. The Union Ministry of Health and Family Welfare has taken a stand against e-cigarettes. But is a ban the right approach to regulate this technology, given that combustible cigarettes are freely available across India? The controversy exists partly because it is a new and rapidly evolving technology. This makes it hard for researchers to study the health effects. Still, the evidence so far indicates that e-cigarettes are safer than combustible cigarettes. Because they heat a liquid to generate a nicotine-containing aerosol, instead of burning tobacco, they do not produce toxic tars.
---
A look back at how things have moved on or otherwise….
Headrambles
A phrase that is quite common these days is "there is no safe level of" followed by the target of the day.

Of course anyone with a modicum of sense will realise that this is bilge and that the dose makes the poison.

Tobacco Control have however managed to plumb new depths and are now claiming that a "social smoker" who may smoke three or four cigarettes a week runs the same risks as someone who gets through twenty or more a day.

Of course heavy smokers who are concerned about their health can take great solace from this – even if they cut back to one a day, they are running the same risks, therefore they may as well stick with the thirty or forty?
---
Visit Nicotine Science & Policy for more News from around the World

---