Vapers Digest August 17th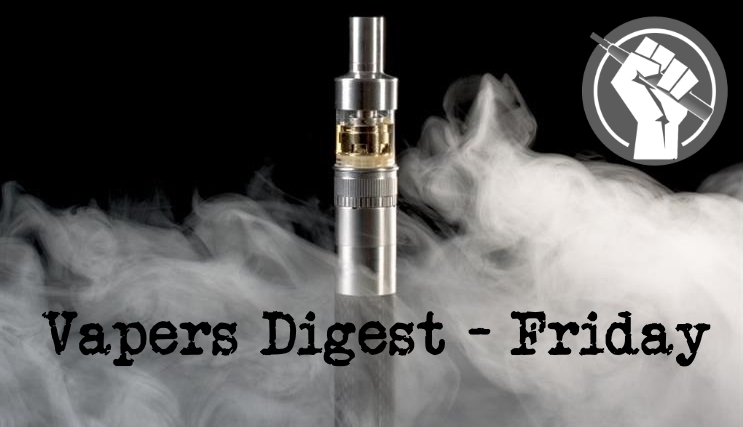 Friday's News at a glance:
Today's Science and Technology Committee report – Science And Tech Committee Lifts Up A Stone To See What Crawls Out – E-cigarette reform and fake outcry – RSPH welcomes new e-cigarettes report – MPs back vaping's potential – IBVTA response to Science and Technology Committee Report – Study doesn't find that vaping will cause lung damage – The Farsalinos Flavour Study – Will the Birthplace of E-Cigs Ban Vaping? – Why Australian prisoners are smoking nicotine-infused tea leaves – Vaping and the several faces of ASH – New smoking laws set to extinguish vaping in South Africa – Nicotine Science and Policy Daily Digest
Is a step change in the UK's approach to harm reduction
New Nicotine Alliance
Ever since vapers in the UK began experimenting with this new technology over 10 years ago, we have been constantly surprised at how e-cigarettes have been attacked by the established public health profession. Why, when so many had found a way of quitting smoking as the government had been urging us to, were we being persecuted again?

Back in 2010, the MHRA – under the stewardship of Jeremy Mean – did its level best to have all devices banned within 21 days. It was only an extraordinary campaign by vapers, who submitted responses to the consultation in droves, which staved off the threat. The actions of these vapers prevented a ban which would have prevented the dramatic declines in smoking prevalence we see today.
Also from the NNA:
Lifts Up A Stone To See What Crawls Out – Dick Puddlecote
I'm sure you've already seen it, but today the government's influential Science and Technology Committee released a report which will have capslock cretins, lardarse Irish academics, follicly-challenged no-mark physiotherapists and crusty Sydney pensioners spluttering their purified water all over their disinfected keyboards.

In the report – carried by, erm, just about every media outlet and heavily featured on the BBC – the committee makes a number of recommendations about reduced risk nicotine products which I summarise below:
Christopher Snowdon, Velvet Glove Iron Fist
The Science and Technology Select Committee have published their report about e-cigarettes and it is rather good. Like most sensible people, they acknowledge that the EU's Tobacco Products Directive has set the vaping market back and suggest that the government should abandon the pointless and petty vaping regulations in Article 20 after Brexit. They also suggest repealing the crazy ban on snus, encourage employers to permit vaping in the workplace and reject the idea of taxing vape juice.
Scroll down for more on the Science and Technology Report
---

---
RSPH has warmly welcomed the publication of the parliamentary Science and Technology Select Committee's report on e-cigarettes, recognising their relative safety in comparison to conventional cigarettes, and calling on the Government to consider how it can support more people to quit smoking through vaping.

In line with previous calls made by RSPH, the Committee has called on the Medicines and Healthcare products Regulatory Agency (MHRA) to look at upgrading its process for the licensing of e-cigarettes as medicines – a positive move that could see many more smokers having access to e-cigarettes as a viable quitting aid.
Thanks as always to @dnglos for the YouTubage
UKVIA
Following an extensive inquiry into e-cigarettes, a new report by the Science and Technology Committee has concluded that the government is missing significant opportunities to tackle UK smoking rates.

Among the recommendations, the Committee urges the government to consider tax breaks for vaping products; allowing wider use of vaping in public places; and creating a streamlined route to medically licenced vaping products.
IBVTA
The IBVTA welcomed the announcement in October 2017 that the Committee would be launching an inquiry into vaping. Though there were reservations about some topics included in the scope of the inquiry, it represented a rare and important opportunity for the independent vape industry to have its say about the current and post-Brexit regulatory landscape for vaping.
---
---
Will cause lung damage – Vaped
This week a lot of people will be once again unnecessarily alarmed by the sensationalist nature of national news headlines about the safety of vaping. Before jumping to the same conclusions, we think it wise to look objectively at the detail of the reported study.

While the media have drawn some "click bait" headlines from this, careful reading of the study itself tells a completely different story.
Mawsley, Planet of the Vapes
The Food and Drug Administration (FDA) were seeking input about flavoured eliquids, to inform its decision-making process regarding future regulations. Dr. Konstantinos Farsalinos, in conjunction with others, has sent them the results of his study that emphasises the importance of flavours for successful smoking cessation and relapse prevention.
Doctors Farsalinos and Russell made the submission to the FDA. The pair conducted the research in conjunction with George Lagoumintzis, and Konstantinos Poulas.
Vaping 360
China may ban public use of e-cigarettes soon if the country's tobacco controllers have their way. And that could be a deadly policy, because although China is the birthplace of vaping, it is also a country with a serious smoking problem.

Chinese regulators have proposed "comprehensive awareness and control" of vapor products, according to state broadcaster China Global Television Network, an arm of China Central Television (CCTV). Until now, vapes have been largely ignored by the Chinese government.
---

---
Are smoking nicotine-infused tea leaves – The Conversation
Following a ban on tobacco smoking in prisons, some Australian prisoners are creating substitute cigarettes from crushed nicotine lozenges mixed with tea leaves. More than half of the participants we sampled in our recent study have used this product, known as "teabacco".

Around 74% of prisoners entering the system are smokers. This is partly because groups who smoke at higher rates in the community – such as people who are poor and disadvantaged, identify as Indigenous, or experience mental health or substance use disorders – are all overrepresented in prisons.
Taking Liberties
'Vaping is less harmful than smoking but we shouldn't assume it is safe, study warns'.

That was the headline on a report in the Huffington Post yesterday and as statements go I don't think it's particularly controversial.

After all, e-cigarettes are still in their infancy and it's far too soon to leap to any definitive conclusions. That said, based on current evidence, the risks of vaping, such as they are, do seem very small compared to smoking.
Luke Daniel – South Africa
The Control of Tobacco and Electronic Delivery Systems Bill is set to pull the plug on e-cigarettes and vapes in South Africa.

The Department of Health is waging war on cigarettes – but it's not just the conventional use of tobacco which stands to be fired – electronic cigarettes, and its derivatives, are going to be hit with the same legalities.

More on the Science and Technology Report
---
A look back at how things have moved on or otherwise….
Paul Barnes, Facts Do Matter
Typology. According to the Oxford English Dictionary (sorry Mirriam-Webster, I'm English, not American; although here, both have the same definition) is "A classification according to general type, especially in archaeology, psychology, or the social sciences."

Amusingly, it can also be defined as "The study and interpretation of types and symbols, originally especially in the Bible." As I'm in no way going to be analysing the Bible, the former definition applies. Here, it refers to this paper, and after reading the abstract my initial reaction was to award it with the "Pointless Research Award".
Kevin Crowley, Vaping Links
The FDA's Mitch Zeller & Dr. Scott Gottlieb have been published in the New England Journal of Medicine: "A Nicotine-Focused Framework for Public Health"

While claiming nicotine is the center of "addiction" and the reductionof nicotine as the answer to reduce tobacco use… their seemingly contrived objective is in part below:
---
Visit Nicotine Science & Policy for more News from around the World

---