Vaping Digest 21st August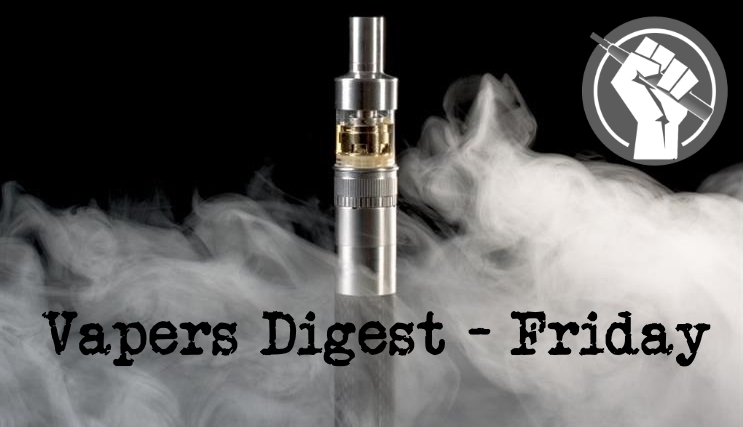 Friday's News at a glance:
The End of Public Health England is a Threat to Vaping – Harry's Blog 103: Tobacco Harm Reduction from A to A – California Researchers Make Dramatic Claims – Nicotine Pouches-A safer way of consuming Nicotine – WHO Doesn't Get Reduced Harm? – Petition Finally Addressed – Vapers Switching Back To Smoking – Scientists Who Crave Funding – Landscape Designers Corrected – San Francisco Needs to Admit it Was Wrong About Vaping – Policy Debates Regarding Nicotine Vaping Products in Australia – Reduce the harm if it cannot be stopped – Nicotine Science and Policy Daily Digest
Is a Threat to Vaping – James Dunworth
Over the last few years, no official government body in the world has endorsed vaping like Public Health England has.

With grace and integrity the organisation, and the people at its helm, have countered misinformation. For example, when the lung disease EVALI was wrongly attributed to nicotine vaping (it was actually caused by the use of illegal cannabis in the USA), PHE was quick to point out the strict regulations that protect vapers in the UK.

They've promoted research into vaping, and, following that research, the benefits of vaping – reiterating again and again that it is 95% less harmful than smoking.
Harry's Blog 103:
Imagine the shock waves reverberating around the world if the WHO announced that every man, woman and child in Brazil, Bangladesh, Nigeria, the Philippines and Indonesia has been wiped out by COVID-19. That's around a billion people – the same number the WHO continue to estimate will die from a smoking-related disease by the end of the century. The lack of immediacy and topicality of smoking death stats make them less politically explosive, but no less shocking. The big difference is that, at least currently, we can't stop the spread of coronavirus, but we can do much to lessen the predicted death toll from smoking.

First, here's what we cannot do – legislate cigarettes out of existence. Some rosy prohibitionist vision of the future won't wash. There is too much money at stake, not just for multi-national tobacco companies, but for those countries with the most profitable domestic industries, like China and India.
---

---
About E-Cigarettes & Covid-19, But Fail to Disclose Minuscule Case Numbers
Brad Rodu, Tobacco Truth
The Journal of Adolescent Health published a study on August 11, by faculty from Stanford and the University of California, San Francisco, with senior author Bonnie Halpern-Felsher. Four thousand adolescents and young adults age 13-24 years were asked about ever using cigarettes or e-cigarettes, and having Covid-19 symptoms, tests and diagnoses.

The researchers' bold claims can be seen in the Stanford Medicine webpage pictured above. Young people ever using e-cigarettes were five to seven times more likely to be diagnosed with Covid-19. Stanford Medicine promoted the study in a press release, and it was cited by Congressman Raja Krishnamoorthi as a reason for the FDA to ban e-cigarettes as a Covid-19 hazard: "we have the evidence that the FDA was waiting for, and it can no longer deny the danger e-cigarettes pose during the coronavirus crisis."
---
We need more people to sign the petition, when we reach a certain number they are forced to have a proper debate about it before implementation https://t.co/vM0TpSK16i

— de vangrailmaaier (ACVODA) (@plopnl) August 21, 2020
"The epidemic of disinformation has contaminated the entire planet"
US 2019 disinformation campaign hit UK smokers hard
La campagne de désinformation américaine de 2019 a violemment frappé les fumeurs anglais https://t.co/VEaU6kg9zy

— European Tobacco Harm Reduction Advocates (@europethra) August 20, 2020
---
A safer way of consuming Nicotine – Joseph Magero
Tobacco-free nicotine pouches are used in the same way as snus. They come in form of a pouch similar to a mini teabag and generally contain water,flavors,Nicotine and plant based fibers .The user places a pouch between the upper lip and gum, and leaves it there while the nicotine and taste is being released

Nicotine from a nicotine pouch is slowly absorbed through the lining of the mouth, delivering nicotine levels similar to the levels from smoking.

Nicotine is not carcinogenic,it does not cause cancer ! You'll be surprised to know that Nicotine doesn't cause smoking-related diseases, such as cancers and heart disease .Cigarette smoking and the many chemicals it exposes a person to, not nicotine itself, presents the highest risk.

Five from Dave Cross, Planet of the Vapes
The World Health Organization (WHO) has written to governments signed up as Parties to the WHO Framework Convention of Tobacco Control (FCTC) to tell them that, "heated tobacco products are tobacco products", adding "all forms of tobacco advertising, promotion and sponsorship that promote a tobacco product by any means that are false, misleading or deceptive or likely to create an erroneous impression about its characteristics, health effects, hazards or emissions."

The WHO's resident puritans and anti-harm reduction zealots are incandescent that the United States has allowed heated tobacco products access to the market – despite them being proven to be safer than cigarettes and other forms of combustible tobacco.
The Aotearoa Vapers Community Advocacy (AVCA) consumer organisation has slammed the New Zealand government for failing to consider a petition signed by thousands of vapers. Now, after the bill was rushed through to restrict access to flavours, the government will debate eliquid flavours.

AVCA was formed in 2016 by vapers across New Zealand wanting their voices heard in local and central government. All members are former smokers who promote vaping to help smokers quit – a much less harmful alternative to combustible tobacco products. AVCA does not have any affiliation or vested interest in industry – tobacco, pharmaceutical and/or the local vaping manufacturing or retail sectors.
Worshippers in the United States' anti-tobacco harm reduction religion have been spouting lies for years – and it's paying off for them. Cigarettes manufacturers are reporting growth in sales during the COVID outbreak as a smoking generation is being told to fear vaping.

"Americans are smoking more during the coronavirus pandemic because they are spending less on travel and entertainment and have more opportunities to light up," says the Wall Street Journal [link], but the truth of the matter is that smokers are being forced to fear the safer alternatives.
"Teens who crave excitement more likely to smoke, use multiple illicit substances," say researchers who crave funding. The press office at the University of Illinois at Urbana-Champaign is claiming this is a 'new' study, but it was published and ignored last December.

"The concurrent use of substances among high school students such as cigarettes, alcohol, marijuana, and other illicit drugs is among the most potent predictors of their morbidity and mortality," write the researchers from the School of Social Work at the University of Illinois and the Suzanne Dworak-Peck School of Social Work at the University of Southern California.
"The Evolving Landscape of e-Cigarettes – A Systematic Review of Recent Evidence" was published in Thoracic Oncology CHEST Reviews. The authors relied on a myopic selection of studies to paint a picture of a post-apocalyptic landscape that would make a fitting home for Dark Lord Sauron in Lord Of The Rings. Experts Colin Mendelsohn and Wayne Hall have written to highlight several serious flaws in their work.

They cited studies by the likes of recently retracted Stanton Glantz, Lincolnshire's foremost expert on the art of massage David Bareham, Jessica 'I will ignore evidence for funding' Barrington-Trimis, and Andy 'won't someone think of the children' Leventhal.
---

---
It Was Wrong About Vaping – James Czerniawski
San Francisco cares about your health — so much so that they outright banned the sale of e-cigarettes in 2020. As usual for SF, the ultra-progressive city sought to be a leader in the fight against electronic cigarettes, issuing one of the most stringent measures taken in the U.S. However, a recent study shows that the measure was probably a costly mistake. After all, the very bans enforced by the city may well have ended up doing more harm than good.

There's no reason to argue that smoking is a good thing, whether e-cigarettes or regular. The science is fairly clear on what happens when people smoke, it can be extraordinarily harmful to their bodies.

In Australia: A Qualitative Analysis of Submissions to a Government Inquiry from Health and Medical Organisations
Daniel A Erku, Kylie Morphett, Kathryn J Steadman, Coral E Gartner
Australia has maintained a highly restrictive regulatory framework for nicotine vaping products (NVPs) and the regulatory approach differs from most other high income countries. This paper employed a thematic analysis to assess policy consultation submissions made to a government inquiry regarding use and marketing of NVPs. We included in the analysis submissions (n = 40) made by Australian institutions that influence or contribute to health policy-making including government agencies, health bodies and charities (n = 23), and public health academics and healthcare professionals (n = 18). Submissions from commercial entities and consumers were excluded.
Dr NG Yee Guan
ACCORDING to the World Health Organisation (WHO), the practice of tobacco smoking will persist into the near future with over one billion smokers globally.

Worldwide, tobacco use kills more than seven million people (both first-hand and second-hand smokers) every year, WHO says.

This practice persists despite extreme measures to stop it, such as banning advertising of tobacco products and smoking in public places, mandating pictorial health warnings on cigarette packs and imposing high taxes on cigarettes.
---
A look back at how things have moved on or otherwise….
CoEHER
This is the time of research on electronic cigarettes. Every day the number of scientific publications around the world seems to proliferate and, although opposing views on the efficiency of these products continue to feed the scientific debate, the interest on these issues is higher than ever and the combustion-free products continue to be chosen by millions of people.
Part 4: Electronic cigarette use (vaping)

In 2014, pupils were asked for the first time about e-cigarettes, with further questions added in 2016.

New legislation came into force in England and Wales on 1 October 2015, introducing a minimum age of sale of 18 for e-cigarettes and prohibiting the purchase of these products on behalf of someone under the age of 18.
Mongkol Bangprapa, Bangkock Post
Prime Minister Prayut Chan-o-cha has vowed to retain Thailand's ban on e-cigarettes, insisting the new government will not yield to lobbying from an interest group that has been working hard to lift the prohibition.
---
Visit Nicotine Science & Policy for more News from around the World

---