Vaping Digest 24th August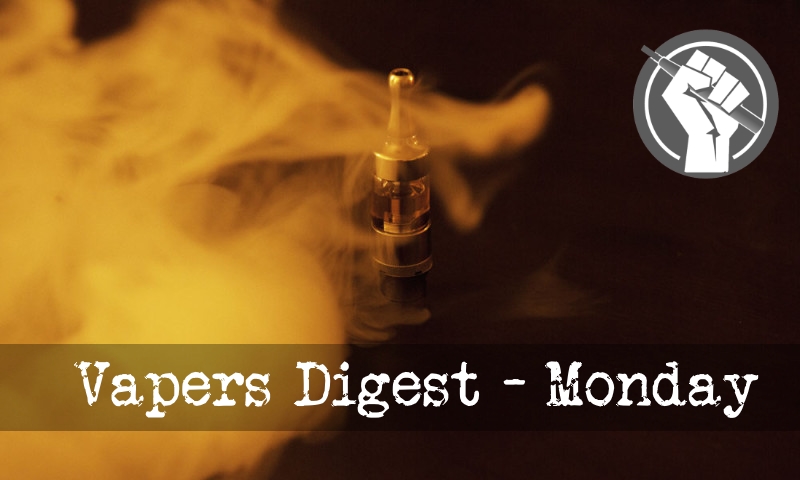 Monday's News at a glance:
Cigarette Sales Increase as Vaping Bans Push People Back to Smoking – Tobacco lobby influenced ministers, won possible delay in cigarette price rise – Fag Fires Blaze During COVID – Tobacco Cos. Line Up to File PMTAs – Health regulator confirms e-cigarette ban – Bogus Vaping Study Puts Millions of Lives at Risk – E-cigarettes Less Addictive Than Cigarettes – Nicotine Science and Policy Daily Digest
As Vaping Bans Push People Back to Smoking – Guy Bentley
In news that seems to fit with the 2020 memes: Cigarette sales have increased during the coronavirus pandemic.

People are spending less money than they would have on things like leisure activities and vacations. "They are also switching back to traditional cigarettes from vaping devices in the wake of federal restrictions on e-cigarette flavors," The Wall Street Journal reports. Earlier this year, the federal government banned some pod and cartridge-based e-cigarettes flavors that were the most popular option for adults who switched from traditional cigarettes to vaping.

E-cigarettes have been demonstrated, beyond any reasonable doubt, to be safer than cigarettes. A host of studies have shown that vaping is more effective in helping smokers quit than nicotine patches or gum…
Won possible delay in cigarette price rise – DutchNews
Pro-tobacco lobby groups were able to water down tough measures to combat smoking in a national agreement to boost public health, according to a new report by journalists at The Investigative Desk and Follow The Money.

The agreement dates from 2018 and aims to slash the number of smokers in the Netherlands to 5% by 2040.

However, the research – based on interviews, information obtained under freedom of information laws and draft reports – shows that the tobacco lobby was able to influence the agreement in several ways.

In the original plan the price of a packet of cigarettes was due to rise to €10 by 2023. However, thanks to the intervention of the tobacco lobby, the automatic increase in price has been replaced by a pledge to 'evaluate' the impact of the current price of €8, the report states.
---

---
Dave Cross, Planet of the Vapes
Action on Smoking and Health (ASH UK) performed some incredible statistical gymnastics to claim millions quit smoking during the COVID lockdown, but the truth is probably clearer from fire service statistics. The London Fire Brigade says household smoking-related fire callouts soared by 20% during this period.

Despite ASH UK using unreliable extrapolations to claim millions quit tobacco during the lockdown, Pharmacy2U reported a rise of 61% in mental health medication prescriptions – 92% in 20-29 year-olds. Poor mental health has always been linked smoking. In Greater London, the reported rise was 54%.
---
This is astonishing even by the tobacco control industry's vile standards. Firstly, it claims something false is "known" after years of saying "we just don't know" about vaping because they demand 40 years of data if you say #ecigs helped you quit smoking 1/3 https://t.co/hV4om43tnu

— Dick Puddlecote (@Dick_Puddlecote) August 23, 2020
"Worldwide, e-cigarettes have generated simultaneously an intensity of enthusiasm and a level of dread never previously experienced in tobacco control. The debate is heated, driven as much by emotions and philosophies as by facts."https://t.co/eK98rvOYBI

— Jukka Kelovuori (@jkelovuori) August 23, 2020
---
Melissa Kress
The clock is ticking for tobacco companies to file premarket tobacco product applications (PMTAs) with the Food and Drug Administration (FDA) for electronic nicotine delivery systems (ENDS) and other newly deemed tobacco products.

Under the 2009 Family Smoking Prevention and Tobacco Control Act, the FDA must approve PMTAs for newly deemed tobacco products — including electronic cigarettes and vapor products — to remain on the market.

In summer 2019, District Judge Paul Grimm of the U.S. District Court for the District of Maryland set a May 12, 2020 deadline for companies to submit their applications to the agency. However, this April, Grimm agreed to extend the deadline to Sept. 9, 2020 as tobacco companies and the FDA weather the challenges of the COVID-19 pandemic.

Daniel McCulloch
Australia's health regulator has formalised a ban on e-cigarettes and heated tobacco products, rejecting suggestions they present a safer alternative for smokers and people trying to quit.
In a final decision published on Monday, the Theraputic Goods Administration said it was not satisfied so-called HTPs offered any public health benefit.

"I do not consider HTPs would make a significant contribution to population harm reduction," the administrator said.
"I consider that maintaining the current scheduling for HTPs is necessary to protect public health from the risks associated with introducing a new nicotine product for non-therapeutic use."
---

---
Tim Andrews
Despite the United States weathering the most severe healthcare crisis in generations, some elected officials are pushing policies that would push death rates even higher.

On August 11, Rep. Raja Krishnamoorthi (D-Ill.) the chairman of the Oversight Subcommittee on Economic and Consumer Policy,  wrote to Food and Drug Administration Commissioner Stephen Hahn demanding a complete ban on the sale of reduced-risk tobacco alternatives such as e-cigarettes throughout the United States.

This is a misguided and dangerous move because these harm reduction products are proven to be 95 percent safer than combustible cigarettes, and twice as effective as conventional nicotine replacement therapies.

Faizan Hashmi
E-cigarettes are less addictive than traditional cigarettes for long-term smokers, according to research that sheds new light on how nicotine addiction works.

"We found that e-cigarettes appear to be less addictive than tobacco cigarettes in a large sample of long-term users," said Jonathan Foulds from the Pennsylvania State University College of Medicine.

The popularity of e-cigarettes, which typically deliver nicotine, propylene glycol, glycerin and flavourings through inhaled vapour, has increased in the past five years.
But This Study Doesn't Show It
This week, NIH Director Francis Collins tweeted that an NIH-funded study found that "teens & young adults who use e-cigarettes…were 5 to 7 times more likely to be diagnosed with COVID-19 than their peers who did not vape."

Quite a disparity in risk! Perhaps vaping is deadly after all. But not so fast. Let's look at the actual article.

First, an initial sign of trouble was pointed out by Nick Brown on Twitter: Some of the basic descriptive numbers just aren't possible. For example, the respondents were asked about their mother's level of education, and 609 said that their mother had "started college" (but not graduated). Of these 609, 48% were never-users while 52.0% had vaped.
---
A look back at how things have moved on or otherwise…
Charles Gardner
The Foundation recently consulted with external experts from the fields of HIV and drug harm reduction to learn how they were able to tilt the needle away from moral panic, toward evidence-informed policies. Drawing on decades of experience, they told us that success requires a concerted effort to harness not just data, but emotion and personal narratives.

What is harm reduction? Since at least the early 1970s, the world has waged a "War on Drugs." From the start, the watch word in the trenches of that war was prohibition ("Just say no"). Front-line weapons included stigma, incarceration, and, in some countries, execution of drug users. Harm reduction, by contrast, involves policies and programs that aim to reduce adverse health, social, and economic consequences of legal and illegal psychoactive drugs without necessarily reducing consumption.
Michelle Minton
H.P. Lovecraft opined in 1931 that "if religion were true its followers would not try to bludgeon their young into artificial conformity, but would merely insist on their unbending quest for truth …." Of all the professions in the world, one might think scientists would be most inclined to agree with this sentiment. But, as the case of Dr. Marewa Glover demonstrates, anti-tobacco research has become more religion than science, where anyone who dares to deviate from or even question the prevailing dogma is cast out as a heretic.

Dr. Glover, of New Zealand's Massey University, has a long and distinguished career as a public health and smoking cessation expert. She has focused her work on the health threats faced by indigenous peoples, especially that of smoking, which is astonishingly prevalent in the Māori community (30% for men and 37% for women)…
---
Visit Nicotine Science & Policy for more News from around the World

---