Vaping Digest August 23rd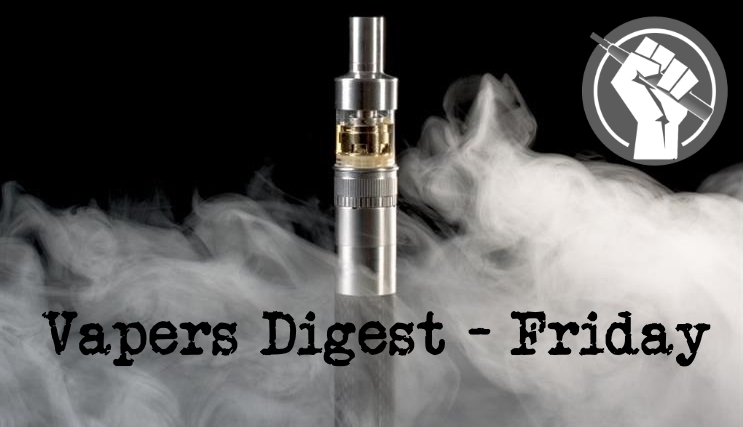 Friday's News at a glance:
How to win the war on harm reduction – Heretics in the Church of Tobacco Control – USA 'Lung' Outbreak Commentaries – Recent Cases of Vaping-Linked Lung Disease – Teen Vaping – RICO Joke – CDC reports 153 possible cases of vaping-related illnesses – Respiratory Expert Questions Links to Traditional Vaping – Park Ridge teen drops lawsuit against Juul – JUUL Opposes Industry Lawsuit Against FDA – India proposes ban on e-cigarettes – 7 out of 10 smokers say they might switch to vaping – Nicotine Science and Policy Daily Digest
Charles Gardner
The Foundation recently consulted with external experts from the fields of HIV and drug harm reduction to learn how they were able to tilt the needle away from moral panic, toward evidence-informed policies. Drawing on decades of experience, they told us that success requires a concerted effort to harness not just data, but emotion and personal narratives.

What is harm reduction? Since at least the early 1970s, the world has waged a "War on Drugs." From the start, the watch word in the trenches of that war was prohibition ("Just say no"). Front-line weapons included stigma, incarceration, and, in some countries, execution of drug users. Harm reduction, by contrast, involves policies and programs that aim to reduce adverse health, social, and economic consequences of legal and illegal psychoactive drugs without necessarily reducing consumption.
Michelle Minton
H.P. Lovecraft opined in 1931 that "if religion were true its followers would not try to bludgeon their young into artificial conformity, but would merely insist on their unbending quest for truth …." Of all the professions in the world, one might think scientists would be most inclined to agree with this sentiment. But, as the case of Dr. Marewa Glover demonstrates, anti-tobacco research has become more religion than science, where anyone who dares to deviate from or even question the prevailing dogma is cast out as a heretic.

Dr. Glover, of New Zealand's Massey University, has a long and distinguished career as a public health and smoking cessation expert. She has focused her work on the health threats faced by indigenous peoples, especially that of smoking, which is astonishingly prevalent in the Māori community (30% for men and 37% for women)…
---

---
Dave Cross, Planet of the Vapes
Following a handful of 'spice' cases in the UK, American media was swamped with stories relating to lung problems. Initially blamed on vaping, it became readily apparent the problem lay at the foot of black-market synthetic cannabis-style pods. Earlier this week, Dr Milton Teske was one of the first to deliver an honest appraisal – now others are truth telling.

An article in Medical Daily narrows the problem down to "Dank Vapes" branded cannabis oil cartridges and links the outbreaks to a chemical "used in Nazi Gas Chambers". The company's website is a basic WordPress offering with no physical address
Highlight the Importance of Accurate Information
Michael McGrady, Vaping Post
One of the latest public health challenges facing the vaping industry is the apparent outbreak of severe lung (pulmonary) disease in the United States. According to reports, there are currently 127 cases of severe lung illness associated with the behavior of vaping across 15 states.

This is genuinely troubling. For starters, individuals have been inflicted with life-threatening illnesses apparently tied to the act of vaping. However, it is also more troubling because there is a lack of clarity about what was vaped by these individuals.

As reported recently by in-house Vaping Post journalist Diane Caruana, a recent study by Riccardo Polosa, a world-renowned Italian tobacco researcher, and his team analyzed the relative risks of e-cigarette use on the human lungs.
---
---
Dave Cross, Planet of the Vapes
"Vape use up 30% in Los Angeles County high school students," screams Santa Clarita's The Signal newspaper. Reporting on Los Angeles County Department of Public Health's California Student Tobacco Survey and California Healthy Kids Survey, the writer managed to hide away the real impact of vaping on the State's youth.

"More than 30% of high school students across L.A. County have reported using e-cigarette products, prompting health officials to share the dangers of underage smoking," writes Brennon Dixson.
Dave Cross, Planet of the Vapes
The "Racketeer Influenced and Corrupt Organizations" Act (RICO) was used in a crack down on Sonny Barger's Hells Angels, brought down the Lucchese Mafia family, crushed the Gambino organised-crime family, and resulted in Donald Trump making a $25 million out of court settlement on claims he misrepresented Trump University. This week, RICO featured in the fastest of frivolous vape class-action lawsuits.

Christian Foss is a 19-yr-old Park Ridge, Illinois resident who asserts he began vaping when he was 16. A shining example of how bad vaping is for the developing teen brain, Foss now attends university studying Political Science.
---

---
Of vaping-related illnesses, many involving THC – Grace Hauck, USA TODAY
The Centers for Disease Control and Prevention announced this week that 153 possible cases of severe lung illness linked to vaping were reported across 16 states in the past two months. Many cases involved the use of products containing tetrahydrocannabinol (THC), the psychoactive chemical found in cannabis.

The cases were reported in: California, Connecticut, Florida, Illinois, Indiana, Iowa, Minnesota, Michigan, North Carolina, New Jersey, New Mexico, New York, Pennsylvania, Texas, Utah and Wisconsin.
Brent Stafford, Regulator Watch
Progressives' war on vaping escalated to a new and dangerous phase in the past few weeks, going well beyond mere misinformation and hysterical rhetoric.
According to the U.S. Centers for Disease Control, nearly 100 people, mostly teens, have been hospitalized with severe lung damaged; apparently the result of vaping.

The allegations have made national news, yet medical officials say they do not know what products, brands or substances were being used. So how then is the CDC able to blame vaping?

Jim McDonald, Vaping 360
JUUL Labs is quitting the Vapor Technology Association (VTA), after a year of major financial contributions to the vape industry trade group. JUUL cited strategic conflicts with VTA, including JUUL's support for Tobacco 21 legislation and banning some e-liquid flavors, which the VTA opposes.

The company announced Tuesday that it will not renew its VTA membership when it expires later this month. The company reportedly posted the statement, titled "Our Commitment to the PMTA Process," on its website without first warning VTA leadership of its decision.
Madhu Krishnamurthy
A Park Ridge teenager's class-action lawsuit claiming leading e-cigarette and tobacco companies are to blame for his nicotine addiction was dismissed voluntarily late Tuesday, a day after being filed.

Christian Foss, 19, alleged e-cigarette maker Juul Labs, tobacco industry giant Philip Morris USA, along with Phillip Morris' parent Altria Group, illegally marketed vaping products and devices to minors without informing them about the risks, according to the lawsuit filed Monday in U.S. District Court in Chicago.
Aditya Kalra
India's health ministry has proposed a ban on the production and import of electronic cigarettes, documents seen by Reuters showed, potentially jeopardizing the expansion plans of big firms like Juul Labs and Philip Morris International.

The ministry has proposed that the government issue an executive order banning the devices in the public interest, saying it was needed to ensure e-cigarettes don't become an "epidemic" among children and young adults.
If they had more information – Aleks Vickovich
Seven out of 10 smokers are open to switching from cigarettes to nicotine vaping but lack information to make that choice, according to new research — and in Australia, where some of the world's most draconian anti-vaping laws are in place, they are even more in the dark than others.

Getting caught in Western Australia with liquid nicotine for e-cigarettes, for example, can get you a whopping $45,000 fine, while in the ACT it can land you two years in prison.
---
A look back at how things have moved on or otherwise….
, The Sun
To the delight of Britain's 2.9 million E-cig users the Exchequer Secretary Robert Jenrick wrote to industry figures to pledge: "we have no current plans to introduce a new tax on vaping products."
Mawsley, Planet Of The Vapes
A 2016 study by Andrey Khlystov and Vera Samburova prompted The Sun to write that it had been proven "E-cigs can kill". The work drew widespread condemnation for its poor methodology and the probability that the pair had measured dry-burning and not normal vaping conditions. Farsalinos failed to replicate the findings in that and similar studies, and disgruntled pair took to the letters section of Food and Chemical Toxicology journal.
, Vaping Post
The lawmakers refer to the success obtained in the UK following the endorsement of e-cigarettes as cessation tools, and mentioned the renowned reports by Public Health England (PHE) and the Royal College of Physicians (RCP), which indicate that vaping is at least 95% safer than smoking.
"E-cigarettes offer an alternative. It is based on the idea of harm reduction: we can help smokers to switch from cigarettes to products that reduce the risks of smoking." HR 1885. HR 1885 refers to the renowned reports by Public Health England (PHE) and the Royal College of Physicians (RCP), which indicate that vaping is at least 95% safer than smoking.
---
Visit Nicotine Science & Policy for more News from around the World

---