Vaping Digest 26th August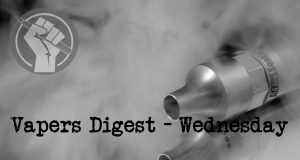 Wednesday's News at a glance:
The Costs and Unintended Consequences of Tobacco and Vaping Flavor Bans ~ Rates of e-cigarette and marijuana use not associated with vaping-related lung injuries ~ Adelaide GP quit smoking with vaping and wants to help others ~ Anti-THR measures in Denmark – our letter ~ Tobacco control policy: Government needs to encourage smoke-free technology: experts ~ Ombudsman asks government to include citizens' voice on Thailand e-cigarette policy ~ CAPHRA Giving Vapers A Voice ~ Are Friends Eclectic? ~ Super Modelling ~ Flavor ban would deprive smokers of safer options ~ Small Vape Companies Ask FDA to Postpone the PMTA Deadline ~ California Will Become the 5th State to Ban Flavors ~ VAPORESSO's first-round PMTA applications were accepted by FDA
Event, Reason Foundation
August 27, 2020 – 1:00 pm – 2:00 pm

In recent years, states across the county have implemented and considered various bans on flavored vaping products and e-cigarettes. Some, like Hawaii and California, are currently debating such laws. Others, like Vermont and South Dakota, could not get legislation across the finish line last year but are likely to try again.

These prohibitions are intended to protect young people from tobacco and nicotine. But is prohibition the answer and what do we know about the unintended consequences experienced in places that have already implemented vaping and flavor bans?
Yale School of Public Health, Eureka Alert
Higher rates of e-cigarette and marijuana use in U.S. states did not result in more e-cigarette or vaping-related lung injuries (known as EVALI), a new study from the Yale School of Public Health finds.

Published in the journal Addiction, the study estimates the relationship between states' total reported EVALI cases per capita as of January 2020, and pre-outbreak rates of adult vaping and marijuana use. Results show that higher rates of vaping and marijuana use are associated with fewer EVALI cases per capita.
---
Australian Tobacco Harm Reduction Association
KEVIN MURPHY is an Adelaide-based GP who quit smoking with vaping. Now he wants to help others do the same thing. He tells his story here.

"I grew up and trained in Ireland and emigrated to South Australia with my family in 2014 for a lifestyle change. It was a good move, and we are very happy living here.
European Tobacco Harm Reduction Advocates
DADAFO and ETHRA have written to the Danish Health Minister, MPs and MEPs to outline why some of the proposed measures in the Bill amending the Act on the ban on tobacco advertising etc will be detrimental to public health. We have also submitted the letter to the TRIS notification for the bill.
Aotearoa Vapers Community Advocacy, AVCA
Aotearoa Vapers Community Advocacy (AVCA) says a massive voting constituency is so far being ignored this election, and if tapped it could mean make or break for a minor party.

AVCA co-director, Nancy Loucas, says 200,000 votes are potentially up for grabs for any party which can demonstrate it's truly smokefree by releasing a vaping policy that is evidence-based and better supports smokers trying to quit deadly tobacco.
---

---
, Business Recorder
ISLAMABAD: The government should encourage use of smoke-free or harm reduction technology as part of its tobacco control policy to achieve a massive decline in smoking rates in Pakistan. Experts told Business Recorder here on Monday that it is the combustion of tobacco (ie, cigarette smoking), rather than nicotine, which is the primary cause of smoking related diseases.
Factasia
The Office of the Ombudsman has asked revelant government agencies to listen to the voice of the public objectively in deciding on whether the ban on electronic cigarettes in Thailand should be lifted or extended.
---
This isn't just a typically terrible @ProfGlantz paper, it is more serious than that. https://t.co/MUiPaGl78T pic.twitter.com/6eFAicqbZk

— Clive Bates (@Clive_Bates) August 24, 2020
---
---
Editorial, Orange County Register
Senate Bill 793, which would ban the sale of flavored tobacco products throughout California, on Monday passed the Assembly and now heads back to the Senate. The legislation purports to improve public health, but it actually would endanger the health of people who are trying to quit smoking.

The bill prohibits retailers from selling tobacco or nicotine with a characterizing flavor. One of its obvious targets is vaping, given most electronic cigarettes use liquids that have flavoring added to them. SB793 supporters claim that vaping companies entice young people with candy, fruit and mint tastes.

---
Two from Jim McDonald, Vaping 360
A group of small vaping manufacturers and trade organizations has requested that the FDA ask a federal court for permission to postpone the Sept. 9 PMTA deadline for 180 days. The companies say they have been prevented from complying with the process by the coronavirus pandemic. Now they have just two weeks before applications are due.
The California Assembly today passed SB 793, a bill that will ban sales of flavored vaping products in brick-and-mortar stores. The bill, if it becomes law, will also ban sales of flavored smokeless tobacco, small cigars and menthol cigarettes.
---
Vaporesso, Cision
On August 20, 2020, VAPORESSO received the acceptance letter for the first round of its PMTA applications from the FDA – only three days after submission. According to its U.S. scientific CRO agent, the application received positive comments from FDA on its overall preparation.
---
A look back at how things have moved on or otherwise…
Paul Barnes – Facts Do Matter
In a truly mind-bendingly terrifying moment, one of the key arguments used – particularly in the US – by the opponents of vaping has been gloriously ripped asunder. That argument is of course that The Children™ will use them and become "addicted" to nicotine. The thing is, there is a substantial portion of teens that vape without nicotine a statistic that is overlooked by the US tobacco controllers. You can imagine the shock and horror on their faces when they read that part of this study.
Tobacco Control – BMJ
These results challenge the common assumption that all vaporiser users inhale nicotine. They (a) call into question the designation of vaporisers and e-cigarettes as ENDS ('Electronic Nicotine Delivery System'), (b) suggest that the recent rise in adolescent vaporiser use does not necessarily indicate a nicotine epidemic, and (c) indicate that vaporiser users can be candidates for primary prevention programmes.
---
Visit Nicotine Science & Policy for more News from around the World

---