Vapers Digest 23rd August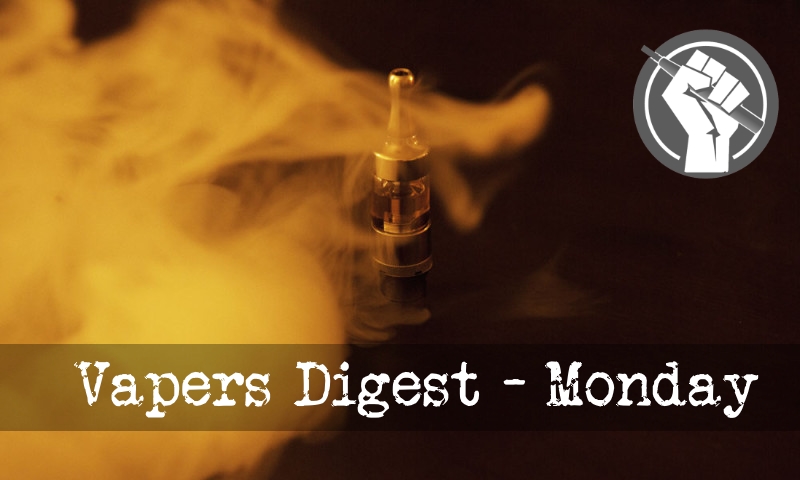 Monday's News at a glance:
A welcome contribution to global understanding of vaping – The Role of E-Cigarettes in Achieving Scotland's 2034 Smoke-Free Target – "Vaping can benefit public health." – SRNT Body Blow For Vape Deniers – IQOS UK Rollback – Follow The Science On Nicotine Regulation – Vaping Does Not Cause Heart Attacks – A Missed Public Health Opportunity for India – Misinformation hinders THR in LMIC – THR efforts must be research-based – Blurring the Line Between Righteousness and Health – How the Juul Lawsuits Could Crush Vaping – Nicotine Science and Policy Daily Digest
To global understanding of vaping – New Nicotine Alliance
Last week saw the publication of an article at the American Journal of Public Health (AJPH) entitled Balancing Consideration of the Risks and Benefits of E-Cigarettes, written by no fewer than 15 past Presidents of the Society for Research on Nicotine and Tobacco (SRNT). SRNT is a globally respected organisation dedicated to evidence-based research on tobacco and nicotine use.

The lead author is Professor David Balfour from the UK, and Professor Robert West, Emeritus Professor at University College London is also a signatory, but their colleagues are based in the United States where debate over vaping has been fractious at best, and wildly inaccurate at worst.
Marc Gunther
In a rebuke to the activists, politicians and government officials who have led a crusade against youth vaping, a group of eminent tobacco scientists are urging authorities to consider the benefits of e-cigarettes as well as their risks.

Writing in the American Journal of Public Health, fifteen past presidents of the Society for Research on Nicotine and Tobacco (SRNT) say that a growing body of evidence indicates that vaping can help smokers quit, although the research is not definitive.

Bans on flavored e-cigarettes enacted by five states and numerous cities at the urging of groups like the Campaign for Tobacco-Free Kids could reduce youth vaping, as they are designed to do, the scientists acknowledge.
---

---
Dave Cross, Planet of the Vapes
Fifteen past presidents of the Society for Research on Nicotine and Tobacco (SRNT) have delivered a body blow to the arguments used to deny the benefits of vaping. The group have published a paper (1) that comments on the American electronic cigarette approach and lists strong arguments for change.

All 15 authors disagree with Michael Bloomberg and the World Health Organization's stance on vaping. Harm reduction advocate Charles Gardner pointed out that the experts are the last people anyone could accuse of being corporate shills and referred to the SRNT and "the" preeminent professional society. He called their work "an enormous broadside" against safer nicotine harm reduction denial's flagship.
---
---
Dave Cross, Planet of the Vapes
Philip Morris International (PMI) has now closed almost all of its flagship IQOS stores in the United Kingdom as its heated tobacco product failed to replicate the success experienced by vape products over the last decade. The move comes as researchers publish a paper saying IQOS "may be less effective than Juul for smoking cessation".

PMI opened up a number of glamourous flagship IQOS stores across the UK. Reminiscent of Apple stores, the locations were at the vanguard of ambitious plans to roll out hundreds of stores to promote the heated tobacco product lines.
In Achieving Scotland's 2034 Smoke-Free Target – Diane Caruana
In 2017, the Scottish government had announced that it was setting in place a tobacco plan in order to become "smoke-free" by 2034. At the time, the University of Edinburgh and NHS Health Scotland had carried out an inquiry to determine whether efforts to reduce smoking were being effective. This had indicated that while the local tobacco control strategy was working, smoking continued to be a problem amongst low income communities.

"The evidence shows the positive impact of tobacco policy, ranging from the display ban which put tobacco out of sight in small shops and supermarkets to the introduction on smoke free NHS grounds," said Dr Garth Reid, principal public health adviser at NHS Health Scotland at the time.

Soko Directory
SCIENCE should guide all public health policies. Surprisingly, such a seemingly obvious principle often needs restating. Particularly now, as we plot our way through the pandemic amid the noise generated by conspiracy theorists and vaccine hesitancy.

It is a principle that also needs to be stressed upon those shaping Kenya's tobacco control policies as they come under increasing pressure from powerful lobbyists for whom science seems an annoying distraction.
Kevin Garcia
E-Cigarettes are not associated with increased heart attack incidence among people without a history of smoking combustible cigarettes, according to a new study. It found previous research claiming such a link to be methodologically flawed. The paper, published in the American Journal of Preventive Medicine, refuted three earlier studies which had broadly associated e-cigs with higher risk of heart attack, even among people who'd never smoked.

"Among never-smokers, the use of electronic cigarettes is not associated with an increased risk of having a heart attack," Dr. Michael Siegel, a community health sciences professor at Boston University and one of the authors of the new study, told Filter.
---

---
A Missed Public Health Opportunity for India
In conversation with Dr. Sree T. Sucharitha, M.D. Professor and Founding-Director – AHRER (Association for Harm Reduction Education and Research)

How can India take its tobacco control measures to the next level?

Tobacco causes about eight million avoidable deaths and is responsible for over 12% of premature deaths globally. In India, tobacco use in various forms, decreases life expectancy by 11 years among women and 12 years in men. Failure to rapidly implement global tobacco control measures is predicted to result in one billion tobacco-related deaths in the 21st century. The WHO Framework Convention on Tobacco Control (FCTC) implements tobacco control policies such as price and tax increases, pictorial warnings, prevention of smoking in public and workplaces, monitoring trends in tobacco use, quit lines, and ban of tobacco advertisement and promotion.
Jakarta (ANTARA) – Tobacco harm reduction efforts need to be based on scientific research, former policy and cooperation research director at the World Health Organization (WHO), Prof. Tikki Pangestu, said in a statement received here on Monday.

However, scientific research is hard to conduct in low and middle income nations due to the lack of openness of stakeholders despite the high number of smokers in those nations, he opined.

To this end, he suggested that stakeholders remain more open and prioritize communication to know the real facts regarding the concept.
TBS Report
Misinformation from international NGOs is one of the significant factors that prevent the adoption of tobacco harm reduction (THR) in the low and middle-income countries (LMIC), said harm reduction advocates.

Health-policy experts representing countries such as India, Ukraine, Kenya, and Mexico spoke about the obstacles to the adoption of THR in LMICs during the Global Forum on Nicotine held virtually from Liverpool in June, said a press release.

Mexican lawyer and harm reduction advocate, Tomás O'Gorman said that the ideological position being forced by international non-government organisations like Bloomberg Initiative and Campaign for Tobacco-Free Kids has been a big challenge to the adoption of harm reduction products like vaping to help smokers quit.

Righteousness and Health
Make no mistake about it, public health is a righteous cause. Overwhelmingly, people choose careers in public health because they believe in the mission and they want to make a difference in the world. But righteous causes can bring a loss of objectivity. It happens because strong, human feelings come into play. When we hear a public health nutrition expert talk of "stomping out" inconvenient research findings, the line between righteousness and public health is blurring. All too easily, then, public health can suffer rather than benefit.

We see many examples of the line blurring – especially in obesity and nutrition research. People stake out a position they believe in and they defend it with passion. Perspective flies out the window.
Deepak Mukarji
India has the second-largest tobacco-using population in the world and the consumption of different forms of tobacco has only resulted in fatal diseases. According to National Cancer Registry Programme, the use of tobacco led to over 27 percent of cancer cases in the country in 2020, and the number is expected to increase by 12 percent by the year 2025.

Combustible cigarettes have been considered the most harmful products because more than 7000 chemicals are present in cigarette smoke, of which more than 70 are linked to cancer. Smoking combustible cigarettes have been precariously killing half of those who do not quit. Meanwhile, saving smokers with the help of effective cessation methods has been a challenge since time immemorial.
---
A look back at how things have moved on or otherwise…
Is a Threat to Vaping – James Dunworth
Over the last few years, no official government body in the world has endorsed vaping like Public Health England has.

With grace and integrity the organisation, and the people at its helm, have countered misinformation. For example, when the lung disease EVALI was wrongly attributed to nicotine vaping (it was actually caused by the use of illegal cannabis in the USA), PHE was quick to point out the strict regulations that protect vapers in the UK.

They've promoted research into vaping, and, following that research, the benefits of vaping – reiterating again and again that it is 95% less harmful than smoking.
Harry's Blog 103:
Imagine the shock waves reverberating around the world if the WHO announced that every man, woman and child in Brazil, Bangladesh, Nigeria, the Philippines and Indonesia has been wiped out by COVID-19. That's around a billion people – the same number the WHO continue to estimate will die from a smoking-related disease by the end of the century. The lack of immediacy and topicality of smoking death stats make them less politically explosive, but no less shocking. The big difference is that, at least currently, we can't stop the spread of coronavirus, but we can do much to lessen the predicted death toll from smoking.

First, here's what we cannot do – legislate cigarettes out of existence. Some rosy prohibitionist vision of the future won't wash. There is too much money at stake, not just for multi-national tobacco companies, but for those countries with the most profitable domestic industries, like China and India.
---
Visit Nicotine Science & Policy for more News from around the World

---