Vapers Digest 25th August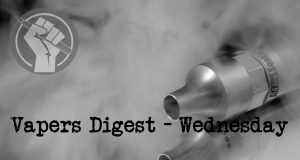 Wednesday's News at a glance:
The Desperate Search for a Health Threat From Nicotine Pouches ~ Why the FDA Denied 4.5 Million Product Applications From One Vape Company ~ E-cigarettes, Continued ~ With ENDS Deadline Looming, FDA Must Ignore Activists' "Regulate To Eliminate" Demands ~ 'Caught! Bloomberg's Fingerprints Try To Smear Filipino Vape Bill' ~ Crypto Vape Fundraising Campaign ~ SRNT Paper's Lead Author Speaks Out ~ Vapers Unite ~ Who Should Government Trust on Health, a Lawyer or a Public Health Professor? ~ US Sales of Nicotine Products During The Coronavirus Pandemic ~ NATO Report: Cigarette Warnings Postponed, Flavor Bans Increase Youth Smoking
Martin Cullip, Filter Magazine
Earlier this month, the Centers for Disease Control and Prevention (CDC) tweeted about the dangers of nicotine pouches, a fairly new reduced-risk nicotine product.

The pouches are small bags of food-grade powder infused with nicotine. They're placed under the lip, where the nicotine is absorbed into the user's gum. Even though they have only been on the US market for about two or three years, public health groups seem to be developing a growing distaste for them.
Alex Norcia, Filter Magazine
O

n August 9, the Food and Drug Administration (FDA) 

ordered

 that approximately 4.5 million vaping products from a single company, JD Nova LLC, could not be sold in the United States. As a result, JD Nova cannot introduce these vaping products—many of which were 

not

actually on the market—nor can it continue to sell the ones that were already available to customers.
---
Marc Gunther, Nonprofit Chronicles
Here we are, with summer coming to a close, and I am more than a little surprised to find that I have devoted most of my working time during 2021 to a single topic–electronic cigarettes. I've never been a smoker or a vaper, and paid no attention to e-cigarettes until late last year, when I began reporting a story about Bloomberg Philanthropies and the Campaign for Tobacco-Free Kids for the Chronicle of Philanthropy.

The more I learned, the more I came to believe that the topic meets the three criteria that I try to apply when deciding what stories to report. (1) Is it important? (2) Is it being covered well by others, i.e., do I have something to contribute? (3) Can my coverage in some way, big or small, make a difference?
---
Glenn G. Lammi, Forbes
The Food and Drug Administration (FDA) is facing a court-ordered deadline of September 9 to act on 550 companies' applications for marketing approval of electronic nicotine delivery systems (ENDS) and other "deemed" new tobacco products. FDA's impending decisions arise from over three decades of legal, legislative, and regulatory battles and negotiations. Most of the participants in those battles—manufacturers, activists, elected officials, and health regulators—agreed that a ban on all nicotine-containing products would be a public-health disaster. Instead, they negotiated passage of the 2009 Tobacco Control Act (TCA), a law that vastly expands FDA's authority over tobacco and sets out an approval pathway for non-combustible products that could reduce harms to consumers.
Nancy Loucas, Coalition of Asia Pacific Tobacco Harm Advocates (CAPHRA)
"Perfectly orchestrated criticism from youth and student organizations on the vaping legislation currently before the Philippines Senate proves that undue foreign influence and money continue to be an ongoing issue in the Philippines," says Nancy Loucas, Executive Coordinator of the Coalition of Asia Pacific Tobacco Harm Reduction Advocates (CAPHRA).
---

---
THREE from Dave Cross, Planet Of The Vapes
Vaping goes crypto. The World Vapers' Alliance has announced the launch of the 'Vape Bus', a campaign bus that will travel around Europe throughout August and September as part of the Back Vaping. Beat Smoking campaign. To raise additional funds for the campaign, the WVA launched an innovative auction for the first vaping consumer non-fungible token (NFT).
Kenneth Warner, dean emeritus and the Avedis Donabedian Distinguished University Professor Emeritus at the University of Michigan's School of Public Health, has spoken out as lead author of the paper (1) written by the fifteen past presidents of the Society for Research on Nicotine and Tobacco Research (SRNT).
Angry vapers unite to fight WHO's relentless lies as panellists on the latest Advocates Voice have passionately pleaded for fellow vapers and tobacco harm reduction champions to stick together and support each other in the fight for over one billion lives globally.
---

---
Lindsey Stroud, Town Hall
Diane Caruana, Vaping Post
On the whole nicotine volume was down by 2.8% from the previous year, for the two weeks ending on March 27th, said the report, and this downward trend is expected to continue. "We expect volumes to turn more negative once we start to lap some of the more pronounced effects of COVID (i.e., pantry-loading) from last year," said Herzog.
On Aug. 18, the U.S. District Court for the Eastern District of Texas issued an order further postponing the effective date of the FDA's graphic cigarette health warning rule by another 90 days from July 13, 2022, to Oct. 11, 2022.

In addition, the order also states that "any other obligation to comply with a deadline tied to the effective date of the rule" is also postponed for an additional 90 days.
---
Gary Wood – An Eagle's Prayer
The FDA's lawyers explained to the D.C. federal court e-cigarettes are really horrible and the court has no need to sift through all the boring facts.  Why? Congress made the FDA the experts so trust them.  In their 102 page legal response to lawsuits filed against the FDA lawyers write, "The Court need not sift through this evidence, however, because Congress entrusted the decision whether to supervise tobacco products, including e-cigarettes, to the expert judgment of the FDA."
E-Cigarettes and the cigarette end game – Neal L. Benowitz
The reduced nicotine content cigarette and the emergence of non-combusted nicotine products like e-cigarettes should be viewed not as alternatives but as complementary components of regulatory interventions that could virtually end combusted tobacco use.
---
Visit Nicotine Science & Policy for more News from around the World

---