Vapers Digest 27th August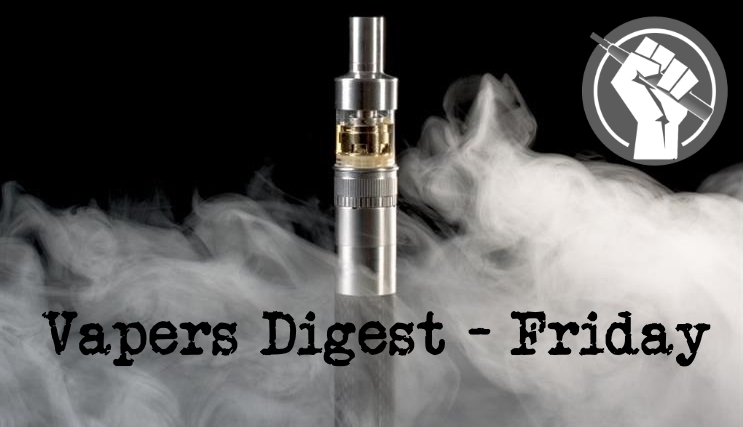 Friday's News at a glance:
All about nicotine – the guru has spoken – Organizing the Tobacco Harm Reduction Community in the United States – Vapes Outperform NRT for Smokers – Tobacco Control Leaders Call for a Balanced Assessment – Vape Bus Hits Barcelona – Cochrane Updates Info on Vape Efficacy – NZ Regs: Terrible For Consumers – PHE's Response to the SRNT Paper – New Testing Method Keeps PMTA Dream Alive – FDA Signals It Won't Authorize Flavored E-Liquid PMTAs – Will FDA Extend Its Proposed Ban on Menthol Cigarettes – Nora Volkow Acknowledges Benefits – Demand for balance on vape debate – Knee-jerk response – 2.4m Britons choose vape to quit – Are Concerns About Teen Vaping Overblown? – Flavoured vape e-liquids help smokers – Good News Out of the Philippines – Foreign groups hit for role in tainting Senate vaping bill – FDA orders three small makers to pull products from the market – Remaining smokers in Norway – Nicotine Science and Policy Daily Digest
Professor Neal Benowitz
The world's leading expert on nicotine has published an authoritative report on nicotine and vaping. It is a must-read for all vapers.

Professor Neal Benowitz is Emeritus Professor of Medicine at the Center for Tobacco Control Research and Education, University of California San Francisco. His work on nicotine over the last 40 years has been the go-to reference and is always considered and reliable.

Some of the key comments in the review are listed below, but I recommend all vapers read the paper carefully. It is available here.

"If smokers used ENDS to quit smoking, even if they continued to use ENDS, we expect that there would be an enormous benefit to public health."
John de Miranda
Within the U.S. public health community, the American Journal of Public Health (AJPH), published by the American Public Health Association, is a leadership bellwether. On August 19 2021 the AJPH published online an important article that may indicate a shift in the current tobacco war. Balancing Consideration of the Risks and Benefits of E-Cigarettes (https://ajph.aphapublications.org/doi/10.2105/AJPH.2021.306416) was also presented as a paper at the May 2021 E-Cigarette Summit: Science, Regulation and Public Health.

Electronic cigarettes have been in the marketplace for almost 20 years and current estimates are that worldwide users number close to 70 million. Many former cigarette smokers have benefitted from switching to electronic nicotine delivery systems.
---

---
Who Have Tried Past Quitting Aids – Kevin Garcia
For people who want to stop or reduce their smoking and have previously been unable to do so using conventional treatments, e-cigarettes are much more effective than nicotine-replacement therapy (NRT), according to new research.

A study published in Addiction assessed the efficacy of e-cigs compared to NRT among smokers who had tried previous treatments, including NRT. It was conducted as a follow-up to an earlier study by many of the same researchers, which found vapes to be more effective than NRT for smoking cessation among people who hadn't previously tried any treatments.
---
FDA bans 55,000 e-liquid products made by three tiny American companies. Approximately eight people under 21 will be impacted this decision.

I'm awaiting confirmation from a second source, but I'm being told combustible cigarettes are still legal. https://t.co/jNcAyQHGC0

— Gregory Conley (@GregTHR) August 26, 2021
---
Call for a Balanced Assessment of the Risks and Benefits of Nicotine Vaping
Martin Dockrell, PGDip, BA, and John N. Newton, MSc
The role of e-cigarettes, or nicotine vaping products, in tobacco control has been controversial from the outset. Early divisions among public health experts led to polarized coverage in the media,confusedmessagestothepublic, and inconsistent policymaking between jurisdictions. For many authorities in the United States, the potential health harms of e-cigarettes and youth-vaping concerns were overriding considerations. For others (most notably in the United Kingdom), those risks have been
balanced more explicitly against the potential benefits for smokers of easy access to nicotine vaping products. As more and better evidence becomes available and continues to accrue, some consensus should be possible on the individual elements of this complex policy question.

Four from Dave Cross, Planet of the Vapes
The World Vapers' Alliance (WVA) iconic Vape Bus tour started this week in Barcelona sharing the message that 19 million lives can be saved in Europe if policymakers embrace pro-vaping policies in the fight against smoking.
Speaking about the European bus tour, Michael Landl, Director of the World Vapers' Alliance said: "We started our journey in

Barcelona today because smoking is still the leading cause of preventable diseases in Spain. If Spanish and EU politicians embrace vaping then 2.4 million lives can be saved in Spain, and 19 million in Europe. We want to make 2021, the year that the world embraces one of the greatest public health inventions of the century – vaping. To achieve this, it is vital that the voices of vapers are heard."
The Cochrane Tobacco Addiction Group (Cochrane TAG) conducts a monthly review of studies looking at the use of e‐cigarettes to help people stop smoking. It has issued an updated briefing that contains the new information gathered from April 2021.

The briefing document updates current knowledge with the most up to date information on the effect and safety of using electronic cigarettes to help people who smoke achieve long‐term smoking abstinence.

Cochrane TAG is a highly respected non-profit organisation that reviews all the evidence regardless of findings. Its conclusions feed into decision making processes, helping people to construct evidence-based policy decisions.
New Zealand's costly vape regulations will drive many small to medium-sized businesses to the wall. Rising prices will also leave many vapers with little choice but to return to deadly cigarettes, says the country's leading tobacco harm reduction consumer group, The Aotearoa Vapers Community Advocacy (AVCA).

AVCA says the impact of the August timing is compounded by the fact that New Zealand has gone into total Covid-19 lockdown: "The local industry is now under enormous cost pressure. At the same time, consumers now reliant on specialist vape stores to access the most popular flavours are stuck at home with the physical stores forced closed. General retailers selling cigarettes remain open."
Public Health England's (PHE) Martin Dockrell and John Newton have responded to the paper (1) written by the fifteen past presidents of the Society for Research on Nicotine and Tobacco Research (SRNT). The editorial article (2) is published by the American Journal of Public Health and lends further weight to pro-vaping arguments.

Mirroring the SRNT paper, Newton and Dockrell repeat: "Early divisions among public health experts led to polarized coverage in the media, confused messages to the public, and inconsistent policymaking between jurisdictions."
---

---
Keeps PMTA Dream Alive for Small Vape Companies – Jim McDonald
Small vaping manufacturers hoping to remain on the market beyond Sept. 9, 2021 are scrambling to begin the serious work of testing their products, so they'll be able to show the FDA they're making a good-faith effort toward completing the PMTA requirements.

The FDA has discretion to grant case-by-case extensions to manufacturers "for good cause." Many believe that showing evidence of progress toward completing the testing requirements will earn a temporary reprieve from FDA enforcement.

Applicants that are serious about remaining on the market face major challenges completing the complex and expensive evaluations required of their products—including stability testing, toxicology reports, behavioral studies and HPHC testing.
It Won't Authorize Flavored E-Liquid PMTAs – Jim McDonald
The FDA announced today it has rejected 55,000 Premarket Tobacco Applications (PMTAs) from three small e-liquid manufacturers. That eliminates about two percent of the more than two million remaining of the 6.5 million PMTAs originally submitted before last year's Sept. 9 deadline.

More importantly, the federal regulator seemed to indicate that it will probably not authorize any bottled e-liquid in flavors other than tobacco. With two weeks before the Sept. 9, 2021 grace period is up, that will likely mean rejection for almost all of the remaining PMTAs.
On Menthol Cigarettes and Characterizing Flavors in Cigars to Flavored ENDS Products?
On April 29, 2021, the U.S. Food and Drug Administration (FDA) announced that it will initiate a notice and comment rulemaking process to ban menthol-flavored cigarettes and all characterizing flavors in cigars and cigarillos within the next year.[1] This article provides background on the forthcoming flavor ban and discusses the potential implications for flavored electronic nicotine delivery systems (ENDS).

Although the availability of menthol cigarettes has long been a subject of controversy, because of the history of menthol use in cigarettes, Congress avoided legislating a menthol ban with the 2009 enactment of the Family Smoking Prevention and Tobacco Control Act (TCA), which prohibited the sale of cigarettes with characterizing flavors—yet specifically exempted menthol and tobacco flavors from the ban.
To pull products from the market – Dan Diamond
The Food and Drug Administration on Thursday ordered three small e-cigarette manufacturers not to sell their flavored products, the first in a series of decisions that could imperil products sold by Juul and hundreds of other e-cigarette, hookah, cigar and pipe manufacturers.

Under the FDA's orders, the manufacturers — JD Nova Group LLC, Great American Vapes and VaporSalon — must pull 55,000 existing or planned flavored products from the market or risk enforcement. Regulators said the companies' applications failed to provide "sufficient evidence" that their products provide a net public health benefit for adult smokers compared with the "threat posed by the well-documented, alarming levels of youth use" of flavored vapes.
Totally ridicules WHO – CAPHRA
"One American Journal of Public Health article is proving to be a watershed moment in the vape debate. It has singularly pushed the World Health Organization to the complete outer when it comes to considered international opinion and research," says Nancy Loucas, Executive Coordinator of the Coalition of Asia Pacific Tobacco Harm Reduction Advocates (CAPHRA).

CAPHRA's comments follow 15 past Presidents of the Society for Research on Nicotine and Tobacco (SRNT) publishing an article titled 'Balancing Consideration of the Risks and Benefits of E-Cigarettes' in the AJPH.
Acknowledges Benefits of Vaping
Throughout the decade-plus history of vaping in the United States, National Institute on Drug Abuse (NIDA) director Dr. Nora Volkow has rarely, if ever, had a positive word to say about nicotine vaping products. Indeed, Volkow has frequently been trotted out by those looking to manufacture moral panics. Just as recently as April, she spoke at a nicotine prohibitionist conference and brought up the lung condition EVALI multiple times without ever clarifying that health agencies had linked EVALI to illicit contaminated THC vaping products.
As US AGs leap aboard the anti-flavours bandwagon – Barnaby Page
Of course oral products, like any tobacco and nicotine products, need to be regulated. But the focus on flavours is a knee-jerk reaction, and a distraction.

For starters, it really hasn't "been well documented" that flavours attract youth. Sure, youth use flavoured products, and often say they like them (which is hardly surprising – they wouldn't use them if they didn't enjoy them. Survey users of any nearly lifestyle product and they'll report that they like it.)

Bangladesh Post Desk
Vaping debate is heating up again. While the World Health Organisation just released a statement pouring cold water on the use of vape in helping the reduction of tobacco consumption, evidence in the United Kingdom (UK) continues to show that it is very effective in helping smokers to quit traditional cigarettes.

A recently published survey by a tobacco control advocate in the UK has found nearly two-thirds (64.6 percent) of its vaping population comprising adults are ex-smokers who have quit smoking with vape, with the proportion growing year-on-year. The figure suggests there are approximately 2.4 million vapers who were smokers.
John Gever
There's good news, even better news, and a bit of bad news in a novel analysis of teens' use of tobacco products.

As previous studies have indicated, overall use, as measured by "nicotine product days" (NPDs) — the number of days an individual smoked cigarettes or used smokeless tobacco or nicotine-containing vapes in the past month, according to National Youth Tobacco Survey (NYTS) data — declined substantially from 1999 to 2020 among high-school and middle-school students, reported Ruoyan Sun, PhD, of the University of Alabama at Birmingham, and colleagues.
Help smokers to quit smoking
A RECENT paper by Consumer Choice Centre (CCC) and the World Vapers' Alliance (WVA) has concluded that vapers risk returning to smoking traditional cigarettes if they do not have access to flavoured vape e-liquids.

The paper titled Why Flavours Matter cited a five-year US study involving 17,000 Americans. It found that adults who used flavoured vaping products were 2.3 times more likely to quit traditional cigarettes compared with those who consumed tobacco-flavoured vaping products.

The research also found that a majority of vape users prefer non-tobacco flavoured vape products because of their taste, which does not remind them of conventional cigarettes.
Elizabeth Wright
Lobbying the government to obtain a political or policy objective is not limited to the United States. But the rules and reactions to such efforts vary widely around the world.  It is rare to rebuke lobbyists at the federal, state, and local level in America, but the Philippine government seems to be taking abuses of these activities more seriously.  This week the Philippine House of Representatives Committee on Good Government and Public Accountability adopted and reported to the full House a report that cited "the questionable receipt of private funding by the Food and Drug Administration (FDA) and other government agencies and institutions in exchange for the issuance of specific and predefined policies directed against a legitimate industry under Philippine laws and in complete disregard of the rights and welfare of consumers."
In tainting Senate vaping bill
Consumer advocacy groups raised concern over the latest campaign against the Senate vaping bill, saying the campaign bears the fingerprints of anti-vaping foreign charities funded by Bloomberg Philanthropies.

"Perfectly orchestrated criticism from youth and student organizations on the vaping legislation currently before the Philippines Senate proves that undue foreign influence and money continue to be an ongoing issue in the Philippines," said Nancy Loucas, executive coordinator of the Coalition of Asia Pacific Tobacco Harm Reduction Advocates.
Don't really want to quit – Ida Irene Bergstrøm
"The results of our study shows that it might be about time to better facilitate a transition from dangerous tobacco products to less harmful ones, such as e-cigarettes and snus (dry snuff)", says tobacco researcher Karl Erik Lund at the Norwegian Institute of Public Health (NIPH).

He is one of the authors behind an article about willingness to quit among those who still smoke (link in Norwegian).

Around nine per cent of Norwegians aged 16-74 smoked daily in 2020 according to figures from Statistics Norway. Another eight per cent respond that they smoke every now and then.
---
A look back at how things have moved on or otherwise….
Event, Reason Foundation
August 27, 2020 – 1:00 pm – 2:00 pm

In recent years, states across the county have implemented and considered various bans on flavored vaping products and e-cigarettes. Some, like Hawaii and California, are currently debating such laws. Others, like Vermont and South Dakota, could not get legislation across the finish line last year but are likely to try again.

These prohibitions are intended to protect young people from tobacco and nicotine. But is prohibition the answer and what do we know about the unintended consequences experienced in places that have already implemented vaping and flavor bans?
Yale School of Public Health, Eureka Alert
Higher rates of e-cigarette and marijuana use in U.S. states did not result in more e-cigarette or vaping-related lung injuries (known as EVALI), a new study from the Yale School of Public Health finds.

Published in the journal Addiction, the study estimates the relationship between states' total reported EVALI cases per capita as of January 2020, and pre-outbreak rates of adult vaping and marijuana use. Results show that higher rates of vaping and marijuana use are associated with fewer EVALI cases per capita.
---
Visit Nicotine Science & Policy for more News from around the World

---