Vapers Digest 1st September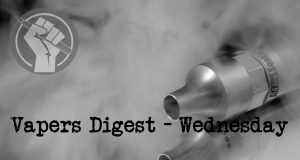 Wednesday's News at a glance:
Public health gains from investment in non-combustible alternatives ~ Denied FDA Authorization, Vaping Companies Start to Explore Loopholes ~ As New Zealand Cigarette Taxes Climb, So Do Harms to Poor and Indigenous Smokers ~ Lawmakers' Pressure On FDA Review Of New Tobacco Products Blurs Line Between Oversight And Undue Influence ~ Taxing Tobacco and E-Cigarettes at Same Rate Will Harm Young Users, New Study Finds ~ NNA Welcomes AJPH Article ~ 4.5 Million Vape Products Denied ~ Canadian Protest Bus ~ UKVIA on Rise in Smoking ~ FDA facing demands to snuff out Juul's e-cigarettes ~ Local NGOs receive foreign money to lobby for vape ban; consumer group up in arms ~ Embracing Vaping Saves Lives Says Eminent Panel Of Medical Experts ~ ETHRA August news roundup
Public health will reap benefits from busines investments in harm reduction or non-combustible alternatives (NCAs) to cigarettes, according to a UK-based fund manager.

"I think there's a lot of upside from industry investment in harm reduction, if we can move the discourse beyond that 'Big Tobacco' mental model and refocus the conversation on a more open-minded conversation and look at what consumers want," Jonathan Fell, founder of U.K.-based Ash Park, said.
Alex Norcia, Filter Magazine
On August 26, the Food and Drug Administration (FDA) denied the first marketing applications for about 55,000 flavored e-cigarette products from three small companies.

The applicants "lacked sufficient evidence that they have a benefit to adult smokers sufficient to overcome the public health threat posed by well-documented, alarming levels of youth use of such products," according to an FDA press release. (The evidence does not actually support this stance.)
Helen Redmond, Filter
hen it comes to taxing cigarettes, there's rarely any opposition from lawmakers. "Sin taxes," as they're sometimes called, raise significant revenue for governments and are broadly deployed in the name of reducing rates of smoking—in the US, they're particularly high in states like New York and Connecticut. But rarely is the effect of these taxes studied on marginalized people with low incomes, who around the world smoke at the highest rates.
Food and Drug Administration (FDA) leadership and staff are accustomed to external criticism and pressure. After all, FDA-regulated products account for 20 cents of every dollar spent by American consumers, so criticism comes with the job. Over the past year, the volume of noise aimed at FDA over one particular duty—its review of applications for electronic nicotine delivery systems (ENDS) and other "deemed" new tobacco products—has been dialed to 11.
---

---
FOUR from Dave Cross, Planet Of The Vapes
The New Nicotine Alliance (NNA) has called the publication of the article in the American Journal of Public Health (AJPH) titled Balancing Consideration of the Risks and Benefits of E-Cigarettes a "welcome contribution to global understanding of vaping". This is the article (1) written by 15 past Presidents of the Society for Research on Nicotine and Tobacco (SRNT).
Premarket Tobacco Product Applications (PMTA) are part of the process to make vape products legal for sale. America's Food and Drug Administration (FDA) has denied PMTAs for 4.5 million vape products. The kicker? Every single product is from one single company – JD Nova Group LLC.
A Canadian protest bus has embarked on a 26-stop Vape Tour to give a voice to the 1,000,000 Canadian vapers besieged by federal and provincial regulations. Despite ongoing threats of flavour bans, nicotine limits and increased taxes as well as a persistent misinformation campaign, Canadian vapers are undeterred in their fight for tobacco harm reduction.
An increase in smoking prevalence is "no surprise" to the UK Vaping Industry Association (UKVIA) organisation that campaigned to keep vape shops open during lockdown. It says the Government's refusal to grant "essential retail" status to vape shops is directly responsible for a "significant proportion" of the increase in adult smoking prevalence.
---

---
---
Manilla Standard
A new research by the Coalition of Asia Pacific Tobacco Harm Reduction Advocates has confirmed that several non-government organizations were among those which received millions of dollars from the anti-tobacco Bloomberg and Gates foundations to lobby the government for a ban on vaping in the Philippines.

Coming on the heels of a House probe on foreign money influencing the Department of Health and the Food and Drugs administration without transparency and proper audit, CAPHRA outlined the money trail that go to lobbying for vested-interest policies devoid of any public disclosure and accountability.
Neil Humber, EcigClick
A team of the world's leading tobacco harm reduction experts say embracing vaping saves lives and it's really that simple.

And when I say 'experts' that's exactly what I mean with the new study endorsed by 15 of the former presidents of the Society for Research on Nicotine and Tobacco (SRNT) – 'eminent' indeed.
European Tobacco Harm Reduction Advocates, ETHRA
ETHRA's monthly roundup of news: WHO Framework Convention on Tobacco Control  main documents released – BECA Interparliamentary Committee Meeting announced – Lithuania flavour ban notification – New ETHRA survey page & YouTube video – Country updates. Read on for more.
---
Visit Nicotine Science & Policy for more News from around the World

---