Vapers Digest 3rd September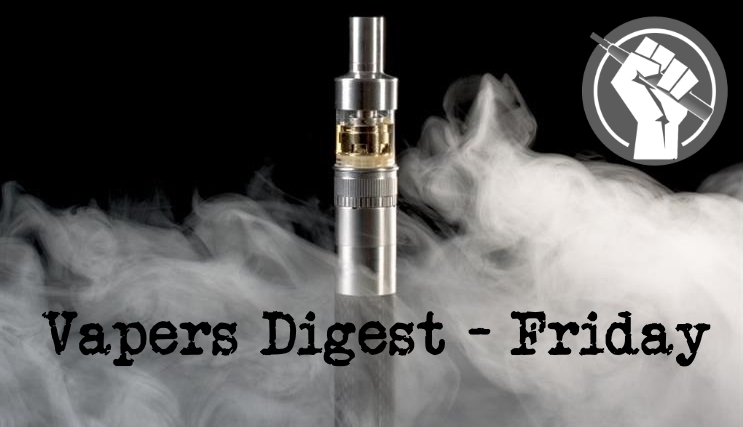 Friday's News at a glance:
Health Canada consults on the really dumb idea – Please, Health Canada – Flavoured vaping ban slammed – Vape Age Restrictions – Memo to Legislators: – The FDA Denies 800 More Flavored Vaping Products – Tax Parity Bill Would Increase Youth Smoking – Congress Must Rein in Federal Agencies – FDA Still Sending Warning Letters – Glantzing At Science Again – CAPHRA Demands Balanced Debate – Sleepwalking To Crisis – Lithuania Will Prohibit Vape Flavors – FDA Pushes Nicotine Patches – The stickies must flow – Science-based approach to regulation – The Vaping Industry As We Know It – Patt Denning Describes Her Switch – Asia Pacific Declaration – Misinformation on Twitter – WHO deferral on THR 'tragic' – Ignorance and Idealism – US nicotine pouch sales have grown – Nicotine Science and Policy Daily Digest
On the really dumb idea of making vaping a less appealing alternative to smoking
Clive Bates, The Counterfactual
Health Canada is trying to ban almost all vaping liquid flavours. This is on top of measures to limit nicotine strengths and marketing. It is the nearest they can get to a prohibition without actually having to prohibit the most promising low-risk rival to cigarettes. The likely effects are obvious: more smoking. But in a bizarre twisting of reality and evidence, Health Canada finds that making vaping less attractive relative to smoking will… um … reduce smoking. And that's how it justifies the measure.  We respond with a counter-analysis.

The Health Canada package rests on four documents, the latter two be unpublished but "available on request" from Health Canada.
Do not make vapers return to tobacco! – Dr John's Blog
My friend Maria is an enthusiastic vaper. If I go to her office, she usually will have three vapes on the go. Today, it is a Voopoo with strawberry flavour, a Stlth with Grape Apple Ice and a Favostx with banana flavour. If we go to a restaurant, she will excuse herself between every course and go outside to vape. She vapes from early morning to late at night, every day. She keeps a spare vape at home, just in case. Even if she is sick, she keeps on vaping. She would never even consider going on vacation to a country that did not allow her to vape.

Some people would call her a nicotine addict but she refutes the label. She says that she enjoys vaping and that it is not doing her or anyone else any harm. In fact, she says that she has had fewer respiratory illnesses since she switched from smoking, and nicotine helps her concentrate.
Mark Brown
A group hoping that a ban on flavoured vaping products goes up in smoke brought its cause to Windsor Thursday.

Rights 4 Vapers, a grassroots group dedicated to helping vapers make informed decisions about the practice, brought its bus tour to a vaping supply business on Howard Avenue, followed by a scheduled stop later in the afternoon in east Windsor. The purpose was to call attention to the efforts of Health Canada to restrict the sale of flavoured vaping products, except tobacco, menthol, and mint.
---

---
Will Mean More Young Smokers – James Dunworth
The UK government has recently been mulling lifting the age limit on buying cigarettes and vaping products to 21.

There are complex arguments around raising the age limits on cigarettes (think personal freedom, whether you have a choice when you are addicted, net public health gain and so on). But this is a vaping blog, so I'm purely going to stick to the issue of electronic cigarettes here.

To help put this article together I spoke to Louise Ross..
Raising E-Cigarette Taxes Strengthens Cigarette Sales – Brad Rodu
Nine economists from seven American universities have just published an analysis of the "Intended and Unintended Effects of E-cigarette Taxes on Youth Tobacco Use."  Here is a key paragraph from their work:

"As of March 2021, 30 US states had adopted an ENDS [electronic nicotine delivery systems] tax, often as a means to reduce youth vaping. However, if reducing ENDS accessibility increases combustible tobacco use, as suggested by this study and prior work, these taxes could prove harmful to public health. That is, given current evidence suggesting smoking is substantially more dangerous than using ENDS, the health costs from greater youth smoking as a result of ENDS taxes may outweigh benefits from reduced youth ENDS use, though an exact calculation is beyond the scope of this research." (emphasis added)
The Same Day It 'Bans' 800 Flavoured Vapes – Neil Humber
On the very day it bans 800 more flavoured vaping products, the FDA pushes nicotine patches as the best way to quit smoking.

It's a slap in the face to say the least to the millions of vapers in America, and of course the wider vaping industry.

However, if anything it reaffirms the almost incestuous close ties between Big Pharma and the FDA. A case of knock out the opposition and keep the dollars flooding in and screw the smokers – talk about a Mafia-esque operation…
Lindsey Stroud
Last week, the U.S. Food and Drug Administration (FDA) announced that the agency was denying marketing orders to three vape e-liquid manufacturers, effectively removing more than 55,000 tobacco harm reduction products from the market. The FDA claims that the firms did not provide proper evidence that their products had a "benefit to adult smokers sufficient to overcome the public health threat posed by the well-documented, alarming levels of youth use of such products." Removing access to 55,000 products was a failure of the FDA not the companies that submitted the applications.
---
People with mental illness will be invited to quit smoking with the help of vaping products and advice in a new £1 million clinical trial funded by Yorkshire Cancer Research

Thread 👇👇 https://t.co/HeIjAlDBNy

— European Tobacco Harm Reduction Advocates (@europethra) September 3, 2021
---
Alex Norcia
On August 31, the Food and Drug Administration (FDA) denied the PMTA applications for about 800 vaping products from three e-liquid manufacturers. All of the products were flavored.

Dimitris Agrafiotis, the self-described "Vapin' Greek" who runs International Vapor Solutions, a consultancy firm, told Filter that three e-liquid companies companies he represents—two of them large and one medium-sized—were sent marketing denial orders (MDOs) by the agency.
Jim McDonald, Vaping 360
Back to Smoking – Jacob Grier
The week ahead will be hugely consequential for the future of tobacco and nicotine in the United States. On September 9, the Food and Drug Administration (FDA) must meet a court-imposed deadline to decide which electronic cigarette and vapor products will be allowed to remain on the market. The agency's decisions will affect more than just the livelihoods of small business owners and big vaping companies; at stake are the rights of millions of current and former smokers to access a safer alternative that could literally save their lives.

American news coverage of vaping has tended to focus on its downsides, particularly the use of e-cigarettes among teens and adolescents. Legislators and activist groups have raised the alarm about youth vaping to encourage the FDA to enact de facto prohibition of flavored products.
Jim McDonald, Vaping 360
A new working paper by a group of economics and health policy researchers finds that a law forcing all nicotine products to be taxed at the same rate would cause increased smoking and would damage rather than improve public health.

A law that would do exactly that was proposed earlier this year by Illinois Senator Dick Durbin—the Tobacco Tax Equity Act (S 1314), based on previously introduced Durbin tobacco tax parity bills. An identical House bill (HR 2786) was introduced at the same time by Illinois Representative Raja Krishnamoorthi. Both members of Congress are Democrats, and longtime opponents of vaping and tobacco harm reduction.

Three from Dave Cross, Planet of the Vapes:
Stanton Glantz has been given a platform to spout a pack of lies by RT.com (Russia Today). Glantz took the opportunity to malign nicotine, conflating it with tobacco and vaping in order to justify his lies. Brad Rodu, the man who caught Glantz fabricating heart attacks in vapers before they'd started vaping, has catalogued a series of Glantz' misrepresentations.

"Smoking is completely prohibited in public spaces and in most restaurants in the Western world," says RT. "Yet, despite the decrease in the number of smokers in the West, the tobacco industry has not given up its quest for profits.
The Coalition of Asia Pacific Tobacco Harm Reduction Advocates (CAPHRA) demands balance in the vape debate and states that the lack of it totally ridicules the World Health Organization (WHO). CAPHRA's comments follow 15 past Presidents of the Society for Research on Nicotine and Tobacco (SRNT) publishing an article titled 'Balancing Consideration of the Risks and Benefits of E-Cigarettes' in the AJPH.

"One American Journal of Public Health article is proving to be a watershed moment in the vape debate. It has singularly pushed the World Health Organization to the complete outer when it comes to considered international opinion and research," says Nancy Loucas, Executive Coordinator of the CAPHRA.
Britain's leading vape chain VPZ has warned that the United Kingdom is sleep walking into another public health crisis as latest figures from Cancer Research UK show that smoking has surged amongst young people during the Covid Lockdowns.

Doug Mutter, director at VPZ, has made the claims as latest figures show that smoking has surged amongst young people during Covid Lockdown. Mutter, who is also on the board of the UK Vaping Industry Association, believes that the country is now in danger of missing its 2030 smoke free targets.
---

---
From Cigarettes to Vapes – Helen Redmond
Dr. Patt Denning is a pioneer in developing the field of harm reduction therapy. She is the director of clinical services and training at the Harm Reduction Therapy Center (HRTC) in Oakland/San Francisco, which she co-founded with Jeannie Little, and an influential author.

Denning has worked with countless people who use illicit drugs and alcohol. But another focus for her is tobacco harm reduction, informed by her own experiences. Denning was a lifelong smoker—with the exception of an interlude where she quit for five years, before returning to smoking.
Jim McDonald, Vaping 360
Lithuania has notified the European Commission it will ban e-liquid containing flavors other than tobacco beginning July 1, 2022. The flavor prohibition would apply to both nicotine-containing and nicotine-free products.

The public is able to comment on the draft law until Oct. 11.

The law passed the Lithuanian parliament (Seimas) in June by a vote of 59 to 5 (with 12 abstaining), according to news site Archyworldys. It would amend the country's Law on the Control of Tobacco, Tobacco Products and Related Products.
Alex McClintock
I read Natassia Chrysanthos and Eryk Bagshaw's Herald/Age feature about teenage nicotine addiction and the Chinese vape industry with interest this week, nodding sagely and exhaling large clouds of peach flavoured steam as I scrolled.

It's a fascinating story for a number of reasons, not least of which is the image of workers at a Shenzen vape factory engaged in military style training, scaling walls and yelling, "Do not compromise, do not waver." I for one welcome the brave cadres of the Lush Ice brigade. Crush those revisionist teens.
Mary Ann LL. Reyes – The Philippine Star
While global sales of traditional cigarettes have been declining, those of alternatives like electronic cigarettes and heated tobacco products or HTPs has been growing.

According to data from London-based market research company Euromonitor International, while the combustible cigarettes market is expected to record a $7.7 billion loss by 2021, sales of products of HTPs, also called heat-not-burn products, is seen growing by $13.2 billion.
May Soon Disappear – Jamie Ducharme
For the last 15 years, there's been a caveat tacked on to any discussion of e-cigarettes' public health impact. Though millions of people in the U.S. use them regularly, the devices have never been authorized by the U.S. Food and Drug Administration (FDA).

That could change next week, as the multi-billion-dollar vaping industry nears its judgement day. The FDA is supposed to decide by Sept. 9 whether and how e-cigarette companies—including market-leader Juul Labs—may keep selling their products in the U.S. The long-awaited decisions promise to spark controversy no matter which way they go.
About their dangers may be preventing people from quitting smoking
When electronic cigarettes (e-cigarettes) first emerged, they became a popular way for people to quit smoking. But in 2019, a mysterious lung condition emerged that primarily affected young people, particularly those who vaped. This left many questioning the safety of e-cigarettes.

The condition was named e-cigarettes or vaping use-associated lung injury – or Evali for short. The average (median) age of people affected by the condition was 24 years. Symptoms included respiratory complaints, such as a cough, shortness of breath and chest pain, as well as stomach problems, fever, chills and weight loss.

Fights for 600 million smokers' lives
"September marks the start of the secret season which sadly sees supposed 'tobacco control experts' playing up to their puppet masters and denying Asia Pacific's 600 million smokers' access to safer nicotine products," says Nancy Loucas, Executive Coordinator of the Coalition of Asia Pacific Tobacco Harm Reduction Advocates (CAPHRA).

Her comments come as the 13th Asia Pacific Conference on Tobacco or Health (APACT) takes place virtually from Bangkok, Thailand on 2, 3 and 4 September.
Interference in Philippine policies
A new research by the Coalition of Asia Pacific Tobacco Harm Reduction Advocates (CAPHRA) has confirmed that at least seven Philippine NGOs were among those which received millions of dollars from the anti-tobacco Bloomberg and Gates foundations to lobby the government for a ban on vaping in the country.

Coming on the heels of a House probe on foreign money influencing the Department of Health and the Food and Drugs administration without transparency and proper audit, CAPHRA outlined the money trail that go to lobbying for vested-interest policies devoid of any public disclosure and accountability.
Ready to derail bureaucratic gravy train
It's that time of year again, when the scramble for easy money reaches a fever pitch for a select group of secretive, utterly compromised Tobacco Control 'Experts'. Over one billion dollars has already found its way into the deep pockets of a handful of tainted bureaucrats, corrupt scientists, blind-sided academics and blinkered NGOs, and there's much more where that came from!

All that they need to do is simply commit to ignoring the truth, perverting the evidence, spreading lies and disinformation and denying billions of people the right to make better choices for their own health and any of them could be a BIG WINNER while serving the vested interests that control the message and corrupt governments and entrench misery, suffering, illness and death in the general population.
---
Tobacco Control Experts Call for Re-Think on Vaping | RegWatch
---
Adversely affects adults' health decisions
UK and US adult smokers who were considering using e-cigarettes were deterred when exposed to tweets falsely implying the devices are more harmful than conventional cigarettes, finds new research. The study, published in BMJ Open and led by researchers at the University of Bristol (UK) and the University of Pennsylvania (US), is the first to examine the effect of this type of exposure which has important implications for public health.

While existing studies have examined current perceptions of e-cigarette harms, little is known about the role of exposure to misinformation on social media on these perceptions, and consequently on e-cigarette intentions and use.
Auckland vape store ransacked twice in one week
The owner of an Auckland vape store has suffered nightmares and panic attacks after the store was ransacked twice in one week – and he said lockdown is preventing him from improving security.

"It was crazy last night. I can't count the number of times I woke up, looking at the [CCTV] cameras, just for nothing," Naresh told the Herald.

"You … find it's depressing when you're trying to do your best to support the community, to make a living off it, do your best to everyone around you."
---
VIDA Voices
---
Snusforumet
The World Health Organization, WHO, has indicated it won't include harm reduction in its tobacco strategy until at least 2023, a move that will likely have dire consequences for millions of smokers.

"How many people will have to die from smoking before the WHO opens its eyes," says Patrik Strömer, Secretary General of the Association of Swedish Snus Manufacturers.

In August, the WHO released the agenda for the Ninth Session of the Conference of the Parties to the WHO FCTC (COP9), set to take place in November 2021.
Over E-cigarettes puts Tobacco Progress at Risk
The World Health Organization's recently-released progress report on tobacco control measures represents something of a double-edged sword. While its authors rightfully praise the significant steps that countries around the world have made in clamping down on the tobacco industry and discouraging smoking among their populations, the report completely misses the mark with its unfair disavowal of the growing use of alternative nicotine products, such as e-cigarettes.

Instead of recognizing the valuable role that these products can and have played in helping smokers to transition away from cigarettes, the WHO are dogged and obdurate in their pursuit of an idealistic but unrealistic nicotine-free world.
---
---
In the USA, between 2014 and 2020, changed conventional smoking behaviors, future intentions to smoke and perceived smoking harms?
The prevalence for regular smoking decreased among youth who regularly use ECs. For example, among regular EC users, smoking prevalence decreased from 27.8% to 6.7% (−21%; 99.67% CI:[−32.3%, −9.9%]) in the NYTS between 2014 and 2020 and from 31.8% to 10.6% (−21.2%, 99.67% CI:[−35.0%, −7.3%]) in the MTF between 2014 and 2018. Intent to smoke in the future and perceiving smoking as harmless decreased or remained unchanged during the same period. For example, among regular EC users, there was no significant change in intention to smoke next year in the NYTS between 2014 and 2018; intention to smoke in the next 5 years decreased significantly from 30.7% to 11.2% (−19.5%, 99.67% CI:[−37.7%, −1.3%]) in the MTF.
Sales of nicotine pouches in the US have risen 300 times higher over the five years since they entered the US market in 2016, according to figures released by the US Centers for Disease Control and Prevention (CDC).

The study, published in the Journal of the American Medical Association (JAMA), examined sales of nicotine pouches from March 2016 to June 2020, revealing that they rose from $709,635 in 2016 to $216.89m in just the first six months of 2020. The increase was from 163,178 units in 2016 to almost 46m units sold in 2020.
Brandee Eubank
Welcome to another round-up of the best and latest in vaping news for the month of August, 2021. Of particular note, Balancing Consideration of the Risks and Benefits of E-Cigarettes, signed by 15 previous heads of the Society for Research on Nicotine and Tobacco (SNRT) made news headlines. Read all about the surprising turn and much more below.
---
A look back at how things have moved on or otherwise….
Diane Caruana, Vaping Post
As the PHE was reportedly unable to deal with the Covid-19 crises effectively due to under-funding, UK ministers have decided to merge it with the NHS and distribute its responsibilities amongst other entities. According to The Sunday Telegraph, Health Secretary Matt Hancock is to announce that a new Institute for Health Protection will become "effective" as of this month.
TWO from Tobacco Reporter
The U.K. Vaping Industry Association (UKVIA) has urged British health authorities to continue their pragmatic policies on vaping.
The U.S. Patent Office has granted Sting Free AB a patent (US 15/255,163) for a technology that makes snus and other nicotine pouch products more accessible to adult consumers by eliminating the stinging sensation associated with their use.

The European Patent Organization too intends to grant a patent covering 39 nations for the technology. Sting Free AB already holds the Swedish patent rights to this invention.
---
Visit Nicotine Science & Policy for more News from around the World

---