Vapers Digest 6th September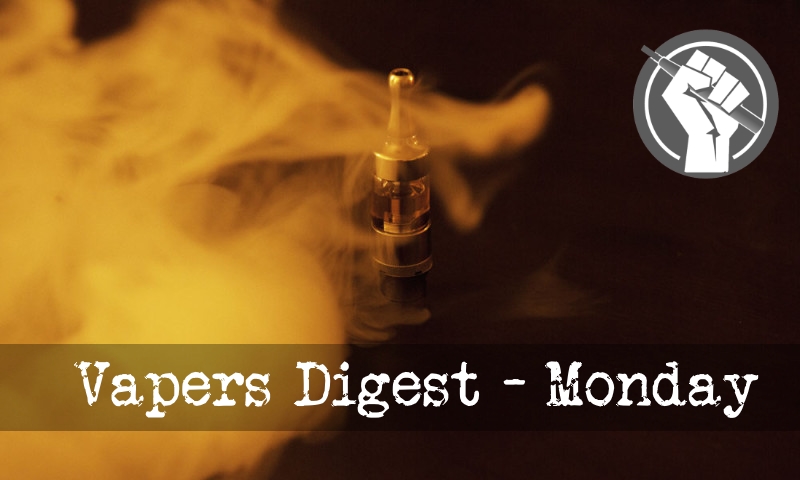 Monday's News at a glance:
Is FDA Banning Vaping? – Vaping by teens – should we be alarmed? – FDA Denies PMTAs for 300,000 More Flavored E-Liquids – London Rally – Wednesday 8th – Bloomberg Caught! – Two More California Cities Preparing To Ban Flavors – Electronic nicotine delivery systems are safer – Vaping during the COVID-19 lockdown period in Belgium – Nicotine Science and Policy Daily Digest
CASAA
In light of the news coming out from the FDA over the past week about vapor product PMTAs, we wanted to address some of the most common questions, rumors, and misinformation that have been circulating.

Why does the FDA regulate vapor products as tobacco products?

The short story begins in 2009, when the FDA tried to ban the sale of vapor products as "unapproved drugs" being marketed as smoking cessation aids. Vapor companies responded with a lawsuit arguing that their products were not intended to be a smoking cessation treatment, which would require FDA approval as a drug/device in order to be sold. Instead, plaintiffs argued that their products were simply competing with sales of cigarettes.
Dr Colin Mendelsohn
Nine media (Sydney Morning Herald and The Age) recently published a disturbing expose of  rampant vaping by Australian teenagers. It was a horror story of addiction, nicotine poisoning, lung and brain damage.

It must have generated lots of clicks and advertising dollars. However, the article was misleading and unbalanced and only told part of the story. It was based on anecdotal reports and dubious claims of harm.

Emeritus Professor Simon Chapman said his granddaughter told him she knows kids who are vaping 'because you can get lemonade' flavour. This anecdote is presented as rock-solid evidence of a youth epidemic. However, he has repeatedly dismissed the stories of millions of former smokers who have quit with vaping as 'just anecdotes'. Apparently his anecdotes are compelling evidence.
---

---
Flavored E-Liquids – Jim McDonald, Vaping 360
Since issuing the first Marketing Denial Orders (MDOs) on Aug. 26—rejecting Premarket Tobacco Applications (PMTAs) from three companies for 55,000 of their flavored products—the agency has been busy denying additional applications.

Today the FDA Center for Tobacco Products announced it has issued MDOs as of yesterday (Sept. 2) to 31 additional companies for approximately 300,000 products. However, the agency's published list of MDOs—updated today, Sept. 3—only lists 23 new manufacturers, not 31, and the newest ones are from Sept. 1.
---
---
Unpublished conference presentation on nicotine e-cigarettes and clotting
"This study appears to demonstrate well-known effects of nicotine, which in pure form is known to have adverse effects on humans of similar magnitude to those of coffee. The study definitely does not provide evidence on the relative harms of vaping nicotine and smoking tobacco because the experiment does not appear to have made any measurements of the effect of tobacco smoking for comparison. The study conclusion, that vaping nicotine is likely to be as harmful as smoking tobacco, is therefore completely without foundation."

Two from Dave Cross, Planet of the Vapes:
The We Vape organisation is coordinating a rally in Parliament Square this Wednesday, the 8th September, as part of its #BackVapingSaveLives campaign. The plan is to gather at 12:30, do some campaign photos, meet with an MP, then go to a nearby pub.

We Vape's founder Mark Oates says: "At 12:30PM on the 8th of September we will be meeting in Parliament square to campaign for the Government to Back Vaping & Save Lives at this year's COP9 meeting. It's time for the UK to encourage other countries across the world to follow our lead on harm reduction and positive vaping policies.
Michael Bloomberg has been caught with his fingerprints smeared over the Filipino vape bill, according to a leading harm reduction advocate. The comments follow a slew of obvious coordinated attacks on vaping and tobacco harm reduction.

"Perfectly orchestrated criticism from youth and student organizations on the vaping legislation currently before the Philippines Senate proves that undue foreign influence and money continue to be an ongoing issue in the Philippines," says Nancy Loucas, Executive Coordinator of the Coalition of Asia Pacific Tobacco Harm Reduction Advocates (CAPHRA).
---

---
Preparing To Ban Flavored Tobacco and Vape Products
After San Francisco banned adults from purchasing flavored tobacco and vaping products in 2018, a funny thing happened. Teen smoking rates increased.

Now, two other major California cities are considering similar bans. Like San Francisco's, the proposed measures in Los Angeles and San Jose are backed by vocal advocates who argue that candy- and fruit-flavored electronic cigarettes and tobacco products (which minors are already prohibited from legally purchasing) are tempting kids to get addicted to nicotine. "The tobacco industry continues to lure kids with flavored products, and today's young people are the next generation of smokers,"

Are safer than conventional cigarettes – Catania Conversation
The conclusion of the study suggests the main priority for the protection of public health is the dismissal of the combusted tobacco products, while ENDS should be adopted as a smoking cessation tool.

The U.S Food and Drug Administration recently stopped the advancement of over 55.000 vaping products arguing their safety and the need to protect the youngest from tobacco addiction. The latest study: "Clinical Pharmacology of Electronic Nicotine Delivery Systems (ENDS): Implications for Benefits and Risks in the Promotion of the Combusted Tobacco Endgame" lead by Dr Neal L. Benowitzr, try to shed a light on a clinical point of view.

Karolien Adriaens, Dinska Van Gucht, Sven Van Lommel, Frank Baeyens
BACKGROUND: Due to the Corona Virus Disease 2019 (COVID-19), the Belgian government set out a range of measures to prevent the spread of the virus. One measure included closing all non-food shops, including vape shops.

METHODS: A retrospective online questionnaire was used to investigate the impact of closing the vape shops on the vaping and/or smoking behavior of current vapers.

RESULTS: The sample (n = 202) reached consisted of 70% exclusive vapers, 29% dual users and 1% no-product users. Over half (55%, 112/202) of participants needed to buy e-liquid during the lockdown, with a small majority being able to buy e-liquids – mostly with their usual nicotine concentrations, flavor or brand -, but as much as 39% (44/112) of them ran out of e-liquid.
---
A look back at how things have moved on or otherwise…
Knowledge Action Change
Building on the successes of previous scholarship programmes, Knowledge Action Change (K-A-C) is pleased to announce the launch of the 4th K-A-C Global Tobacco Harm Reduction Scholarship Programme.

We are looking for proposals that will inspire change!

We have developed a scholarship package to ground scholars in the theory and practice of tobacco harm reduction (THR). The scholarships will commence at the Global Forum on Nicotine Conference (GFN), which will be held in Warsaw, Poland, between 17th & 19th June 2021.
Stefanie Rossel
Roughly a year ago, a mysterious lung illness struck thousands of U.S. vapers. Emergency room visits increased from July 2019 and peaked in September before ebbing off. By Feb. 18, 2020, 68 people had died from complications of the lung disease, which was quickly termed EVALI—"e-cigarette, or vaping, product use associated lung injury."

However, EVALI turned out to be a misnomer, and the mystery surrounding vaping illness was quickly resolved—although some experts took longer to recognize the obvious than others. As the Centers for Disease Control (CDC) eventually acknowledged, illegal THC-containing vapor cartridges, also known as carts, were the true cause of the vaping-related illness.
---
Visit Nicotine Science & Policy for more News from around the World

---