Vapers Digest 8th September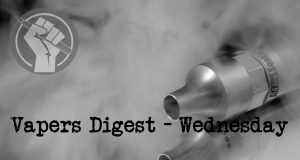 Wednesday's News at a glance:
Top Tobacco Researchers: It's Time to Re-Think Anti-Vape Policies ~ Will FDA harm health, destroy businesses, and protect the cigarette industry through regulatory overkill? A preview. ~ Lithuania flavour ban – TRIS notification ~ POINT: e-Cigarette Use for Harm Reduction in Tobacco Use Disorder? Yes ~ CHEST journal point and counterpoint – E-cigarette use for harm reduction in tobacco use disorder: Yes/No? ~ E-cigarette helps to quit smoking ~ Time to look beyond tobacco cessation; here's how ~ E-cigarettes and Clotting ~ Fight For 600 Million ~ The Promise and Peril of Synthetic Nicotine as a PMTA Loophole ~ FDA nears day of reckoning on e-cigarettes ~ Setting the record straight on heated tobacco products ~ Vapers ask BIR to check tax payment of anti-vape lobby money
The American Journal of Public Health (AJPH) published an article last month titled "Balancing Consideration of the Risks and Benefits of E-Cigarettes." With 40 or 50 articles/research papers published every week on tobacco harm reduction, it is not surprising to see another commentary on e-cigarettes.

However, this particular piece was co-authored by 15 past presidents of the Society for Research on Nicotine and Tobacco (SRNT), a prime academic global organization involved with nicotine and tobacco evidence-based research.  With the credibility of the SRNT, this article could be a game-changer, especially in the United States.
through regulatory overkill? A preview.
Clive Bates, The Counterfactual
This blog gives my take on how to think about the FDA's decisions (some taken, some forthcoming) on approving or denying thousands of "pre-market tobacco applications" (PMTAs) to allow vaping products to remain on the US market.  FDA must make decisions no later than 9th September 2021, following legal action brought against the agency. FDA's Director of the Center for Tobacco Products, Mitchel Zeller, provides the background in a February 2021 blog.

There's a lot to be written on this, but I will settle for 16 observations and questions that will shape my take on FDA's announcements.
European Tobacco Harm Reduction Advocates, ETHRA
On 8 July 2021, the Parliament of the Republic of Lithuania notified the European Commission of its intention to amend article 9(2) of Law No I-1143 on the control of tobacco, tobacco products and related products, which relates to e-liquids to be used in vaping products.  The draft law would prohibit all e-liquid flavours, apart from tobacco, and would apply to non-nicotine containing e-liquids as well as nicotine containing e-liquids. A TRIS notification period is now open for contributions and will close on 11 October.  You can read ETHRA's contribution here.
---

---
TWO from Dave Cross, Planet Of The Vapes
Experts have reacted to reports of an unpublished conference presentation on nicotine e-cigarettes and clotting. The presentation, "Electronic cigarettes containing nicotine increase thrombotic activity and impair microcirculation" took the form of a PowerPoint show with a pre-recorded audio narration on Monday 6 September at the European Respiratory Congress (ERS) International Congress. The ERS has repeatedly promoted flawed science to advocate for an overly cautious approach to vaping.
"September marks the start of the secret season which sadly sees supposed 'tobacco control experts' playing up to their puppet masters and denying Asia Pacific's 600 million smokers' access to safer nicotine products," says Nancy Loucas, Executive Coordinator of the Coalition of Asia Pacific Tobacco Harm Reduction Advocates (CAPHRA).
---
Jim McDonald, Vaping 360
Seven anti-vaping organizations, led by the Campaign for Tobacco-Free Kids, have demanded that the FDA immediately regulate synthetic nicotine as a drug. The tobacco control organizations say synthetic nicotine will be used as a loophole by small vaping companies shut out of the flavored e-liquid market. The demand came in a Sept. 2 letter to FDA Acting Commissioner Janet Woodcock.
Katherine Ellen Foley, Politico
The Food and Drug Administration is nearing a pivotal deadline for deciding the fate of every e-cigarette on the market — and potentially reshaping the vaping industry.

The agency is reviewing millions of applications from e-cigarette makers, and must decide by Sept. 9 whether their products are "appropriate for the protection of public health": safe for current smokers and not appealing to non-smokers. FDA has already blocked the sale of 55,000 flavored vape products from three companies that did not meet the standard.
Guy Bentley, Reason Foundation
Most Americans have never heard of, let alone seen or used, a heated tobacco product (HTP). As the name implies, HTPs heat rather than burn tobacco when producing the vapor users inhale.

Avoiding combustion means heated tobacco products substantially reduce the user's exposure to harmful and potentially harmful chemicals found in traditional cigarettes.
---

---
A look back at how things have moved on or otherwise…
James Dunworth
The report also outraged a group of scientists and anti-smoking campaigners, Professor Polosa of the University of Catania, Dr Russell from the Centre for Substance Use Research, Dr Nitzkin, Chair of the Tobacco Control Task Force of the American Association of Public Health Physicians, and Professor Konstantinos, research fellow at the Onassis Cardiac Surgery Center in Athens, Greece.
Could Be Deadly for Adult Smokers – Jacob Sullum
The first surgeon general's report on e-cigarettes, published last December, could have highlighted the enormous harm-reducing potential of products that simulate smoking but do not contain tobacco or burn anything. Instead Surgeon General Vivek Murthy sounded the alarm about adolescent vaping, which he called "a major public health concern." A critique of Murthy's report, published online yesterday by Harm Reduction Journal, shows how dangerously misguided his concerns were.
Behind the FDA's devastating vaping rule? – Guy Bentley
Getting information out of government agencies is like pulling teeth at the best of times, but more often than not it can feel like an unending struggle against willful obstructionism marinated with incompetence.

That's certainly been the experience of Jeff Stier, a senior fellow at the National Center for Public Policy Research.
Manila Bulletin
Vape consumers are demanding full accounting of the millions of dollars of lobby money received by local non-government organizations (NGOs) pushing for a ban on vaping and asked the Bureau of Internal Revenue (BIR) to do a lifestyle check on the people behind them to see if they are paying the right taxes.

"These people are lobbying to ban the only scientifically proven less harmful alternative to cigarettes. Makes you really think. Are they really promoting public health or simply in it for the funds?" Anton Israel, president of Nicotine Consumers Union of the Philippines said.
---
Visit Nicotine Science & Policy for more News from around the World

---