Vapers Digest 10th September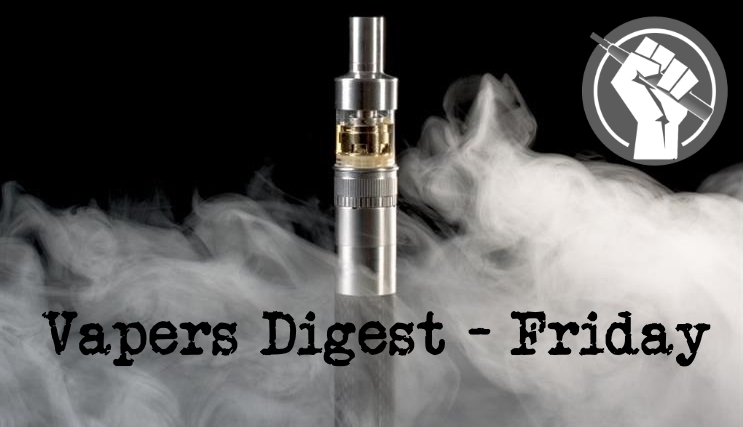 Friday's News at a glance:
PMTA Decision Day: FDA Leaves Vape Industry Twisting in the Wind – FDA Fails to Meet Deadline – FDA Kicks the Can Down the Road – FDA needs to embrace vaping's potential – FDA Shows Its Bias –FDA Needs More Time to Decide Fate of Juul –  Industry Demands Tough Action on Disposables – ASH Scotland Wants Ecig Clampdown – Dear Canada – Ecigs For Mental Health – Vaping Brings New Zealand Closer To Smokefree 2025 – California Passes New Retail Vape Tax – Social media misinformation about e-cigarettes – Nicotine Science and Policy Daily Digest
FDA Leaves Vape Industry Twisting in the Wind – Jim McDonald
After a year of hype and endless stories about FDA's Sept. 9, 2021 decisions that would "determine the future of vaping," the agency punted on its obligations and left the vaping industry twisting in the wind. The FDA issued no product authorizations, announced no exemptions for manufacturers allowing continued sales, and offered no enforcement discretion assurances for businesses whose products haven't been denied.

The agency reaffirmed in April that it would not (and could not, based on the court order) issue a blanket exemption to the industry. Companies that have not received a specific Marketing Denial Order (MDO) or authorization for a product will technically be selling it illegally tomorrow, but the agency said it recognizes "that we are unable, as a practical matter, to take enforcement action against every illegally marketed tobacco product, and that we need to make the best use of Agency resources."
To Decide on PMTA Applications for Vapes – Alex Norcia
On September 9, its longstanding deadline, the Food and Drug Administration (FDA) effectively announced that it would need more time to process the remaining premarket tobacco applications (PMTAs) that vape companies were required to file last year to stay legally on the market. Approval would mean that products were deemed "appropriate for the protection of public health"—a potential game-changer for tobacco harm reduction in the United States.

The agency did not mention how much longer it planned to take—nor did it officially state that it was essentially giving itself an extension. In a perspective hyperlinked to a press release, though, it did state that decisions would be made on a "rolling basis." Hundreds of thousands of PMTAs, at least—including all of those submitted by the largest vape manufacturers—are left.
---

---
FDA Kicks the Can Down the Road – Gregory Conley
Five years after gaining regulatory authority over vaping products and one year after manufacturers submitted millions of applications seeking to keep their vaping products on the market, the Food and Drug Administration's Center for Tobacco Products announced today the results of its yearlong review process.

Gregory Conley, president of the American Vaping Association, a pro-vaping advocacy group, issued the following comment:

"Zero product authorizations, millions of banned products, and hundreds of thousands of products left in limbo by the agency's failure to do their job. That is the end result of the FDA's multi-year campaign to destroy the vaping industry and hand the remains over to large tobacco companies.
As Deadline Approaches – Michelle Minton
After years facing the constant threat of extinction, it seemed the vapor industry would finally be vindicated. The evidence on e-cigarettes regarding their safety and effectiveness in helping adult smokers is strong. It is at least as strong as that for the other new tobacco products recently approved for sale by the Food and Drug Administration (FDA). Conducting an unbiased review of this evidence would all but compel the agency to admit that vaping is safer than smoking and can save lives. But, in the leadup to the FDA's September 9 deadline to make decisions about which vapor products can stay on the market and which ones cannot, it's becoming clear that the agency is not unbiased when it comes to e-cigarettes. More concerning, it is starting to look like the FDA cares more about saving face than about saving lives.
---
---
To improve public health – Guy Bentley
On Sept. 9, the Food and Drug Administration (FDA) is expected to announce the most significant change to America's tobacco market in more than a decade when it decides which e-cigarettes, if any, will be allowed to remain available on the legal market. The sheer volume of applications (over 6.5 million) from e-cigarette-related companies means we may not have a decision on every product, but the FDA's announcement will likely cover the vast majority of the vape market.

To stay on the market, every e-cigarette product must prove to the FDA that it's "appropriate for the protection of public health," for both users and nonusers. Unfortunately, meeting this federal requirement is wildly expensive and needlessly complex.
Jennifer Maloney
The Food and Drug Administration said it needed to take more time before decidingwhether e-cigarettes made by Juul Labs Inc. and other top manufacturers can remain onthe U.S. market.

The FDA faced a Thursday deadline to respond to applications from Juul and other e-cigarette makers who had to submit their products for review to keep them on the U.S.market. The Wall Street Journal earlier reported that the FDA would take more time toreach a decision on Juul, the market leader.

The agency Thursday said it had acted on 93% of the applications submitted by last year's filing deadline. "However, there's more work to be done to complete our remaining

PDF is here

Four from Dave Cross, Planet of the Vapes:
An investigation by the UK Vaping Industry Association (UKVIA) has found that "illegal disposable vape products are being widely sold across the UK and are available on some of the best known e-commerce websites". The resulting media story has prompted the Independent British Vape Trade Association (IBVTA) to comment.

UKVIA (1) says it has found growing evidence of illicit and inappropriately branded vaping products hitting the UK market in the trending disposable vape sector. Its investigation discovered that there is a significant amount of non-compliant products entering the UK and being sold in particular by convenience shops and on major e-commerce platforms.
According to British Heart Foundation Scotland, non-communicable diseases take the lives of 40,000 Scots each year. Consequently, it and a number of other charities are calling on the Scottish Government to take stronger action on a number of fronts. ASH Scotland is one of those charities and is demanding stricter vaping legislation.

On vaping, it says: "Declining cigarette sales have seen the arrival of products like e-cigarettes, which could keep people addicted to nicotine and attract new, potentially young, users. E-cigarette marketing is not yet subject to the same robust regulation as tobacco and could become a route into smoking for children and young people. Scotland should get ahead of the tobacco industry and protect younger generations through product regulation.
Tobacco harm reduction experts David Abrams, Clive Bates, Raymond Niaura, and David Sweanor have made the decision to write to Health Canada in response to the body attempting to remove flavoured e-liquids from the market, something Clive Bates calls "a really dumb idea".

Clive says: "Health Canada is trying to ban almost all vaping liquid flavours. This is on top of measures to limit nicotine strengths and marketing. It is the nearest they can get to a prohibition without actually having to prohibit the most promising low-risk rival to cigarettes.
NHS patients with a diagnosed mental health illness are going to be offered ecig starter kits thanks to a £1-million clinical trial being funded by Yorkshire Cancer Research (YCR). The study will be led by Elena Ratschen, Associate Professor in Health Sciences at the University of York and Lion Shahab, Professor in Health Psychology at University College London.

YCR says the research "will test whether offering a vaping starter kit to patients who smoke as part of their routine care can help increase the number who quit successfully."
---

---
Jim McDonald
Vaping consumers in California will pay more for their products next year, after Governor Gavin Newsom signs Senate Bill 395 into law. The new law will add a 12.5 percent excise tax to the retail cost of vaping products—on top of the existing wholesale tax.

The new tax will take effect July 1, 2022. It applies to all nicotine-containing vape products, including those bought online from retailers in other states.

The bill passed the state House on Sept. 1, and the Senate a day later. The governor, who is engaged in a recall election battle, is expected to sign it into law soon.
Brings New Zealand Closer To Smokefree 2025
A new white paper on international best practice towards vaping regulation features a case study on New Zealand, with data showing how increased vaping uptake has correlated with significant progress towards our Smokefree goal.

The white paper is published by the Property Rights Alliance, with contributions from the UK, New Zealand, France, and Canada. The New Zealand case study is written by New Zealand Taxpayers' Union Campaigns Manager Louis Houlbrooke.

Mr Houlbrooke says, "Historically, public health commentators have attributed reductions in smoking rates to annual excise tax hikes.

About e-cigarettes is harmful for smokers
Health information is commonly accessed online. The majority of adults now use the internet — and increasingly, social media such as Twitter, Facebook and YouTube — as their first source of health-related information when they are looking for health and medical advice. This freely available information on social media, however, comes at a cost because of the ubiquity of inaccurate, misleading and outright false information that can have negative consequences on people's health choices and behaviors.
Will only push smokers back to cigarettes – Tom Elliott
The New Face of Free Market Revolution
At the mercy of proposed flavour restrictions – Norman Galimski
A proposed federal ban on most vape flavourings will hurt Prince Rupert customers more than business, says Coastal Vape Co. manager, Chris Bishop.

The Canadian Gazette (the official newspaper of the Government of Canada) part I , published June 19 this year, stated:

"The proposed Order Amending Schedules 2 and 3 to the Tobacco and Vaping Products Act (Flavours) and the proposed Standards for Vaping Products' Sensory Attributes Regulations (the proposal)…would further restrict the promotion of flavours in vaping products to tobacco, mint, menthol and a combination of mint and menthol (mint/menthol)…it would prohibit all sugars and sweeteners as well as most flavouring ingredients, with limited exceptions to impart tobacco and mint/menthol flavours."
---
A look back at how things have moved on or otherwise….
Public Health England
E-cigarettes are likely to reduce the harm to health if used as a replacement for conventional cigarettes but still pose a risk to health says the independent Committee on Toxicity of Chemicals in Food, Consumer Products and the Environment (COT).
Dr Nicholas Hopkinson, Dr Jamie Hartmann-Boyce, Prof Peter Hajek,
Dr Debbie Robson, Prof John Britton, Science Media Centre
A report, published by the Committee on Toxicity of Chemicals in Food, Consumer Products and the Environment (COT), has looked at potential toxicological risks from electronic nicotine (and
non-nicotine) delivery systems.
Joe G. Gitchell, Bethea Kleykamp, Raymond Niaura, Saul Shiffman,
K. Michael Cummings, David Sweanor, David Abrams, Qeois
In this brief peer review, we argue that the data reported by Gaiha et al (https://doi.org/10.1016/j.jadohealth.2020.07.002) regarding associations between vaping and COVID-19 testing are so suspect that any conclusions drawn from it cannot be relied upon. We discuss six main areas of concern and conclude that the paper should be retracted.
---
Visit Nicotine Science & Policy for more News from around the World

---