Vapers Digest 13th September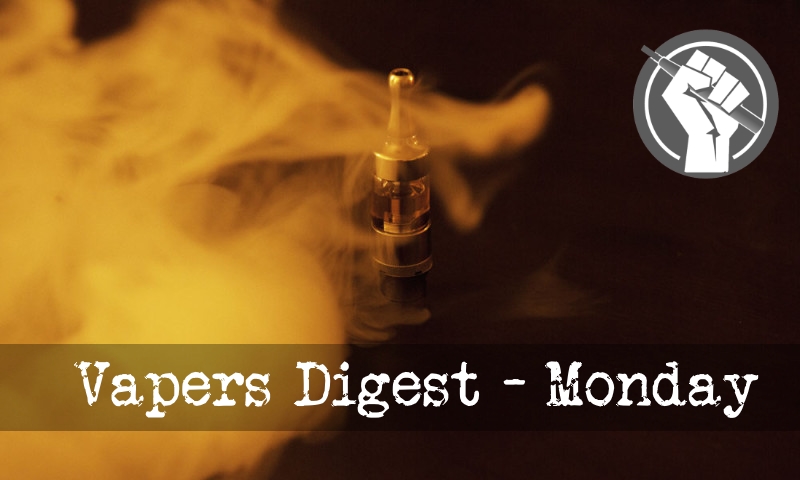 Monday's News at a glance:
FDA Has Now Issued PMTA Denials to 168 Vape Companies – Vaping Products, All of Them Are Now 'Subject to Enforcement Action' – CVA Responds to Flavour Ban Proposal – Tobacco control experts lament 'unbalanced' debate – New Smoking Pandemic Lurking – The FDA's Anti-competitive E-Cigarette Restrictions – FDA Leaves U.S. Vaping Industry Mired in Chaos – FDA delays decision on e-cigarettes – Democrats To Slug Poorest Americans With Tax Hikes – Bill prohibits use of vapes in areas frequented by minors – Don't Rush FDA's Vaping Products Review – What Does The TGA Think It's Doing? – Nicotine Science and Policy Daily Digest
To 168 Vape Companies – Jim McDonald
The day after announcing that no vaping products have been authorized so far for legal marketing, the FDA Center for Tobacco Products says it has issued Marketing Denial Orders (MDOs) to 168 manufacturers since Aug. 26. The denials cover nearly 1 million flavored products—mostly bottled e-liquid—for which Premarket Tobacco Applications (PMTAs) were submitted.

The agency announced in August that PMTAs for products in flavors other than tobacco and menthol would be denied if they don't contain "sufficient product-specific scientific evidence to demonstrate enough of a benefit to adult smokers that would overcome the risk posed to youth."
Any Vaping Products, All of Them Are Now 'Subject to Enforcement Action'
Jacob Sullum, Reason
When a court-set deadline for "premarket" review of nicotine vaping products came and went on Thursday, the Food and Drug Administration (FDA) had received millions of applications but had not approved any. As a result, the agency says, every vaping product sold in the United States—including myriad e-liquids, devices, and parts—is now "subject to enforcement action at the FDA's discretion."

Seven years after the FDA officially declared its intention to regulate e-cigarettes as "tobacco products," in other words, the entire industry remains in legal limbo, existing solely thanks to the agency's enforcement discretion and limited resources. The FDA laughably maintains that it is bringing "regulatory certainty" to a market it concedes has great potential to reduce smoking-related disease and death.
---

---
Dave Cross, Planet of the Vapes
The Canadian Vaping Association (CVA) says youth wellbeing in Canada has seen a decline in recent years. The staggering numbers demonstrate that the perceived mental health with a mention of poor/fair more than doubled in 2018 for youth. It contends that while proponents of flavour restrictions often cite surveys finding that some youth indicate flavours are a reason for use, they ignore the same survey data which indicates mental health is a driving force.

"Canadian youth have been vocal regarding their mental health and the need for counseling, and through forward-thinking studies, it's becoming apparent that their requests are valid and pressing," writes the CVA.
---
---
Snusforumet
Kenneth E. Warner is among a group of prominent tobacco control experts who warn that focusing too much on nicotine's potential risks for youth has resulted in an "unbalanced" debate that overlooks the potential benefits of tobacco harm reduction.

Warner, from the University of Michigan's School of Public Health, is among 15 past presidents of the Society for Research on Nicotine and Tobacco who express their concerns in a jointly-authored paper published recently in the American Journal of Public Health.

As FDA Prepares its Decision on E-cigarettes – Maria Chaplia
Today, the Food and Drug Administration is expected to announce its historical decision on the fate of e-cigarettes in the United States. As a result of a review of millions of applications made by big and small e-cigarettes makers around the country, the agency will either recognize vaping products as "appropriate for the protection of public health", or ban them from the market. Despite unequivocal evidence proving the safety of e-cigarettes, the odds are not in favor of e-cigarettes, especially when it comes to smaller companies.

E-cigarettes were actually invented to help smokers quit, and have been enormously successful in doing so. Since 2013, when vaping became popular in the United Kingdom, the adult smoking rate there has plummeted
Are a Small Business Killer – Rachel Chiu
The vaping industry is at an inflection point. The FDA was supposed to determine which e-cigarette products would remain on the market by September 9, a court-imposed deadline. It has already rendered decisions for many smaller companies, yet it's requesting more time to evaluate Juul Labs, the biggest e-cigarette manufacturer in the United States. As this regulatory judgment day drags on, it seems to be a tale of two businesses: those with resources and capital, and those without.

In late August, the Food and Drug Administration (FDA) banned three businesses—JD Nova Group LLC, Great American Vapes, and VaporSalon—from selling their flavored e-cigarette and vape pens, effectively blocking the sale of 55,000 existing and planned products.
---

---
Clifford E. Douglas
 Last month, 15 past presidents of the venerable Society for Research on Nicotine and Tobacco (SRNT), the top tobacco research society in the world, co-authored a courageous, groundbreaking article that argues that the media, legislators, and the general public have developed a negative view of e-cigarettes (vaping products) because of the heavy emphasis public health organizations have placed on protecting youth from vaping while ignoring the potentially substantial benefits of e-cigarettes in helping tens of millions of addicted adults quit smoking. The authors lay out thoughtful policy recommendations on how to balance concerns about the risks with the potential benefits.
THR experts reactions – Catania Conversation
The U.S Food and Drug Administration (FDA) announced last 9th September that it would need more time to process the remaining premarket tobacco applications (PMTAs) on vape companies that want to stay legally on the market. The delay comes after five years the regulatory body gained authority over vaping products and twelve months after vaping companies submitted millions of applications to meet the rules set by the FDA.

The stake is enormous because approval would mean that e-cigarettes could finally recognise as an effective smoking cessation tool.
---
FDA Leaves U.S. Vaping Industry Mired in Chaos | RegWatch (Live)
---
With Tax Hikes & Create 2.75 Million Extra Smokers – Tim Andrews
In a shocking display of callousness towards low income Americans, it was revealed tonight that one of the many ways Congressional Democrats plan to pay for their overspending is to slug the poorest and most vulnerable members of society with a staggering $96 billion dollar tax hike. To make matters even worse, not only is this a clear and blatant breach of President Biden's promise to not raise taxes on persons earning under $400,000, academic modeling has shown that this proposal would lead to an extra 2.75 million Americans continuing to smoke deadly combustible cigarettes – with deadly consequences.
In areas frequented by minors – Benjamin Pulta
The Senate on Monday resumed its deliberations on proposed legislation regulating the use, importation, and sale of vaporized nicotine products (VNPs) and electronic-cigarettes.

Under the proposal, vaping will be allowed only in designated areas and where there are no minors.

Bill author Senator Ralph Recto cited studies conducted by health organizations that conclusively showed using electronic nicotine delivery systems, instead of traditional combustible cigarettes, reduces exposure to toxic gases and carcinogens linked to normal cigarettes.

Gilbert Berdine
You have to wonder what is going on at the Therapeutic Goods Administration, whence bizarre edicts are emerging in recent profusion. Take ivermectin, for instance, which a goodly body of evidence and opinion asserts is useful in preventing and treating COVID-19 infections. Last month, Health Minister Greg Hunt went on the record as saying doctors were free to prescribe the cheap, off-patent medication. Here is what he wrote:

"I acknowledge some physicians are prescribing ivermectin off-label. As you would know, the practice of prescribing medications outside of their approved indications is not regulated nor controlled by the Therapeutic Goods Administration, as it is at the discretion of the prescribing official."
---
A look back at how things have moved on or otherwise…
IEVA
The Independent European Vape Alliance is pleased to be able to invite you to a webinar on the revision of the EU Tobacco Products Directive, a process which kicks into gear right now.
The impact of this revision will be felt by the European vaping industry for decades to come.

The event will take place on Zoom at 12pm Central European Time / 6pm China Standard Time.

IEVA members, potential IEVA members, and members of trade associations that are IEVA members are encouraged to join us. The webinar will feature presentations and a question and answer session from:
Conquers patent approvals in US/EUR
Sting Free AB's award-winning nicotine pouch innovation receives patent approvals in the U.S. and Europe. Sting Free Technology makes snus and nicotine pouch products more accessible to adult consumers by eliminating the stinging sensation on the sensitive gum associated with their use.

Sting Free AB is proud to announce that our US patent application [1], has been approved by the United States Patent Office (USPAT). The European Patent Organization (EPO) has presently issued an intention to grant European patent [2], covering 39 nations. The company already holds the Swedish patent rights to this invention [3].
---
Visit Nicotine Science & Policy for more News from around the World

---