Vapers Digest 15th September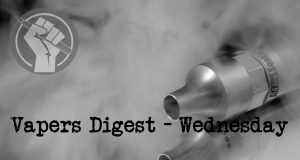 Wednesday's News at a glance:
E-cigarettes: misconceptions about their dangers may be preventing people from quitting smoking ~ Epidemiology Paper Correlates Vaping To Anorexia – And Then We Wonder Why Anyone Is Skeptical About COVID-19 Data ~ Quit-Or-Die Approach An Ill-Advised Gamble For Public Health ~ Swedish Match is ready to shake up the industry by getting out of combustibles ~ What every vaper needs to know from 1 October 2021 ~ Nine of 10 Filipino smokers want better alternatives to cigarettes, survey says ~ A Spectacular Failure \\ SPOTLIGHT Series ~ Yes, Tobacco Harms. But Banning Vaping Harms More. ~ Nicotine Flavor Bans: Symbolic Politics With Real-World Harms ~ House Democrats Seek to Hike Taxes on Vapes as Smokers Keep Dying ~ Kiwi Lockdown Fag Failure ~ UKVIA Demands Packaging Action ~ America Let Down By The FDA ~ Democrats' Proposed Vape Tax Would Violate Biden Campaign Pledge ~ Do vape companies targets teens? A perspective ~ The FDA's Inexplicable Crusade Against Tobacco Smoking Harm Reduction Continues ~ Tax on vaping could lead to unintended consequence – report
Jamie Hartmann-Boyce, Oxford Centre for Evidence-Based Medicine (CEBM)
When electronic cigarettes (e-cigarettes) first emerged, they became a popular way for people to quit smoking. But in 2019, a mysterious lung condition emerged that primarily affected young people, particularly those who vaped. This left many questioning the safety of e-cigarettes.
Is Skeptical About COVID-19 Data
Hank Campbell, Science 2.0
In 2021, it is vital that the public trusts epidemiologists when it comes to disease transmission. The cultural obstacle is that epidemiology is such a large field, much of it populated by woo. Osteopaths hurt their own reputations by not demanding that hucksters like Joe Mercola have his license revoked, while epidemiologists who want to be trusted guides now need to recognize they have to overcome suspect claims about some new fad food linked to increasing longevity, trace chemicals linked to changes in hormones, and that particulate matter so small it takes an electron microscope to see it is linked to early deaths.
Soko Directory Team
Many smokers are unable – or at least unwilling – to achieve cessation through complete nicotine and tobacco abstinence; they continue smoking despite the very real and obvious adverse health consequences.

Conventional smoking cessation policies and programs generally present smokers with two unpleasant alternatives: quit, or die.

The third approach to smoking cessation, tobacco harm reduction, involves the use of alternative sources of nicotine, including modern smokeless tobacco products.
---
David Palacios Rubio, Tobacco Intelligence
An intense September for the tobacco-alternatives industry is not over yet. Swedish Match has suddenly announced that the company is to become 100% smoke-free by next year with the separation of its cigar business in the US, a decision that is likely to have an impact in the market
Dr Colin Mendelsohn
Important new regulations for buying nicotine e-liquid begin on 1 October 2021. This blog is a simple summary of what every vaper needs to know.

You must have a prescription from an Australian doctor to import nicotine e-liquid legally from overseas after that date. Importing it without a script attracts a fine of up to $222,000!

You can also purchase nicotine e-liquid from some Australian pharmacies but will also need a prescription.
---
VIDA Voices
In this SPOTLIGHT series, Aaron Biebert (Director – A Billion Lives, You Don't Know Nicotine) has detailed the potential consequences, both intended and not, of the restrictive, prohibition-like regulations proposed by Health Canada regarding alternative nicotine products. While all of the consequences described present varying levels of inherent harm, none may be more deadly than an unregulated black market.
---
https://twitter.com/VapinSquirrel/status/1437884917115875329
---
Elisa Serafini, Inside Sources
We all know the risks of tobacco abuse: Science has been quite clear that it's not great. But science has also shown that innovative,

safer

alternatives to cigarettes can limit negative externalities on health and the

environment.

Even so, regardless of evidence, local and international institutions are fighting against vaping — and it has terribly negative consequences on public health, the environment, and the economy.
Art Way, Filter Magazine
We often hear that drug prohibition is destined to fail. Specifically, that means that allowing no legal access to a substance people want to use—as opposed to tailoring regulations to limit youth access or certain forms of potentially harmful use—will fail.

In the US drug policy space, we are currently witnessing the decriminalization of drugs like heroin and cocaine and the ongoing legalization of marijuana.
Alex Norcia, Filter Magazine
On September 12, influential House Democrats circulated a new tax proposal around Washington meant to target the country's wealthiest individuals and corporations. Much of the focus on the draft, naturally, has been on the potential tax increases for Americans earning more than $435,000 (from 37 to 39.6 percent) as well as large businesses (from 21 to 26.5 percent). These tax hikes, predicted to bring in as much as $2.9 trillion over 10 years, would help President Joe Biden pursue his stated agenda to bolster the social safety net.

---
THREE from Dave Cross, Planet Of The Vapes
New Zealand's lockdown has seen many vapers/ex-smokers return to cigarettes with stress or boredom often blamed. Brand-new retail restrictions on vape products are also having a negative impact, says the country's leading Tobacco Harm Reduction consumer group, the Aotearoa Vapers Community Advocacy (AVCA).
Trade body The UK Vaping Industry Association (UKVIA) has demanded action on e-cigarette packaging "aimed at children". The call follows an article in The Guardian (1) which accuses some companies of "totally inappropriate marketing techniques".
Last week, the American Food and Drug Administration (FDA) was due to deliver a decision on whether Juul were allowed to continue to sell their pods in the United States. Dithering, it failed to announce anything other than saying it needed more time. Meanwhile, it took action to ban thousands of other products from the marketplace.
---

---
Jim McDonald, Vaping 360
Congressional Democrats' soon-to-be-finalized tax and spending bill includes language adapted from Senator Dick Durbin's proposed Tobacco Tax Equity Act and another similar bill, which aims to equalize taxes on all consumer nicotine products. The goal is to make vaping as expensive as smoking—despite the widely recognized health benefits of switching to e-cigarettes.
Dr. Charles Gardner, Catania Conversation
While the Food and Drug Administration (FDA) recently announced it needs more time to decide whether e-cigarettes could remain on the market, or should be banned, anti-smoking activists continue to accuse vaping companies of targeting teens to buy their products. The U.S. regulatory body recently halted more than one million nicotine vape products, challenging their safety for health and the need to protect youngsters from tobacco addiction. Public outcry over the risks of teen nicotine vaping dependence have overshadowed discussion of adult smoking cessation, which (obviously) saves lives. Part of that public outcry is driven by claims that vape companies deliberately target teens. Are these allegations based on the truth and supported by data? Catania Conversation speaks to Dr. Charles Gardner, a top expert on Tobacco Harm Reduction and Chief Executive Officer of the International Network of Nicotine Consumer Organizations (INNCO), an international NGO that supports the rights of over ninety eight million consumers in thirty-seven countries.
Jeffrey A. Singer, Cato Institute
While the press was understandably preoccupied with the White House commandeering private businesses to enforce a COVID vaccine mandate on September 9, it gave little attention to the Food and Drug Administration's strike against an effective form of tobacco harm reduction on the same day. The FDA was under a court order to review 6.5 million applications from over 500 companies to market nicotine‐​containing e‐​cigarettes and rejected 90 percent of them, while it delayed deciding on applications from Juul, which commands an overwhelming share of the vaping market. One can be forgiven for having a cynical view of the delay.
Justin Kelly, Limerick Leader
Vape Business Ireland (VBI) has warned that increasing the cost of vaping through an excise tax will prevent current smokers from making the switch to a less harmful alternative and could push ex-smokers back to smoking.

In its Pre-Budget 2022 Submission to Minister for Finance, Paschal Donohoe TD, VBI claimed that such a move would be contrary to the Government's overall objective of achieving a Tobacco Free Ireland by 2025.
---
Visit Nicotine Science & Policy for more News from around the World

---