Vapers Digest 17th September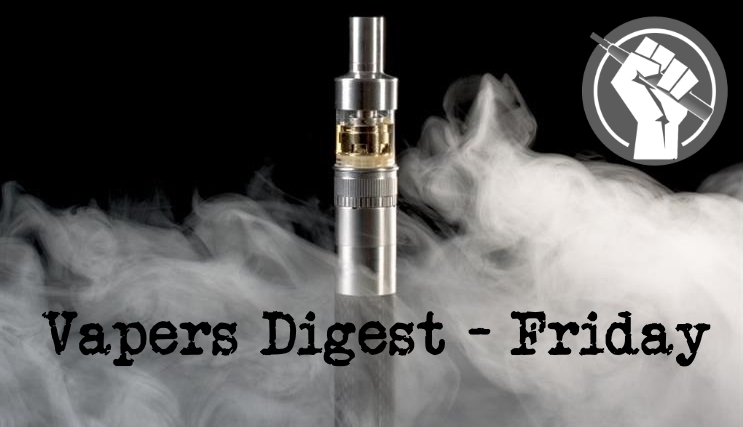 Friday's News at a glance:
Nicotine Tax: Vapers Apply Pressure & Some Democrats Have Doubts – New study reveals common misunderstandings – Updated PMTA Denial List Includes 295 Vape Manufacturers – Swedish Match deserves as much credit as Volvo – Parliament Square Vape Rally – Lithuania – The Next Country To Fall – WVA Members Address The WHO – HK Told To Regulate Not Ban – Quitting Success – More Warnings, "Experts" Demand – Farewell E-Cigarettes? – If the FDA Doesn't Kill the Vaping Industry – FDA Issues MDOs to Turning Point Brands – The NYT still doesn't understand the difference – sCOPe Livestream 8-12 November 2021 – MOH stop-smoking guidelines ignore the best way! – Countries' case studies on vaping shatter WHO's lies – 2 Years of Vaping Ban in India – Demand rise for science-backed smoke-free products – Nicotine Science and Policy Daily Digest
Some Democrats Have Doubts – Jim McDonald
The proposed tax on vaping and other nicotine products isn't a done deal yet. House Democrats continue to wrestle behind the scenes with the massive tax and spending bill that will fund President Biden's "Build Back Better" infrastructure and social agenda—and some appear to be nervous about supporting the nicotine tax, which attempts to tax low-risk nicotine products like vapes at the same rate as deadly products like cigarettes.

CASAA has issued a call to action that makes it easy for vapers and other tobacco harm reduction advocates to oppose the tobacco tax parity language. The call to action sends a prewritten message—which you can modify or replace—to your U.S. Representative and both Senators, asking that they oppose the unjust tax proposal.
Among tobacco and e-cigarette users related to the risk of harm from nicotine
King's College London and Public Health England
Our findings show that there is a lot of misunderstanding among smokers and e-cigarettes users about how harmful nicotine is. This is particularly true of people with mental ill health. This is a concern as products that can help people to quit smoking, such as e-cigarettes and nicotine replacement therapies, contain nicotine and misunderstandings of the harm nicotine causes may discourage their use.

We need to ensure that scientists and the media are providing clear and accurate information about the risk of harm from nicotine. It is particularly important that information about the risk of using e-cigarettes is accurate, as there is a lot of misinformation about the harm they cause. There should be a focus on providing tailored information and support for those with mental ill health who are more likely to smoke and experience harm from smoking than the general population but who are also more likely to overestimate the harm of nicotine and nicotine-containing products.
---

---
Includes 295 Vape Manufacturers – Jim McDonald
The FDA has announced that 127 additional vaping manufacturers have received Marketing Denial Orders (MDOs) for products submitted in Premarket Tobacco Applications (PMTAs). The new MDOs represent about 100,000 products—almost all bottled e-liquids in flavors other than tobacco or menthol.

Since Aug. 26, 295 manufacturers have received MDOs for more than 1,089,000 products. Since the Sept. 9 deadline for unauthorized products to be removed from the market, the FDA Center for Tobacco Products has not authorized a single vaping product for marketing.
As Volvo for saving lives – David Sweanor
Swedish Match has never gotten the credit it deserves for offering products that help save lives, says tobacco control pioneer David Sweanor. And he's not sure the company's complete exit from combustible tobacco will help.

Earlier this week, Swedish Match announced plans to sell off its remaining cigar business. The move, expected to be completed in late 2022, would make the company the world's first major smoke-free tobacco company.

While many tobacco harm reduction advocates applauded the move, at least one leading voice in international tobacco policy is uncertain it will silence critics of the Stockholm-based manufacturer of Swedish-style snus and nicotine pouches.
---
Whilst referring to the success Sweden has had in reducing smoking rates via snus, conservative party mp David Jones, said the UK should "legalize it now."https://t.co/iCgn41jZ93

— European Tobacco Harm Reduction Advocates (@europethra) September 17, 2021
If I owned an e-liquid company I'd certainly be looking at synthetic nicotine right now. But I wouldn't announce it on social media or dare FDA to stop me, as I've seen several do. https://t.co/ZiV7Q9Ge0t

— Jim McDonald (@whycherrywhy) September 17, 2021
---
Neil Humber
The Parliament Square vape rally, organized by the Back Vaping Save Lives campaign was held last week, and saw UK politicians stopping by to learn more about the benefits of vaping.

Vape advocates, vapers and John Dunne from the UK Vaping Industry Association [UKVIA] were joined by Mark Pawsey MP who gave a tub thumping speech to the crowd.

Mark is the current chair of the All Party Parliamentary Group for Vaping [APPG] and is one of the most pro-vaping UK MPs you could find.

It's under his superb stewardship the Beyond TPD report set out the blueprint for future vape regulations here in the UK.

Five from Dave Cross, Planet of the Vapes
Lithuanian politicians have taken the decision to make it the next nation in line to reject science and ban e-liquid flavours. The Parliament of the Republic of Lithuania has notified the European Commission that it plans to change Article 9(2) of Law No. I-1143, covering the control of tobacco and tobacco-related products (including e-liquids).

The proposed law will ban all e-liquid flavours except tobacco and applies to nicotine-free juices too.
Members of the World Vapers' Alliance (WVA) have written a joint letter to the World Health Organization (WHO) calling on it to "face reality", pointing out that tobacco harm reduction products save lives. The 31 consumer organisations which represent millions of vapers worldwide are joining forces to demand that the WHO ends its war on vaping and other alternatives to smoking.

The groups insist that the WHO should focus on delivering on its commitment to reduce the harm of smoking.
An esteemed group of Asia Pacific medical and scientific professionals and researchers has written to Hong Kong Chief Executive, Hon Carrie Lam, concerned that Hong Kong is set to ban safer alternative nicotine products such as vaping.

"We recently came across media reports highlighting that Hong Kong will move forward to deliberate on a bill which seeks to ban the importation and sales of all alternative nicotine delivery products such as e-cigarettes and heated tobacco products," wrote the Expert Advisory Group of the Coalition of Asia Pacific Tobacco Harm Reduction Advocates (CAPHRA).
The NHS has released its quarterly report presenting results from the monitoring of the NHS Stop Smoking Services (SSS) in England during the period April 2020 to March 2021. It reveals that the number of self-reported quitters (105,403) was significantly higher than in recent years. The news has been welcomed by trade body the UK Vaping Industry Association
Four researchers have published a paper in the British Medical Journal (BMJ) that claims international "expert" consensus supports increasing the warnings placed on vaping products. The self-proclaimed experts go on to make a number of other ridiculous demands including regulating vapes as tobacco products.

The paper begins from the premise that 'we don't know enough about them', something that hasn't been used as a reasonable argument for a number of years given the tsunami of research conducted and published every month.
---

---
FDA Effectively Bans Millions of Vaping Products – Cameron English
The FDA just took a significant step toward killing the vaping industry. While ostensibly acting to "protect public health," the agency has effectively banned millions of products and made it harder for smokers to give up their deadly habit.

Did you quit smoking with the help of an electronic cigarette like I did? The FDA is unimpressed with your progress toward a healthier lifestyle. On September 9, the agency refused to grant marketing approval for millions of vaping products, effectively outlawing them. The agency's actions are nonsensical, unscientific, and politically motivated, as we'll see below.
The Democrats' Tax Hike Just Might – Christian Britschgi
It's been a rough couple of weeks for the vaping industry. Last week, the Food and Drug Administration (FDA) let a deadline for authorizing vape products pass without having processed millions of pending applications—effectively making those products illegal to sell. Then on Monday, House Democrats unveiled a funding plan for their $3.5 trillion Build Back Better bill that would impose steep new excise taxes on nicotine-containing vaping liquid for the first time.

The hope is that new taxes on vaping products—alongside massive rate increases on traditional cigarettes—will bring in $96 billion in revenue while deterring people from using either.
Jim McDonald
Turning Point Brands, the publicly traded company with a presence in multiple segments of the nicotine and tobacco marketplace, confirmed today that some of its Premarket Tobacco Applications (PMTAs) have received Marketing Denial Orders from the FDA.

Other major brands in the independent vaping industry have also received MDOs this week for flavored e-liquids, including AVAIL Vapor. These are believed to be the first MDOs issued to major companies that submitted extensive product-specific scientific evidence in their PMTAs.
Disputes FDA's Marketing Denial Order – Alex Norcia
On September 14, Bidi Vapor, one of the largest disposable vape producers in the United States, announced that the Food and Drug Administration (FDA) had ordered all of its products except tobacco flavors to be removed from the market. This marketing denial order (MDO) included its menthol flavor, "Arctic."

Bidi believes that particular decision to be a mistake on the FDA's part, and is currently exploring next steps to address the situation.

"It looks like FDA is making a mistake in many, many cases," said Azim Chowdhury, a partner at the law firm Keller and Heckman, where he advises Bidi and other clients on nicotine regulations.
Between vaping black-market weed and regular e-cigs – Lee DeVito
Apparently, the mainstream media has learned nothing from the big vaping scare from a couple of years ago, with even outlets like The New York Times still getting basic facts about it wrong.

To recap: Back in 2019, hundreds of people began to get sick with a mysterious respiratory illness that was sending otherwise healthy young people to the hospital. At the same time, such disparate officials as Michigan Governor Gretchen Whitmer and President Donald Trump found common ground in declaring a war on nicotine e-cigarette companies like Juul, citing a rise in teen vaping. That led to bans on flavored e-cigs, with the reasoning being that these flavors are more appealing to kids.

CAPHRA
Previous to the COVID pandemic, CAPHRA had been making plans to rent a room at a nearby hotel for the FCTC COP9 meeting and then have THR consumers, and any experts who were available for press calls, meetings and question and answer sessions. This was to be our response for being shut out, once again, from the proceedings yet being available to the media, who inevitably, would also be shut out.

Because of COVID, that plan was axed as most of us in AsiaPacific are still under lockdowns and restrictions on travel. However, we have decided to bring the plan to life via livestream that will run for 24 hours/5 days during COP week (8 – 12 November). It is called sCOPe (streaming Consumers on Point everywhere).
Ignore the best way! – AVCA
The Ministry of Health's latest stop-smoking guidelines are disappointing. They do not include the vape option for smoking cessation providers to discuss with Kiwis keen to quit cigarettes, says New Zealand's leading Tobacco Harm Reduction consumer group.

'The New Zealand Guidelines for Helping People to Stop Smoking' acknowledge that vaping can contribute to Smokefree 2025, and it's a less harmful way of delivering nicotine when compared with traditional cigarettes.
Shatter WHO's lies – The Daily Blog
"Countries applying progressive Tobacco Harm Reduction policies are enjoying a significant fall in smoking rates. Whereas those following the World Health Organization's guidance continue to experience excessive smoking-related illnesses and deaths, says the Coalition of Asia Pacific Tobacco Harm Reduction Advocates (CAPHRA).

CAPHRA's comments follow the Property Rights Alliance releasing a 59-page white paper titled 'Vaping Works. International Best Practices: United Kingdom, New Zealand, France and Canada'.
Samrat Chowdhery
Indians bear an enormous tobacco burden, with nearly a third of the population dependent on some form of tobacco, which leads to 13.5 lakh annual deaths – the entire population of Pondicherry. The WHO attributes a loss of $27.5 billion a year due to diseases related to tobacco use for persons aged 35 and above. For a country like India, finding ways to minimise this human and economic loss by lowering risks from tobacco use is therefore a necessity, not an indulgence.

The government has introduced various laws, awareness programs and helplines to dissuade smoking and encourage people to quit.
Smoke-free products – Shantanu Guha Ray
New Delhi: The American Journal of Public Health (AJPH) has recently published a paper that could be a trendsetter across the world for governments grappling with nicotine and tobacco issues.

The paper is significant for countries like India, identified as one of the world's biggest consumers of tobacco.

Titled, Balancing Consideration of the Risks and Benefits of E-Cigarettes, the paper has been written by 15 past presidents of the Society for Research on Tobacco and Nicotine (srnt.org), the world's leading professional scientific organizations.
---
A look back at how things have moved on or otherwise….
---
Visit Nicotine Science & Policy for more News from around the World

---