Vapers Digest 18th August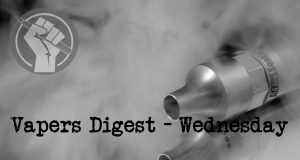 Wednesday's News at a glance:
Mayo Clinic study sees no link between vaping and Covid diagnosis ~ Working with consumers to end tobacco's death toll ~ WHO throws vapers under the bus… again ~ Angry vapers unite to fight WHO's relentless lies ~ Advertising nicotine vaping products ~ Canadian Vaping Association: Youth vaping is in decline ~ Sacrificing Truth and Science to Vilify Juul ~ NZ's New Vape Regs In Effect ~ Eliquid Flavour Ban For Britain? ~ AVCA Responds To New NZ Vape Landscape ~ JUUL Gets Hosed for Providing Research, Michael Bloomberg Does It All the Time ~ Mark Oates We Vape Director Chats With Ecigclick ~ FDA Completes "Intended Use" Administrative Marathon
Manila Bulletin
The largest study of its kind to date conducted by Mayo Clinic, a reputable U.S.-based academic medical organization which looked at the health records of nearly 70,000 patients, has found no link between vaping and Covid-19 diagnosis.

The retrospective study, titled "Electronic Cigarette Use Is Not Associated with Covid-19 Diagnosis", looked at 69,264 patients who were over the age of 12 years, smoked cigarettes or vaped and were given medical care at Mayo Clinic facilities between September 15, 2019 and November 30, 2020.
David T. Sweanor, The Economic Times
With many global challenges, the solutions are a troubling combination of uncertain, disruptive, expensive, and lengthy. But sometimes we have the good fortune to be able to rapidly deal with problems, such as those that can be addressed through measures such as sanitation and vaccination. Add tobacco's toll to that list.

Cigarette smoking vies with air pollution as the globe's leading cause of preventable death. The health catastrophe could be solved without significant government expenditure and while reinforcing consumer freedoms. We need only focus on science and facilitate the use of existing technology.
---
Satyajeet Marar, Spectator Australia
With the constant deluge of pandemic-related coverage, it's easy to forget that tobacco smoking continues to kill over 8 million people worldwide every year. Unfortunately, this hasn't stopped shadowy taxpayer-funded bureaucrats at the World Health Organization from pursuing prohibitionist ideology at the expense of reducing harms and improving the health of the world's smokers.
Coalition of Asia Pacific Tobacco Harm Advocates (CAPHRA), Scoop News
"The WHO is tasked with improving public health, yet it continues to condemn millions of smokers to certain death each and every year. We will never stop fighting as we are on the side of science. Time will also put us on the right side of history," she says.
Mirage
The TGA has today published a revised TGA advertising permission allowing pharmacies and pharmacy marketing to groups to promote, through certain media, that they are able to dispense nicotine vaping products (such as nicotine e-cigarettes, nicotine pods and liquid nicotine) on prescription.
---
Financial Post
In just 3 days since Prime Minister Trudeau called the federal election, 300 Canadians have died from smoking related diseases and illnesses. The federal government has proposed restrictions on flavoured vape products, which Health Canada acknowledges will result in increased smoking. The justification for this is the misguided belief that flavour restrictions will lessen youth vaping rates.
Michelle Minton, Real Clear Policy
Two prominent U.S. Senators want Juul to be punished for paying a scientific journal to "rig the science," as Sen. Elizabeth Warren (D-MA) put it. According to Warren and several news reports, the e-cigarette company paid American Journal of Health Behavior (AJHB) over $51,000 to publish a special issue containing 11 studies conducted by scientists and researchers funded by Juul. This, Warren asserts, is the same type of dirty trick Big Tobacco used to put the science that their products were harmful in doubt. In this instance, however, it's anti-tobacco advocates playing the role of merchants of doubt and using political pressure to discredit legitimate science.
---

---
THREE from Dave Cross, Planet Of The Vapes
The Smokefree Environments and Regulated Products Act has come into effect in New Zealand that includes e-liquid flavour restrictions for general retailers. The country's leading vape retailer VAPO says that banning 70% of vape products will only help government's coffers.
Unseen forces are pushing for vaping restrictions to be extended in the UK under the guise of protecting children from tobacco addiction. Two major newspapers have carried stories indicating that lobbying has taken place. The New Nicotine Alliance (NNA) has written to the Special Adviser to the Secretary of State Department of Health and Social Care about the matter.
The Aotearoa Vapers Community Advocacy (AVCA) has responded to the implementation of the New Zealand government's new vape law and says the flavour ban penalises adults keen to quit smoking. It adds that the ban for general retailers will "sadly cost lives" and make making it harder for adults desperate to give up tobacco.
---

---
Lindsey Stroud, Town Hall
Recently, anti-tobacco and anti-vaping zealots went mad after it was discovered that JUUL paid the American Journal of Health Behavior to publish a special issue on JUUL's e-cigarette products. Although this was first reported on July 5 by The New York Times, Sen. Elizabeth Warren (D-MA) and Sen. Richard Blumenthal (D-CT) sent a letter to the Food and Drug Administration (FDA) urging the agency "to carefully review [JUUL's] behavior and its public health consequences, and to not allow itself to be influenced by thinly-veiled Big Tobacco PR tactics dressed up as objective science."
Neil Humber, EcigClick
Reed Smith LLP, Lexology
Nearly six years ago, in 2015, the FDA attempted to slip a change to its "intended use" regulations (21 C.F.R. §§201.128, 801.4) – which had not been updated since the 1950s – through the administrative process by hiding it in a Federal Register notice about electronic cigarettes. 80 Fed. Reg. 57756 (FDA Sept. 25, 2015). We caught them, and the FDA then faced the prospect of responding to public comments about the First Amendment and truthful "promotion" of off-label use.
---
In Australia increasing? – Colin Mendelsohn
This week, The Australian newspaper revealed that the number of smokers in Australia had INCREASED over the last 3 years while falling in other countries. Shocked tobacco control experts have suggested that the rise is simply due to migration or flawed calculations. How can this happen in a country which prides itself on its its outstanding tobacco control record?
See continued decline in patient take-up
The number of people accessing NHS Stop Smoking Services fell for the fifth consecutive year in 2016/17.

NHS Digital's annual smoking cessation report said there was a 15% drop in the number of patients setting a quit date, to 307,507, compared with the previous year.

But the report added that the 'reduction in recent years may be partly due to the increased use of e-cigarettes, which are widely available outside of these services'.
---
Visit Nicotine Science & Policy for more News from around the World

---