Vapers Digest 16th August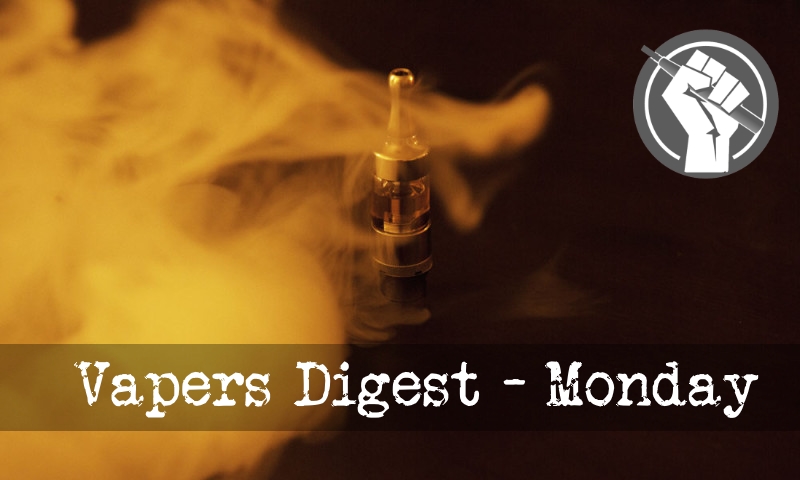 Monday's News at a glance:
How the UK Is Allowing Vapes to Save Hundreds of Thousands of Lives – Vast Vaper Database Reveals The Truth – Gallup Says Americans Under 30 Still Prefer Vaping to Smoking – E-cigarettes are not our enemy – VPASA slams WHO's comments – Dirty Ashtray Award for WHO! – NYU Epidemiologist Talks War on Vaping – Smokers in Africa – Tobacco and vaping: A new leaf – Brian Carlton: The Spoonman – Nicotine Science and Policy Daily Digest
To Save Hundreds of Thousands of Lives – Martin Cullip
I am rather happy that my country is widely regarded as a global leader in tobacco harm reduction. Enthusiastic take-up of vaping products has led to the UK boasting the second lowest smoking prevalence rate in Europe, behind only Sweden. Sadly, it hasn't always been this way.

Our government used to prefer the stick to the carrot. In 2007, after years of hiking taxes on tobacco, it implemented a nationwide smoking ban in indoor public spaces. Post-implementation reviews by tobacco control activists spoke of the potential for making life so inconvenient for smokers that they would surely quit. Instead, the next three years saw a stall in the previous long-term steady decline in smoking prevalence, with 21 percent of the public stubbornly continuing to smoke.
Dave Cross, Planet of the Vapes
Two leading consumer advocacy groups have launched the RightToVape.org site which is creating the world's largest collection of successful, human vape stories. The two organisations are The Coalition of Asia Pacific Tobacco Harm Advocates (CASAA) and The Coalition of Asia Pacific Tobacco Harm Advocates (CAPHRA).

Based in the US, CASAA (1) is a non-profit advocacy organization which raises awareness and protects the right of consumers to access a variety of effective, affordable and reduced-harm alternatives to smoking. CASAA represents consumers' interests in various legislative, policy making and rule-making arenas.
---

---
Still Prefer Vaping to Smoking – Jim McDonald
The latest Gallup survey on smoking and vaping shows that young people are still more likely to vape than to smoke cigarettes—a trend first noticed in the 2018 Gallup survey measuring smoking and vaping trends. That's encouraging for harm reduction advocates, considering the organized efforts in recent years to frighten vapers away from the practice.

Among Americans aged 18-29, 17% reported vaping during the past week, while 14% reported smoking cigarettes. In the group aged 30-49, just 5% vaped, while 20% smoked. Among those aged between 50-64, 19% smoked cigarettes, and only 2% vaped.

Among all adults, 6% vaped and 16% smoked. Men were slightly more likely to smoke or vape than women.
---
---
Jason Reed
Over the past few years, the Department of Health and Social Care has become a fizzing hub of nanny statism.

Matt Hancock was recently caught with his knickers up the flagpole and forced to resign as health secretary. But his successor, Sajid Javid, wants to keep Hancock's legacy alive, making our lifestyle choices for us through patronising public-health interventions.

Javid has hit the ground running. He is happily pursuing his predecessor's plan to make England 'smoke free' by 2030. As part of that strategy, he is reportedly considering restricting the sale of e-cigarettes to adults over the age of 21.

Branding e-cigarettes as 'harmful' – Sameer Naik
"The WHO, along with many other groups opposed to e-cigarettes and vaping, has once again demonstrated a lack of understanding of the fundamental difference between tobacco and nicotine, the former of which is addictive and kills millions of people due to its carcinogenic properties. In contrast, nicotine, whilst addictive, is not as harmful," says Gcoyi.

Recently, the WHO published a report recommending governments do better to regulate vapes and e-cigarettes, which the organisation claims could be a gateway to tobacco consumption.
Daud Malik
FCA's awards became a center of keen interest as and when countries met to discuss tobacco control. It became a regular feature of the Conference of Parties. Since 2000, these awards have been regularly distributed.

A reason is also given why the country, individual, or an organization has been given the Orchid or the Dirty Ashtray award. Any country that was thought to being obstructive to the cause of tobacco control, the covenants of FCTC or even a thought that was not aligned to the thinking of the civil society, was given a 'Dirty Ashtray Award'.
---

---
NYU Epidemiologist Talks War on Vaping | RegWatch

Nicotine pouches offer an alternative to 'quit or die'
Helping smokers in Africa quit is an uphill battle and smokers on the continent have said nicotine pouches can help. But knee-jerk reactions by policymakers have removed this important lifeline, hurting people's chances of quitting, argues Joseph Magero, Chair of the Campaign for Safer Alternatives (CASA).

Millions of Africans who are desperate to quit smoking are instead being unnecessarily condemned to an early grave.

Thanks to misguided government policies, these reluctant smokers are being denied access to alternative nicotine products that could help them to live happier, healthier, and longer lives.
Éilis Cronin
The tobacco category has shown its resilience once again as it has shaken off the latest legal hurdle – last year's ban on the sale of menthol cigarettes – to remain a valuable and growing category for convenience operators.

The latest in a growing number of restrictions kicked off by the display ban several years ago, there were fears the ban on menthol cigarettes last May would disrupt the category once again after too many legal upheavals in recent years.

At this early stage some 15 months on, it appears that those fears were misplaced as the category has remained buoyant and many former menthol smokers appear to have switched to alternative formats.
Senator Eric Abetz joined Brian Carlton today to discuss his grilling of the Therapeutic Goods Administration during an estimates hearing into vape by prescription. Where can you Vape under the new rules? Spoony has compared it to holding "an AA meeting in a bottle shop".
---
A look back at how things have moved on or otherwise…
Part II – Michelle Minton
In a previous post, I described how, through the use of statistical hocus pocus, anti-vaping interest have exported the great American vape panic to nations around the world. But the misuse of survey data is far from the only rabbit those seeking to ban nicotine vapor products can pull out of their hat. In this post, I discuss another approach employed by anti-vaping activists, one that is arguably much more dangerous: morality.

In defiance of history, science, and human nature, governments around the world are warming up to the idea of prohibition. While maintaining easy access to combustible cigarettes, governments are increasingly considering policies to ban, tax, or heavily restrict non-combustible forms of nicotine. Such policies, among others, will keep smokers smoking and millions around the globe dying as a result.
Gregory Conley of the American Vaping Association on U.S. Rep. Raja Krishnamoorthi
Michael McGrady, Vaping Post
The Vaping Weekly Podcast is back for Return Episode #4, where Michael McGrady has the pleasure of featuring Gregory Conley, a trained lawyer and the president of the American Vaping Association.

In this fourth episode of our second season, Gregory Conley speaks out about his concerns related to a recent letter U.S. Rep. Raja Krishnamoorthi sent to the Food and Drug Administration commissioner Stephen Hahn asking him to clear the market of all e-cigarette products during the global COVID-19 pandemic.
---
Visit Nicotine Science & Policy for more News from around the World

---