Vaping Digest 14th August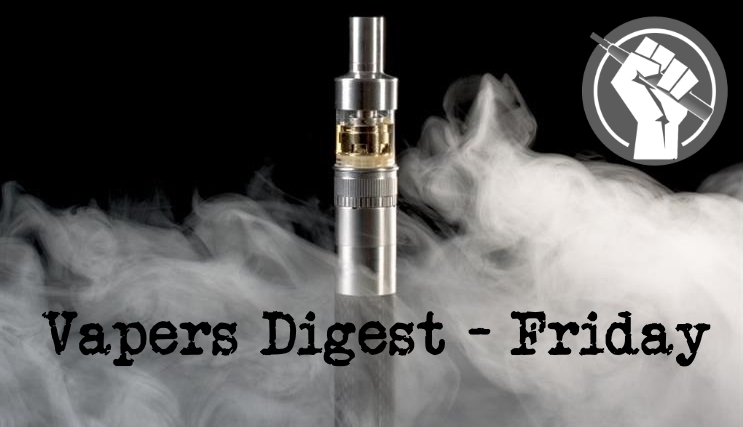 Friday's News at a glance:
How the U.S. Spreads Fake Vaping Fears, Part II – Vaping Weekly Podcast: Gregory Conley on U.S. Rep. Raja Krishnamoorthi – Voices4Vape Webinar – B.C.'s new vaping regulations may breach Charter rights – Nicotine Benefit – Vaping Minister – Vaping for Anaesthesiologists – Nottingham/Canadian Teen Research – Volunteers Needed – People trust the state less than doctors – Colorado's proposed tobacco tax hike – Illinois congressman calls for federal ban – Nicotine Science and Policy Daily Digest
Part II – Michelle Minton
In a previous post, I described how, through the use of statistical hocus pocus, anti-vaping interest have exported the great American vape panic to nations around the world. But the misuse of survey data is far from the only rabbit those seeking to ban nicotine vapor products can pull out of their hat. In this post, I discuss another approach employed by anti-vaping activists, one that is arguably much more dangerous: morality.

In defiance of history, science, and human nature, governments around the world are warming up to the idea of prohibition. While maintaining easy access to combustible cigarettes, governments are increasingly considering policies to ban, tax, or heavily restrict non-combustible forms of nicotine. Such policies, among others, will keep smokers smoking and millions around the globe dying as a result.
Gregory Conley of the American Vaping Association on U.S. Rep. Raja Krishnamoorthi
Michael McGrady, Vaping Post
The Vaping Weekly Podcast is back for Return Episode #4, where Michael McGrady has the pleasure of featuring Gregory Conley, a trained lawyer and the president of the American Vaping Association.

In this fourth episode of our second season, Gregory Conley speaks out about his concerns related to a recent letter U.S. Rep. Raja Krishnamoorthi sent to the Food and Drug Administration commissioner Stephen Hahn asking him to clear the market of all e-cigarette products during the global COVID-19 pandemic.
---

---
CAPHRA
Voices4Vape provides a background to Tobacco Harm Reduction advocacy in the Asia-Pacific region. Some of the world's leading experts, shown below this registration form,  will bring their own experience, expertise, and unique perspectives to bear. Our objective is to inform and engage, and there are 4 separate ways to do that:

1. During any of the sessions we invite and encourage you to ask questions via the chat box. Our presenters will try to answer as many as possible;
2. Join our newsletter mailing list and stay connected;
3. Send us an email to introduce yourself;
4. Take our online survey here, tell us about yourself and your relationship with vaping.
---
---
May breach Charter rights – Bernise Carolino
The Canadian Constitution Foundation has called attention to the potential constitutional issues arising from the recently announced amendments to B.C.'s vaping regulations.

The new vaping legislation, which amends B.C.'s Public Health Act and the Tobacco and Vapour Products Control Regulation, will impose a limit on nicotine concentrations to 20mg/ml for products sold in retail locations, will call for plain packaging for vaping substances, will ban the sale of flavoured vapour products except in age-restricted specialty stores, will restrict advertising in spaces where youth may be present and will require vaping substances for sale to be packaged with a skull-and-crossbones health hazard symbol and a health warning.

Four from Dave Cross, Planet of the Vapes
Researchers have conducted a systematic review of literature and concluded that nicotine offers up benefits to schizophrenics. They state that the findings need to be born in mind when encouraging patients with schizophrenia to quit smoking in healthcare and domestic settings.

In their 2009 work looking at nicotine's impact on temporal lobe function – the part of the brain responsible for processing input from the senses into meanings for the retention of visual memory, language comprehension, and emotion association – Martin, Davalos, and Kisley wrote: "Our hypothesis that nicotine enhances preattentive temporal processing is confirmed."
Malaysia's Foreign Minister Datuk Seri Hishammuddin Hussein has apologised for trying to stealth vape in parliament. Opponents are pushing for him to apologise in parliament and argue for the law to be upheld – which could lead to the minister going to prison.

Malaysia's response to the COVID-19 pandemic was widely praised around the world. The nation held response meetings were held in December as part of the Drugs for Neglected Diseases initiative. The government placed early orders for diagnostic chemicals and equipment, and hospitals were mobilised to a prepared footing to maximise "surge capacity" before many other countries had even begun to contemplate their response.
We recently wrote about how the Orthopaedic Institute Pain Management Centre of Western Kentucky is banning access to pain medication for nicotine product users. John Oyston writes about vaping in the Canadian Journal of Anesthesia, an article that is timely given the Pain Management Centre's stance.

In "What do anesthesiologists need to know about vaping?", John Oyston presents vaping in a balanced manner for Canadian anaesthesiologists.

Oyston points out that although there is an estimated 4.6 million Canadians vaping at least once, the media has whipped up a frenzy over the potential health risks of recreational vaping among teenagers. It has also used the recent EVALI/black market THC lung injuries in the United States to further stoke the fires of fear.
Canadian vapers have seen the hard-fought gains they won begin to be chiselled away. The government was misled into believing there was an American-style teen epidemic by false data. A researcher at the University of Nottingham is teaming for a new $100,000 study into teenage vaping in Canada, partnering with academics who continue to promote the epidemic lie.

Recently, Planet of the Vapes wrote about how University of Waterloo Professor David Hammond misinformed his government and the world's media about "a disturbing trend in Canadian teen vaping rates".
---

---
Which is where smoking comes in – Derek Yach
A healthy recovery from Covid-19 in SA will require more effective and scientifically informed action from the government and doctors. Unfortunately, public trust in the former is less than robust. Our recent survey in July of more than 1,000 adult South Africans shows that respondents have substantially higher trust in doctors than in the national government.

About 40% of those surveyed expressed a lot of trust in doctors, but only 10% hold the government in the same regard. Furthermore, almost a quarter of respondents expressed strong distrust in the government. Only 2% felt similarly about doctors.
For International study of the long-term effect of vaping on lung health
The VERITAS cohort study will be an international study of six or more years.  It will observe the health outcomes of subjects who vape exclusively, compared to a control group of subjects who have never vaped or used tobacco products. It will measure the health outcomes of both groups, through self-reported health status, clinical assessment and laboratory testing of lung health.

The goal is to determine whether there are any long-term risks associated with vaping, and if so, what they are. To date, almost all assessments of the health of vapers have been among ex-smokers, where it is impossible to distinguish any small effects of vaping from the residual effects of long-term smoking. This study will test the hypothesis that vaping alone has no measurable health effects.

 Jesse Paul
The maker of Marlboro cigarettes spent more than $16 million to block a tobacco tax increase in Colorado four years ago. Now it could benefit from the passage of a question on the November ballot that would dramatically increase the price of cigarettes — a question the company helped write.

The company, Altria, was part of the negotiations that led to 11th-hour legislation — House Bill 1427 — that placed the question on the 2020 ballot. If passed, it will raise taxes on nicotine products across the board over the next several years, including more than tripling the taxes on a pack of cigarettes.
On electronic cigarettes, citing study that shows link to COVID-19
Citing a study showing a correlation between vaping and COVID-19, an Illinois congressman is calling for a federal ban on all e-cigarettes — though a vaping industry advocate called it a publicity stunt.

Rep. Raja Krishnamoorthi, a Democrat from Schaumburg and chairman of the House Subcommittee on Economic and Consumer Policy, wrote a letter to the Food and Drug Administration this week calling for the agency to "clear the market of all e-cigarettes, temporarily, for the duration of the coronavirus crisis."
---
A look back at how things have moved on or otherwise….
challenging a false and dangerous claim by Professor Stanton Glantz
Clive Bates, The Counterfactual
In this blog, I examine an extraordinary claim by Professor Stanton Glantz of the University of California at San Francisco. Professor Glantz claims that the US public is right to believe that vaping is as harmful as smoking and that science is now catching up with public opinion.

This claim is profoundly and dangerously false, and it demands a challenge. Professor Glantz makes his claim in a commentary in response to a substantive paper on perceptions of the relative risk of smoking and vaping.
of electronic cigarettes is unlikely to raise significant health concerns
Edex Live, The New Indian Express
Smokers should be confident that vaping with e-cigarettes is much less harmful to the lungs than smoking cigarettes, according to a new review of the relevant science. A new article published in the Expert Review of Respiratory Medicine journal contends that there is growing evidence showing that electronic cigarette (EC) emission aerosols are relatively safe compared to tobacco smoke.
The Progressive Policy Institute
Electronic cigarettes or e-cigarettes offer the most effective means currently available for reducing cigarette smoking, according to economist Rob Shapiro, President of Sonecon, in a new analysis for the Progressive Policy Institute.

Center for Disease Control data show that cigarette smoking by Americans declined steadily from the mid-1960s to around 2005, when this progress slowed. Yet, from 2013 to 2017, the rate at which Americans use of e-cigarettes accelerated sharply.
---
Visit Nicotine Science & Policy for more News from around the World

---