Vaping Digest August 12th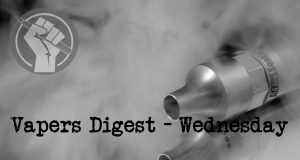 Wednesday's News at a glance:
Compelling Evidence that Smoking Protects Against Covid-19 & Reduces the Likelihood of ICU Admission ~ Stanford Study Finds No Association Between Exclusive Vaping & Positive COVID-19 Diagnosis ~ Better to let them smoke and die? Bloomberg funded major international NGO's logic for LMICs is baffling and worrying ~ Uganda needs to adopt tobacco harm reduction ~ Facebook Takes Down RegWatch ~ Pain Meds Banned For Vapers ~ SA Sales Ban Continues ~ Can vaping reduce inequality? ~ Tell Congress to Reject the Vape Mail Ban (While You Still Can) ~ FDA Accepts a Flavored E-Liquid PMTA for Substantive Review ~ Premium Cigar Regulation and Substantial Equivalence Reevaluated by FDA
Tobacco Truth, Brad Rodu
Long-term cigarette smoking is associated with a number of serious diseases, but not COVID-19. In fact, numerous studies demonstrate that smokers are far less likely to be diagnosed with coronavirus than are non-smokers. In June, Konstantinos Farsalinos and colleagues reviewed 18 published reports, finding "an unexpectedly low prevalence of current smoking among hospitalized patients with COVID-19." (here).
American Vaping Association, Gregory Conley
Results from an online survey of youth and young adults just published in the Journal of Adolescent Research show no association between being a current exclusive user of vaping products or combustible cigarettes and receiving a diagnosis of being positive for COVID-19.

Despite these findings and the major limitations inherent in online surveys, some journalists have jumped at the opportunity to run headlines declaring that teen vapers are up to seven times more likely to get COVID-19.
---
Derek Yach, CSD Consulting
Imagine the outrage if an international non-governmental organization (NGO) focusing on drug abuse called for naloxone manufacturers to not sell their products in low- and middle-income countries (LMICs) on grounds that it would confuse regulators and the public, suggesting instead that they focus on ending opioid abuse using only regulatory and educational approaches? How would NGOs in these countries react if this international NGO went further and called on governments to ban the use of naloxone?
---

---
Joel Sawa

, Medium
Tobacco Harm Reduction (THR) is a public health strategy to lower the health risks to individuals and the wider society associated with using tobacco products. It is an example of the concept of harm reduction, a strategy for dealing with the abuse of other drugs. Tobacco smoking is widely acknowledged as a leading cause of illness and death, and reducing smoking is vital to public health. (WIKIPEDIA).
---
I want to nominate the vaping industry for the Nobel Peace Prize. They have supported a tobacco harm reduction movement that has helped millions of smokers quit combustibles and add years back to their life. Isn't that enough for consideration?

— Steve Thomson (@steveinjax1) August 9, 2020
---
---
, Adam Smith Institute
Covid-19 has affected different groups in different ways and thrust the issue of health inequality into public debate. Whilst people are mistakenly concerned with inequality itself, there are good reasons to make it as easy as possible for those with worse health outcomes to lead healthier lives by expanding choice. This doesn't have to come from top down state control or regulation, which is often unsuccessful, but can be driven by invention and the market.
Two from Jim McDonald, Vaping 360
After a tense period during which vaping advocates expected the House of Representatives to take up (and probably pass) Senate bill S 1253 at any moment, the House left on July 31 for its scheduled August recess without addressing the vape mail ban. While nobody knows exactly why the bill didn't get a vote in July, one thing is certain: it will be back soon.
Virginia-based vaping retailer and e-liquid manufacturer AVAIL Vapor announced today that a PMTA for a flavored e-liquid submitted by AVAIL has been accepted by the FDA for substantive review. All vaping manufacturers must submit PMTAs (Premarket Tobacco Applications) by Sept. 9 for products they intend to sell on the legal market after that date.

---
TPE21 International
As the premium cigar industry barrels toward the Sept. 9, 2020 deadline to file Substantial Equivalence applications, many have been holding out hope for a last minute reprieve. Substantial Equivalence is part of the compliance process defined by the Deeming Rule that requires manufacturers of covered tobacco products–including premium cigars, pipe tobacco, vapor, e-cigarettes and hookah–to prove that tobacco products that do not have grandfathered/predicate status are "substantially equivalent" to a tobacco product that has predicate status.
---
A look back at how things have moved on or otherwise…
Cure The Tobacco Epidemic? – Joseph Magero
The W.H.O describes smoking as an epidemic that one is one of the biggest public health threats the world has ever faced, killing more than 8 million people a year. With recent innovation in converging technologies such as mobile computing, mobile communications and broadband internet, it has been possible to trial a number of innovative approaches to epidemic response. Could the same be done for cigarette smoking? There's been plrnty of positive activity towards this direction.
Filter Magazine
In a recent report on global tobacco control policy, the World Health Organization (WHO) continues to deny a growing body of evidence that suggests that electronic nicotine delivery systems (ENDS), like e-cigarettes, are safer than products that burn tobacco leaves. But that doesn't mean the WHO has always ignored such evidence; in fact, the UN agency has recognized the potential benefits of vaping in the past.
---
Visit Nicotine Science & Policy for more News from around the World

---