Vaping Digest August 12th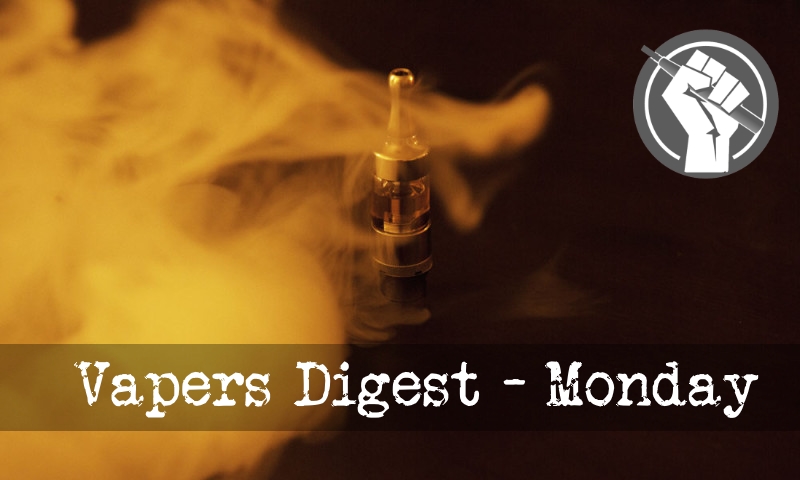 Monday's News at a glance:
Can Disruptive Technology Cure The Tobacco Epidemic? – World Health Organization Blithely Denies Vaping Science – Vaping In The News – August 10th – Juul Nearly Kills Teen From Lung Collapse: A Story Full Of Smoke – Everything They Needed To Know – Dr Jackson Responds – New Scientific Review Gives Green Light for Smokers to Switch – Farsalinos Replicates Study on Toxicity Classification of E-Cig Flavouring Compounds – Nicotine Science and Policy Daily Digest
Cure The Tobacco Epidemic? – Joseph Magero
The W.H.O describes smoking as an epidemic that one is one of the biggest public health threats the world has ever faced, killing more than 8 million people a year. With recent innovation in converging technologies such as mobile computing, mobile communications and broadband internet, it has been possible to trial a number of innovative approaches to epidemic response. Could the same be done for cigarette smoking? There's been plrnty of positive activity towards this direction.

Business analysts use the term 'disruptive innovation' to describe innovations that lead to relatively rapid and dramatic transformations in manufacture, marketing, and consumer behavior.
Filter Magazine
In a recent report on global tobacco control policy, the World Health Organization (WHO) continues to deny a growing body of evidence that suggests that electronic nicotine delivery systems (ENDS), like e-cigarettes, are safer than products that burn tobacco leaves. But that doesn't mean the WHO has always ignored such evidence; in fact, the UN agency has recognized the potential benefits of vaping in the past.

Published on July 26 as the seventh report in a series focusing on national level efforts to implement the body's Framework Convention on Tobacco Control (FCTC), the 2019 Report on the Global Tobacco Epidemic examines how countries are "offer[ing] help to quit use"—as well as how many of them are not.
---

---
Kevin Crowley, Vaping Links
FDA can save lives by rejecting Scott Gottlieb's bad recommendations ~ Americans Can't do Math, But Policymakers Can and This Could Vaporize Tobacco Harm Reduction ~ First they came for the smokers… ~ The effect of e-cigarette aerosol emissions on respiratory health: a narrative review. ~ How Regulators Misunderstand The Toxicity Arguments About E-Cigarettes ~ Understanding Nicotine, Stigma, and Public Health's Use of Scare Tactics ~ Vaping Seizures, Part 2: The Power of Suggestion ~ Long-term Vaping Effects Unknown? Separating Science From Hype as E-Cigarette Debate Rages ~ Tobacco Harm Reduction: Evidence Update ~ Smoke Free Radio
---
The more people follow/interact with accounts like this, the more they legitimise them. Mute him, ignore him…but do not follow or respond to him. He's never going to say 'oh, you know what, I was wrong', the man is a screaming idiot. pic.twitter.com/J6ig4VDGci

— Dave Cross (@DaveM_POTV) August 12, 2019
---
A Story Full Of Smoke – Alexander Craig
The DailyMail published a horror story about 18-year-old Chance Ammirata and his experience with the Juul, a popular vaping device. Chance, from south Florida, suffered a collapsed lung which he reportedly claims the fault on the Juul, per his doctors. The teen claimed to only smoke 1 pod every two days, which is supposedly equivalent to a pack of cigarettes.

Chance quickly went viral on Twitter, posting daily pictures and videos of his post-operation recovery in the hospital, while vehemently advocating against Juul and vaping. Most would believe this is where this story ends, but looking a bit deeper uncovers quite a different set of facts.
---

---
Dave Cross, Planet of the Vapes
Tees, Esk and Wear Valleys NHS Foundation Trust experts have produced a document for mental health practitioners to help them understand vaping better. The excellent document lays out facts in an accessible manner and encourages colleagues to encourage patients to give up smoking by switching to vaping.

Suzy Ker, Consultant in working-age adult psychiatry, Emily Peckham, Research fellow in the Mental Health and Addiction, Simon Gilbody, Professor of Psychological Medicine, and Susan Bonner, Research nurse, produced the paper published online by Cambridge University Press.
Dave Cross, Planet of the Vapes
Dr Sarah Jackson, Senior Research Associate at University College London, was lead author on a paper titled "Moderators of real‐world effectiveness of smoking cessation aids: a population study". The study was published in Addiction Journal, which received a letter stating that continuing to use nicotine meant the smokers were not "abstinent". Dr Jackson has responded.

The study found that vapers were 95% more likely to be able to quit than people not vaping, compared to only a third of smokers finding success with NRT. They concluded: "It is the first study to evaluate the extent to which treatment efficacy is moderated by level of cigarette addiction and social grade in a real-world setting…"

For Smokers to Switch to Vaping With Confidence – Catania, Italy
Smokers should be confident that vaping with e-cigarettes is much less harmful to the lungs than smoking cigarettes, according to a new review of the relevant science. A new article published in the Expert Review of Respiratory Medicine journal contends that there is growing evidence show that electronic cigarette (EC) emission aerosols are relatively safe compared to tobacco smoke. Led by Dr. Riccardo Polosa, director of CoEHAR, the Center of Excellence for the Acceleration of HArm Reduction at the University of Catania, The effect of e-cigarette aerosol emissions on respiratory health: a narrative review provides a critical assessment of the research published on the effects of ECs on respiratory system.
On Toxicity Classification of E-Cig Flavouring Compounds –  Diane Caruana
A recent study raised concerns about the possible toxicity of flavouring additives in e-liquids, identifying several chemical compounds which are considered respiratory irritants. The researchers pointed out that the analysed liquids did not comply with the current EU regulations on e-cigarettes (Tobacco Products Directive).

However, in response to the study renowned tobacco researcher Dr. Konstantinos Farsalinos pointed out that although the flavouring chemicals were identified and quantified, the study did not calculate the potential toxicity of the chemicals in relation to their concentrations.
---
A look back at how things have moved on or otherwise….
And their customers about vape tax proposal – IBVTA
Vaping represents one of the most exciting public health opportunities of our generation. If regulators and tax authorities introduce inappropriate and disproportionate regulatory and fiscal regimes then smokers will not make the switch and a once in a lifetime opportunity will have been missed.

Whilst others have been pushing for the introduction of an excise tax on vaping, the IBVTA has consistently opposed it, both nationally and at EU level. It is within this context that the recent media stories reporting that HM Treasury are considering applying a tax on vaping products were concerning to us.
Paul Barnes, Facts Do Matter
"The Eighth session of the Conference of the Parties (COP8) to the WHO Framework Convention on Tobacco Control (WHO FCTC) is less than three months away. Taking place in Geneva from 1 to 6 October, it will focus on topics such as the shaping of a medium-term strategic framework, which will determine the actions to be taken by the Parties over the next five years, and the advances and challenges revealed in the Global Progress Report on Implementation of the WHO Framework Convention on Tobacco Control.
---
Visit Nicotine Science & Policy for more News from around the World

---