Vaping Digest August 9th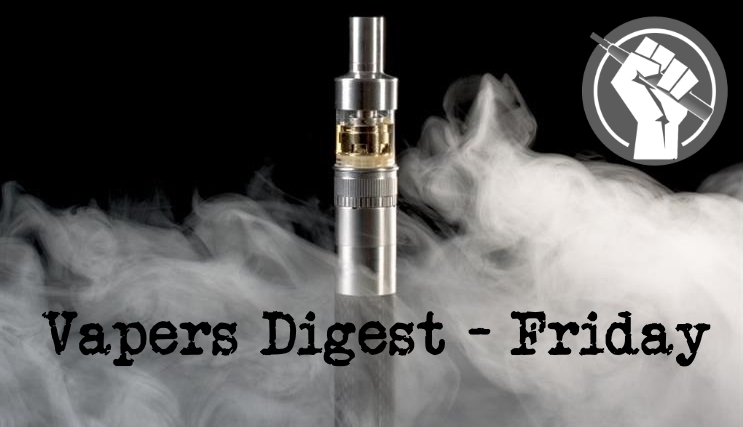 Friday's News at a glance:
How Regulators Misunderstand The Toxicity Arguments About E-Cigarettes – Nick Buonoconti Spoke Truth to Power on Smokeless Tobacco – Oz Gateway Closed – Targets and Opportunities – Research Vetting in India – Vaping Seizures, Part 2: The Power of Suggestion – Long-Term Vaping Effects Unknown? – Understanding Nicotine – The e-cigarette effect: Number of smokers in the UK plummet – Towards responsible and less harmful smoking – Nicotine Science and Policy Daily Digest
The Toxicity Arguments About E-Cigarettes – Michael McGrady
As federal regulators propose guidance to address toxins in e-cigarettes, misunderstandings abound. While there are cases of potentially toxic chemicals present in e-juices from various brands, regulators and researchers should consider critical components to any regulation governing allowed toxicity levels.

The federal Food and Drug Administration (FDA) recently announced that the agency is accepting public comments regarding additional constituent substances found in e-liquids, any other chemicals or chemical compounds and whether any should be added to the established Harmful and Potentially Harmful Constituents (HPHCs) list, as mandated under the Food, Drug, and Cosmetics Act.
Brad Rodu, Tobacco Truth
Nick Buonoconti, a 15-year All-Pro NFL linebacker who contributed to the Miami Dolphins's 1972 perfect season and Super Bowl win, died on July 31 at age 78, following a battle with dementia. Buonoconti's tenacity, dedication and intelligence made him an NFL star, despite the fact that scouts had considered him undersized.

Buonoconti found success well beyond football. The new HBO documentary "The Many Lives of Nick Buonoconti," describes his influential roles as lawyer, advocate and negotiator for pro athletes; NFL commentator; and dedicated fundraiser for the Miami Project, where he generated nearly $500 million for spinal injury research following his son's catastrophic injury in a 1985 college football game.
---

---
Dave Cross, Planet of the Vapes
The study, led by Dr Emma Beard, a Senior Research Fellow at University College London (UCL), looks at smoking, ever smoking and quit ratio trends since the 1970s. The team discovered that smoking rates in Britain are declining as fast as ever. More smokers are quitting and fewer young people are taking up smoking. The paper was published in the BMJ's Thorax journal.

The team (Robert West, Martin Jarvis, Susan Michie, and Jamie Brown) explain that declines in smoking prevalence are believed to slow over time naturally. This is because it is felt the smoking population "hardens", therefore "progress has come primarily from reducing uptake rather than increasing cessation."
Dave Cross, Planet of the Vapes
Researchers from the School of Psychology at Curtin University claim that their work demonstrates 3 in 5 young vapers will "likely" begin smoking within six months. Expert harm reduction organisation ATHRA issued a detailed rebuttal to the work and stated the study failed to supply evidence to support "the pre-determined conclusion".

Healthway claims to be "committed to improving the health of all Western Australians", but its anti-vaping approach begs to differ. It funded the flawed study by researchers at the Curtin University's School of Psychology, published in the International Journal of Drug Policy.
---
---
Dave Cross, Planet of the Vapes
Just two out of 11 UK regions, the North West and South East, are on course to hit the Government's new 2030 smoke-free target (below 5%), according to new research by British American Tobacco UK (BAT). Northern Ireland and the East Midlands will miss green paper smoke-free target by widest margin based on current trajectory. The company argues that the government should make use of its knowledge of smoking habits.

The Government recently published its green paper 'Advancing our health: prevention in the 2020s', outlining its strategy to reduce the smoking rate to below 5% of the population by 2030. Smoking levels vary considerably depending on where you are in the UK and by analysing ONS trends from 2011 to 2018
Dave Cross, Planet of the Vapes
India's government continues its offensive against reducing tobacco-related harm and vaping but is taking its prohibitionist stance to extreme levels as it now plans on vetting any vape-related research prior to publication. The move isn't seen as a ban on vape research, but those with long term memories will recall the pressure applied to Professor Sharan last year.

A recent White Paper released by The Indian Council of Medical Research (ICMR) called for the banning of vaping. It states: "Use of ENDS or e-cigarettes has documented adverse effects on humans, which include DNA damage; carcinogenic, cellular, molecular and immunological toxicity; respiratory, cardiovascular and neurological disorders; and adverse impact on foetal development and pregnancy."
---

---
The Power of Suggestion – Jim McDonald
On his way out the door at FDA, Scott Gottlieb dropped a stinkbomb on the vaping industry, intended to cause even more reputational pain for the small businesses that work to help smokers.

Vaping may cause unexplained seizures, Gottlieb announced. The story exploded and became the vape news du jour. Of course, the fine print ruined all the fun. "We want to be clear that we don't yet know if there's a direct relationship between the use of e-cigarettes and a risk of seizure," the then-commissioner admitted.
Separating Science From Hype As E-Cigarette Debate Rages
After maintaining a pack-a-day habit for nearly three years, I gave up smoking in 2012 with the help of an electronic cigarette (e-cig). When I told my doctor later that year I had switched from smoking to vaping an e-cig, I expected a judgmental look and a finger-wagging lecture about the dangers of nicotine. Instead, he smiled and said, "good—keep using that thing."

If you read recent headlines, you may think my doctor was a quack for encouraging me to continue vaping. Eight teenagers in Wisconsin were hospitalized for severe respiratory illnesses in July, and health officials suspected that vaping may have been to blame.

Stigma, and Public Health's Use of Scare Tactics – Michael McGrady
The U.S. Food and Drug Administration is responsible for the regulation of tobacco and nicotine products. As a part of its purview of enforcement, the FDA has a statutory responsibility to prevent youth initiation of tobacco products like cigarettes and vapes.

While the mission is noble and has some success, the hard truth that remains centers on the uncanny ability of minors to access age-restricted products. Older teenagers (late high school, early college), for instance, are more likely to engage in what some would consider age-inappropriate activities that carry certain associated personal health risks with them.
Number of smokers in the UK plummet
STATISTICS from Adult Smoking Habits in the UK show that smoking prevalence in England has dropped below 15 percent, approximately 2 million fewer smokers than in 2011. This brings the estimated number of smokers in the country to only 6 million.

The UK Tobacco and Related Products Regulation has actively managed and controlled smoke-free environments, domestic advertising, domestic sales and age restrictions to realize this remarkable reduction in the number of smokers. Simultaneously, it has been deliberate in its adoption of harm reduction strategies to encourage smokers to reduce, if not eliminate, the use of traditional cigarettes.
And it'll be easier to just keep smoking – Eric Crampton
Eighties glam-metal band Cinderella taught us we don't know what we've got until it's gone. But it can be harder to know what you could have had if you never had it at all.

We can thus be thankful the regulatory framework for vaping and reduced-harm tobacco alternatives is coming only after a lot of Kiwis have been able to stop smoking thanks to vaping. But those vapers will need to step up to ensure they do not lose what they now have.
And less harmful smoking
E-cigarettes are a technological innovation that provides an alternative to combustible tobacco without releasing toxins from combustion. The Electronic Nicotine Delivery System (ENDS) comprises devices which come in the form of e-cigarettes, vapes, closed system devices or heat-not-burn (HNB). Vapes usually allow users to manually re-fill their e-liquid, while a closed system device makes use of pods which contains a brand's e-liquid. HNB devices on the other hand, are the ones which heat tobacco leaves instead of burning them.
---
A look back at how things have moved on or otherwise….
Protects cigarette trade and denies smokers options to quit
Clive Bates, The Counterfactual
David Abrams, Ray Niaura, David Sweanor and I have submitted comments on the draft tobacco and vaping legislation under discussion in South Africa. South Africa is always influential in low and middle income countries, especially in Africas, and is always an important player in WHO meetings.

The draft legislation is almost completely disproportionate in its approach to tobacco harm reduction technologies. It mostly treats reduced-risk products as though they are the same as smoking products.
Himani Chandna, The Print
But minister tells Lok Sabha that e-cigarettes are harmful for both active and passive users. E-cigarette imports also doubled in the past two years.

The government has said in the Lok Sabha there is no proposal to curb the import of e-cigarettes, a statement seen as a U-turn from its decision to ban the use of these devices across the country.
(COP8) & Harm Reduction
Joseph Magero, Medium
The Eighth session of the Conference of the Parties (COP8) to the WHO Framework Convention on Tobacco Control (WHO FCTC) is less than three months away. Taking place in Geneva from 1 to 6 October, it will focus on topics such as the shaping of a medium-term strategic framework, which will determine the actions to be taken by the Parties over the next five years, and the advances and challenges revealed in the Global Progress Report on Implementation of the WHO Framework Convention on Tobacco Control.
---
Visit Nicotine Science & Policy for more News from around the World

---