Vaping Digest 10th August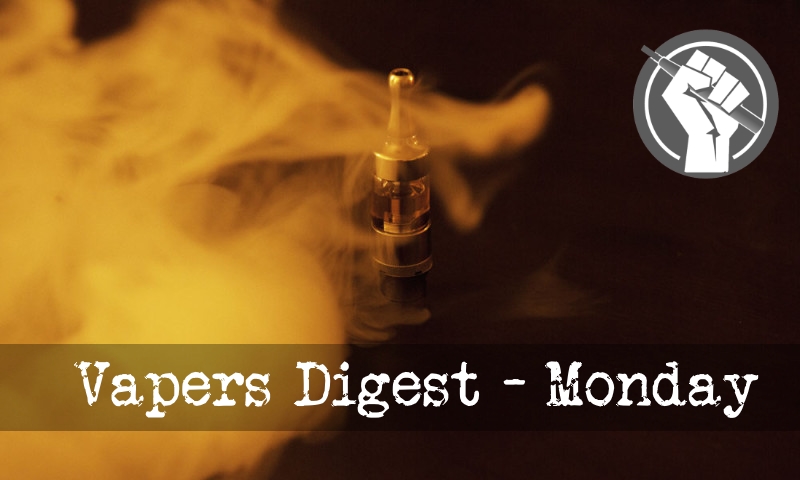 Monday's News at a glance:
Smoking and COVID-19 – the evidence gets stronger – Sunday Science Lesson: Smoking protects against COVID-19 – Smoking, Vaping and the Risks From COVID-19 – Update: Calif. Flavor Ban – Manc Ban Looms – NZ Vaping Legislation Falls Short – The fake news of a harmful youth vaping epidemic in Australia – How Kathryn's cardiologist saved her life – Indian experts oppose the proposal to ban safer tobacco alternatives – Flavour Warehouse Ltd announces acquisition
The evidence gets stronger – Christopher Snowdon
I've found it impossible to keep up with all the research on smoking and COVID-19 recently. The tireless @phil_w888 has now catalogued over 700 studies of COVID-19 patients that have data on smoking prevalence.

In the last week, the largest observational study yet conducted found that smokers (in Mexico) were 23 per cent less likely to test positive for COVID-19. This is in line with the results of an ongoing meta-analysis by some researchers who would clearly prefer the hypothesis to be disproved but who nevertheless have found a 26 per cent reduction in infection risk for current smokers.

A study published in the Lancet a couple of weeks ago looked at the factors associated with COVID-19 caseloads at the national level. It found that countries with higher rates of smoking tended to have lower rates of Covid infection.
But most of the related "science" is badly misguided – Carl V. Phillips
I am skipping the Introduction section here. Which is to say, I assume that the reader is at least somewhat familiar with the the overwhelming evidence that people who smoke are much less likely to have bad COVID-19 outcomes. It turns out that this phenomenon and the (often misguided) chatter around provides a great case study for some general science lessons. Here are a few of those:

1. Small nonsystematic collections of observations < systematic observations / experiments < large, somewhat systematic, reasonably comprehensive collections of observations.

To unpack that, anyone who follows pop discussions of science has learned that systematic focused studies, of whatever sort, offer better information than happenstance data collection.
---

---
From COVID-19 – Guy Bentley & Jacob James Rich
According to the Centers for Disease Control and Prevention (CDC), the hospitalization rate for people in their 20s who tested positive for coronavirus was less than four percent between January and May. But a new study published in the Journal of Adolescent Health claims young people who smoke or vape are at significantly higher risk of severe consequences from COVID-19.

The study, conducted by researchers at the University of California—San Francisco (UCSF), was developed using data from the National Health Interview Survey (NHIS), which interviews 35,000 households. The UCSF study includes more than 8,000 people ages 18 to 25 and attempts to estimate the medical vulnerability of this population using the CDC's guidance on possible risk factors for COVID-19.
---
---
Moves to the Appropriations Committee – Jim McDonald
Update: August 5: SB 793 passed the Health Committee on a 10-2 vote, with three members abstaining. Exemptions were added by amendment for premium cigars and pipe tobacco, in addition to the previously included carve-out for hookah products. The bill will move next to the Appropriations Committee, where some insiders believe it can be stopped, since anti-vaping groups insist they will drop their support if exemptions are included for some tobacco products (in which case it will lose backers in the Assembly).

No hearing has been scheduled, but it could happen with very short notice. It's very important for California residents to continue contacting their Assembly members to express opposition to a flavor ban. The CASAA call to action (link below) has been updated.

Two from Dave Cross, Planet of the Vapes
First Baroness Lindsay Northover called for a ban smoking (and presumably vaping) from pavements being used for pub and restaurant seating, using COVID-19 as an excuse to get puritanical. The Local Government Association (LGA) then demanded the government act, which it didn't but York council did. Now Manchester is implementing its own act of prohibition.

Manchester Councillor Rabnawaz Akbar, executive member for neighbourhoods, said: "Smoking is not only terrible for our health but is also an unpleasant thing for bystanders to endure. I am sure that after months inside the last thing people want is a face full of smoke when trying to enjoy a meal or drink.
New Zealand's Parliament has rushed through vaping legislation before the forthcoming General Election, "falling well short" of what was required to ensure a smoke-free nation. Politicians have been criticised by both Aotearoa Vapers Community Advocacy (AVCA) and the Vaping Trade Association of New Zealand (VTANZ).

Late last night Parliament rushed to pass the Smokefree Environments and Regulated Products (Vaping) Amendment Bill before rising today for the General Election.

This follows AVCA voicing its earlier disappointment that the public submission period was shortened on Associate Health Minister Jenny Salesa's request. Oral submitters then had to present via teleconference during the stressful lockdown period to a disengaged Health Select Committee.
---

---
Colin Mendelsohn, ATHRA
RECENT REPORTS in Australian media have raised fears of a youth vaping epidemic that will "addict a new generation of young people to smoking". The latest national survey provides some hard evidence about youth vaping in Australia and the results are reassuring.

The National Drug Strategy Household Survey by the Australian Institute of Health and Welfare is conducted every 3 years. In 2019, over 22,000 Australians aged 14 and over were asked about their use of legal and illegal drugs.

In Australia in 2019, 3.2% of youth (14-17 years old) were smokers and 1.8% were current vapers (vaped at least once in the last year)

Young people should not smoke or vape, but the reality is that some will do either or both whether we like it or not.
I AM A 67 year-old retired teacher from Queensland. It was my  CARDIOLOGIST who told me to vape nicotine, as it would never harm me. I am alive today because of vaping and I would like to share my story.

I started smoking at university when it was acceptable and no one really knew smoking was bad for you. Forty years later I was still smoking 2-3 packets a week. I wasn't happy but quitting was impossible.

I tried every treatment but nothing worked. This included nicorettes, nicotine chewing gum, patches, and even reading Alan Carr's book on quitting.

Joe Harrigan
BLACKBURN e-liquid manufacturer Flavour Warehouse Ltd, owner of the Vampire Vape brand, has announced the acquisition of Premier Retail Limited. Initially established in 2012, Flavour Warehouse Ltd today operates in over 80 countries via a network of franchises, distributors and resellers.

The acquisition of Premier Vaping strengthens the company's international expansion and builds on the brand's growth plans for the future. Premier Vaping, based in Stockport, is part of the Premier Retail Group, established in 2008.
To ban safer tobacco alternatives in developing nations – Pariti. Gayathri
The recently released position paper by a Paris-based non-profit, The Union, which proposes a ban on e-cigarettes and heated tobacco products in developing nations have met with strong resistance from healthcare advocates and harm reduction activists in these countries.

The Union made its recommendation on grounds that lower- and middle-income countries (LMICs) have weak regulations and hence it is better to ban smoking alternatives which can lead to uptake among youth. Activists have opposed this view stating it will increase health inequalities between western and developing nations and it encroaches people's right of liberty to choose safer alternatives to combustible cigarettes.
---
A look back at how things have moved on or otherwise…
The Toxicity Arguments About E-Cigarettes – Michael McGrady
As federal regulators propose guidance to address toxins in e-cigarettes, misunderstandings abound. While there are cases of potentially toxic chemicals present in e-juices from various brands, regulators and researchers should consider critical components to any regulation governing allowed toxicity levels.

The federal Food and Drug Administration (FDA) recently announced that the agency is accepting public comments regarding additional constituent substances found in e-liquids, any other chemicals or chemical compounds and whether any should be added to the established Harmful and Potentially Harmful Constituents (HPHCs) list, as mandated under the Food, Drug, and Cosmetics Act.
Brad Rodu, Tobacco Truth
Nick Buonoconti, a 15-year All-Pro NFL linebacker who contributed to the Miami Dolphins's 1972 perfect season and Super Bowl win, died on July 31 at age 78, following a battle with dementia. Buonoconti's tenacity, dedication and intelligence made him an NFL star, despite the fact that scouts had considered him undersized.

Buonoconti found success well beyond football. The new HBO documentary "The Many Lives of Nick Buonoconti," describes his influential roles as lawyer, advocate and negotiator for pro athletes; NFL commentator; and dedicated fundraiser for the Miami Project, where he generated nearly $500 million for spinal injury research following his son's catastrophic injury in a 1985 college football game.
---
Visit Nicotine Science & Policy for more News from around the World

---