Vaping Digest 7th August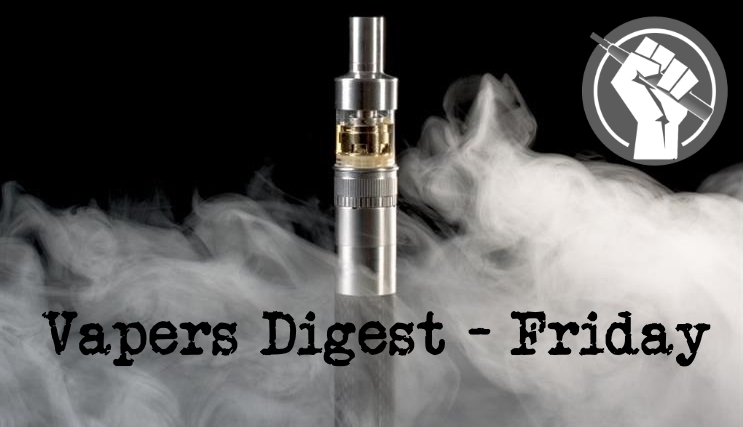 Friday's News at a glance:
VAPI anniversary: Killer chemicals still on the streets – Grant to Study Using Texts Against Teen Vaping – FDA Plans to Defer PMTA Enforcement for Some Cigars – PMTA Deadline Looms; Still A Major Threat to Thousands of Small Businesses – FDA Shutting Down The Vape Industry – Is F1 Driving Addiction? – Down Under – Parliament and Politics – New Zealand passes legislation – Vaping legislation passes – Reg Clips #25 – Research Fiasco – Largest vaping retailer announce rapid expansion – Judith Collins hits out at 'weak' Jacinda Ardern – Juul Labs Sues Over Illegal U.S. Sales – Vaping in Myanmar is now illegal – Malaysian Minister Was Caught Vaping in Parliament – Globe and Mail publishes a misleading article about vaping risks – Nicotine Science and Policy Daily Digest
David Downs
The Oregon Liquor Control Commission (which oversees cannabis) is moving to ban additives like artificial 'grape ape' flavor in legal THC vapes. The action comes this month after a report found that 23 state residents got sick and two died of vaping associated pulmonary injury (VAPI) between June and December of 2019.

Oregon's move comes as a reminder that one year after the first reports of VAPI, the issue of tainted vapes has not gone away. A wide variety of chemical cutting agents may contaminate vape cartridges. The overwhelming majority of them are in the illicit market, where's there's no testing. However, confirmed tainted vapes have popped up in legal states Michigan, and Oregon.
Receives Grant to Study Using Texts Against Teen Vaping – Diane Caruana
According to an article by Triangle Business Journal, the National Institute on Drug Abuse has selected Prof. Seth Noar, from the UNC Lineberger Comprehensive Cancer Center, to lead the five-year national study.

The total funding for this study is of $3.35 million, and according to Noar, the aim is identifying the most promising messaging techniques directed at adolescents, with the intention of deterring them from using e-cigarettes. Subsequently, any selected messages will be evaluated in a randomized trial, to determine whether they actually lead to a reduction in e-cigarette use or not.
---

---
Jim McDonald
In a letter to U.S. District Court Judge Paul Grimm, the FDA has requested permission to defer PMTA enforcement against manufacturers of premium cigars—but not vaping products. The deadline to submit Premarket Tobacco Applications for all deemed tobacco products (including cigars and all vapor products) is Sept.9. The letter, dated Aug. 5, was signed by Department of Justice attorneys working on behalf of the FDA.

Because the judge had granted the FDA the ability to exempt products from the application requirements on a case-by-case basis, the agency is now proposing that individual cigar manufacturers be allowed to submit requests for deferral.
---
---
Still A Major Threat to Thousands of Small Businesses – AVA
The deadline for the most serious regulatory hurdle to face the US vaping industry is just over a month away, and thousands of small businesses are still unsure whether they will be able to legally sell their products in the United States after September 9, 2020.

The premarket tobacco application (PMTA) was a component of the U.S. Food and Drug Administration's (FDA) 2016 deeming regulations. This rule classified vapor products as 'tobacco products' and required manufacturers to follow a procedure to stay on the market. In the years that followed, vapor manufacturers complied with sensible requirements to register their products, open their manufacturing facilities to federal inspections, and submit ingredient listings to the FDA. It is the final step in the process — the PMTA — that is proving most difficult.

Four from Dave Cross, Planet of the Vapes:
America's Food and Drug Administration (FDA) has taken steps to close more vape businesses and put people out of work for doing nothing more than offering harm reduction products. Its letter to ten companies has left them unable to operate online.

"Today," wrote the FDA, "the U.S. Food and Drug Administration issued warning letters notifying ten companies, including Cool Clouds Distribution Inc. (doing business as Puff Bar), to remove their flavored disposable e-cigarettes and youth-appealing e-liquid products from the market because they do not have the required premarket authorization.
Is Formula 1 driving addiction? Yes, according to the University of Bath's Bloomberg-funded "global tobacco industry watchdog". Stopping Tobacco Organisations and Products (STOP) has issued a new report as part of its aim "to accelerate tobacco control and expose tobacco industry tactics".

In 2019, people complained about Philip Morris International (PMI) paying for a logo to appear on Team Ferrari vehicles. PMI's chief operating officer Jacek Olczak commented at the Monaco race: "We put Mission Winnow on the car and somebody told us it looks like Marlboro. I said, 'Look, I think you should go to a doctor, OK?'"
Council officials in Melbourne, Australia, have moved to bar vaping from 11 public spaces where smoking is already prohibited. Vapers are in uproar as they say the officials are ignoring the harm reduction potential of ecigs. Across the water, a Kiwi company is launching its final ad campaign as idiots in New Zealand's government have decided that keeping the public in ignorance is a good thing.

The Sydney Morning Herald is reporting the council's move to extend the smoking ban in eleven public spaces and parks to include vaping, provoking uproar from libertarians, harm reduction experts, and vapers.
MP Adam Afriyie got an answer to his question about snus, while David Morris asked the Secretary of State about menthol cigarettes and the marketing of the IQOS. Meanwhile, the 2020 All-Party Parliamentary Group on Smoking and Health met online to discuss Smokefree 2030

Windsor's Adam Afriyie asked the Secretary of State for Health and Social Care if, as the US Food and Drug Administration has designated Swedish snus as a modified risk tobacco product, he will discontinue the ban on snus oral tobacco in the United Kingdom.
---

---
To make vaping widely available – ATHRA
THE NEW ZEALAND PARLIAMENT passed groundbreaking legislation yesterday to regulate vaping products, leaving Australia increasingly out of touch with other western countries.

According to Associate Health Minister, Jenny Salesa, "The Bill strikes a balance between helping smokers quit by offering regulated vaping as an alternative, while discouraging children and young people from taking it up".
Hon Jenny Salesa
Landmark legislation passed today puts New Zealand on track to saving thousands of lives and having a smokefree generation sooner rather than later, Associate Health Minister, Jenny Salesa says.

The Smokefree Environments and Regulated Products (Vaping) Amendment Bill regulates vaping products and heated tobacco devices.

"There has long been concern from many in the community, including parents, schools and health experts about vaping products and e-cigarettes being unregulated in New Zealand, something that is at odds with many other countries," Jenny Salesa said.
Shocking Youth Smoking Rise "Corrected"
Sees largest vaping retailer announce rapid expansion
The passing of new vaping legislation overnight will see the country's largest retailer of e-cigarettes launch a rapid expansion programme throughout New Zealand.

Nabhik Gupta, spokesperson for NZ owned Shosha, says confirmation of the passing of the new vaping law will allow the company to confirm a plan to open 15 stores nationwide within the next three months, creating another 50 jobs in the retail sector.

He says the expansion is a direct result of new industry regulation which will prevent the sale of vaping products to those aged under 18 and also restrict the availability of flavoured vape products.
For 'blaming backbench National MP' for delays in vaping legislation
Opposition leader Judith Collins has hit out at "weak" Jacinda Ardern for "blaming a backbench National MP" for holding back vaping legislation.

On Monday, Ardern claimed the delay in getting the Smokefree Environments and Regulated Products (Vaping) Amendment Bill across the line is due to a supplementary order paper (SOP), proposed by National list MP Nicky Wagner, which would allow vaping retailers to sell oral nicotine pouches as a smoking alternative. The pouches are banned under the current Bill.

Hannah Prokop
Juul Labs Inc. and its Canadian affiliate, Juul Labs Canada Ltd., filed litigation against a network of entities and individuals that Juul said illegally sourced and resold authentic Juulpods and devices in the United States and abroad.

PodVapes distributed Juulpods obtained from Canada and the United Kingdom and shipped them into the United States to be illegally resold, Juul Labs Inc. alleged. The purveyors of the PodVapes and PodMaster websites are among the largest distributors of these diverted products, Juul said. Both are based in Canada.
But will that stop anyone? – Min Ye Kyaw
Vaping in Myanmar will either vanish or move underground after the government approved a complete ban.

The bill to ban e-cigarettes and shisha won cabinet approval and unanimous support in the lower house five months after it was proposed by by San Shwe Win, a physician representing Yegyi in Ayeyarwady region.

"Today, e-cigarettes and shishas are easily accessible at most bars, nightclubs, [karaoke clubs] and other modern tea shops, restaurants and stores in Myanmar – for all ages and genders. It has become even more popular, and that's a threat for all the young people out there," San Shwe Win said at a government meeting.
In Parliament – Heather Chen
A Malaysian politician has apologized for vaping inside during parliamentary proceedings after a video of his brazen vape-sesh made the rounds on social media.

In the video, said to have been taken during a parliamentary session on Monday, August 3, Malaysia's Foreign Affairs Minister Hishammuddin Hussein can be seen sliding a vape pen underneath his mask before blowing the vapor out.
Dr John's Blog
The Globe and Mail published an op-ed about vaping which was an unfortunate mix of truths, half-truths, and lies. ( When will Canada get on the same page about the risks of Vaping? Globe and Mail, Aug 1, 2020.) I wrote this letter in response, but it was not published.

Drs Lemons and Walker are right to be concerned about breathlessness, but their diagnosis and treatment are misguided.

It is not vaping which causes COPD and lung cancer, it is cigarette smoking. Despite 50 yrs of tobacco control, and decades of conventional anti-smoking treatment, 4.6 m Canadians still smoke. In the last 6 months Covid-19 killed 9,000 Canadians, but tobacco killed 22,500.
---
A look back at how things have moved on or otherwise….
New Nicotine Alliance
July 2019 may have been declared the warmest month on record globally, but we at the NNA will remember it as a month in which we gave a cool reception to several regulatory suggestions; some well-meaning, some not so. Here is a round-up of this month's NNA activities.
Australian Tobacco Harm Reduction Associatio
A comprehensive review of the effects of vaping on the lungs has confirmed that vaping is much less harmful than smoking. The findings are in line with the advice from the British Lung Foundation and reflect the real-world experience of  millions of users.

The review by an international team led by Professor Riccardo Polosa was published this week in the journal Expert Review of Respiratory Medicine.
---
Visit Nicotine Science & Policy for more News from around the World

---