Vaping Digest August 5th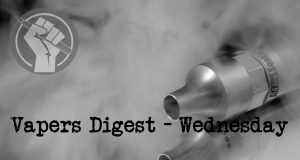 Wednesday's News at a glance:
WHO Statement on The US FDA Decision Regarding HTPs ~ 'Oral nicotine products "infinitely better" than smoking' ~ Oral Nicotine Pouches, Snus, PM and Hon Nicky Wagner's SOP ~ Vape group calls for a VAT cut ~ Vaping Nicotine Is Far Less Harmful Than Smoking Tobacco ~ NIH Awards $2.3 Million to The Lundquist Institute to Study the Impact of Vaping While Pregnant ~ You Don't Know Nicotine ~ Tax Report Update ~ PMTA For Juul ~ Tobacco yes, marijuana yes, vaping no: absurd approach to major health problem ~ Flavor Ban Hurts Smokers Looking for Harm Reduction ~ "Trail of Death"—A Short Film About COVID, Nicotine and Racism ~ Can Florida Vapers Convince Gov. DeSantis to Veto the Flavor Ban?
Diane Caruana, Vaping Post
Following a lengthy approval process which started four years ago, Altria Group, Inc. (Altria) (NYSE: MO) has recently announced that the U.S. Food and Drug Administration (FDA) has authorized the marketing of their IQOS tobacco heating device as a modified risk tobacco product (MRTP).
EABW News
Economists and leading international Tobacco Harm Reduction experts, drawn from Africa and Europe, have stated that snus and tobacco-free nicotine pouches are "at least 90% safer than smoking."

"This figure is "most likely closer to 99 per cent when one accounts for the food-grade standard to which some of the latest products are produced," said Atakan Befrits, a Sweden-based Tobacco Harm Reduction policy advocacy and products regulation expert.
, Scoop
With the current lack of understanding and fake news circulating around the Vaping Bill and Hon Nicky Wagner's SOP to regulate tobacco-free Nicotine Pouches, NZ Smokefree Tomorrow (NZSFT), who are the subject matter experts, think it is fair to 'clear the air' to ensure the Vaping Bill goes through this term.
---
Scottish Grocer & Convenience Retailer
THE UK Vaping Industry Association (UKVIA) has called on the UK Government to consider reducing VAT on vape products in a bid to curb smoking. The UKVIA has written to chancellor Rishi Sunak urging him to bring vaping VAT in line with the rates applied to nicotine replacement therapies (NRT).
---

---
Colin Paul

Mendelsohn

,

Wayne

Hall, Chest Journal
To the Editor: In a previous issue of CHEST (May 2020), Bozier et al1 reviewed the recent research on the potential health effects of e-cigarettes. We would like to comment on several of the claims made in the article.

The most relevant question for smokers is whether vaping nicotine is less harmful than smoking the cigarettes it is designed to replace. The evidence suggests it is far less harmful. The National Academies of Sciences, Engineering, and Medicine report2 found substantial evidence that "exposure to potentially toxic substances from e-cigarettes is significantly lower compared with combustible tobacco cigarettes" and "reduced short-term adverse health outcomes in several organ systems."
---
---
Kevin Byrum, Business Wire
Study will allow The Lundquist Institute to determine the multi-generational risks of developing asthma from vaping while pregnant

Studies have shown that pregnant women who smoke increase the risk of their children having asthma, and that those children—even if non-smokers—can pass it on to their own children, but few objective studies have evaluated the effects of vaporized nicotine and vapor flavorings.
, ,
(Editor note: Respectful comments needed)
Breathlessness. This is our territory. Not the exhilarating breathlessness of a run or a climb, or the joyous breathtaking first meeting with a newborn. We work with the bad type of breathless. The gasping for breath, air hunger, intense tightening in the chest, feeling of suffocation and accompanying fear and desperation that come with diseased or worn out lungs.
---
---
Sanchez DeVanny Eseverri SC, International Law Office
The Mexican health authorities argue that the use of vaping products constitutes a health risk and promotes tobacco product use by smokers and non-smokers alike. Based on this interpretation, the health authorities have made several attempts to prohibit the sale and marketing of vaping products. Most of these attempts have been challenged by individuals or legal entities engaged in the tobacco industry, with favourable outcomes in the federal courts and the Supreme Court of Justice.
Elizabeth Sheld, Real Clear Policy
The public was sold a false bill of goods by "grassroots" anti-vaping activists when they crusaded against e-cigarettes and e-cigarette flavors in front of city councils, state houses and the U.S. Congress throughout 2019.

We were told that the seductively delicious flavors of Juuls and other e-cigarettes were luring youngsters to dangerous nicotine products. To curb underage vaping, the government needed to get rid of the flavored nicotine replacement products.
Filter Magazine
This short documentary, concerning COVID-19, smoking, vaping and racism in America, was co-directed by Filter Senior Editor Helen Redmond and Marilena Marchetti. Parts of it were filmed on location in Bologna, Catania and Messina, Italy, in 2019.
Jim McDonald, Vaping 360
Florida Governor Ron DeSantis will have to decide very soon on whether the state will allow sales of flavored vaping products. Whether DeSantis signs or vetoes the bill may very well depend on how many vapers and vape shop employees contact him to express opposition—because many of his political allies are pushing him to sign the bill.

---
A look back at how things have moved on or otherwise…
Isn't getting any better – Fergus Mason
The World Health Organisation has a poor reputation on tobacco harm reduction, and it's not hard to see why. A new report released this week claims that vaping doesn't reduce cancer risks compared to smoking – despite exposure to carcinogens being reduced by two or three orders of magnitude. Meanwhile a team of US researchers claims vaping makes former smokers more likely to relapse, despite their own data saying pretty much the opposite, while a county official in New York has been caught telling the media that one puff on a vape device is equivalent to a whole cigarette.
Dave Cross, Planet of the Vapes
Australian researchers Kahlia McCausland, Bruce Maycock, Tama Leaver, Katharina Wolf, Katherine Thomson, Becky Freeman and Jonine Jancey were fortunate to be given money to sit reading posts on Twitter. They found that vape companies and tobacco harm reduction advocates make truthful claims – and they don't like it one bit.

"The sale of electronic cigarettes containing nicotine is prohibited in all Australian states and territories," write the team, "yet the increased availability and convenience of the internet enables promotion and exposure across countries."
---
Visit Nicotine Science & Policy for more News from around the World

---