Vaping Digest August 5th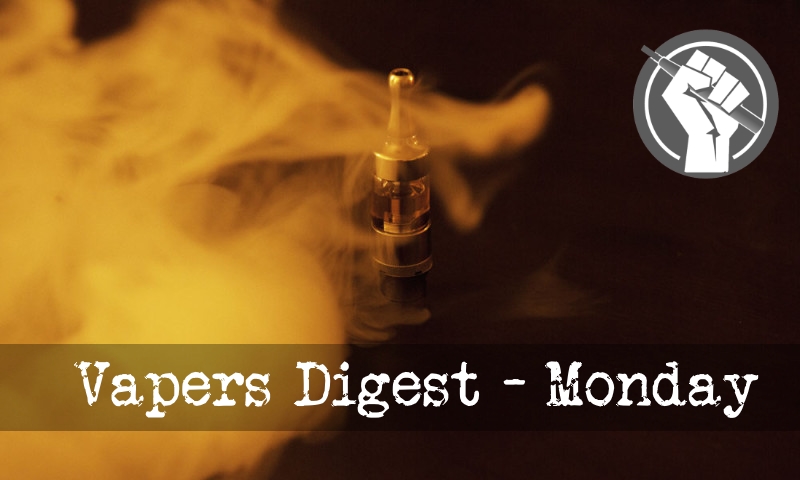 Monday's News at a glance:
Global ignorance on vaping isn't getting any better – Vaping In The News – August 3rd – Open Science Call – Anti-Vape Oz Twits – The WHO Needs To Embrace Vaping Not Attack It – FDA can save lives – Smoke alarm – Will we ever stamp out smoking entirely? – Taking on the tobacco fight with regulations at the forefront – What India needs to do with e-cigarettes – Tobacco bill criticised for including e-cigarettes – U.S. states introduce excise taxes on vapor products – Boulder misses the mark on e-cigarettes – Nicotine Science and Policy Daily Digest
Isn't getting any better – Fergus Mason
The World Health Organisation has a poor reputation on tobacco harm reduction, and it's not hard to see why. A new report released this week claims that vaping doesn't reduce cancer risks compared to smoking – despite exposure to carcinogens being reduced by two or three orders of magnitude. Meanwhile a team of US researchers claims vaping makes former smokers more likely to relapse, despite their own data saying pretty much the opposite, while a county official in New York has been caught telling the media that one puff on a vape device is equivalent to a whole cigarette.
Kevin Crowley, Vaping Links
African Experts Explain Their Challenges in Reducing Tobacco Harms ~ Panel Examines Youth Vaping 'Epidemic,' Overlooks Real Threats ~ United Vapers Alliance ~ Dead-End | NYU Scientist Puts 'Gateway Theory' to Rest ~ Considerations related to vaping as a possible gateway ~ This Is My Fight Song ~ Vapers Need Not Apply ~ JUUL Founder Pummeled in Hearing ~ If You Vape (Illicit Street Drugs), It May Kill You (Duh) ~ WHO Ignores Evidence
---

---
Dave Cross, Planet of the Vapes
Professor Robert West, Professor of Health Psychology and Director of Tobacco Studies Behavioural Science and Health Institute of Epidemiology and Health at University College London, and Professor Marcus Munafò, University of Bristol's School of Experimental Psychology, have issued a joint call for "open science" in vape research.

"As scientists," West and Munafò write, in the editorial published in the Addiction journal, "we are supposed to aspire to be seekers of truth, led to whatever conclusions the data take us; but in reality we are also human, and therefore subject to the same array of biases that apply to everyone, scientists and non‐scientists alike.
---
---
Dave Cross, Planet of the Vapes
Australian researchers Kahlia McCausland, Bruce Maycock, Tama Leaver, Katharina Wolf, Katherine Thomson, Becky Freeman and Jonine Jancey were fortunate to be given money to sit reading posts on Twitter. They found that vape companies and tobacco harm reduction advocates make truthful claims – and they don't like it one bit.

"The sale of electronic cigarettes containing nicotine is prohibited in all Australian states and territories," write the team, "yet the increased availability and convenience of the internet enables promotion and exposure across countries."
---

---
Not Attack It – Neil Humber
As the might of the FDA and the World Health Organization combine in calls to ban or over-regulate e-cigarettes out of existence, a new study shows all this will do is return current vapers back to smoking.

The study is another of those "well that's pretty obvious" type deals however we do need these kinds of factually based studies to add weight to the argument that vaping is considerably safer than smoking.

Politicians do like the men and women in white coats giving them statistics
By rejecting Scott Gottlieb's bad recommendations – Michelle Minton
E-cigarettes have proven effective at helping people quit smoking, a massive potential public health gain, considering nearly half a million people die every year from smoking-related illnesses. The big question is: How can we help smokers quit and at the same time discourage young people from taking up either smoking or vaping?

Former Food and Drug Administration Commissioner Scott Gottlieb has paid some lip service to "preserv[ing] e-cigarettes as a tool to help adult smokers while snuffing out the teen smoking epidemic," but it's difficult to believe Gottlieb or the FDA when they've been lying to us so far.
Dr Alex Wodak
Ten lakh people in India die from tobacco-related diseases every year. India, after China, has the second largest population of tobacco consumers in the world—30 crore consume oral tobacco, mainly women in rural areas, often risking head and neck cancers, and another 20 crore, predominantly men, risk lung cancer, coronary artery disease and chronic obstructive pulmonary disease by smoking.

Health policy should aim to add years to life and add life to years. As smoking and oral tobacco take so many lives in India, reducing the number of such deaths should be high priority for policy makers and medical professionals. Fortunately, technological advances have made that task easier.

Jason Murugesu
Every child of a smoker has a complicated relationship with addiction. The rate of smoking has dramatically fallen in the last few decades. Increasing the legal age to purchase tobacco from 16 to 18, banning smoking indoors, to mandatory health-warnings on tobacco packaging have all contributed to the demise of smoking.

None of these measures, including the ever-increasing tax duty on cigarettes, has stemmed my father's addiction.
With regulations at the forefront
Robust regulations are at the root of any effective healthcare policy. When regulations fail, policies crumble. So, while the ban on Electronic Nicotine Delivery Systems (ENDS) makes for perfect headlines, let's not forget that it is tobacco which is causing over 1.3 million deaths in the country, each year.

India is home to approximately 11.2% of the combustible cigarette smokers in the world. Asper the Global Tobacco Atlas, the economic cost of combustible cigarette smoking in India is approximately $27.93 billion as of 2018. This is roughly 1% of India's GDP as of August 2018 and arguably one of the largest burdens on the Government of India today.
Tighter regulations or complete ban? – Omkar Khandekar
Jay Kapadia was a chain-smoker for 35 years. "I wanted to quit," the Mumbai-based businessman recalled. "I had tried everything — nicotine patches, hypnotherapy, hospitalisation. Nothing worked."

In 2011, his wife suggested he switch to e-cigarettes. A novelty device then, it consisted of ingesting nicotine through a battery-powered vaporiser instead of burning tobacco. It wasn't too common in India at the time but vaping was gaining currency as a healthier alternative to cigarettes in ..
Johannesburg – While the proposed new smoking laws seeks to focus mainly on traditional cigarettes, it will also affect users of electronic devices.
The draft Control of Tobacco Products and Electronic Delivery Systems Bill has been published and was opened for public comment last year.

The draft legislation, which proposes controlling electronic cigarettes, is with the Department of Health. From there it will be set before the Cabinet for discussion before it is tabled in Parliament.
Several U.S. states including Illinois and New York adopted legislation during the first half of the year that extends excise taxes to vapor products such as electronic cigarettes and liquid nicotine.

Many of these new taxes were included in state budgets as revenue measures. Governor J. B. Pritzker of Illinois included several provisions for higher taxes in the fiscal year 2020 budget proposal which he submitted to the General Assembly. Among these is Section 15-65 which amends the state's Tobacco Products Tax Act of 1999 to apply a tax of 15% on the wholesale price of electronic cigarettes. The tax went into effect on 1 July 2019.
Amanda Wheeler
Everyone is concerned about the uptick in teen vaping. But too often the regulatory response is misguided, which makes it harder for adult smokers to quit, and threatens to undo decades of work done to reduce teen smoking.

Boulder, like many other states and municipalities, is considering an e-cigarette flavor ban. This would prohibit the sale of flavored nicotine products, including menthol.

While lawmakers — and parents — applaud this as an effort to protect teens, these kinds of restrictions threaten to limit healthier options for adult smokers.
---
A look back at how things have moved on or otherwise….
New Nicotine Alliance
August 2nd, 2018: Media reports today quote Whitehall sources claiming that taxation of vaping products is being considered for the autumn Budget.

The New Nicotine Alliance (NNA) strongly condemns the concept of 'sin taxes' being applied to nicotine products which have a proven track record of helping smokers who choose to quit or dramatically reduce their risk of smoking-related disease.
Alan Beard, Why Oh Why
My recent blogging attempts have been rather curtailed for a variety of reasons, shoddy internet availability,far more gifted peers,the lack of anything much to contribute. This blog will follow a typical pattern of a scattergun approach, and trust that someone, somewhere, may find it interesting or at least a discussion starting point.
Paul Barnes, Facts Do Matter
Cast your collective minds back folks. June 14th 2016, these words were uttered in the House of Lords:

As far as the Treasury is concerned, it does not impose duty on e-cigarettes because tobacco is not involved and it has no plans to do so.

A sentiment that has been echoed elsewhere (though, irritatingly I can't find the link) by a Health Minister/Secretary/Under-Secretary.
---
Visit Nicotine Science & Policy for more News from around the World

---