Vaping Digest August 2nd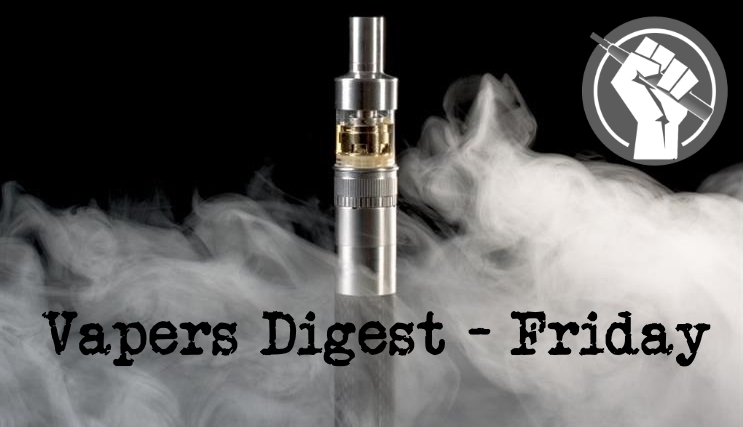 Friday's News at a glance:
World Health Organisation's tobacco report will only perpetuate smoking – Vapers Need Not Apply – WHO Ignores Evidence – ASH Speaks – Second-Rate Yale Study – Daily Vaping Aids Quitting – NZ's Vaping Industry Fears The Gov. May Restrict Nicotine Levels – Federal Court Ruling Threatens Smaller Vape Co's – Finally, information about the Scientific Inquiry into vaping – Americans Can't do Math – Imposing High Taxes on E-cigarettes Misses the Bigger Picture – E-cigarettes should not be banned in India – Cigarettes Increasingly Replaced by E-cigarettes – PH vapers laud Quebec court's decision – Nicotine Science and Policy Daily Digest
Will only perpetuate smoking – New Nicotine Alliance
The World Health Organization's recent report on the global tobacco epidemic will do little but perpetuate smoking by making non-combustible alternatives to smoking like electronic cigarettes less accessible, more expensive and less consumer friendly, the New Nicotine Alliance (NNA) said in a statement Tuesday.

The latest iteration of the WHO's report on the global tobacco epidemic, called "Offering help to quit tobacco use", advocates for stricter legislation of e-cigs, asserting there is no proof they help smokers quit their habit, and could even be a gateway to tobacco addiction for young people.
Dayton, Ohio Will Not Hire Nicotine Users – Jim McDonald
The city of Dayton, Ohio will no longer hire vapers or smokers, using statistics on productivity and medical costs to justify the move. Vaping advocates are concerned that such laws could spread.

"Studies indicate that employees that smoke cost approximately an additional $6,000 per year in direct medical costs and lost productivity," said Dayton human resources director Kenneth Couch.

Other cities, and many private companies, have had policies for decades against hiring people who smoke. In fact, the practice caused such controversy in the 1980's and 90's that many states passed laws outlawing discrimination against smokers (or against people engaging in any lawful activity). Currently, 29 states have such laws—but Ohio is not one of them.
---

---
Dave Cross, Planet of the Vapes
The World Health Organisation (WHO) has released a new report "On The Global Tobacco Epidemic". It has been funded by anti-vape billionaire Michael Bloomberg, who also acts as WHO Global ambassador for Noncommunicable Diseases and Injuries Founder. Understandably, the document has been strongly criticised from many individuals and bodies.

Introducing the report, Bloomberg says: "This report shines a spotlight on global efforts to help people quit tobacco, and it details some of our most important gains. India, for example, has greatly increased access to services through an innovative program that allows participants to enroll [sic] and receive tailored support to quit on their mobile phones."
Dave Cross, Planet of the Vapes
Action on Smoking and Health's (ASH) Deborah Arnott has spoken about being "underwhelmed" by the first electronic cigarette launched in the UK, but the organisation reaffirms its belief that vaping now offers a route out of smoking. The "SuperSmoker" was launched in 2008 but failed to resonate with smokers. ASH now contend "e-cigarettes help smokers to quit".

The SuperSmoker was hailed as a "scientific breakthrough for much safer smoking" at the launch event in London. It was to be sold in Rank Gaming Casinos and Bingo Halls, but failed to hit the spot with cigarette smokers.
---
---
Dave Cross, Planet of the Vapes
"When it comes to e-cigarettes, the ingredients listed are not all that users are consuming," state Yale researchers, in a new study published in the American Journal of Preventive Medicine. Lead author Hanno Erythropel speaks about the reactions that create new compounds – but fails to mention that the levels of the toxicants remains low.

"Despite the popularity of JUUL, little is known about the composition of JUUL aerosol," write the team, despite there being a wealth of evidence about the constituents of vape.
Dave Cross, Planet of the Vapes
Smokers looking to quit and reduce their exposure to tobacco-related diseases by switching to vaping are more likely to succeed if they vape daily, according to a "comprehensive" study conducted by American researchers. Harvard Doctors Sara Kalkhoran, Yuchiao Chang, and Nancy Rigotti's study has been published in the Nicotine & Tobacco Research journal.

The paper "Electronic Cigarette Use and Cigarette Abstinence Over 2 Years Among U.S. Smokers in the Population Assessment of Tobacco and Health Study" used information from over 8,200 adults, making it one of the most reliable to date. Each smoker provided information about health, lifestyle and tobacco use. Participants then provided updated information every twelve months for two years.
---

---
Gov. May Restrict Nicotine Levels – Diane Caruana
New Zealand's Ministry of Health and the Health Promotion Agency, have just launched a website that promotes vaping as a safer smoking alternative. Additionally later this year, the Kiwi government is expected to roll out another campaign targeted at promoting vaping as a way to stop smoking. "Māori women are the focus of this campaign due to their high smoking rate: 32.5 percent compared with the country's total rate of 13.8 percent," said Ms Salesa.
Chelsea Boyd, Filter Magazine
Smaller manufacturers of vaping products face a major obstacle to survival after the release a few weeks ago of long-overdue application guidelines for market approval. The guidelines could eliminate hundreds, if not thousands, of alternative nicotine products from shelves—including some of the most popular options used by adults trying to quit smoking.

Electronic nicotine delivery devices and liquids, which provide a less harmful way for smokers to consume nicotine, have been in regulatory limbo since 2016, when they came under Food and Drug Administration authority.

Into vaping, but questions remain – ATHRA
Finally, the government has released some details of the Scientific Inquiry into vaping, in response to a question by Senator Cory Bernardi in the Senate yesterday. Surprisingly, there are no terms of reference for the review.

The Scientific Inquiry was announced by Health Minister Greg Hunt in November 2018. However, there has been very little information forthcoming since then.

It was also announced this week that the inquiry will report by December 2020. This is nearly 3 years since the Parliamentary Inquiry into vaping recommended an independent expert review in March 2018.
But Policymakers Can and This Could Vaporize Tobacco Harm Reduction
It should come as no big surprise that Americans are not the world's best mathematicians. After all, our federal government has accumulated a mindboggling $22 trillion debt and American students have borrowed more than $1.6 trillion just to attend college. In 2017, only 34 percent of eighth-grade students scored "proficient" in mathematics, according to the National Assessment of Education Progress. Even worse, the average American adult scored an abysmal 253 points out of a possible 500 on the Organisation for Economic Cooperation and Development's 2012 Survey of Adult Skills.
Misses the Bigger Picture – Liam Sigaud
Despite academic research showing e-cigarettes are 95 percent less harmful than combustible cigarettes, lawmakers and public health "advocates" continue to wage a war on vaping, pushing for higher taxes on e-cigarettes throughout the U.S.

And it's working. Illinois and Vermont recently enacted higher e-cigarette taxes, joining ten other states that have enacted similar tax hikes since 2010. Some cities – including Chicago and D.C. – have recently implemented vaping taxes, too. The goal is to make e-cigarettes as expensive as combustible cigarettes.
In 2018, India became the second-largest consumer of tobacco in the world, with over 1.35 million people dying of tobacco-related illness each year. One of the most common types of cancer in India, lung cancer accounts for 5.9 per cent of all new cancer cases diagnosed in the country. Tobacco consumption is a major contributory factor in nearly 95 per cent of lung cancer cases and causes other serious health complications. Smoking is a major reason for cancer-related deaths in India. At a time like this, we are missing the focus on India's biggest problem, which is tobacco.
SEOUL, Aug. 1 (Korea Bizwire) — The popularity of traditional cigarettes is waning, as e-cigarettes have seen a significant boost in sales this year.

The Ministry of Economy and Finance reported that cigarette sales reached 1.67 billion packs between January and June this year, which was a 0.6 percent decrease from last year.

Among them, traditional cigarettes recorded sales of 1.47 billion packs, which was a 3.6 percent decrease since last year. Compared with 2014, before the price hike in cigarettes, sales have decreased by 27.6 percent.
Manila Standard Business
Local vaping groups welcomed the Superior Court of Quebec's recent decision rejecting key sections of the Tobacco Control Act adopted by the Quebec government in 2015, which sought to treat vaping products essentially the same as cigarettes.

The decision recognizes vaping as a form of harm reduction as it allows people who will otherwise smoke lethal cigarettes to get the nicotine they need or want without the inhalation of smoke. As the harm from cigarette use is overwhelmingly due to the inhalation of smoke rather than the nicotine, the decision underscores important lessons for harm reduction.
---
A look back at how things have moved on or otherwise….
Jim McDonald, Vaping 360
No e-liquid manufacturer has ever tried to hide the nicotine content of its products. Vapers are fairly obsessed with how much nic they're ingesting, and buy liquid in varying levels depending on the delivery device, their mood, or whether they're trying to reduce or quit nicotine.

But on Aug.10 it will be mandatory to place a bold, black-and-white warning on every nicotine-containing e-liquid and closed-system product and advertisement that warns consumers that nicotine is present, and that it is "addictive." The changes are part of the still-unfolding Deeming Rule's countdown to extinction.
Robert Goldberg, Inside Sources
Gallup recently announced that American smoking rates have hit an a record low of 16 percent. Evidence suggests that e-cigarettes deserve some of the credit.

Nearly half a million Americans die each year of cigarettes. That is nearly three times more than the combined number of suicide, overdose and alcohol deaths, whose rise have generated headlines and been attributed to the decline in U.S. life expectancy. Cigarette smoking causes about one in every five deaths in the United States. It's estimated 1 billion people worldwide will die prematurely in the 21st century due to cigarette smoking.
---
Visit Nicotine Science & Policy for more News from around the World

---