Vapers Digest August 1st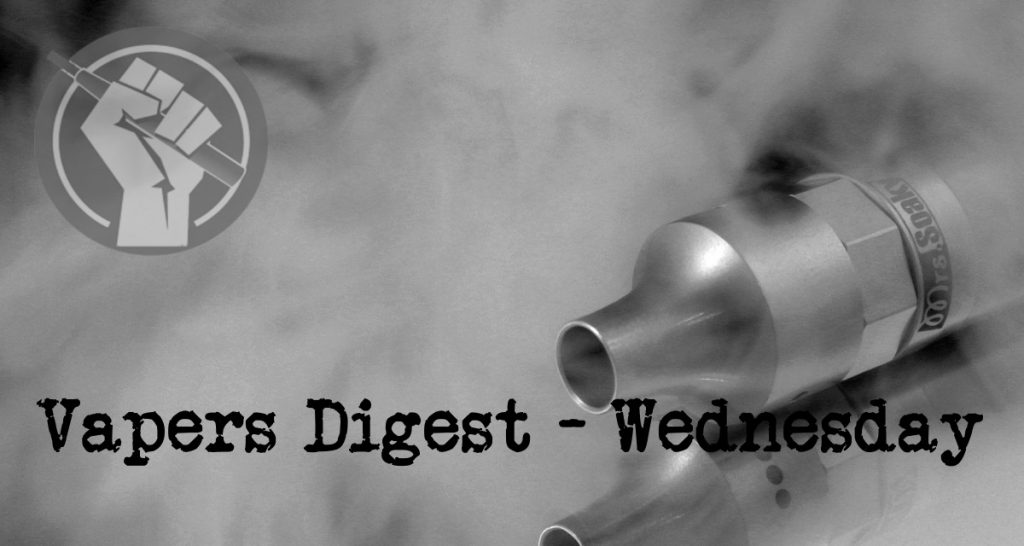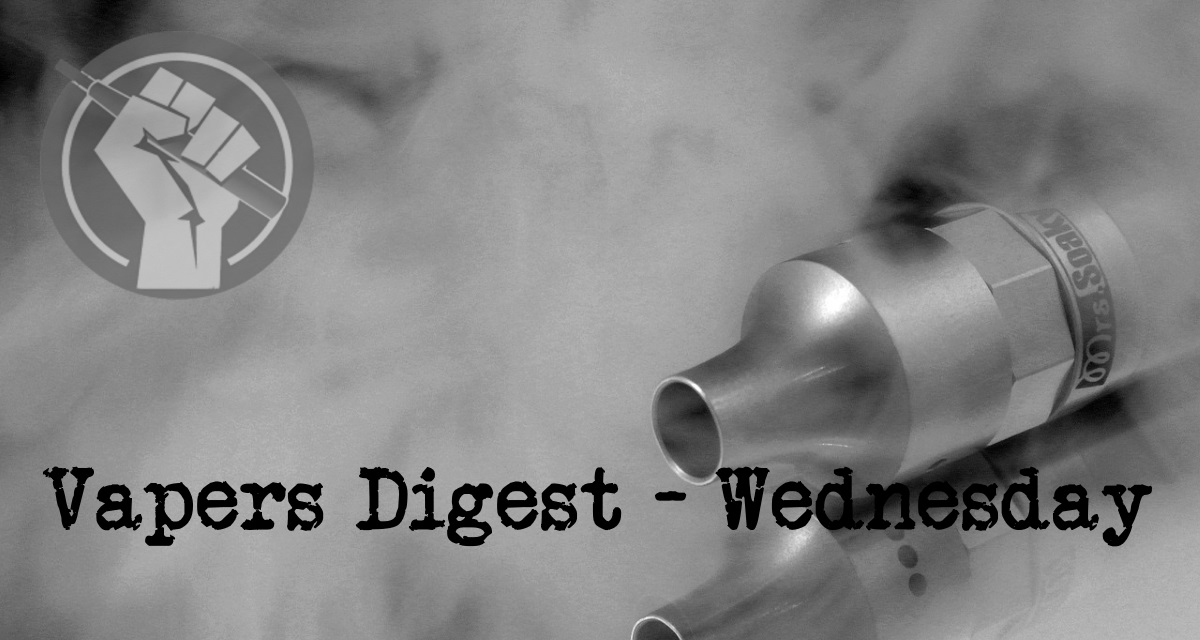 Wednesday's News at a glance:
August 10th: New Labeling and Ad Requirements ~ New Research Bolsters Case for E-Cigarettes ~ HOW HARM REDUCTION CAN END ILLICIT TRADE ~ Different Anti-Vaping Campaigns Attracting the Same Opponent Community ~ Tobacco Bill unjustified by government's own impact assessment ~ Vaping helped me to quit smoking ~ "EUROPE UNITED TO FIGHT TAX PLANS AND MORE" ~ Philip Morris Slammed For Ads ~ SenKnives Out For Juul. Durbin's Back, and He Hates Vape Flavors More Than Ever ~ The Vaping Boom ~ Vape King Juul Wants Everyone to Chill Out ~
Jim McDonald, Vaping 360
No e-liquid manufacturer has ever tried to hide the nicotine content of its products. Vapers are fairly obsessed with how much nic they're ingesting, and buy liquid in varying levels depending on the delivery device, their mood, or whether they're trying to reduce or quit nicotine.

But on Aug.10 it will be mandatory to place a bold, black-and-white warning on every nicotine-containing e-liquid and closed-system product and advertisement that warns consumers that nicotine is present, and that it is "addictive." The changes are part of the still-unfolding Deeming Rule's countdown to extinction.
Robert Goldberg, Inside Sources
Gallup recently announced that American smoking rates have hit an a record low of 16 percent. Evidence suggests that e-cigarettes deserve some of the credit.

Nearly half a million Americans die each year of cigarettes. That is nearly three times more than the combined number of suicide, overdose and alcohol deaths, whose rise have generated headlines and been attributed to the decline in U.S. life expectancy. Cigarette smoking causes about one in every five deaths in the United States. It's estimated 1 billion people worldwide will die prematurely in the 21st century due to cigarette smoking.
Joseph Magero, Medium
---

---
SCI-Hub (PDF)
Abstract: —E-cigarettes(vape) are now the most commonly used tobacco product among youth in the United States. Ads are claiming e-cigarettes help smokers quit, but most of them contain nicotine, which can cause addiction and harm the developing adolescent brain. Therefore national, state and local health organizations have proposed anti-vaping campaigns to warn the potential risks of e-cigarettes. However, there is some evidence that these products may reduce harm for adult users who reduce or quit combustible cigarette smoking, and little evidence that e-cigarettes cause long-term harm, pro-vaping advocates have used this equivocal evidence base to oppose the anti-vaping media campaign messaging, generating a very high volume of

oppositional messages on social media. Thus when we analyze the feedback of anti-vaping campaigns, it is crucial to partition audience into different clusters according to their attitudes and affiliations. Motivated by this, in this paper, we propose the "Community Detection on Anti-vaping Campaign Audience (CODE VAN)" problem and design the "community detection based on SOcial, REpost and coNTent RelatiOn, (SORENTO)" algorithm to solve it. SORENTO computes users' intimacy s-cores based on their social connections, repost relations and content similarities. The community detection results achieved by SORENTO demonstrate: though anti-vaping campaigns are proposed in different areas at different time, their opponent

messages are mainly posted by the same community of pro-vapors.
---
Why are we fighting the FDA separately? Snus, cigars, ecig and tobacco manufacturers should be able to work together towards a common goal. That goal is to prevent onerous regulation from the FDA which would dismantle shut down or place unreasonble requirements on us all.

— cigarbabe (@cigarbabe2) July 31, 2018
---
Ivo Vegter, Daily Maverick
An impact assessment for the new Tobacco Bill fails to justify many of its provisions, such as the regulation of 'electronic delivery systems' and plain packaging for cigarettes. It is shot through with other flaws, which clearly makes this bad law.

The Control of Tobacco Products and Electronic Delivery Systems Bill ('Tobacco Bill'), which is open for comment until 9 August 2018, imposes draconian new rules and restrictions on the sale and use of tobacco products, and controversially places electronic delivery systems (e-cigarettes or "vapes") under harsh regulation.
South Morning China Post, Letters
I quit smoking three years ago with the help of vaping and it has worked much better than any other form of nicotine replacement. Two of my friends quit smoking as well with vaping, as they were curious about how I managed to quit.

As vaping does not involve burning tobacco and only vaporises the liquid, it involves much fewer toxins than smoking. Vapour fills the lungs and so does smoke. This is the reason vaping worked for me compared to the other methods, as the sensations I got are very similar to smoking.

Vaping also involves the upkeep of the device, for example, cleaning it and "wicking" the atomiser. This kept my hands busy and got my mind off smoking.
Newsletter, New Nicotine Alliance
July 2018 will be remembered for a thrilling World Cup coupled with a tremendous summer, but NNA representatives still spent many hours away from sun-loungers and couches in front of the TV. Here are some highlights from the past month.

Last month we encouraged supporters to take part in an EU consultation on the proposal to tax vaping products. We are proud to join with consumer organisations from all over Europe with this initiative, and this month we set up

a resources page

to give you all the information you need to make your voice heard in Brussels. If you haven't already done so, we would urge you to add your name to those opposing such a counter-productive and potentially damaging policy by responding to the consultation.
---

---
Mawsley, Planet Of The Vapes
Vape businesses felt the impact when the Tobacco Products Directive came into effect in the UK but strove to fully comply with the requirements. Tobacco giant Philip Morris International (PMI), like all of its peers, has a history of pushing the boundaries until something snaps. Now the UK government has demanded it ceases its illegal practices or face prosecution in the courts.

Jim McDonald, Vaping 360
Dick Durbin thinks he's got a winning issue, and he's planning on taking full advantage of it to pick up a few votes from fearful parents. Can you guess what it is?

The Illinois Democrat has it all figured out. Vaping, he says, is a Big Tobacco plot to addict a new generation to nicotine — and e-liquid flavors are the tip of the tobacco industry spear. This might be funny if he weren't such a powerful politician.
---

---
Lindsey Stroud, Jim Lakely, The Heartland Institute
Dr. Tevi Troy, vice president of public policy at JUUL Labs, sheds light on the threats to the electronic cigarette industry.

In this podcast Dr. Tevi Troy will refer to a Bloomberg piece by Joe Nocera discussing JUUL's popularity, as well as a recent survey of 11,689 adults by the Centers for Substance Abuse Research, which found almost 50% of survey respondents quit smoking cigarettes after switching to a JUUL vaping device.
Alice Hines, Bloomberg
Few startups are as hot as Juul Labs Inc., the three-year-old e-cigarette maker with 71 percent of the U.S. market and a $15 billion valuation. But that's not the story the company wants to tell. As its sneaker-clad workforce lined up this spring for a steak-and-quinoa lunch at its new San Francisco headquarters, Chief Administrative Officer Ashley Gould said her team had failed. "We acknowledge kids are using the products," she said. "We're committed to stopping it."
Mawsley, Planet Of The Vapes
Juul's UK launch has been greeted with optimism in many quarters, such as Public Health England (PHE), but some are resolutely playing the old, tired record of opposition and lies. While such an approach gains traction in the States, our more enlightened bodies can see the objections for what they are.

Rosanna O'Connor, PHE's director responsible for ecig oversight, welcomed the UK launch and believes it simply offers adult smokers another option for quitting: "The UK has much stricter regulations than the US. Juul on sale here has much lower nicotine, print and broadcast ads for e-cigarettes are banned, and selling to or buying for under-18s is against the law.
---
Visit Nicotine Science & Policy for more News from around the World

---