Vaping Digest 3rd August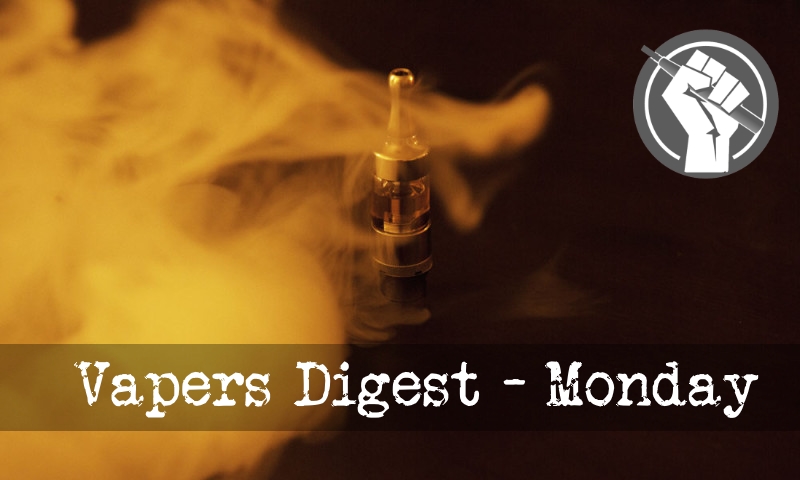 Monday's News at a glance:
A Rose by Any Other Name – FDA May Hate Their Guts, But the PMTA Process Favors JUUL – Another Study Finds That Banning Flavours Increases Tobacco Consumption – Combustibles Outperform E-Cigarettes During Pandemic – Question in Parliament – Barmy Malone's Prohibition Plan – Association Between Vaping and Mental Illness – Training now available for Australian GPs – National denies it's holding up vaping legislation – 618 Days Of Failure On Vaping
Charles Gardner
In recent years, various parties have endeavored to name and rename what the majority of consumers call "e-cigarettes." Most notably, the World Health Organization (WHO) has rechristened these products "Electronic Nicotine Delivery Systems and Electronic Non-Nicotine Delivery Systems" (ENDS/ENNDS). Below, I describe the confusion caused by such renaming efforts—and why it matters.

Name confusion: The term "e-cigarette" was coined 14 years ago when nicotine vaporizers were first invented. The hope was that this name would encourage cigarette smokers to feel more comfortable with these new-fangled devices. Since then, however, many tobacco harm reduction (THR) consumers and advocates have soured on the term. Many now feel that it is too close to "cigarettes," causing public confusion by invoking inaccurate harm comparisons.
But the PMTA Process Favors JUUL – Jim McDonald
Juul Labs has filed its long-awaited PMTA, which includes no flavored products aside from tobacco and menthol pods. Juul filed six weeks before the Sept. 9 Premarket Tobacco Application deadline for all vaping products.

Assuming the company's application is accepted for substantive review, Juul will be able to leave its current products on the market for a year, or until the FDA makes a final decision. The only low-risk tobacco products to receive PMTA approval so far have been snus from Swedish Match, and Philip Morris International's heated tobacco product IQOS. FDA review of those products took more than two years.
---

---
That Banning Flavours Increases Tobacco Consumption – Diane Caruana
In 2018, San Francisco voters approved a ban on flavoured tobacco products. The main target of the ban was menthol cigarettes, but supporters of the ban were also convinced that e-liquid flavours were luring young people into a lifetime of nicotine addiction.

Titled, "The Impact of a Comprehensive Tobacco Flavour Ban in San Francisco Among Young Adults," the current study was conducted with the aim of determining the impact of the ban on tobacco use behavior. A sample of 247 San Francisco residents were surveyed about their e-cigarette and tobacco use, before and after the flavour ban.
---
Brilliant rejoinder by @GerryStimson to baseless smears, unsurfaced conflicts and aggressive ignorance of those anti-harm-reduction zealots obsessed with provenance (and prone to misrepresenting it) rather than empathy, mission and results.

Bravo! @drfnryan, not so much.

— Clive Bates (@Clive_Bates) August 2, 2020
Positive article in our local paper, looks like a syndicated item, hope it gets good coverage nationally
#vaping pic.twitter.com/epakcec3RH

— Louise (@grannylouisa) August 3, 2020
---
Tobacco Reporter
Traditional cigarette sales in the U.S. have continued to do better than those of e-cigarettes during the coronavirus pandemic. Overall sales volume for combustible cigarettes was down 0.2 percent for the four-week period ending July 11 while e-cigarette sales were down 13.2 percent, according to Nielsen data.

The drop in e-cigarette sales follows more regulation on the products from the U.S. Food and Drug Administration. "It is deeply ironic that the credit for the recovery of the cigarette business from a near-death experience a little over a year ago can be credited to the Centers for Disease Control and Prevention, Michael Bloomberg and the others who pushed an abstinence-only agenda on nicotine," said David Sweanor, an adjunct law professor at the University of Ottawa and the author of several e-cigarette studies.

Two from Dave Cross, Planet of the Vapes
Helen Hayes asked the Department for Health and Social Care about plans for 'Smoke-free 2030'. She followed this up by expressing concerns about funding to prevent young people initiating smoking. Bob Blackman also had money on his mind. Adam Afriyie has received a couple of answers to a raft of questions he submitted to the department but lacked any substance.

"What steps is [the Department for Health and Social Care] taking to ensure (a) Lambeth, (b) Southwark, (c) London and (d) England are smoke-free by 2030," asked Dulwich and West Norwood's Helen Hayes.
Ruth Malone (RN, Ph.D., and FAAN) is getting in a right flap about vape advocates and prohibition. The editor-in-chief of the British Medical Journal's 'Tobacco Control' journal regurgitates everything her friend Stanton tells her to and has been waging a war on tobacco harm reduction from behind her desk in California. She is currently promoting the notion that total bans work.

Malone has managed to propel herself into a first-class seat on the tobacco control gravy train, becoming part of the international team that corrupted the WHO report on Tobacco Industry Interference with Tobacco Control, influencing the WHO Framework Convention on Tobacco Control.
---

---
The Association Between Vaping and Mental Illness – Diane Caruana
Titled, "E-cigarette Use and Associated Factors Among Smokers With Severe Mental Illness," the cross sectional study included 526 adult smokers with a documented diagnosis of mental illness (SMI). The compiled data indicated that the majority (70.3%) had tried an e-cigarette.

Most importantly, among those who had ever tried an e-cigarette, over half (54.6%) reported the reason was to quit smoking, while 13.9% reported that the reason was to reduce smoking. Interestingly but not surprisingly, having an educational qualification of GCSE or higher, ie. being in a higher possession of education (odds ratio 2.17, 95% CI 1.22 to 3.86, p = 0.008) and having made a quit attempt in the past six months (OR 1.66, 95% CI 1.04 to 2.63, p = 0.032) were associated with ever having tried vaping.
On vaping and nicotine prescribing – ATHRA
TRAINING FOR GPs on how to help smoking patients quit by vaping nicotine is now available online from HealthEd, Australia's leading GP education and training organisation.

The online podcast available here, by ATHRA Director Dr Colin Mendelsohn provides GPs with guidelines on how vaping works and the evidence on safety, effectiveness and legal issues. There is also practical advice on

When to use vaping in general practice
How to select devices and liquids
How to counsel smokers about vaping
How to prescribe nicotine for vaping
Where to purchase devices and nicotine liquids

The podcast earns GPs CPD points (required for registration) and is accompanied by resources for GPs, including a detailed guide on how to prescribe nicotine and a general guide to vaping for GPs.

Dan Satherley
The National Party is rejecting accusations it's responsible for the hold-up in getting vaping legislation across the line.

The Smokefree Environments and Regulated Products (Vaping) Amendment Bill is at its third reading in Parliament, and once passed, will provide regulation for the Wild West vaping industry.

"We're going to see, if this Bill doesn't pass, it's another summer of unregulated vaping, marketing to youth," Deborah Hart, director of anti-smoking group ASH, told The AM Show on Monday.
Scoop Media
"Labour has spent 618 days failing to pass the most basic of laws to ban kids from vaping," says ACT Leader David Seymour.

"We know Labour isn't afraid to pass a law in a matter of hours. It just passed a law under urgency to register forestry traders. But will it pass a common sense vaping law in the dying days of this Parliament?

"Associate Health Minister Jenny Salesa has been the most inept Minister in the most incompetent government in New Zealand's history.
---
A look back at how things have moved on or otherwise…
Will only perpetuate smoking – New Nicotine Alliance
The World Health Organization's recent report on the global tobacco epidemic will do little but perpetuate smoking by making non-combustible alternatives to smoking like electronic cigarettes less accessible, more expensive and less consumer friendly, the New Nicotine Alliance (NNA) said in a statement Tuesday.

The latest iteration of the WHO's report on the global tobacco epidemic, called "Offering help to quit tobacco use", advocates for stricter legislation of e-cigs, asserting there is no proof they help smokers quit their habit, and could even be a gateway to tobacco addiction for young people.
Dayton, Ohio Will Not Hire Nicotine Users – Jim McDonald
The city of Dayton, Ohio will no longer hire vapers or smokers, using statistics on productivity and medical costs to justify the move. Vaping advocates are concerned that such laws could spread.

"Studies indicate that employees that smoke cost approximately an additional $6,000 per year in direct medical costs and lost productivity," said Dayton human resources director Kenneth Couch.

Other cities, and many private companies, have had policies for decades against hiring people who smoke. In fact, the practice caused such controversy in the 1980's and 90's that many states passed laws outlawing discrimination against smokers (or against people engaging in any lawful activity). Currently, 29 states have such laws—but Ohio is not one of them.
---
Visit Nicotine Science & Policy for more News from around the World

---