Vaping Digest 31st July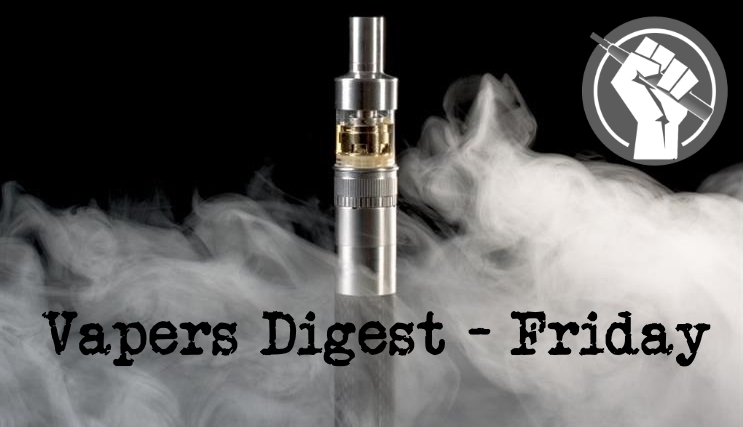 Friday's News at a glance:
E-cigarette regulation – money talks – Kentucky's New Tax Will Keep Smokers Smoking, and Dying – Montana's Ban on Flavored Vaping – Study Shows Higher Taxes Lead to Increased Smoking – Tried It Didn't Like It – Vaping is Less Addictive – Smokefree Amendments Deserve Support – COVID Update – How Dr Carolyn became a passionate advocate for vaping – Top 10 tobacco influencers on Twitter in Q2 2020 – Can snus/nicotine protect against Covid-19? – A pragmatic approach to nicotine addiction – Study Shows Teens Vape for the 'Cool' Factor – Countries asked to look at innovative products – A state tobacco monopoly looms – Juul Labs submit PMTA – Nicotine Science and Policy Daily Digest
Christopher Snowdon, Velvet Glove Iron Fist,
An interesting article in the Economist tells us a lot about e-cigarettes. In China, the world's biggest cigarette market, smokers are increasingly switching to e-cigarettes. The state-owned tobacco monopoly is not happy about it.

Investor optimism derives in large part from the prospect of rapid growth in China, where just 10m people were regular users of e-cigarettes at the end of last year. But dig a little deeper and the outlook darkens. A powerful state-owned cigarette monopoly, China Tobacco, will not cede ground to a rival product without a fight…..

It is obvious what China Tobacco's motivation is. They fear missing out on cigarette sales if people switch to vaping. The Chinese government, insofar as it can be distinguished from the tobacco monopoly, doesn't want to miss out on tax revenue. More vapers means fewer smokers, hence the online sales ban and scare stories.
Will Keep Smokers Smoking, and Dying – Brad Rodu
Under cover of the Covid-19 epidemic, Kentucky lawmakers earlier this year passed an excise tax on cigarettes' principal competitors: e-cigarettes and vapor products (here).  The tax goes into effect August 1, and amounts to $1.50 on cartridge products and 15% on other vapor products.  That's significant, as a cartridge equals about a pack of cigarettes, which is taxed by the Commonwealth at $1.10 per pack.

Tobacco prohibitionists are thrilled.  Dr. Ben Chandler, president of the Foundation for a Healthy Kentucky: "This new tax is clearly a win for health in Kentucky, especially for our adolescents and teens, because it will result in a significant price increase that will deter many of our youth from using dangerous e-cigarette products." (here )
---

---
Lead to Increased Smoking – Jim McDonald
Until recently, taxes on vaping products in the United States were rare. That all changed with the panic over JUUL and teen vaping. With every news story that hyped the "epidemic" of adolescent use came added pressure for legislators to do something. And one of their favorite things to do is raise taxes.

As we celebrated New Year's Day 2019, just nine states and the District of Columbia had vapor product taxes. On Aug. 1, 2020, 25 states will have a tax—as well as D.C., Puerto Rico, two Alaskan boroughs, counties in Illinois and Maryland, and the city of Chicago. When Georgia's tax goes into effect next year, more states will have a vape tax than not. Cigarettes, of course, have been taxed at widely differing rates for decades.
---
For our fight against the impeding flavor ban in the Netherlands we have started a small survey, it doesn't matter where you live, every vaper is urged to take it. Just imagine how it would affect you if it would happen where you live#Smaaknoodzaakhttps://t.co/yeX75RXKqR

— AcVoDa (@acvoda) July 30, 2020
To help combat the philanthropic colonialism that privately-funded NGOs are perpetrating in low- and middle-income countries (LMICs), we are excited to introduce a new series: Why Bans Are Not Best For LMICs.

DETAILS: https://t.co/GamFQk4Uws

— VIDA News (@VIDAdotNEWS) July 30, 2020
---
Endangers Public Health – Steven Greenhut, Chelsea Boyd
The debate over the Montana Department of Public Health and Human Services' plan to permanently ban the sale and marketing of all flavored e-cigarettes has focused on two entrenched viewpoints. Supporters argue that these vaping products can lure teens into a lifetime of nicotine addiction, while opponents argue that a ban will harm small businesses and the economy.

The public debated these views last week at a two-hour hearing in Helena. Unfortunately, there's too little discussion—and no acknowledgment from state health officials—about the ill health effects of banning these products. Quite simply, large numbers of smokers have switched from dangerous combustible cigarettes to far-less dangerous e-cigarettes. Britain's top health agency notes that vaping is 95 percent safer than smoking.

Four from Dave Cross, Planet of the Vapes:
The New Nicotine Alliance (NNA), Britain's consumer charity for nicotine users, has hosted another in its current series of hugely successful webcasts. "Tried it, didn't like it" featured Louise Ross, Hazel Chinnery and Liz Barber discussing why many smokers do not get on with alternative nicotine products.

The NNA took to hosting webcasts during the COVID outbreak and the positive response has been overwhelming. Previously, Clive Bates and Dr Farsalinos have given riveting presentations and more webcasts are planned for the future
Dependence on e-cigarettes is much less than that found with cigarettes, according to a cross-sectional study of US adults. Mark Sembower and Saul Shiffman from PinneyAssociates and the University of Pittsburgh published their paper in the journal Addiction.

The authors write: "Cigarette smoking often results in nicotine dependence. With use of electronic cigarettes as an alternative source of nicotine, it is important to assess dependence associated with e-cigarette use. This study assesses dependence among current and former adult e-cigarette users on cigarettes and e-cigarettes, compared with dependence on cigarettes."
A New Zealand MP's smokefree amendments deserve support, according to Nancy Loucas, the co-director of Aotearoa Vapers Community Advocacy (AVCA). The amendment seeks to change the status of tobacco-free snus pouches.

AVCA was formed in 2016 by vapers across New Zealand wanting their voices heard in local and central government. All members are former smokers who promote vaping to help smokers quit – a much less harmful alternative to combustible tobacco products. AVCA does not have any affiliation or vested interest in industry – tobacco, pharmaceutical, the local vaping manufacturing or retail sectors.
"Smokers are almost certainly not protected from initial infection by sars-cov-2," say researchers, but the fact remains that very few smokers, 1/3rd-1/4th those expected according to Dr Konstantinos Farsalinos, have been hospitalised with COVID-19 symptoms. Smokers are much less likely to suffer severely from sars-cov-2, says the study published in the journal Therapeutic Advances in Chronic Disease.

"Many people were surprised, therefore, when researchers reported late in April that only 5% of 482 covid-19 patients who came to the Pitié-Salpêtrière hospital in Paris between February 28th and April 9th were daily smokers," says an article in the Economist.
---

---
An analysis of GlobalData's Tobacco Alternatives Influencer Network Platform, which tracks more than 190 leading industry experts and their discussions pertaining to the emerging trends, pain areas, new fields of innovation and other popular areas on Twitter, has revealed Charles A. Gardner, Director at the Foundation for a Smoke Free World, as the top tobacco influencer during the second quarter (Q2) 2020.

Vaping supporter Johnny Twovapes emerged as the next top influencer among tobacco experts with an influencer score 76. He tweeted largely about the benefits of vaping, which plays an important role in preventing tobacco-related issues.
Interview with MD Konstantinos Farsalinos
Apassionate advocate for vaping – ATHRA
Hello everyone. My name is Carolyn Beaumont. I am a GP in Victoria, and one of the 'gang of 7' prescribing doctors listed with ATHRA.

I've been consulting and prescribing for many of you the past few months. I've had bracingly honest and illuminating conversations with so many of you, and I love hearing about how your lives have improved since starting nicotine vaping in order to stay smoke-free.

These are some typical comments: 'I have my life back', 'I can run around and play with the kids now', 'my relationship is better', 'I can smell and taste', 'I don't get asthma anymore', 'I'm not short of breath anymore', 'my sex life is better', 'my mood is better'.

Shane Te Pou
Nicotine addiction cannot be eradicated, but its harms can be reduced by giving people safer options and refusing to make the perfect the enemy of the good, writes Shane Te Pou

Of my eight brothers and sisters, only three have been cigarette smokers and I've never smoked myself. To be honest, that's a pretty modest ratio for a Māori family of our generation.

What's sad, though, is that these days, of among close to 100 nephews and nieces, I can't think of many non-smokers.
Over China's e-cigarette makers
Chinese like to quip that the electronic cigarette is China's fth great invention, after paper, printing, gunpowder and the compass. A Chinese pharmacist hatched the idea in 2003 to wean smokers o tobacco. But it was in America, home to brands like Juul and Blu, that vaping rst took o. Although one in four Chinese adults smoke tobacco, sales of e-cigarettes in China amounted to $2.7bn last year, a tenth of those in America, according to Frost and Sullivan, a consultancy.

Investors spy an opportunity. The market value of Smoore, China's biggest ecigarette maker, has nearly tripled since its initial public oering in Hong Kong on July 10th. It is now the world's most valuable vape rm, worth around $24bn, more than the privately held Juul, most recently valued at $13bn. Smoore made a tidy pretax prot of 2.6bn yuan ($371m) in 2019, mainly from exporting components to foreign brands. It also hawks branded devices.
Elizabeth Sheld
A recent MyVoice study published in the Journal of the American Medical Association Pediatrics reveals the main driver for teens who use Juul or Juul-like e-cigarettes is the "cool" factor, not the products' appetizing flavors. The MyVoice study responses were collected via text-messages aimed at young people between ages 14 and 24. There were 1,129 participants.

Authors of the study "Youth Perceptions of Juul in the United States," found that a whopping two-thirds of the respondents said  "looking cool" and the social aspect of vaping drove them to use Juuls while a paltry 5 percent said it was the different flavors of the e-cigarettes that brought them to the product.
Innovative products to stop smoking epidemic – Michael Lim
Two public health experts believe that the U.S. Food and Drug Administration's authorization of marketing of IQOS as a modified risk tobacco product should encourage other countries such as the Philippines to take a second look at innovative products as effective means to stop the smoking epidemic.

Prof. Tom Glynn, an adjunct lecturer at Stanford Prevention Research Center and a former director of International Cancer Control at the American Cancer Society in Washington D.C., said heat-not-burn tobacco products (HTPs) such as IQOS, electronic cigarettes and other less harmful products provide smokers with better alternatives to cigarettes..
Juul Labs today announced that it has submitted a Premarket Tobacco Product Application (PMTA) to the U.S. Food and Drug Administration (FDA) for the company's JUUL System — an electronic nicotine delivery system (ENDS) product. The company's submission includes comprehensive scientific evidence for the JUUL Device and JUULpods in Virginia Tobacco and Menthol flavors at nicotine concentrations of 5.0% and 3.0%, as well as information on its data-driven measures to address underage use of its products.
---
A look back at how things have moved on or otherwise….
Health experts may not agree – Simon Usborne, Independent
Karl Erik Lund first puffed on a cigarette at a party not long after smoking rates peaked in Norway. In the mid 1970s, almost half of adults in the country smoked. Lund, who is now 60, was young and would never take to smoking in a big way. But in 1986, as a graduate in Oslo, he spotted an advert for a research role at the government agency that collated tobacco statistics. He needed the money, but he soon became addicted to the data. "I wanted to ask the question: why do people keep going with a behaviour that breaks society's rules?" he says.
It May Kill You (Duh) – Michelle Minton, Competitive Enterprise Institute
Over the last four weeks, eight Wisconsin teenagers have been hospitalized with severe lung damage. The news that vaping caused these illnesses has swept across social media and is, predictably, being used to push for more government restrictions on e-cigarettes. But, what few of these reports have pointed out is that it seems most—if not all—of the hospitalizations were related, not to e-cigarettes, but illicit "street vapes." If e-cigarettes are banned or restricted we can expect to see more stories like this as people increasingly turn to the black market.
Jim McDonald, Vaping 360
A House subcommittee held a two-part hearing last week called "Examining JUUL's Role in the Youth Nicotine Epidemic." The title was a little off. The hearing probably should have been called, "JUUL Is Terrible and Should Go to Hell." There sure wasn't much examination.

The hearing was a circus—in the same sense that the Spanish Inquisition was a circus.
---
Visit Nicotine Science & Policy for more News from around the World

---