Vaping Digest July 29th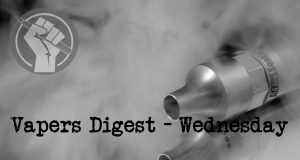 Wednesday's News at a glance:
Canada epitomises the fatal impact of flawed research ~ Canadian Constitution Foundation analyzes the constitutionality ~ Time to regulate vape industry ~ Outrage as Melbourne moves to ban VAPING in areas of the CBD that are already smoke-free zones ~ Plain packaging has failed. It's time we looked at alternatives to reduce smoking risks ~ PMI Blocked From Selling Iqos in Australia ~ Canadian Correction ~ Australian Data Distortion ~ US Gateway Closed ~ Important! Docs, fines and prison! OH MY! – What your vaping prescription needs to say ~ Vaping up, smoking increasing among teens in San Francisco – despite bans
, Totally Wicked
A 2019 study published in the British Medical Journal (BMJ) wrongly stated that youth uptake of both smoking and vaping in Canada increased significantly between 2017 and 2018. This conclusion was actually false and the study was corrected in June 2020, but the damage had already been done.
of B.C.'s new vaping regulations
Canadian Constitution Foundation
TORONTO, ONTARIO — The Canadian Constitution Foundation is concerned that new vaping regulations which were finalized in British Columbia today are vulnerable to constitutional challenge.

The new regulations, announced on July 21st by B.C. Health Minister Adrian Dix, include:

A nicotine ceiling of 20 mg/mL imposed for products sold in all retail locations,

Plain packaging for vaping substances, meaning no images or text permitted except for brand name and regulatory text.

A requirement that all vaping substances be sold in packages bearing a skull and crossbones health hazard symbol, a health warning, concentrations and e-liquid volume sold.
---
Tasnim Lokman, New Straights Times
LETTERS: Regulation of e-cigarettes and smoke-free nicotine products became a major topic at the virtual Global Forum on Nicotine 2020 (GFN 2020), themed "Nicotine: Science, Ethics and Human Rights", as advocates seek a more promising solution for smokers to quit.

The forum, held on June 11 and 12, saw 30 experts speak with one goal: to provide a safe and transparent industry for smokers and those planning to make the switch to alternative tobacco products.
---

---
in areas of the CBD that are already smoke-free zones
Brinkwire
Vaping is on the verge of being banned in Melbourne's CBD as the council votes on whether to redefine e-cigarettes as 'smoking', angering civil libertarians.

City of Melbourne Council will decide on Tuesday whether to ban vaping from all of council's existing smoke-free zones.
Editor note: PDF Version
David Leyonhjelm, The Spectator Australia
For some people, hydroxychloroquine cannot possibly prevent or treat COIVD-19 infection because it would vindicate President Trump's support for it. What is a straightforward medical question to some is deeply political to others. 

A similar phenomenon is seen with smoking. Some people view tobacco companies — Big Tobacco, as they like to call them — as so fundamentally evil that anything they support must be passionately opposed.
---
---
Diane Caruana, Vaping Post
It has been estimated that approximately 239,000 people are using e-cigarettes in Australia, 178,000 of whom are vaping more than once a month. This remains a challenge for most, as the devices are legal, but the use of nicotine-containing refills is not. Local public health experts and liberal party MPs alike, have long been efforting to overturn the current nicotine ban.
---
---

---
Lindsey Stroud

, Tobacco Harm Reduction 101
In April 2018, the ban on flavored e-cigarettes and vapor products went into effect in San Francisco and in January, 2020, the city had implemented a full ban on any electronic vapor product.

These endeavors have failed to lower youth tobacco and vapor product use.

Data from the 2019 Youth Risk Behavior Survey show that 16 percent of San Francisco high school students had used a vapor product on at least one occasion in 2019, an increase from 7.1 percent that had used an e-cigarette in 2017.
---
A look back at how things have moved on or otherwise…
And state politicians attack vaping on all fronts – Fergus Mason
The FDA has launched one of its strongest attacks on vaping yet, with a new campaign featuring misleading images and misunderstood statistics. Meanwhile vape taxes continue to spread across the USA, with Kentucky among the latest states to consider penalising safer alternatives to tobacco. While Democrat politicians continue to be the strongest opponents of harm reduction it's now becoming a bipartisan issue, with US vapers left with few friends at court.
Jason Goodyer
San Francisco recently became the first US city to ban sales of e-cigarettes, citing the fact that the long-term health effects of vaping are still unknown and that there seems to be an upswing in young vapers. However, some people believe this decision may turn former smokers who now vape back onto traditional tobacco products. Professor John Britton, director of the UK Centre for Tobacco & Alcohol Studies at the University of Nottingham, explains.
A content analysis of vaping related tweets from Australia
Despite Australia's cautious approach toward e-cigarettes and the limited evidence supporting them as an efficacious smoking cessation aid, it is evident that there is a concerted effort from some Twitter users to promote these devices as a health conducive (91/1303, 6.98%), smoking cessation product (266/1303, 20.41%). Further, Twitter is being used in an attempt to circumvent Australian regulation and advocate for a more liberal approach towards personal vaporizers (90/1303, 6.91%). A sizeable proportion of posts were also dedicated to selling or promoting vape products (347/1303, 26.63%), and 19.95% (260/1303) were found to be business listings.
---
Visit Nicotine Science & Policy for more News from around the World

---