Vaping Digest July 29th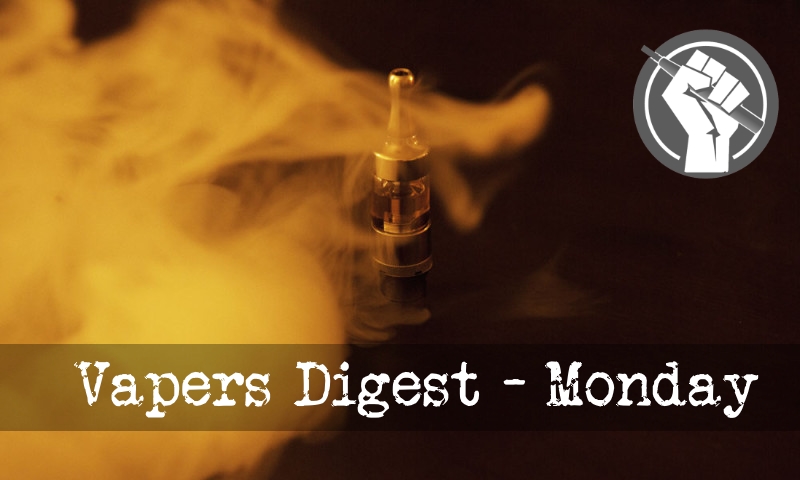 Monday's News at a glance:
FDA, Democrat extremists and state politicians attack vaping on all fronts – Harry's Blog 91: Fifteen minutes of sane – Vaping In The News – July 27th – African Experts Explain Their Challenges in Reducing Tobacco Harms – Facebook Steps Up Vape Ban – Flavour Toxicity – From The Attorney General – Council 'demonising' vaping despite benefits – The truth about e-cigarettes – "Keep calm, it's just vapour": A content analysis of vaping related tweets from Australia – Nicotine Science and Policy Daily Digest
And state politicians attack vaping on all fronts – Fergus Mason
The FDA has launched one of its strongest attacks on vaping yet, with a new campaign featuring misleading images and misunderstood statistics. Meanwhile vape taxes continue to spread across the USA, with Kentucky among the latest states to consider penalising safer alternatives to tobacco. While Democrat politicians continue to be the strongest opponents of harm reduction it's now becoming a bipartisan issue, with US vapers left with few friends at court.
Harry Shapiro
If you want a clear and sensible exposition on the critical issues surrounding the vaping/smoking controversy, stop everything and spend a quarter of an hour watching this

From the sublime to the ridiculous, but daft with a point to make. While writing this next bit, it was hot enough in London to fry an egg on the head of the hyperventilating anti-tobacco harm reduction zealot. So with a wave of banning frenzy underway in the States and with pending heatstroke to blame, I mused on what might be….
---

---
Kevin Crowley, Vaping Links
What America can learn from England about vaping ~ It's My 10 Year Smoke-free Anniversary and I'm Terrified ~ Snippet | Dr. Raymond Niaura Talks Youth Vaping 'Epidemic' ~ 9 Potential Health Benefits of Nicotine that Will Surprise You ~ FDA Teen Anti-Vaping Campaign is Magically Deceptive ~ Study: Smokers Who Vape Daily Are More Likely to Quit ~ Tobacco Harm Reduction 101: A Guidebook for Policymakers ~ VAEP: Educate Edmonton About Vaping! ~ E-cigarette use increases the risk of heart attacks that happened 10 years before e-cigarette use initiation (!!!) ~ Glantz Attacked
---
I'm surprised* @TobaccoFreeKids has not responded to correct this ludicrous false claim, apparently attributed to them. It's as though they are happy for ridiculous, reckless and harm-inducing anti-vaping falsehoods to circulate uncorrected.

* not surprised. https://t.co/Q5vO4Lrifl

— Clive Bates (@Clive_Bates) July 29, 2019
---
In Reducing Tobacco Harms – Michael McGrady
Major obstacles to tobacco harm reduction exist in high-income, "western" countries from the United States to Australia. Yet it's vital to remember that of the world's 1.1 billion smokers, who suffer 7 million annual smoking-related deaths, around 80 percent live in low- or middle-income countries where challenges are very different.

To take one key continent, Africa has some of the highest smoking rates in the world. "We have 77 million smokers, the majority of which come from the lower-income population," Joseph Magero, who heads Africa's continent-wide Campaign for Safer Alternatives, told Filter. "Keeping these people alive and preventing irreparable damage should be regarded as the most urgent priority."
---

---
A Trio from Dave Cross, Planet of the Vapes:
Facebook has unveiled a new policy to restrict sales and limit content related to alcohol, tobacco products, and vape paraphernalia. It means vaping is now classified as a tobacco product and this is likely impact pages and Facebook groups.

"To encourage safety and compliance with common legal restrictions, we prohibit attempts by individuals, manufacturers and retailers to purchase, sell or trade non-medical drugs, pharmaceutical drugs and marijuana. We also prohibit the purchase, sale, gifting, exchange and transfer of firearms, including firearm parts or ammunition, between private individuals on Facebook," writes the social media platform.
Konstantinos Farsalinos and George Lagoumintzis have responded to a paper warning about the danger of flavours in eliquids. Their paper has been published in Harm Reduction Journal and pointed out that the quantity of a substance is important – not its presence.

"All things are poison, and nothing is without poison, the dosage alone makes it so a thing is not a poison" – Paracelsus

Farsalinos said: "A recent study analysed 122 e-cigarette liquids from the European Market and reported that toxic flavouring compounds are used in e-cigarette liquids. We examined the toxicity classification of the flavourings using the maximum levels reported in that study. We found that only 1 out of 14 flavourings exceeded the toxicity level (at the maximum concentration!)."
Thomas Miller, Attorney General of Iowa, has written a letter to Alex Azar, the US Secretary of Health, about the ongoing Food and Drug Administration (FDA) attacks on vaping and tobacco harm reduction. The letter has been co-signed by a number of harm reduction experts. The letter was copied to Acting FDA Commissioner Ned Sharpless and Director at the FDA's Centre for Tobacco Products Mitchell Zeller.
Co-signing the letter with Miller:

Heather McCarron, Dan Satherley
A major vaping company is frustrated by another council's moves to lump the products in with cigarettes. The Matamata-Piako District Council is adding vaping to its smokefree outdoor policy, affecting three towns.

Alt New Zealand director Jonathan Devery sees it as a step backwards. "We think it's going to have a negative impact on the numbers of people switching to vaping products, and it's going to have a negative impact on New Zealand moving forward towards the smoke-free 2025 goal."
Jason Goodyer
San Francisco recently became the first US city to ban sales of e-cigarettes, citing the fact that the long-term health effects of vaping are still unknown and that there seems to be an upswing in young vapers. However, some people believe this decision may turn former smokers who now vape back onto traditional tobacco products. Professor John Britton, director of the UK Centre for Tobacco & Alcohol Studies at the University of Nottingham, explains.
A content analysis of vaping related tweets from Australia
Despite Australia's cautious approach toward e-cigarettes and the limited evidence supporting them as an efficacious smoking cessation aid, it is evident that there is a concerted effort from some Twitter users to promote these devices as a health conducive (91/1303, 6.98%), smoking cessation product (266/1303, 20.41%). Further, Twitter is being used in an attempt to circumvent Australian regulation and advocate for a more liberal approach towards personal vaporizers (90/1303, 6.91%). A sizeable proportion of posts were also dedicated to selling or promoting vape products (347/1303, 26.63%), and 19.95% (260/1303) were found to be business listings.
---
A look back at how things have moved on or otherwise….
Mawsley, Planet of the Vapes
The attorney general is conducting a Juul witch-hunt over fictitious fears the company is marketing to children. The action comes just as Wells Fargo Securities confirm that the latest Nielsen data shows Juul has increased its market share to a whopping 72.5%.

Massachusetts is no stranger to witch-hunts; the state witnessed the infamous Salem witch trials in 1692 due to an outbreak of mass hysteria. Nineteen innocent women and girls went to the gallows, followed by around 150 more people over the following few months. It appears its Attorney General has learnt nothing from history.
Jim McDonald, Vaping360
In a rambling press conference that recycled almost every known lie, exaggeration and myth about JUUL and vaping, Massachusetts Attorney General Maura Healey announced an investigation of controversial San Francisco-based vape company JUUL Labs.

"I want to be clear with the public," Healey said. "This isn't about getting adults to stop smoking cigarettes. This is about getting kids to start vaping. That's what these companies are up to. They're engaged in an effort to get kids addicted, get them hooked so they will have customers for the rest of their lives."
Mawsley, Planet of the Vapes
The New Nicotine Alliance (NNA) has applauded Sir Kevin Barron for vocalising his support for vaping. In a parliamentary Tobacco Control Plan debate, Sir Kevin spoke of his commitment to electronic cigarettes and called for the government to be more positive about the benefits of tobacco harm reduction products.
The debate took place on the 19th July in the House of Commons, where Barron highlighted the gulf between the UK and Ireland, two countries with identical traditional tobacco control policies but with differing approaches to e-cigarettes.
---
Visit Nicotine Science & Policy for more News from around the World

---