Vaping Digest July 26th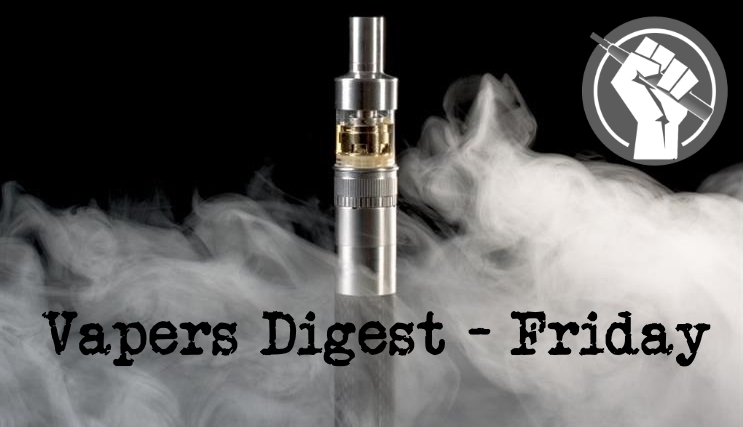 Friday's News at a glance:
Government's Green Paper is the wrong approach – Study: Smokers Who Vape Daily Are More Likely to Quit – An Open Dialogue – Documentary Advertises Bias – E-Cigarette Bans Undermine Decades of Anti-Smoking Efforts – Nicotine Testing for High Schoolers – If there's a youth vaping 'epidemic,' – DOH prohibits e-cigarettes in public places – Banning e-cigarette: a regressive step – 'The squad' goes on fact-free vaping rant – 9 Potential Health Benefits of Nicotine that Will Surprise You – Nicotine Science and Policy Daily Digest
New Nicotine Alliance
Boris Johnson is now our Prime Minister. He has a lot to do, but one of his jobs should be to water down his predecessor's misguided proposals towards e-cigarettes and other safer nicotine products.

On Monday, the Cabinet Office and Department of Health and Social Care joint-released their intentions in a Green Paper, reportedly forced through by outgoing Theresa May against her Secretary of State's advice.

We are setting an ambition to go 'smoke-free' in England by 2030. This includes an ultimatum for industry to make smoked tobacco obsolete by 2030, with smokers quitting or moving to reduced risk products like e-cigarettes.
Are More Likely to Quit – Jim McDonald
A new study from doctors at Harvard Medical School and Massachusetts General Hospital confirms that smokers who vape regularly are far more likely to quit smoking than those who don't vape. In fact, smokers who vaped daily were 77 percent more likely to quit and remain abstinent from cigarettes after two years.

The study was published online in the journal Nicotine and Tobacco Research. Interestingly, lead author Sara Kalkhoran is known for her 2016 meta-analysis, co-authored with Stanton Glantz, that purported to show that vaping actually reduced cessation rates for smokers.
---

---
Dave Cross, Planet of the Vapes
Vaping turned public health into a state of disarray when it boomed, both experts and governments didn't know what to do. It is now clear that the new technology is the most successful smoking quit tool ever created, but some old approaches persist. POTV asked Will Hill, Head of Legal & External Affairs, at British American Tobacco UK, for his take on how to move forward. Will Hill writes:

"The Government has published its Prevention Green Paper, outlining its ambition to make the smoking of cigarettes "obsolete" by 2030 in the UK. The paper points to alternative products, such as e-cigarettes, to stamp out smoking across the country.
---
---
Dave Cross, Planet of the Vapes
A new CNBC documentary on vaping entitled "Vaporized: America's e-Cigarette Addiction" uses balancing footage for advertising that was edited out of the final show. The interview with Professor John Newton, Director of Public Health England, debunked the false propaganda being spread around the United States. It was shown on CNBC's social media accounts – but mostly lost on the cutting room floor when it came to the full show.

According to the documentary, teenagers make up 20-25% of electronic cigarette users. Spurred on by the Food and Drug Administration's "Epidemic" fear campaign, the show spoke about "an alarming surge" in teen vaping.
---

---
Undermine Decades of Anti-Smoking Efforts – Michael Siegel
Today, cigarette smoking remains the No. 1 cause of preventable death in the United States. So why are cities and towns coast to coast taking harm-reduction alternatives off the shelves while allowing Marlboros to remain?

Last month, San Francisco banned the sale, including the online sale, of e-cigarettes. Around the same time, Brookline, a Boston suburb, did the same thing. Livermore, Calif., followed suit. Also moving in this direction are Morristown, N.J., Blufton, S.C., and Seattle.
Is a Drug War-Style Disaster – Helen Redmond
As the so-called epidemic of teen vaping continues to garner sensational headlines—"Why vaping is so dangerous for teens"; "The scary truth about teen vaping"— tactics from the War on Drugs playbook are increasingly used to punish teens who vape.

Drug testing of adults and teenagers is an insidious aspect of the drug war dragnet. It seeks to control individual behavior and penalize personal choices. It starts with the humiliation of peeing in a cup, often while another person watches. Adults can be fired from jobs or denied welfare, methadone or liberty if they fail a drug test. Teens can lose access to important extracurricular activities, or be suspended or expelled from school.
Where's the moral panic over youth drinking and pot-smoking?
Casey Given, Washington Examiner
This week, the House Oversight and Reform Committee held two hearings on the recent rise of e-cigarette consumption among teens, particularly targeting the industry leader, Juul. The hearings could not have been titled more provocatively: "Examining Juul's Role in the Youth the Youth Nicotine Epidemic." But, the public should keep a skeptical eye on Uncle Sam's new moral panic.

Like government-hyped "epidemics" of the past (including alcohol, marijuana, and the lyrics of heavy metal music) the so-called e-cigarette crisis is vastly overblown. While it's true that vaping has become more popular among minors in recent years, it is no worse than many other vices that teens have indulged in for decades.

Sheila Crisostomo, The Philippine Star
Philippines — The Department of Health (DOH) has prohibited smoking of electronic cigarettes and vapes in public places.

Based on Administrative Order 2019-0007 signed by Health Secretary Francisco Duque III on June 14, the public smoking ban now covers Electronic Nicotine and Non-Nicotine Delivery System (ENDS).

"Use of vapes and e-cigarettes will be banned in places where smoking is prohibited," Duque said.
India is again moving towards imposing a complete ban on the import, sale and manufacture of ENDS products, popularly called e-cigarettes. Already 14 states, over the last 3 to 4 years, have imposed such blanket bans, with the rush to ban picking up momentum in the last year, based on an advisory issued by the Ministry of Health and Family Welfare on 28 August, 2018 to the states asking them to ban the sale of ENDS products; The ostensible reason behind this is stated to be the use of ENDS by children, and the need to "protect" vulnerable sections of the society, like pregnant women!
Guy Bentley, Washington Examiner
On Wednesday, the House Subcommittee on Economic and Consumer Policy held the first of two hearings investigating the role of Juul, the country's largest e-cigarette company, in the alleged "epidemic" of youth vaping sweeping America's high schools.

It's understood that such hearings offer members of Congress an opportunity to grandstand with righteous indignation or publicly emote with exaggerated sympathy. But Reps. Rashida Tlaib and Ayanna Pressley, half of the so-called 'squad,' managed to outdo the typical pantomime.
That Will Surprise You – Jim McDonald
Nicotine seems doomed to suffer from its association with smoking. Because it is the most famous constituent of tobacco, it has been accused of causing all the harms of smoking, when in reality just about everything in burning tobacco causes disease and death except nicotine. Not only is nicotine blamed for health problems it doesn't cause—like cancer and emphysema—but the actual health benefits of nicotine are often ignored or even suppressed.

Wait…benefits? Nicotine has benefits?
---
A look back at how things have moved on or otherwise….
Cheyenne Macdonald, Daily Mail
Researchers measured particle concentrations indoors after participants exhale
They found particles evaporated within seconds after exhalation from vaping
For cigarettes, it took 30-45 minutes for air quality to return to normal levels

A new study has pitted e-cigarettes against their traditional counterparts to gauge how well they perform in indoor spaces – and, it appears vaping really does have less of an impact on the surrounding air.

While particles from conventional cigarette smoke linger in the air for upwards of 45 minutes, researchers found that those stemming from e-vapor products evaporate within seconds, even indoors.
Sarah Ray, The Spectator Australia
Twelve years since they were introduced and nearly six years since branding and logos were removed from cigarette packets, we now find out that Australians are increasingly desensitised to those gnarly graphic health warnings on the packets.

The Cancer Council of Victoria, which supports plain packaging laws and the warnings, released results of its survey on overall awareness of 23 health conditions related to tobacco use on Australian adults aged between 18 and 69.
Carl V. Phillips, The Daily Vaper
It seems like we are living in a a mad lib. Almost every week sees a new journal paper that reports effects of something associated with vapor products (pick one: e-liquid, proper vapor, dry-hit vapor, super-concentrated vapor, concentrated e-liquid ingredients) causing some outcome (cellular changes that might be a precursor to cancer, other cellular damage, change in blood chemistry, change in blood pressure or other vital signs, etc.) when administered to rodents (mice, rats, hamsters) in megadoses. These studies provide approximately zero information. That fact is widely understood among vaping advocates, though there seems to be some confusion about why the results are meaningless.
---
Visit Nicotine Science & Policy for more News from around the World

---