Vapers Digest July 25th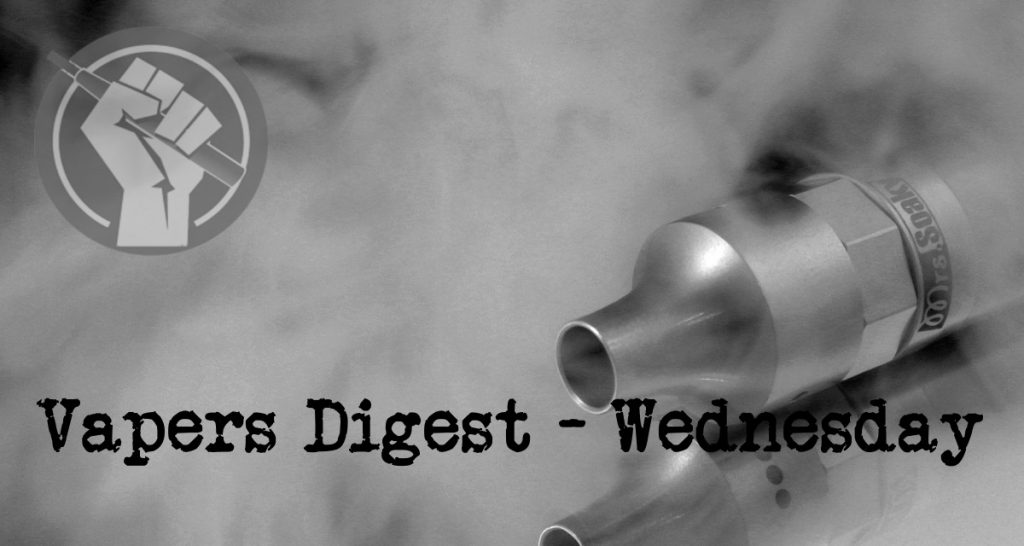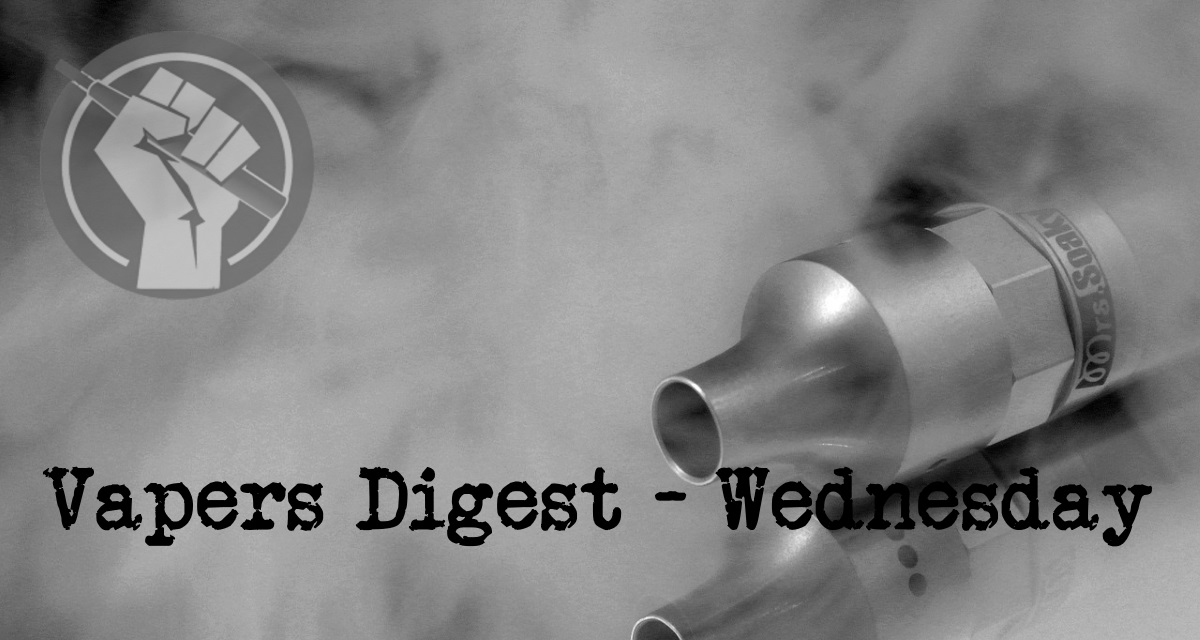 Wednesday's News at a glance:
Vape clouds produced indoors by e-cigarettes break down within SECONDS ~ Plain packaging a graphic study in failure ~ Of Mice And Menace: Why Rodent Studies Of Vapor Products Are Meaningless ~ FDA hit with bot-generated wave of fake comments ~ More Action on e-Cigarettes Needed, AACR Tells Lawmakers ~ Hong Kong Set To Clamp Down on Vaping ~ Massachusetts Attorney General Announces Investigation ~ A Perfect Population Level Experiment ~ E-cigarette web store owner faces prosecution ~ Wilmington Considering E-Cigarette Ban ~ Bahrain Sets in Place a 100% Vape Tax Without Warning ~ 'Sin Taxes' Are Unlikely to Deliver Revenue Bonanza to New Jersey ~ 28 people caught for vaping since new laws kicked in in February: HSA
Cheyenne Macdonald, Daily Mail
Researchers measured particle concentrations indoors after participants exhale
They found particles evaporated within seconds after exhalation from vaping
For cigarettes, it took 30-45 minutes for air quality to return to normal levels

A new study has pitted e-cigarettes against their traditional counterparts to gauge how well they perform in indoor spaces – and, it appears vaping really does have less of an impact on the surrounding air.

While particles from conventional cigarette smoke linger in the air for upwards of 45 minutes, researchers found that those stemming from e-vapor products evaporate within seconds, even indoors.
Sarah Ray, The Spectator Australia
Twelve years since they were introduced and nearly six years since branding and logos were removed from cigarette packets, we now find out that Australians are increasingly desensitised to those gnarly graphic health warnings on the packets.

The Cancer Council of Victoria, which supports plain packaging laws and the warnings, released results of its survey on overall awareness of 23 health conditions related to tobacco use on Australian adults aged between 18 and 69.
Carl V. Phillips, The Daily Vaper
It seems like we are living in a a mad lib. Almost every week sees a new journal paper that reports effects of something associated with vapor products (pick one: e-liquid, proper vapor, dry-hit vapor, super-concentrated vapor, concentrated e-liquid ingredients) causing some outcome (cellular changes that might be a precursor to cancer, other cellular damage, change in blood chemistry, change in blood pressure or other vital signs, etc.) when administered to rodents (mice, rats, hamsters) in megadoses. These studies provide approximately zero information. That fact is widely understood among vaping advocates, though there seems to be some confusion about why the results are meaningless.
---

---
Katelyn Caralle, Washington Examiner
More than a quarter million comments submitted to the Food and Drug Administration about flavored vapor products were fake, according to a watchdog group.

The public consultation period for the FDA's notice of proposed rulemaking that seeks to evaluate the purpose of vapor product flavors closed Thursday, after a 30-day extension, with at least 255,000 fake comments from a single Internet bot, the Regulator Watch reported earlier this month.

A computer bot was launched with the intention to individually enter a mass amount of anti-vaping comments into the system, and the bot was able to generate 255,000 comments between June 8-11 before technical staff isolated four IP addresses tied to the bot.
Alicia Ault, Medscape
Federal regulatory and public health authorities need to gather more information on the potential for short- and long-term harm from e-cigarettes and should take stronger steps to restrict youths from accessing the tobacco products, panelists said at a Washington briefing aimed at congressional staff.
---
---
Mawsley, Planet Of The Vapes
The Legislative Council of Hong Kong has accepted a proposal to debate placing restrictions on the sale of vape products. The debate will take place early next week and the aim is to regulate vape products as though they were cigarettes. Welcomed by some, but others say it doesn't go far enough and demand a total ban on vaping.
NECN
Massachusetts' attorney general is launching an investigation into a popular e-cigarette maker.

Attorney General Maura Healey said at a Tuesday news conference she wants to find out whether California-based Juul Labs is tracking underage use of their products and whether its marketing practices are intentionally driving its popularity among young people. She says her office has sent subpoenas to Juul.

Related:

says an e-cig that's gone viral among teens is 'the genie you can't put back in the bottle'
Dick Puddlecote
The NNA spotted a superb statistic on Friday at the government's Tobacco Control Debate. I don't know about you but I think this deserves more attention.

Yesterday in a debate on the government's Tobacco Control Plan in the House of Commons, Sir Kevin Barron highlighted the gulf between the UK and Ireland, two countries with identical traditional tobacco control policies but with differing approaches to e-cigarettes. Between 2012 and 2016 smoking dropped by nearly a quarter in the UK . In Ireland, where e-cigarettes are viewed with suspicion, the smoking rate actually went up in this period.
---

---
Ke Jiayun, Shine
The owner of online store who sold electronic cigarette cartridges via Taobao and WeChat has been charged with operating an illegal business, prosecutors in Baoshan District said yesterday.

E-cigarettes came under the supervision of tobacco authorities in June 2017, and private sales of e-cigarettes and related products are against the law.

Dave Copeland, Patch.com
The Wilmington Board of Health is considering joining more than 100 other Massachusetts communities that have banned the sale of electronic cigarettes and flavored tobacco products in convenience stores. Under the town's proposed bylaws, such products could only be sold at retail tobacco shops. Wilmington's only such business is the Route 38 Smoke Shop on Main Street.
, Vaping Post
On the 12th of July vape shop owners in Bahrain woke up to find out that the local sin tax on tobacco, fizzy drinks and energy drinks had been extended to include vaping liquids, doubling the price of all new vape juice imports, without any form of warning.

Retailers and consumers have been pointing out that this tax is unjustified as amongst other things vaping liquid contains no tobacco, and the higher prices may just lead to former smokers who had managed to successfully quit thanks to the products, turn back to smoking.
John Reitmeyer, NJ Spotlight
Lawmakers in NJ recently enacted new taxes on e-cigarettes and sports betting. Analysis suggests the new taxes won't do much for state coffers.

Tax revenue from legalized sports betting and e-cigarettes is now impacting New Jersey's budget due to recent policy changes in Trenton, and legalized recreational marijuana use may not be too far behind. But a new report that looks at the next generation of so-called sin taxes throws cold water on the notion that they could provide cash-strapped states like New Jersey with a reliable fiscal bonanza.
---

---
, Channel NewsAsia
The Health Sciences Authority (HSA) has caught 28 people for using vaporisers in the four months since laws making such devices illegal kicked in in February this year.

Up until February, while the the importation and sale of e-cigarettes were illegal, using, owning and possessing vaporisers remained ungoverned by laws.

When asked how these users were caught, a spokesperson for HSA said that in the course of their enforcement duties, its officers will look out for any person who is using these vaporisers, which include e-cigarettes. The act is also called vaping.
---
A look back at how things have moved on or otherwise….
People's Pundit Daily
Republicans control the White House and the U.S. Congress, but Obama era regulations are threatening to derail small businesses in the emerging vapor industry. The Food and Drug Administration (FDA) currently regulates e-cigarette products far more stringently than actual cigarettes.

It's a government-sanctioned competitive advantage carved out just for big players in Big Tobacco. Absent action by Republican lawmakers, FDA regulations coming down the pipe will decimate the vapor industry, retroactively removing 99% of vaping products from the market.
Michael Siegel, Tobacco Analysis
It seems that honesty has disappeared as a core principle in tobacco control. Today, I report that yet another group of tobacco control researchers is bemoaning the fact that many youth understand the relative health effects of vaping and smoking and is encouraging lying to kids instead.

In a paper published in Tobacco Prevention and Cessation, investigators from the University of Louisville examined YouTube videos promoting electronic cigarettes. They found that one of the major selling points for vaping in these videos was the claim that using e-cigarettes is safer than smoking and switching from cigarettes to e-cigarettes can therefore improve health.
---
Visit Nicotine Science & Policy for more News from around the World

---