Vaping Digest 27th July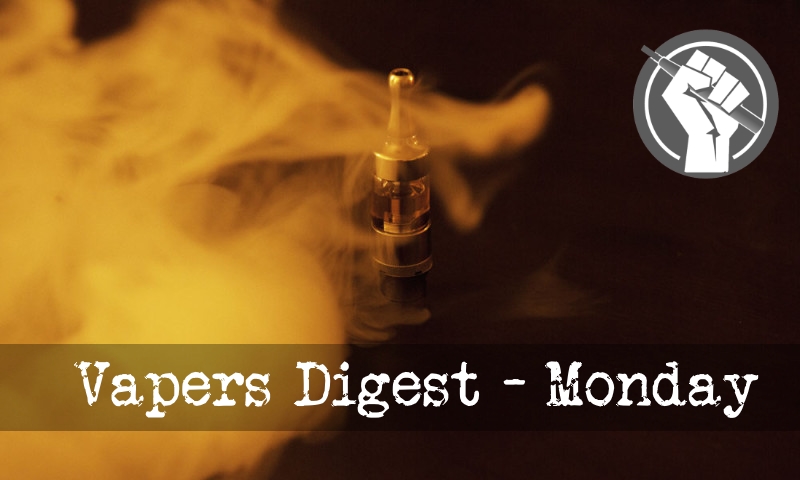 Monday's News at a glance:
Native American Reservations a Haven for New York Vape Shops – Opportunity to reduce tobacco related death – Webinar : Tried it, didn't like it – Why do many Smokers not get on with Alternatives? – The effects of traditional cigarette and e-cigarette tax rates on adult tobacco product use – Endgames – Hawaii Five-No – UKVIA Leads In Combatting Underage Sales – Smoore's Valuation Shows Strong THR Appetite
A Haven for New York Vape Shops – Alex Norcia
Around Thanksgiving 2019, two months after Governor Andrew Cuomo signed an executive order that banned sales of flavored vaping products in New York, Taobi Silva thought he'd give the vape business another shot.

Rob Ermolovich, the owner of a shop called Fluid Vapor and a local e-liquid manufacturing business, had given Silva a call, asking if he'd be interested in some kind of partnership. Silva and Ermolovich knew what was coming, as did many in the industry. Consumers, shop owners and manufacturers had already started to see prohibition as an inevitability, and had begun to prepare accordingly.
And disease is being missed by governments
A leading expert in tobacco harm reduction, Samrat Chowdhery, today stated that nicotine alternative products could help to wipe out the disease burden from smoking across the continent if Governments were willing to embrace them.

Mr Chowdhery is President of the International Network of Nicotine Consumer Organizations (INNCO), and was the guest speaker this morning at a webinar co-hosted by the Campaign for Safer Alternatives (CASA) and the Africa Tobacco Harm Reduction Forum (ATHRF).

The webinar discussed the role that nicotine alternatives can play in reducing smoking-related disease and mortality, especially in low and middle-income countries.
---

---
Why do many Smokers not get on with Alternatives?
---
---
On adult tobacco product use
We study the effects of traditional cigarette and e-cigarette taxes on use of these products among adults in the United States. Data are drawn from the Behavioral Risk Factor Surveillance System and National Health Interview Survey over the period 2011 to 2018. Using two-way fixed effects models, we find evidence that higher traditional cigarette tax rates reduce adult traditional cigarette use and increase adult e-cigarette use. Similarly, we find that higher e-cigarette tax rates increase traditional cigarette use and reduce e-cigarette use. Cross-tax effects imply that the products are economic substitutes. Our results suggest that a proposed national e-cigarette tax of $1.65 per milliliter of vaping liquid would raise the proportion of adults who smoke cigarettes daily by approximately 1 percentage point, translating to 2.5 million extra adult daily smokers compared to the counterfactual of not having the tax.

Three from Dave Cross, Planet of the Vapes
The 'endgame' was always about how society could become tobacco-free and revolved around concepts such as applying financial pressure or legislation restricting access. Clive Bates notes that none of the measures have had any real impact over the last several years. In his latest contribution to the debate, Clive asks what the endgame looks like now – and what should end.

Age restrictions, plain packs, aggressive warnings – tobacco control experts have a wealth of harsh measures they wanted to see implemented. Clive comments: "Most of these ideas have not progressed at all. And rightly so, as I argued in a detailed critique, these policies are mostly impractical or excessively coercive and would fail if tried."
The 50th U.S. state has voted to push forward with a new bill to ban 'flavoured' eliquids, saying a big Hawaii Five-NO to tobacco harm reduction. The Senate Ways and Means Committee all voted for the measure, conveniently forgetting that 'tobacco' is a flavour too, adults cite sweet flavours as being important to help them quit, eliquid is not 'tobacco', and the 'teen epidemic' doesn't exist.

Hawaii Five-O's Steve McGarrett and Danny 'Danno' Williams solved many mysteries during the television series 279 episodes in the 1960s, but special state police task force are left with a huge crime to solve – that of malfeasance in public office.
The United Kingdom Vape Industry Association (UKVIA) hosted a webinar on how to combat underage sales in the vaping industry and is encouraging its members and the wider industry to adopt better procedures. Speakers represented Trading Standards, Serve Legal, 1account and JUUL Labs, offering their own perspectives and expert knowledge to promote a responsible industry.

Hosted by Secretariat Clarence Mitchell, the webcast began with Jo Mahoney, Senior Trading Standards Specialist at Buckinghamshire & Surrey Trading Standards. Mahoney said that businesses should be adopting Challenge 25, a strategy embraced by the alcohol on and off sales sectors. She commented that there may be times when a 30yr old is asked for evidence of age, "it's embarrassing but they won't get angry."
---

---
Shows Strong THR Appetite
Smoore's listing in Hong Kong earlier this month ought to provide a substantial incentive for increased investment in reduced-risk nicotine products and, ultimately, accelerated tobacco harm reduction.

It not only highlights a multi-billion opportunity for entrepreneurs, but also serves to remind the tobacco industry of the need to "get THR right". Successful transformation holds potentially significant valuation upside for tobacco companies but, equally, slow progress risks accelerated slowdown in revenues and further downward pressure on valuation.

Smoore International Holdings listed on the Hong Kong Stock Exchange on 10 July 2020 after raising c.US$920m of new equity at HK$12.4, valuing the company at US$9.2bn.

---
A look back at how things have moved on or otherwise…
New Nicotine Alliance
Boris Johnson is now our Prime Minister. He has a lot to do, but one of his jobs should be to water down his predecessor's misguided proposals towards e-cigarettes and other safer nicotine products.

On Monday, the Cabinet Office and Department of Health and Social Care joint-released their intentions in a Green Paper, reportedly forced through by outgoing Theresa May against her Secretary of State's advice.

We are setting an ambition to go 'smoke-free' in England by 2030. This includes an ultimatum for industry to make smoked tobacco obsolete by 2030, with smokers quitting or moving to reduced risk products like e-cigarettes.
Are More Likely to Quit – Jim McDonald
A new study from doctors at Harvard Medical School and Massachusetts General Hospital confirms that smokers who vape regularly are far more likely to quit smoking than those who don't vape. In fact, smokers who vaped daily were 77 percent more likely to quit and remain abstinent from cigarettes after two years.

The study was published online in the journal Nicotine and Tobacco Research. Interestingly, lead author Sara Kalkhoran is known for her 2016 meta-analysis, co-authored with Stanton Glantz, that purported to show that vaping actually reduced cessation rates for smokers.
---
Visit Nicotine Science & Policy for more News from around the World

---