Vaping Digest 24th July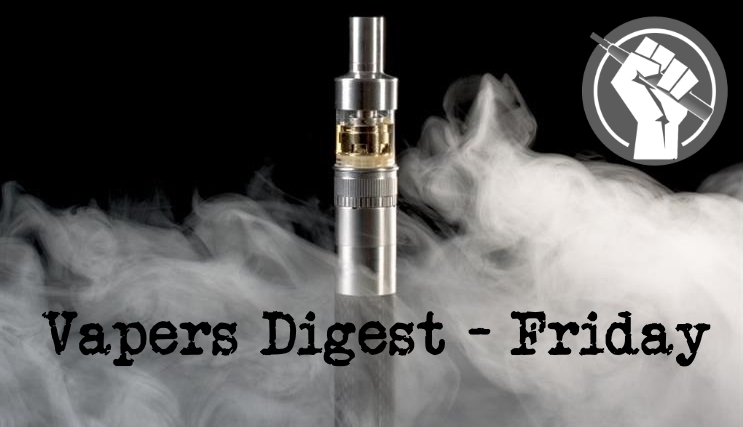 Friday's News at a glance:
Canada takes a wrong turn after a flawed paper induces moral panic – How to Make a Public Health Disaster Worse – California Flavor Ban Hearing Needs Participation by Vapers – Differences in Nicotine Intake From Smoking Vs Vaping in Dual Users – Endgames – Another Pie in Glantz' Face – Government will not ban, York does – AVCA: Kiwi MP's Plea to Lift Snus Ban Should be Supported – Legislation Without Regulations Makes No Sense – Why Kenya needs to proactively engage tobacco harm reduction – GFN2020: Time to regulate – Juul Quietly Revamped Its E-Cigarette – Global Study Seeks to Confirm Vaping Is Safe – Dr. David Hammond Buries Correction on Teen Smoking Rates – Nicotine Science and Policy Daily Digest
After a flawed paper induces moral panic about youth vaping and smoking
Clive Bates, The Counterfactual
In June 2019, an influential and well-respected research group published a paper in the BMJ showing both a sharp rise in youth vaping in Canada between 2017 and 2018 – mirroring the rise in the United States.  But the truly shocking finding was that there had also been a sharp rise in youth smoking (not seen in the United States).

Starting from well before publication, the paper had a strong negative influence on Canada's approach to tobacco harm reduction, causing a reversal from a promising and insightful pro-public health approach to making ad hoc responses to a mounting moral panic.  Yet it turns out the smoking figures were wrong – a consequence of a flawed weighting procedure.
How to Make a Public Health Disaster Worse: a 5-Point Guide
The primary concern of tobacco control should be to tackle the extent of the current adult smoking epidemic. This means tackling the projected toll from death and disease which will worsen as populations grow in those lower and middle income countries (LMIC) which already have the highest numbers of smokers.

But by the WHO's own admission, overall, the impact of its MPOWER tobacco control strategy in actually getting smoking under control has been limited. Simply having laws in place is not enough.

Moreover, a BMJ article suggested that the 2005 Framework Convention on Tobacco Control (FCTC) has done little to accelerate declines in smoking in those countries which had been seeing declines well before FCTC was enacted.
---

---
Needs Participation by Vapers – Jim McDonald
The Health Committee of the California Assembly will hold a public hearing on SB 793, a bill that will, if passed, ban all flavored tobacco products, including e-liquid and other flavored vaping products. Attendance will be "remote"—the hearing will be viewable online, and comments will be delivered by phone. The hearing will be held at 2:00 p.m. on Aug. 4.

It's important for individual vapers to take the time to "attend" the hearing. The bill's supporters are portraying vaping as a tool created by Big Tobacco to addict children. The more ordinary consumers that weigh in on the flavor ban, the harder it is for legislators to write off the opposition as being tobacco industry shills.
---
#Event | We present the agenda of our virtual event "Nicotine: Harm Reduction". The platform for discussion and updating of knowledge.
Meet our panelists and sign up for the event at https://t.co/pe9ZsBciTM
Next July 30th, 2pm Colombia time
Follow our Platform @NicotineRRD pic.twitter.com/svgN2kmbPM

— Plataforma para la Reducción de daños en Nicotina (@NicotinaRRD) July 21, 2020
Our government may not be sure how to handle this pandemic but at least they can agree that I must not be allowed to obtain a mango-flavored Juul pod

— Kat Timpf (@KatTimpf) July 23, 2020
---
From Smoking Vs Vaping in Dual Users – Diane Caruana
The study recruited 36 healthy participants who used both cigarettes and e-cigarettes. The amount of nicotine in the participants' plasma was measured, alongside their level of nicotine withdrawal, urge to smoke and vape, affective states, cravings, and satisfaction and psychological reward from vaping as compared to smoking.

"Compared with cigarettes, average maximum plasma nicotine concentration (Cmax ) was lower with e-cigarettes [6.1 ± 5.5 ng/ml, mean ± standard deviation (SD) versus 20.2 ± 11.1 ng/ml, P < 0.001] and time of maximal concentration (Tmax) was longer (6.5 ± 5.4 versus 2.7 ± 2.4 minutes, P < 0.001)," said the researchers.

Three from Dave Cross, Planet of the Vapes:
The 'endgame' was always about how society could become tobacco-free and revolved around concepts such as applying financial pressure or legislation restricting access. Clive Bates notes that none of the measures have had any real impact over the last several years. In his latest contribution to the debate, Clive asks what the endgame looks like now – and what should end.

Age restrictions, plain packs, aggressive warnings – tobacco control experts have a wealth of harsh measures they wanted to see implemented. Clive comments: "Most of these ideas have not progressed at all. And rightly so, as I argued in a detailed critique, these policies are mostly impractical or excessively coercive and would fail if tried."
Donald Kenkel, Hua Wang, and Alan Mathios of Cornell University looked at a 2019 paper published by Bhatta and Glantz, in the American Journal of Preventative Medicine (AJPM), titled: "Association of E-Cigarette Use With Respiratory Disease Among Adults: A Longitudinal Analysis." American Journal of Preventive Medicine". It leaves Stanton Glantz with another pie to the face.

Glantz and Bhatta used Population Assessment of Tobacco and Health Waves (PATH) data to 'prove' a link between vaping and respiratory disease. Glantz, his colleagues, and the University of California San Francisco are now banned from accessing the PATH data as a result of the pair's academic malfeasance that resulted in a 2020 paper being retracted by the Journal of the American Heart Association.
On Monday, we wrote about how the Local Government Association (LGA) was supporting Baroness Lindsay Northover's call to ban smoking (and presumably vaping) from pavements being used for pub and restaurant seating. The British government has responded to say it will not act on these calls – but news from York is that local politicians are making a ban an integral part of any pavement use application.

While not implementing the ban Northover and the LGA seek, but a spokesperson did say businesses desperately trying to recover from the enforced lockdown will have to make "reasonable provision" to set up non-smoking areas, providing a 2-metre gap between the two sections "wherever possible".
---

---
Global Study Seeks to Confirm Vaping Is Safe – Regulator Watch
It is the single most important question: Is vaping safe? Despite a mountain of research pointing to low health risks associated with vaping compared to smoking; a definitive answer remains elusive. But researchers behind a new multi-site international study of the health effects of vaping hope to remedy that and need your help.

The VERITAS (Vaping effects: real-world international surveillance) Cohort Study is headed by Dr. Riccardo Polosa out of CoEHAR, the Center of Excellence for Harm Reduction, Catania. The lead scientist and global project manager is Dr. Carl V. Phillips.
Dr. David Hammond Buries Correction on Teen Smoking Rates
When University of Waterloo professor David Hammond first shared preliminary results of his teen vaping and smoking study with Health Canada and the media in late 2018, he did so with the "hope" that his findings were just a "blip"; a sentiment he expressed at the time, and then again in June 2019 when the study was finally published in the British Medical Journal.

While the results of the survey showed a 74% increase in teen vaping (measured as used once in the past 30-days,) from 2017 to 2018, the most explosive finding was in regard to youth smoking.

Diane Caruana, Vaping Post
As New Zealand's Parliament is expected to debate the final stages of the Smokefree Environments and Regulated Products (Vaping) Amendment Bill in the coming days, co-director of the Aotearoa Vapers Community Advocacy (AVCA) Nancy Loucas, said that an amendment suggested by MP Nicky Wagner should be supported.

The final stages of the Smokefree Environments and Regulated Products (Vaping) Amendment Bill will be debated in the coming days, after the House resumes for its final three-week session before the General Election.
Makes No Sense – VTANZ
"Kiwi-owned vape businesses are disappointed the Government is rushing through its vaping legislation in time for the election campaign, while the local industry remains completely in the dark over the regulations," says Vaping Trade Association of New Zealand (VTANZ) spokesperson Jonathan Devery.

His comments come as the Smokefree Environments and Regulated Products (Vaping) Amendment Bill is set to be debated again and passed under Urgency in the last sitting days of this Parliamentary term.
Tobacco harm reduction
The United States Food and Drug Administration on July 7 authorized the marketing of IQOS Tobacco Heating System as modified risk tobacco product.

Developed by Phillip Morris International, IQOS works by heating tobacco to produce an aerosol, which is markedly different from ordinary cigarettes and other tobacco products because it works by heating, rather than burning, tobacco.

The authorisation by the U.S. Food and Drug Administration for the marketing of this product  is significant for two reasons.
Regulation of e-cigarettes and other smoke-free nicotine products became a major topic during the virtual Global Nicotine Forum 2020 (GFN 2020) this year as advocates seek a more promising solution for smokers to quit.

The forum, themed "Nicotine: Science, Ethics and Human Rights," was held on June 11-12, saw 30 experts across the globe speak, all with one common goal; to provide a safe and transparent industry for both smokers and those planning to make the switch to alternative tobacco products.
Risking the FDA's Rebuke, Lauren Etter
The e-cigarette Juul Labs Inc. introduced in the spring of 2015 was known internally by an eccentric code name: Splinter, after a rodent martial-arts master in the comic Teenage Mutant Ninja Turtles. Splinter, about the size of a thumb drive, got off to an undeniably splashy start. It appeared on billboards in Times Square. Influencers flashed it on Instagram. Wired magazine ran a story on Juul headlined "This Might Just Be the First Great E-Cig."

Three years later, despite having entered the market almost last, Juul became its No. 1 seller. This unlikely coup was in large part about the cool factor and how it drew in younger people, ultimately engulfing middle schools and high schools across America. But Juul didn't just out­maneuver its competitors. It did the same with regulators.
---
A look back at how things have moved on or otherwise….
Dave Cross, Planet Of The Vapes
Vaping is so dangerous that people's hearts are giving out up to ten years before they start using electronic cigarettes. Thankfully, the world has University of California San Francisco's Stanton Glantz to warn everyone about the pernicious dangers of vaping in not one but two research papers. Brad Rodu, University of Louisville, has asked the Journal of the American Heart Association to retract Glantz' study because (in our words) it's absolute nonsense.
, Esquire Middle East
Marlboro producer Philip Morris International (PMI) has officially unveiled its smoke-free IQOS product in the UAE, and later the GCC.


The electronic device which PMI says is "potentially less harmful" than cigarettes, is designed to heat tobacco without burning it, and thereby releasing nicotine-containing vapour. According to the brand, IQOS features 90-95 per cent lower levels of toxicants compared to traditional cigarette smoke.
---
Visit Nicotine Science & Policy for more News from around the World

---