Vaping Digest July 22nd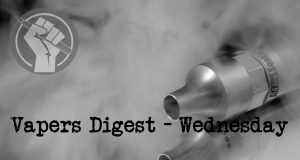 Wednesday's News at a glance:
Over 500,000 vapers in Australia now, according to Government study ~ Clarifying Australia's youth vaping figures ~ Teen vaping is way less common than the news claims ~ Australia's Imaginary Teen Vaping Epidemic ~ Smoke clouding the judgment of health bureaucrats ~ Zyn Boosts Swedish Match's Second Quarter ~ India's E-Cig Ban Did Not Halt Vaping, It Just Drove Out Reliable Vape Brands ~ Tried It, Didn't Like It ~ Britain's 20/20 Vape Vision ~ Experts Condemn Govt Vaping Bill ~ EU: Danish ban on flavors commented ~ If you tolerate this then YOUR flavours will be next ~ So Much for the Loophole: FDA Orders Puff Bar Off the Market ~ How the U.S. Spreads Fake Vaping Fears ~ FDA Notifies Companies, Including Puff Bar, to Remove Flavored Disposable E-Cigarettes and Youth-Appealing E-Liquids from Market for Not Having Required Authorization
Australian Tobacco Harm Reduction Association (ATHRA)
VAPING is now a mainstream quitting strategy for Australian smokers, with the number of vapers more than doubling in the last 3 years. In 2019, 2.5% of the population (aged 14+) or 520,000 people were 'current' vapers (vaped at least once in the last year).

This finding was released last week in the 2019 National Drug Strategy Household Survey and shows that "the vaping genie is well and truly out of the bottle".
Coral Gartner, The University of Queensland Australia
Over the past fortnight Australian media outlets have been awash with alarmist claims about a large increase in youth vaping. The problem was reported as being so dire that it prompted several Sydney private school principals to send letters to parents. These media reports provided no data on the size of the problem.

The National Drug Strategy Household Survey data released a week after those media reports should have clarified the true extent of Australia's youth vaping problem. However, reporting and interpretation of those results by some media outlets was inaccurate and confusing.
---
James Purtill, Triple J Hack
Last week, Australian school playgrounds were reportedly awash with vaping smoke: Over 65 per cent of adolescents (14-17 year olds) were using e-cigarettes, one major news site said, quoting a new national survey of drug use.
---

---
, Totally Wicked
A survey from Australia has been completely misunderstood, suggesting a teen vaping epidemic in the country that isn't in fact real. The misleading conclusions have been picked up by media outlets worldwide and could not only support draconian regulation due next January in Australia, but also harm the perceptions of vaping on a global scale.
---
Searching for literature for my Masters .. WTF? "Smoking was not significantly associated with OS practices " 👅 https://t.co/mNFc9BPNIy

— Yolande Jeffares (@ChuggaLuggs) July 22, 2020
---
Colin Mendelsohn, The Spectator Australia
There was a deafening roar last week caused by Australia's tobacco control experts congratulating themselves on the latest national smoking results. You could be forgiven for believing that Australia is a world leader in reducing smoking ratesand that vaping is a major threat to public health. However, the figures released in the2019National Drug Strategy Household Survey tell a very different story.
Tobacco Reporter
Swedish Match reported a strong second quarter, driven largely by sales of its Zyn tobacco-nicotine pouches in the United States.

In local currencies, Swedish Match's sales increased by 11 percent for the second quarter. Reported sales increased by 11 percent to SEK4.13 billion ($457.18 million).
Diane Caruana, Vaping Post
Eight months after India's vape ban went into effect, people have not stopped vaping. While official and quality brands such as Juul are no longer available, people are purchasing cheap and low quality products from local tobacco shops.
---
---
The Government's proposed vaping legislation awaits its second reading this week, and experts from the front line of quit smoking groups are speaking out to condemn the overly restrictive approach.
---

---
Editor's note: German version

)

(
The Danish government has submitted a planned extension of its TPD implementation to the EU for approval by the Commission. In addition to many other inconsistencies, it includes a ban on all flavors except "tobacco" and menthol. There was an opportunity to comment on this. We also used it. In the meantime, it has also been published on the EU website.
European Tobacco Harm Reduction Advocates
Denmark is set to introduce a flavour ban on both nicotine and non-nicotine containing e-liquids, where only tobacco and menthol flavours will be permitted. This will affect 85-90% of Danish vapers, who will be forced to vape only tobacco or menthol flavoured e-liquids, or go back to smoking, or take the risk and buy unregulated black market products, or DIY to get the flavours they prefer, to have success with remaining smoke free.
---
Jim McDonald
The best-known U.S. distributor of disposable vape Puff Bar has received a warning letter from the FDA, ordering the products to be removed from the market. The action came after months of news stories incorrectly claimed Puff Bar was exempt from FDA enforcement.

The letter was sent to Umais Abubaker, the owner of Cool Clouds Distribution, Inc., the largest and best known importer of the rectangular-shaped disposable e-cigarette.
The international health profession is rightly focused on the SARS-CoV-2 virus threat at the moment. Meanwhile, another multinational threat has insidiously spread: Alarmism about nicotine vapor products (aka e-cigarettes) has infected a growing number of governments around the world, causing authorities to eschew science, logic, and human nature. Out of blind panic, they are disregarding the indisputable evidence that giving smokers legal access to nicotine vapor can save millions of lives. Instead, they embrace prohibitionist policies that will keep people smoking and dying. The main culprit behind spreading this mass psychosis is, sadly, the United States.
Flavored Disposable E-Cigarettes and Youth-Appealing E-Liquids from Market for Not Having Required Authorization
U.S. Food and Drug Administration
Today, the U.S. Food and Drug Administration issued warning letters notifying ten companies, including Cool Clouds Distribution Inc. (doing business as Puff Bar), to remove their flavored disposable e-cigarettes and youth-appealing e-liquid products from the market because they do not have the required premarket authorization. These new actions are part of the FDA's ongoing, aggressive effort to act against illegally marketed tobacco products amid the public health crisis of youth e-cigarette use in America. The agency is particularly concerned about the appeal of flavored, disposable e-cigarettes to youth and continues to monitor all available data.
---
A look back at how things have moved on or otherwise…
That happened 10 years before e-cigarette use initiation (!!!)

Dr Farsalinos

Recently, a study published in the Journal of the American Heart Association showed (once again) that e-cigarette use was associated with higher chance of having had a heart attack. As explained in a previous comment about another similar study (by the same main author), the misinterpretation of these findings as presenting "increased risk" for developing heart attacks is epidemiological malpractice and violates basic principles of epidemiological research that even medical students know and understand. The main problem in interpreting associations as increased risk comes from the fact that the time of the heart attack relative to the initiation of e-cigarette use is unknown. Well, at least in most cases…
Charles Gardner
In the 1950s, if you asked a smoker why he or she smoked, they would not have replied, "because I am hopelessly addicted." More likely, they would have told you about the pleasure they experienced from smoking.

Today, we know something they did not. Smoking kills. Worldwide, 1.1 billion people smoke, causing more than 7 million deaths each year. Almost every smoker now knows that smoking kills. The Foundation's Worldwide State of Smoking Survey found that up to 96% of the smokers interviewed understand that their habit is bad for their health.
---
Visit Nicotine Science & Policy for more News from around the World

---