Vaping Digest July 22nd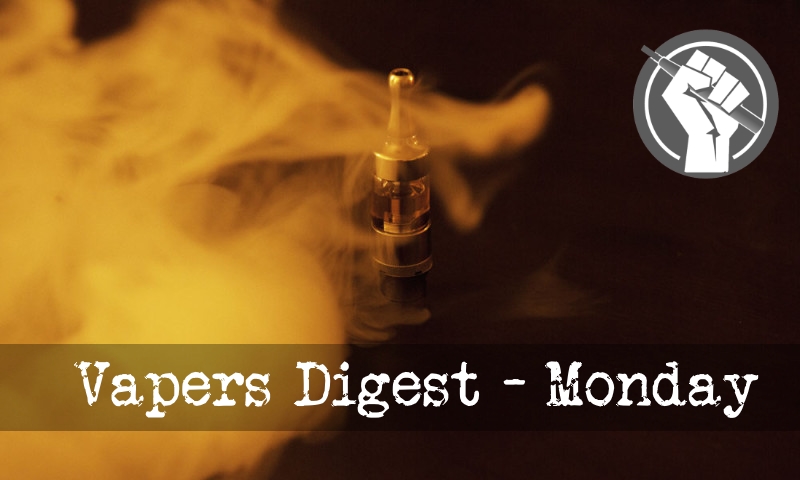 Monday's News at a glance:
E-cigarette use increases the risk of heart attacks that happened 10 years before e-cigarette use initiation (!!!) – Claim that Vaping Causes Heart Attacks is Completely Debunked – Unraveling the pleasure of smoking – Spice World Too – It's My 10 Year Smoke-free Anniversary and I'm Terrified – Vaping In The News – July 20th – BAT to launch smoke-free cigarrettes in Kenya – JUUL is Coming to China – What America can learn from England about vaping – Vaping industry fears government plans to ban full-strength e-liquids – Nicotine Science and Policy Daily Digest
That happened 10 years before e-cigarette use initiation (!!!)
Dr Farsalinos
Recently, a study published in the Journal of the American Heart Association showed (once again) that e-cigarette use was associated with higher chance of having had a heart attack. As explained in a previous comment about another similar study (by the same main author), the misinterpretation of these findings as presenting "increased risk" for developing heart attacks is epidemiological malpractice and violates basic principles of epidemiological research that even medical students know and understand. The main problem in interpreting associations as increased risk comes from the fact that the time of the heart attack relative to the initiation of e-cigarette use is unknown. Well, at least in most cases…
Is Completely Debunked – Michael Siegel
A study published last month in the Journal of the American Heart Association electronic cigarette use concluded that vaping is a cause of heart attacks, raising the risk of having a heart attack about two-fold. One of the co-authors publicized the study on his blog under the title "More evidence that e-cigs cause heart attacks."

This was a cross-sectional study using data from the baseline survey of the Population Assessment of Tobacco and Health (PATH) Study collected in 2013-2014. The investigators examined the relationship between respondents reporting that they ever had a heart attack and that they currently vaped. They found that people who vape were more likely to report ever having had a heart attack in the past.
---

---
Charles Gardner
In the 1950s, if you asked a smoker why he or she smoked, they would not have replied, "because I am hopelessly addicted." More likely, they would have told you about the pleasure they experienced from smoking.

Today, we know something they did not. Smoking kills. Worldwide, 1.1 billion people smoke, causing more than 7 million deaths each year. Almost every smoker now knows that smoking kills. The Foundation's Worldwide State of Smoking Survey found that up to 96% of the smokers interviewed understand that their habit is bad for their health.
Dave Cross, Planet of the Vapes
Drug takers purchased eliquids/devices claiming to be "THC vape juice", "THC vape pens" and "THC oil". It is believed that the liquid contained the synthetic drug Spice and led to nine people collapsing in Greater Manchester. The liquids make the false claim that they contain natural cannabis.
Spice was one of the legal highs banned in 2016 and is frequently referred to as a "zombie drug".

Speaking about the nine, Dr Prun Bijra said: "Fortunately it does not seem likely they will suffer any long-term harm, but we don't want to see anyone else affected, particularly as we approach the school summer holidays.
---
---
And I'm Terrified – Glimpses Through The Mist
First, I want to say that TODAY IS MY TEN YEAR ANNIVERSARY OF QUITTING SMOKING. I can say with 100% certainty that, without vapor products, I'd still be smoking today. And I'm horrified and terrified that these low risk products may soon not be available for people who vape or still smoke, while cigarettes remain freely sold!

This article, "Anti-Vaping Researchers Claim E-Cigarettes Cause Heart Attacks Before Smokers Try Them," exposes the kind of junk science that risk reduction advocates are constantly dealing with. Twisted and outright unethical research that causes people who smoke to avoid or give up products that are actually 99% safer, because they believe the "trusted" anti-tobacco groups that lie, telling them that vaping is as bad as or worse than smoking!
Kevin Crowley, Vaping Links
Why Your Local Vape Shop Is Going out of Business ~ Electronic Cigarette Use and Cigarette Abstinence Over Two Years among U.S. Smokers ~ Tears… ~ American Lung Association Inadvertently Reveals the Truth About Many Vaping Opponents ~ New Organization Forms to Confront the Epidemic of Popcorn Lung ~ "Big Tobacco Lies. So Does Juul." … And So Does Americans for Nonsmokers' Rights ~ Quotes from Anti-Tobacco Groups ~ Financial Ties and Conflicts of Interest Between Pharmaceutical and Tobacco Companies ~ As Young Adult Smoking Evaporates, "Teen Vaping Epidemic" Appears Overblown ~ Parents Against Vaping and Ecigs ~ Study linking vaping to heart attacks muddied amid spat between two tobacco researchers ~ Smoking Normalizes Dynamic Brain Activity in Schizophrenia ~ Lower Nicotine Cigarettes
---

---
And e-cig users' anticipated responses to hypothetical e-cig market restrictions.
INTRODUCTION: The aim of this exploratory study was to assess young adult dual e-cigarette (EC) and combusted cigarette (CC) users' anticipated responses to hypothetical market restrictions regarding key EC characteristics.

METHODS: Data came from 240 young adult dual EC and CC users recruited via Amazon Mechanical Turk in June 2017. Descriptive statistics were used to report sociodemographic, CC smoking, and EC use characteristics.
British American Tobacco Company is set to introduce smoke-free, spit free and tobacco free cigarettes in the Kenyan market with an investment of a Sh2.5 billion production plant.

BAT's Managing Director Beverly Spencer says the introduction of the nicotine snus pouches is aimed at reducing the risks associating with passive smoking that led to a ban on smoking in public.

Spencer said the pouches do not produce harmful smoke because they heat, not burn, allowing tobacco sticks to generate a vapor that contains nicotine.
Grigor Grigorian
American e-cigarette brand JUUL will officially enter the Chinese market and is reported to be negotiating terms for distribution channel cooperation with Tmall and JD.com. The company is planning to start its Chinese operations in October. In addition, JUUL plans to allocate roughly $100 million on brand building and marketing in China within the next 15 months.

Michael McGrady
Electronic cigarettes (or e-cigarettes) have been around for several years now. And while there is still much to be learned about e-cigarettes, scientific research has at least affirmed that vaping is safer than smoking. A landmark study, published in the New England Journal of Medicine, found that e-cigarettes can help smokers quit with greater success rates than other nicotine-replacement products.

Public Health England (PHE) maintains that e-cigarettes are 95 per cent safer than cigarettes. 'While vaping may not be 100 per cent safe, most of the chemicals causing smoking-related disease are absent and the chemicals present pose limited danger', reads a PHE policy document.
To ban full-strength e-liquids – Rob Stock
​Vapo co-founder Ben Pryor is begging the government not to take the puff out of the vaping industry.

Vaping is a term that refers to breathing in nicotine-laced vapour from hand-held "e-cigarettes", offering a safer way to consume nicotine for the remaining 13 per cent of adults with a daily smoking habit.

The government's position on vaping is that breathing any product into your lungs unnecessarily wasn't a good idea, but for those who smoked, switching to vaping was likely to substantially reduce health risks.
To think twice about: a total e-cigarette ban
I'm surprised the Hong Kong government still wants to play "Big Brother" in its approach to e-cigarettes and heat-not-burn tobacco products.
Over the past month, Hongkongers have been out on the streets expressing a very clear message: that Hong Kong is a civil society and we do not wish for the government to invade every single corner of our lives. A complete ban on e-cigarettes and heat-not-burn tobacco products, though the issue certainly commands lower significance compared to the ongoing political debates, serves as a clear example of how good intentions, protecting public health in this case, can sometimes pave the road to authoritarianism.
---
A look back at how things have moved on or otherwise….
New Nicotine Alliance
July 20th, 2018: Yesterday in a debate on the government's Tobacco Control Plan in the House of Commons, Sir Kevin Barron highlighted the gulf between the UK and Ireland, two countries with identical traditional tobacco control policies but with differing approaches to e-cigarettes. Between 2012 and 2016 smoking dropped by nearly a quarter in the UK . In Ireland, where e-cigarettes are viewed with suspicion, the smoking rate actually went up in this period.
Christopher Snowdon, Velvet Glove Iron Fist
In the previous post, I mentioned the parliamentary debate on tobacco control that had been organised by Action on Smoking and Health (ASH). It took place this afternoon and was streamed online so I watched it. As you can see from the photo above, it was sparsely attended. What you can't see is that was dominated by members of the All Party Group on Smoking and Health, a sockpuppet in-house pressure group created by ASH in the 1970s of which ASH remains the secretariat.

It began with a speech by Steve Brine who said that there are no plans for any more legislation but that the government would work hard to achieve its self-imposed target of having a smoking rate of no more than 12 per cent by 2022.
Dick Puddlecote
A few months ago I met with a city analyst who read your humble host's offerings and was keen to meet. We enjoyed a liquid lunch in Threadneedle Street but before going our separate ways, he asked if I could put him in contact with Grandad, of Head Rambles fame, as he was a regular visitor to Ireland.

It would appear that they did, indeed, get in touch and the link-up has produced something very useful. Today Grandad explains on his blog how this new project came into being. The result is a glorious website – based on an extensive investor report – which delves into the murky dealings of the tobacco control industry over decades.
---
Visit Nicotine Science & Policy for more News from around the World

---